>
>
UI/UX Design company pick: Sketch vs. Figma vs. Zeplin
If people don't like the look of your website/mobile app at first glance, you may never get it back. Choosing the right UI/UX Design company is a must-have to avoid losing your potential clients.
Designers today have many tools to help them compete in the industry with tons of functionality in one application, offering everything from display design to prototyping and information architecture.
Let's go through our 03 TOP picks UI/UX design tools and see which is best for your needs.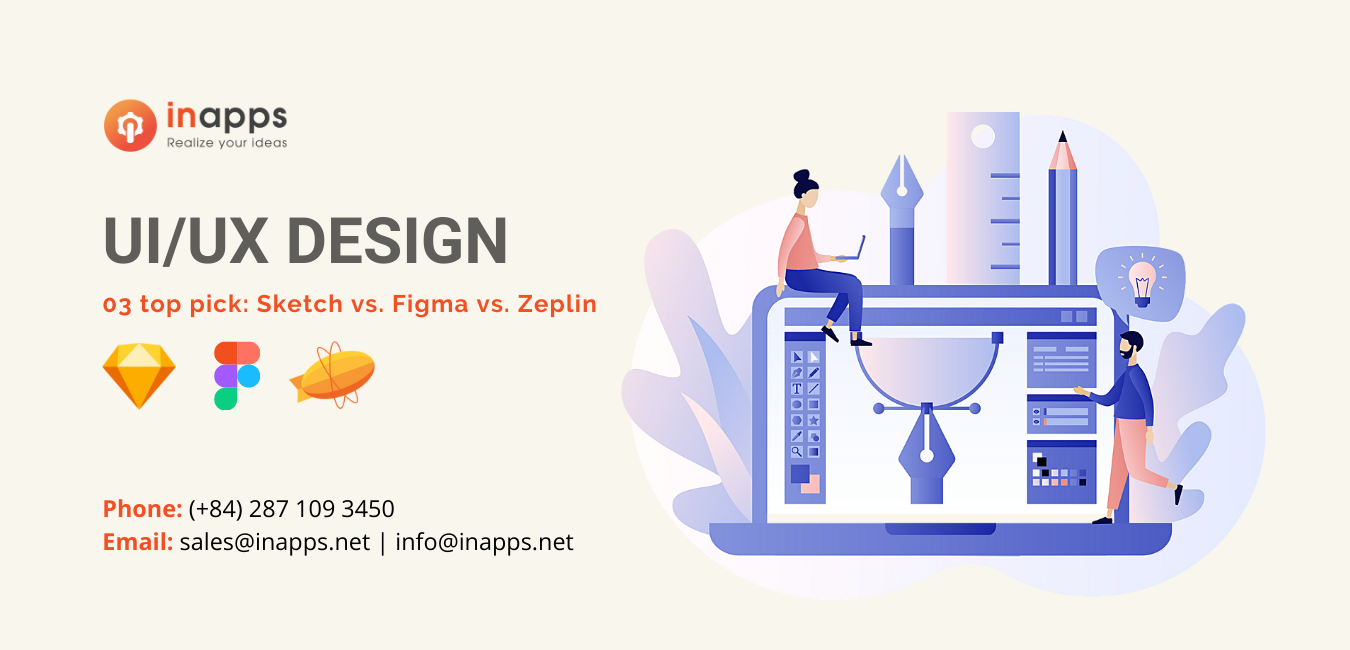 Why should you hire a UI/UX Design Company?
There are millions of mobile apps on the App Store these days. Some succeeded while others struggle to survive in the highly competitive application market.
Many users are looking for applications that look attractive and are easy to use. A visually appealing application is often the result of an efficient user experience (UX) and user interface (UI). Any UI/UX Design company will advise you to develop an app with a lot of attention to its Ul/UX design because this is where the success of your app begins.
A great user interface will instantly attract your app users, while a great user experience will have a lasting impact on your users. Hence, it is important to get them right if you want your application to be successful.
UI and UX are some of the most confusing terms in the world of business technology. Let us make it clear!
What is UI Design? What is UX Design?
The user interface and user experience are two different facets of web design, but they go hand in hand. UI focuses on interface design and how a user interacts with it, while UX emphasizes the user's experience of using your product or service.
UI Design
The user interface (UI) enhances the presentation and interactivity of the web or mobile application. It focuses on the graphic design of an application and consists of the buttons the user clicks, the text he reads, the images, the sliders, the text entry boxes, and the rest of the elements the user interacts with. This also includes the display design, transitions, interface animations, and every single micro-interactions. Any visual, interaction, or animation needs to be designed.
This task is incumbent on the UI designers and UI/UX design company, who decide what the application should look and feel like. They have to choose color schemes and button shapes, the width of lines, and the fonts used for text.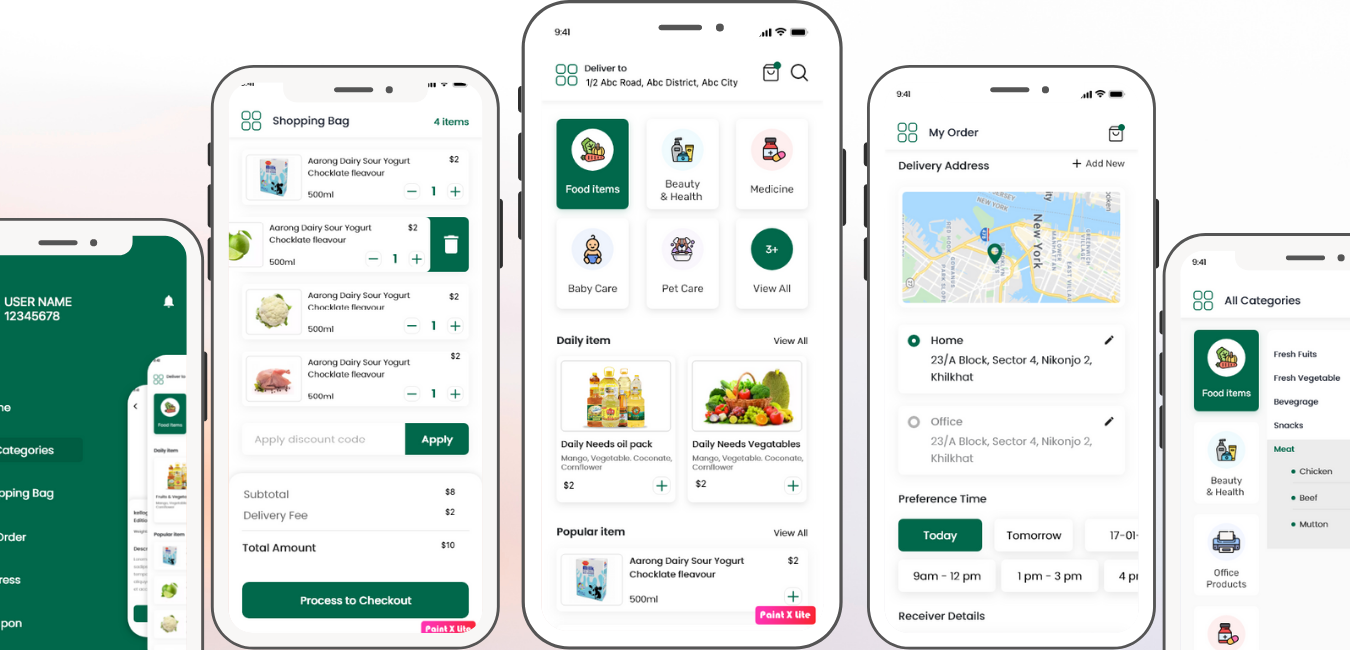 UX Design
User Experience (UX) Design improves the overall user experience when interacting with the application or website to achieve maximum customer satisfaction. It takes customers into account and creates the basic framework for every application. It mainly focuses on wireframing an application and structuring it. All of its components and elements are appropriate to create the flow of users.
Is the experience fluid and intuitive or clumsy and confusing? Does it feel logical or arbitrary to navigate the app? Does interacting with the app make people feel like they are doing the tasks they are set to do efficiently, or does it feel like a fight? The user experience is determined by how easy or difficult it is to interact with the user interface elements that the UI designers created. You determine the interface structure and functionality. How it is organized, and how all the parts relate to each other.
In short, they design how the user interface works. If it works well and feels perfect, the user will. have a good experience. However, if the navigation is complicated or not intuitive, the user experience is lousy. UX designers are working to avoid the second scenario. Designing in a vacuum does not produce ideal results. There is also some iterative analysis involved in UX design.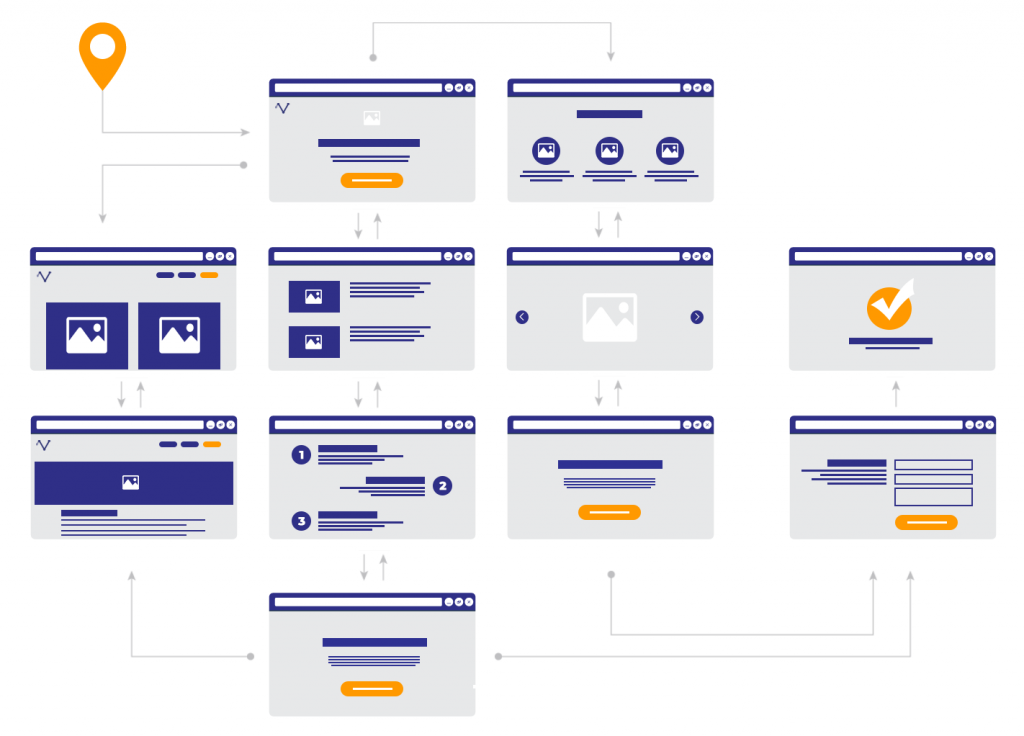 The importance of UI/UX Design
The main goal of any business is to increase its sales and growth. To achieve this goal, UX/UI design plays an important role. The UX/UI design of the application helps increase the number of users installing and customer satisfaction.
Since there are many options and alternatives available to users for the products and/or services you offer, you need to attract your users' attention for a much shorter time and hit the target in this short time. UI and UX design helps build consumer trust and use your app or website by giving them what they want. The increased number of users proves the success of great UI and UX.
For a startup or small business, the importance of UI and UX design becomes even more important as first impressions last a long time, and the use of UI and UX design can affect or destroy brand recognition.
Enhance customer satisfaction to improve ROI
A great design offers your customers appealing content and easy navigation. This makes customers happy with your app services, and satisfied customers will recommend your app to others, increasing the number of customers.  Additionally, they'll become loyal to your brand and become repeat buyers, increasing your business's ROI.
Help understand your audiences
Before creating a Ul / UX, you need to understand your customers' needs. It means that your design is created with your target audience in mind. Your app will appeal to the audience you created it for. In addition, Ul / UX allows you to segment your audience, which is critical to understanding what each audience wants. When you understand your target audience, you can easily convert potential customers into your loyal customers and thus increase actual sales.
Branding
Investing in an efficient Ul/UX layout facilitates growing customers' delight. People like operating with brands that satisfy them. They can be greater inclined to factor out capabilities that you may upgrade, and as a result, you put money into enhancing your application. This will increase the credibility of your enterprise as a consumer creates proper relationships with your business and brand. The result of that is the boom withinside in the value of your business and your brand name.
Saving time and money
When you invest in a great Ul / UX design, there is very little chance your customers will find something wrong with your application. A perfect product does not need frequent updates and thus saves you money and time that you would otherwise have spent developing an update. . The upgrade requires some investment in both money and time. This leads to losses for your company.
Maybe you want to read: 6 Tips to optimize the search bar design
UI/UX Design process
Hundreds of applications are developed and launched every day. However, a significant proportion of these applications do not interact with users and do not achieve business goals. Mostly this is due to poor UX / UI design. Suppose, for example, an application or website, too often companies prioritize functionality over usefulness. This usually results in the building confusing applications that are difficult to interact with or do not meet user needs and expectations of wasted time and money.
If you follow a UX / UI design process with a user-centered mindset, you can ensure that you are creating a usable and useful product.

Learn more: How we deliver UI/UX services
UI/UX Design Company pick: Best 3 UI/UX tools
We're going to have a look at some UI/UX tools that help you find handy for your design process.
Sketch Design
If you're experienced with UI design, you've heard of Sketch. There are a few reasons why it's one of the most revered design tools – to be able to make universal changes, either through its symbol library, layer styles, or text styles, or their seamless alignment and resizing capabilities save designers time producing consistent prototypes. Eliminate boredom and allow designers to jump in and create. And with a plethora of third-party plugins that integrate seamlessly, there's no shortage of tools to use with Sketch.
Sketch Design was a real industry phenomenon in 2015, absorbing large numbers of users from the old king Photoshop, a new standard for user interface design tools with features like artboards, icons, and export. Vector design and icon systems are among the many selling points of this design giant, not to mention the clean and intuitive user interface. Writing with Sketch Cloud, but since tools like InVision and Marvel have been around for a long time, users may need time to think about switching to a new one. It lacks the original application, which makes this software almost the perfect choice.
[su_note note_color="#fdcda4″ radius="5″]Pros:
Vector design
Reusable components (symbols)
Lots of plugins
Cons:
No Windows version[/su_note]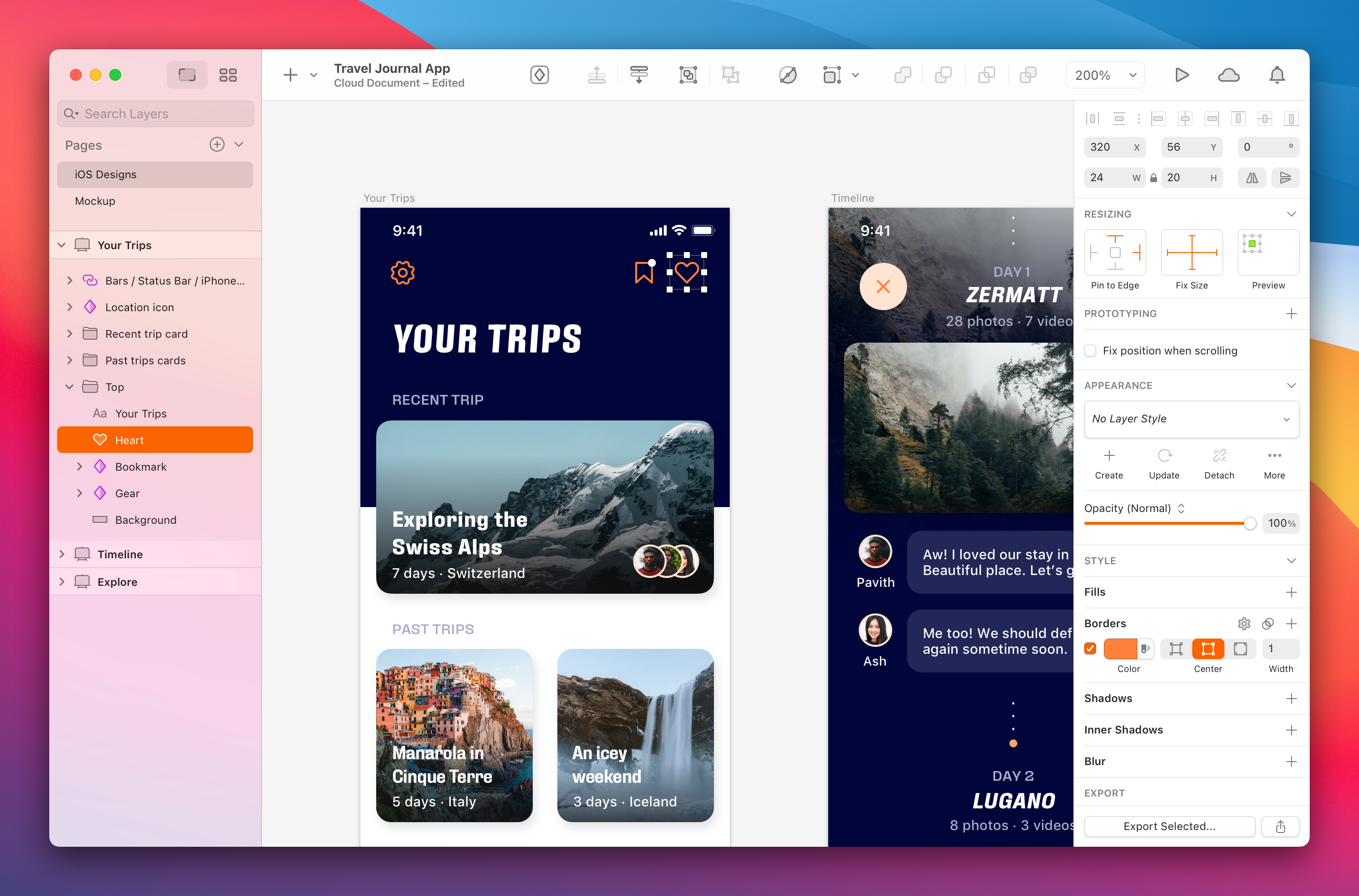 Figma Design
Figma enables designers to create dynamic mockups and prototypes, test their usability, and synchronize all progress. It enables a collaborative environment where multiple people can work on a project simultaneously, much like Google Docs, so you can see who has it open for real-time collaboration. You will see who is working and what they are doing. It's also browser-based, so it's accessible to anyone in a snap. And as a bonus, it's free for individual use so that you can try it out. And familiarize yourself with the operation.
It's no surprise that user interface design tools these days share many characteristics. In this regard, Figma can be said to be 70% similar to Sketch, but one of the highlights of the competitor is that it is cross-platform compatible as it is entirely web-based, from macOS to the web, Windows, and even Linux. In addition, Figma uses a revolutionary system called the Vector Network that will blow your mind when you see how smart it is the first time you use it.
[su_note note_color="#fdcda4″ radius="5″]Pros:
Great vector network mechanism
Real-time collaboration
Has a free plan
Lots of add-ons
Cross-platform compatibility
Cons:
We cannot use it without an internet connection
Requires a reasonable amount of RAM and graphics cards[/su_note]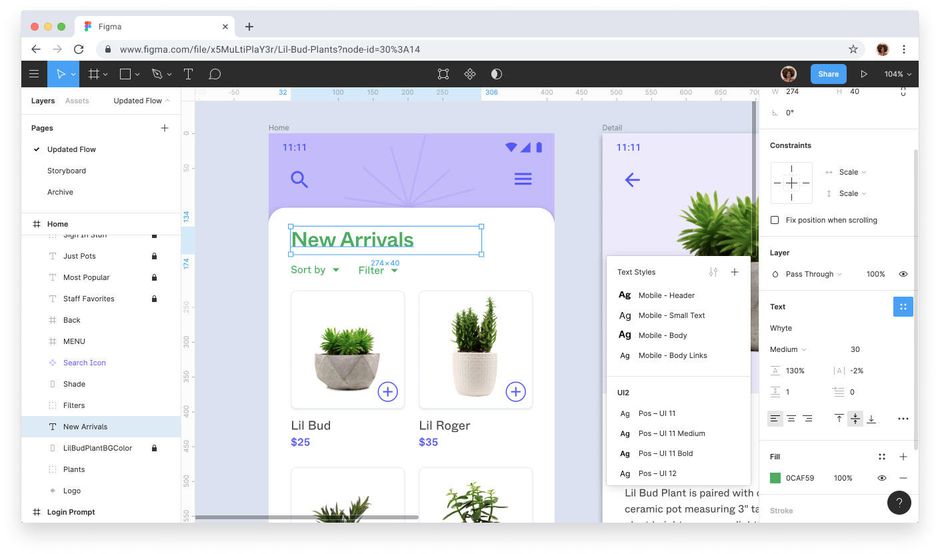 Zeplin Design
Zeplin is a tool to help your team work together and organize a project seamlessly. Unlike the two above, Zeplin is not a standalone user interface design tool, which means you can design in other standalone tools like Sketch. You need to create and edit Figma and then import the design into Zeplin to use its features projects or projects with multiple screen sizes. In addition, Zeplin gives users the ability to manage all of the project styles and color palettes in a separate, intuitive tab. The clear and semantic export function for code snippets is another plus, in which the style class names are identical to the layer names.
Although it is not a web tool, Zeplin runs at least on Windows and macOS as a full application, while the web version offers certain limited functions. Like Sketch and Figma, Zeplin is ready for the design game with a host of handy plugins and ultimately offers a free plan for those looking to get used to the Zeplin ecosystem or do small projects.
And while you don't come with a built-in prototyping application, it is widely believed that it's good to focus on what the application is good for while leaving the building of a prototyping job for another full application. However, this may vary depending on the project. And workflow.
[su_note note_color="#fdcda4″ radius="5″]Pros:
Tidy organizational functions
Nice export Has a free plan
Lots of plugins
Available for Windows and macOS icons
Cons:
No integrated prototyping tool.[/su_note]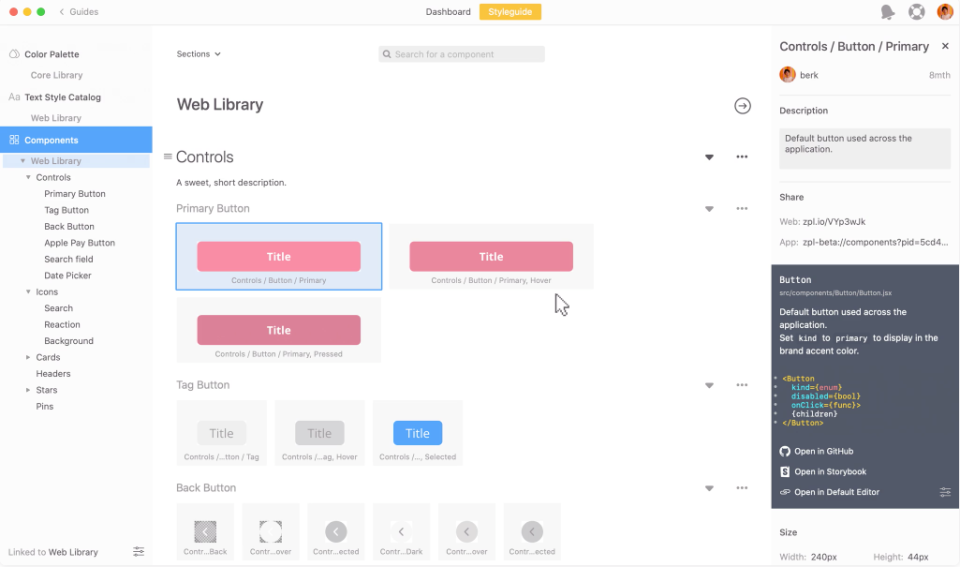 Comparison
If you have a team that uses macOS and you know what you're doing, Sketch, with its lower cost and nice features, is a good fit.
If you want to try things out a little without compromise, or appreciate the cross-platform support and time collaboration, for real, in fact, the choice here is Figma.
The advantages of Zeplin are design transfer and project organization. So, if you have a large project that requires these standards, Zeplin is a must-have choice to use along with other standalone UI design tools.
UI/UX Design examples
With more than 10 years of experience in developing applications for customers. We always focus on efficiency for customers with a mindset on ROI (Return of Investment). We always research the customer's business model to advise on appropriate product development.
Let's take a look at some examples developed by InApps for mobile apps: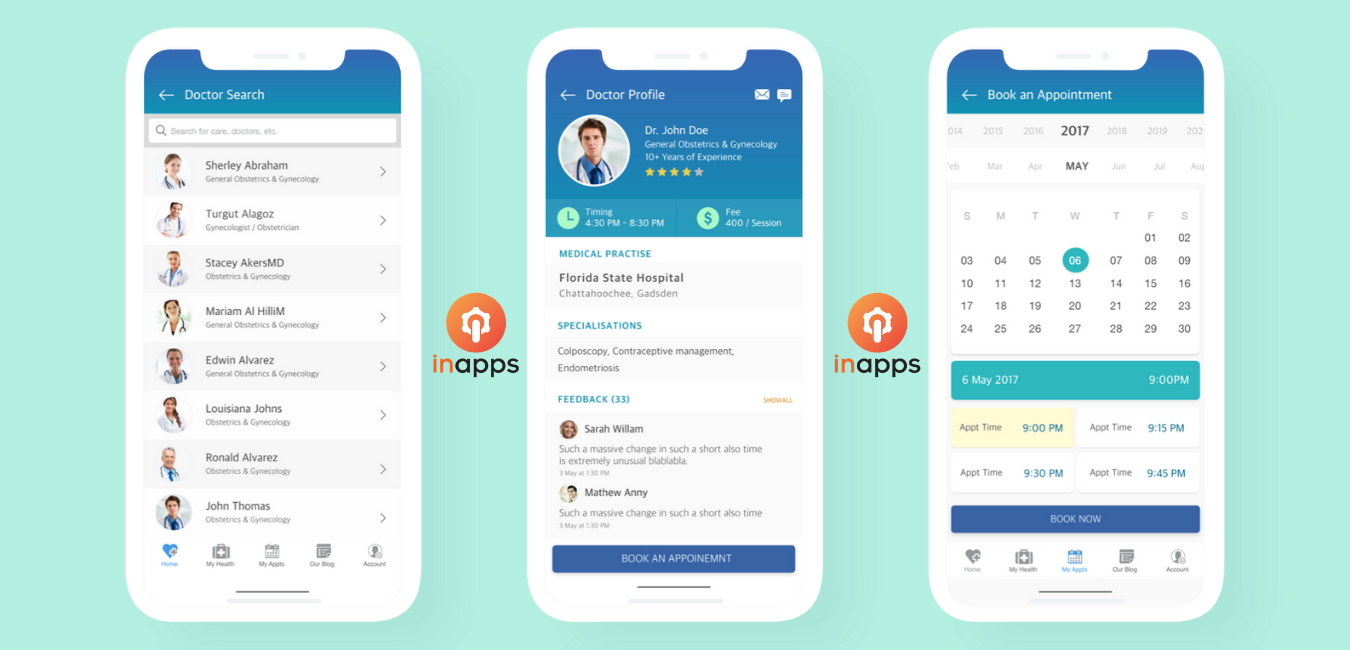 Trusted UI/UX Design Company in Vietnam
It's Time to Create an Amazing Product! Creating a successful product isn't just about making something functional; It's about creating something useful. A user-centric mindset and applying a thorough UX/UI design process are critical to developing a strong bond between users and your product.
At InApps, we help startups to set up digital products. We work with an integrated process that goes from hypothesis validation to launch. If you are looking for an experienced and dedicated team to prepare your next application, TALK WITH OUR EXPERTS.
List of Keywords users find our article on Google:
Let's create the next big thing together!
Coming together is a beginning. Keeping together is progress. Working together is success.