Vietnam Frontier Summit 2019 – VFS for individuals and entrepreneurs in the field of artificial intelligence
Vietnam Frontier Summit 2019 – VFS with the theme "Intelligence in motion" held on October 6 in Hanoi.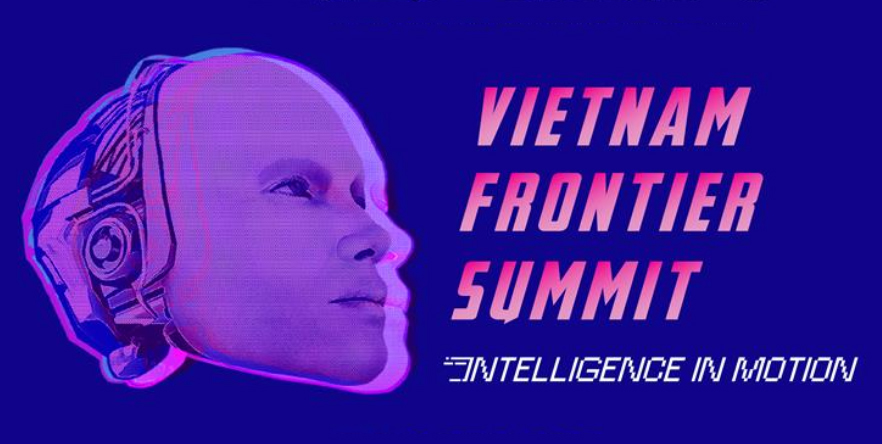 This is a forum for individuals and entrepreneurs in the field of artificial intelligence with the goal of connecting the Vietnamese technology community with the world, promoting the development of artificial intelligence in Vietnam. The event attracted about 40 speakers from 5 countries, discussing professional issues, introducing new technology products,… in the field of artificial intelligence technology.

Researching on the artificial intelligence ecosystem of Vietnam, Mr. Louis Nguyen (G&H Ventures Company) affirmed: The potential of the artificial intelligence market in the world in general and of Vietnam, in particular, is enormous. Worldwide, it is expected that by 2030, the profitability of the intellectual application in all areas will contribute to an increase of 13 trillion times more than the global economic value. In the first phase, in order for artificial intelligence technology to develop, Vietnamese technology companies, as well as information technology engineers in artificial intelligence, need to focus on researching and developing products for the selected categories.

In Vietnam, there are many fields that can be selected for research and application of artificial intelligence in which agriculture, healthcare, e-commerce are among the fields that can take advantage of the country's advantages. When the technology community produces many small and effective applications of artificial intelligence, it will contribute to raising the awareness of artificial intelligence, paving the way for artificial intelligence to attract attention, invest in development to create breakthroughs in the future.

According to Mr. Sang Shin (Director of Innovation Technology, Temasek Company, Singapore), Vietnamese companies need to nurture talents in the field of artificial intelligence technology because this is the technology for the future. Vietnamese startups need to receive the attention, investment, support of the government, investors, social forces to focus on researching and developing products that apply artificial intelligence. Values ​​for the community and capable of promoting the development of society.
Currently, there are many tech startups that choose artificial intelligence to develop. Vietnam does not lack "technology talent" but it lacks "business talent" to promote the development and expand the area of ​​application of artificial intelligence products. At the same time, to create artificial intelligence products that can change the process of an industry, an area requires not only good technology engineers but also talented individuals who are interested in the fields that embarked on the implementation of technology products.

The application of artificial intelligence has the ability to create products that are beyond human ability. For example, currently, commercial fraud is losing about 13-15% of the profits of many financial companies and banks. With the collection of sufficient data, the application of state-of-the-art algorithms, artificial intelligence helps detect, analyze and prevent acts of economic profiteering, contributing to reducing economic frauds. Thus, artificial intelligence technology does not directly generate profits but contributes to protecting the profits earned by businesses.

About InApps Technology
InApps Technology is a privately owned software outsourcing company located in Ho Chi Minh City, Vietnam. We also have a representative office in the USA. Established in 2016, we have successfully provided software outsourcing and offshore development services to domestic and global clients.
Our dignified niche is Mobile App Development. We have worked with clients from the USA, Australia, Northern Europe, Korea, Singapore, and Vietnam to develop world-beating apps. Our Dedicated Software Development Team with experienced engineers is at your service to design, develop high-quality technical solutions at any level of complexity, mitigate the risks and bring your great ideas to life.
Throughout different projects, we have earned great expertise in diverse industries such as: Healthcare, Retail & E-commerce, Hospitality, Travel & Tourism, Education & E-Learning, Loyalty… etc.
How InApps applies AI in Mobile App Development
– Improving Search Experience:
AI improved the user experience while searching the user's related objects. This technology added a new way to suggest the user while searching. The integration of ML and image recognition in AI mobile applications took the user experience to the next level. New trends have been set after the voice recognition technology amalgamation into the system.

– Forecasting Marketing:
Marketers need to collect, maintain and analyze huge chunks of data. It takes a reckless amount of time to maintain customer information. Thus, AI is here for dealing with customer data, resulting to enhance sales. AI-powered apps support in researching and analyzing the market.
Have a look at our case studies: https://www.inapps.net/case-study-category/mobile-application-development/

Summary
Event
​
Vietnam Frontier Summit 2019
Location
Starting on
Ending on
Description
Vietnam Frontier Summit 2019 - VFS with the theme "Intelligence in motion" held on October 6 in Hanoi.