>
>
HOW TO CHOOSE THE RIGHT BLOCKCHAIN DEVELOPMENT TEAM FOR YOUR PROJECT
To find the best blockchain development team, you often search for a top blockchain development company? However, sometimes the perfect one is not the right one for you. Choosing a trustworthy blockchain outsourcing company becomes a challenging task.
This article will discuss the key factors to consider while selecting a blockchain development team for your upcoming project. Let's start!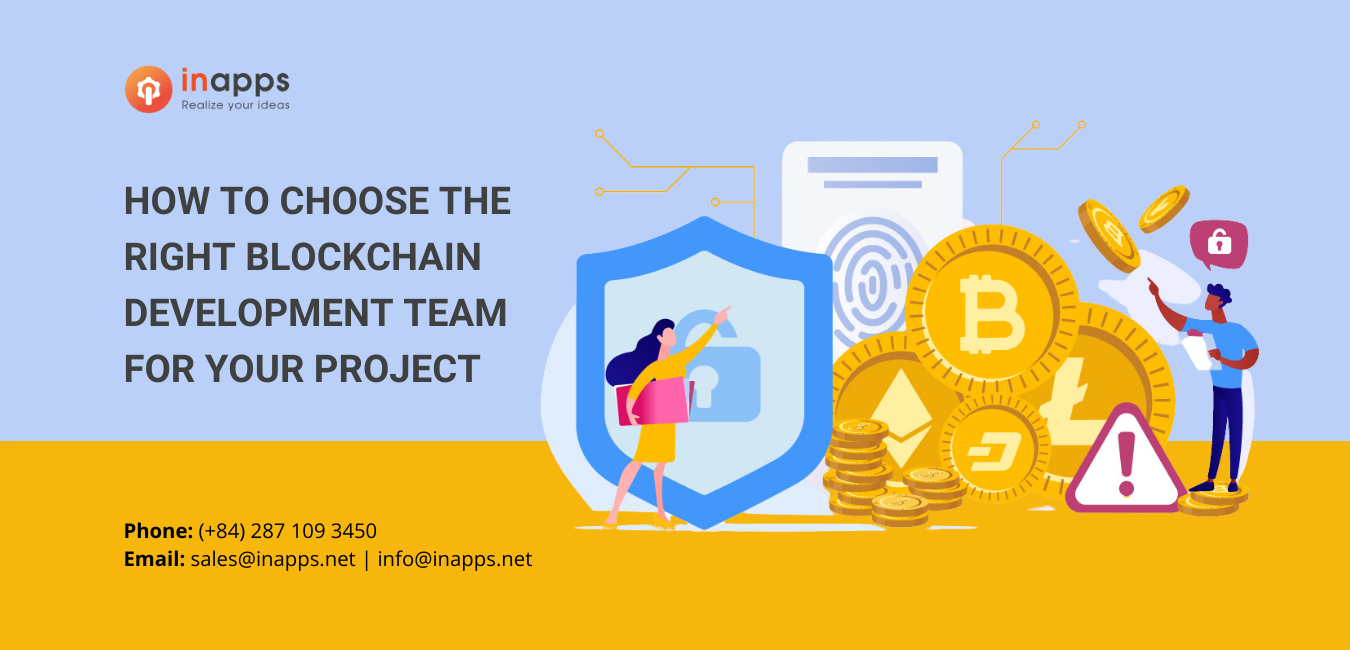 According to experts, by 2025, the adoption and implementation of blockchain will be more significant in all aspects of our lives. It didn't take long until it came to the other niches like supply chain, technology, healthcare, agriculture, and many more.
[su_quote]According to Garner, Blockchain is expected to create $176B in business value by 2025 and over $3T by 2030.  [/su_quote]
Suppose you are one of those who embrace blockchain technology. In that case, the first step in incorporating it into your organization is to identify a suitable developer to assist you with the project.
Where should you start?
According to recent research, outsourcing is growing more widespread in all industries. If you've never worked with product outsourcing before, we recommend laying down the fundamentals of your project before getting started or during the discovery process. Frequently, these are replies to the fundamental objective of your project, such as:
The main idea of your project
The issue your project addresses
Why it is superior to existing solutions
Any ideas for preferred concepts and blockchain frameworks.
We encourage answering those questions before scheduling the first meeting to locate and employ a true blockchain master with good tech abilities. It will assist you to know precisely what you are searching for and restrict the list of firms if you specify it yourself.
The selection of an appropriate development framework is a separate and critical component of every blockchain-based enterprise. This is the critical reason for the project's decision to hire a blockchain business.
Let's take a closer look at the various ways of blockchain development to determine which one is most suited for executing your concept.
Blockchain project development: how to approach?
In terms of blockchain-based project development, there are two key angles to consider. They are critical when selecting the best blockchain development company since each technique necessitates a distinct set of tools and abilities from the outsourcing team.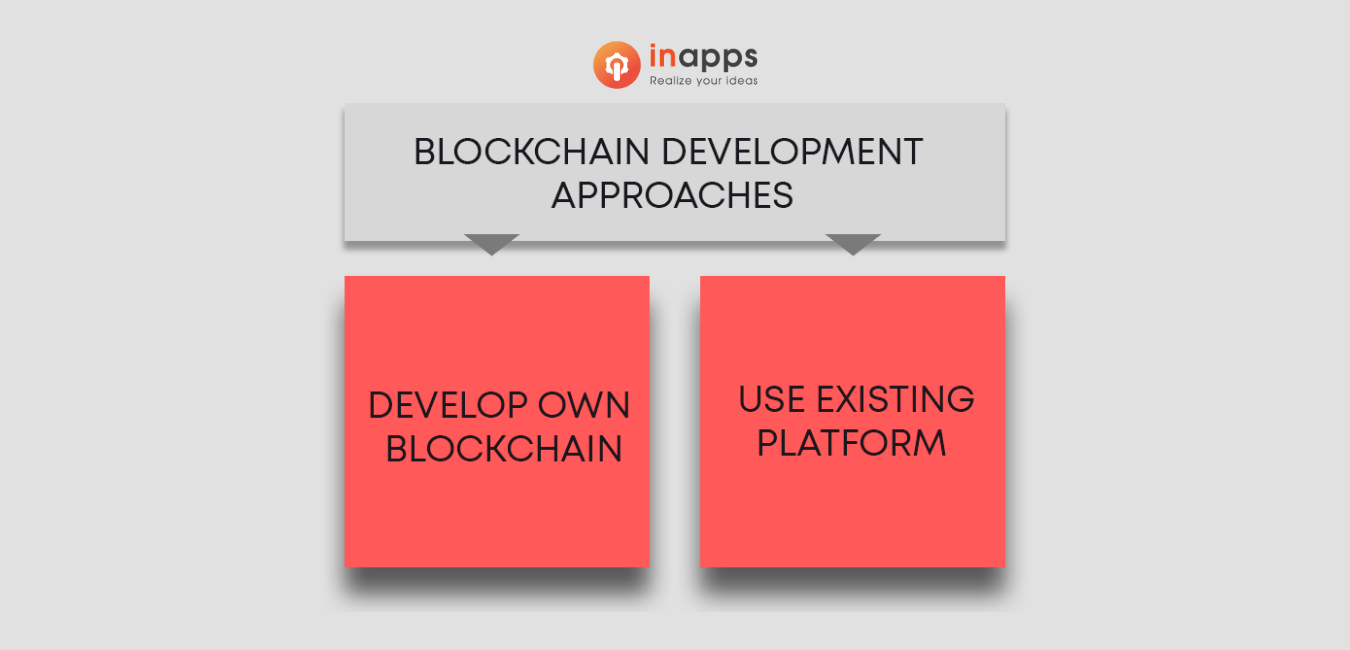 Using an existing blockchain platform
The first approach addresses an issue using one of the current blockchain systems, such as writing a smart contract on Solidity or running a comparison cycle on Hyperledger. To complete such a project, developers must be fluent in a particular programming language and have prior expertise with comparable projects.
A developer must also grasp how the platform operates, as well as its unique features and constraints. There are several intricacies that, if ignored, may result in the process slowing down and increasing expenses.
[su_note note_color="#fdcda4″ radius="5″]Suitable for: small and medium-size tasks that require further integration into already existing projects.[/su_note]
Developing own blockchain from scratch
The second approach is constructing the whole blockchain from the ground up. This category is typically utilized when developing a "wow project" that introduces fresh ideas or alternative solutions to specific sectors. A developer does not need to have specific knowledge of new languages in this situation; a decent command of C++ or Python would suffice.
Despite this, the second option needs more expertise and experience in developing blockchain logic and architecture, one of the most critical considerations. These enterprises frequently include the transfer of money or assets. Therefore a minor consensus error or false node synchronization might be worth millions.
[su_note note_color="#fdcda4″ radius="5″]Suitable for: a big and scalable project, or an enterprise blockchain requiring custom development of a unique blockchain ecosystem.[/su_note]
[su_quote]Defining your project's requirements and determining which strategy is a suitable fit significantly reduces the number of potential future providers and saves you a lot of time.[/su_quote]
5 things to consider when choosing a blockchain development team
After you've understood and written down the key insights of your project, you may compile a list of vendors to contact and discuss your concept. To that end, we've compiled a list of criteria and considerations to make when selecting a blockchain outsourcing provider.
Look for competency
[su_note note_color="#fdcda4″ radius="5″]Do not hesitate to ask for relevant documentation in order to ensure a company has the required skills and knowledge.[/su_note]
One of the most excellent ways to examine an IT company's market activity is to request a link to Github, where all project descriptions can be found. Take note of the Github authors and project release dates.
You can also request a direct conversation with a team's engineers to address any technological doubts. This is your money, and you must know to whom and for what you pay it.
We recommend examining the company's portfolio on the main website. This list is often populated by vendors with the most scalable and significant examples. As a result, when searching for a company's portfolio, you should also consider the scale on which this specific blockchain company operates.
>> Download InApps portfolio HERE.
Evaluate team creativity and approach flexibility
After understanding and writing the core insights of your project idea, send this list to the chosen company. Do this ahead of time to provide them time to build a comprehensive proposal for you. Ask as many questions as possible to guarantee that the technical professionals have studied your specifications and understand every aspect.
Evaluate how many solutions are presented to you during the communication process. Companies will sometimes prepare a few possibilities to provide a wide range of cost estimations, but this is another story.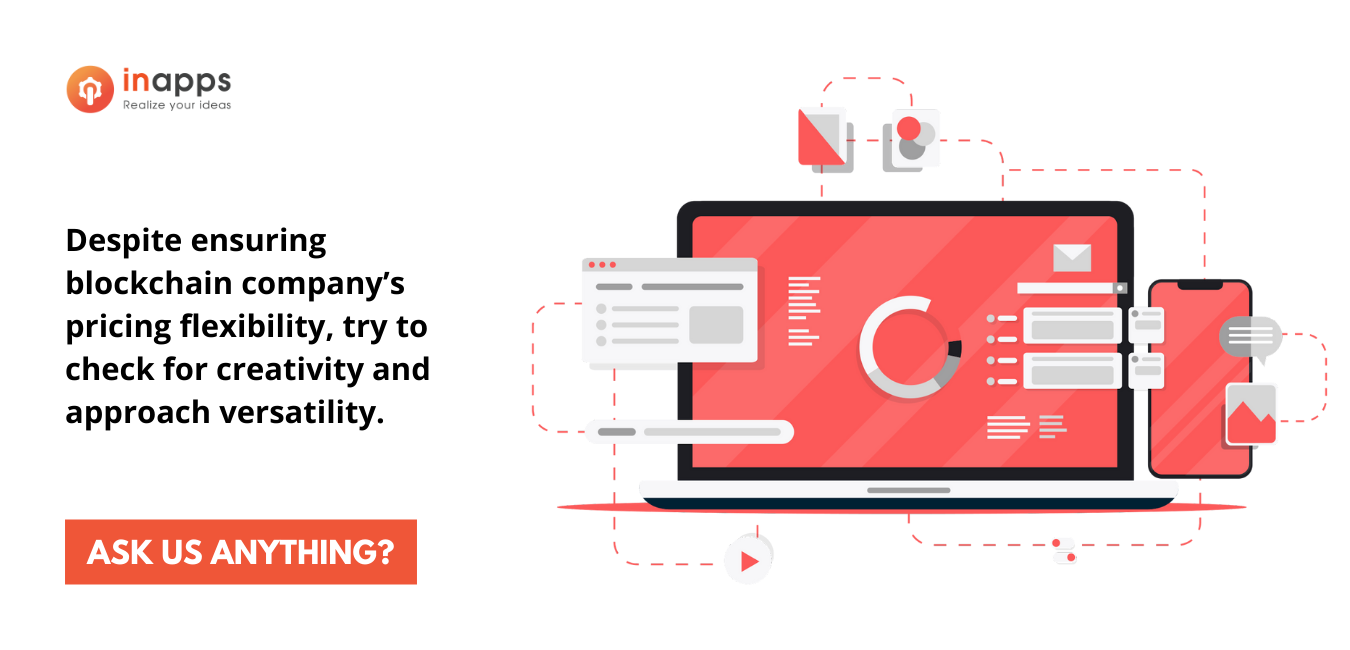 To provide adaptable techniques, one must seek alternate problem-solving strategies that are affordable and of high quality. This functionality will be helpful when dealing with large and scalable projects, and it will be a significant help when executing a "wow" project.
The development team may encounter various issues or pitfalls throughout the implementation phase. Thus acquiring such talent will be a significant benefit.
Ask for a fixed price
IT businesses often have 3 types of budgeting on their list as follows.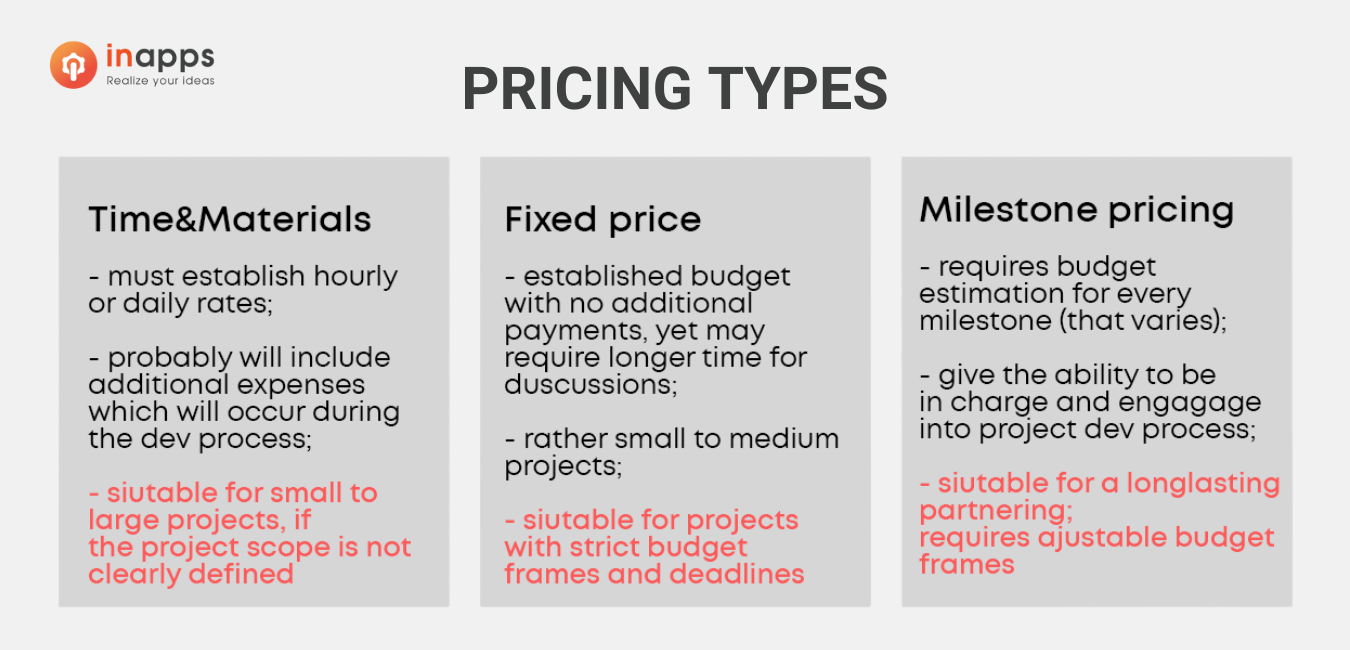 When you have a well-prepared technical assignment in your hands, ask the corporation for a set pricing cost assessment even if you do not believe it is appropriate for your project. Often, corporations do not provide this type of planning, concealing their lack of understanding of precise time boundaries and required experience.
[su_box title="InApps' recommendation:" box_color="#ef5808″]Even if you have agreed on an hourly payment type of budget, do not be hesitate to ask for a fixed price estimation in addition. This also helps to check the level of conductor experience. If you have a prepared technical task on your part, the preparation of such estimation should be easy.[/su_box]
Directly communicate with the development team
It would be ideal to pay money and then sit back and relax while waiting to connect to a repository containing a final project. Unfortunately, it only works as a marketing phrase rather than in actual reality.
Communication with the company's project manager may not be sufficient to understand the development process better. As a result, we propose that you evaluate the dev team's readiness to carry out daily calls.
If the team fulfills your expectations and you have reached an agreement on the final proposal, don't rush to move this task to the "done" area of Trello and wait for the product launch.
We suggest that you keep control of future development processes and schedule work so that the development team is entirely focused on your project. If you don't have enough time to accomplish it yourself, employ a product manager to handle it and represent your interests in the project.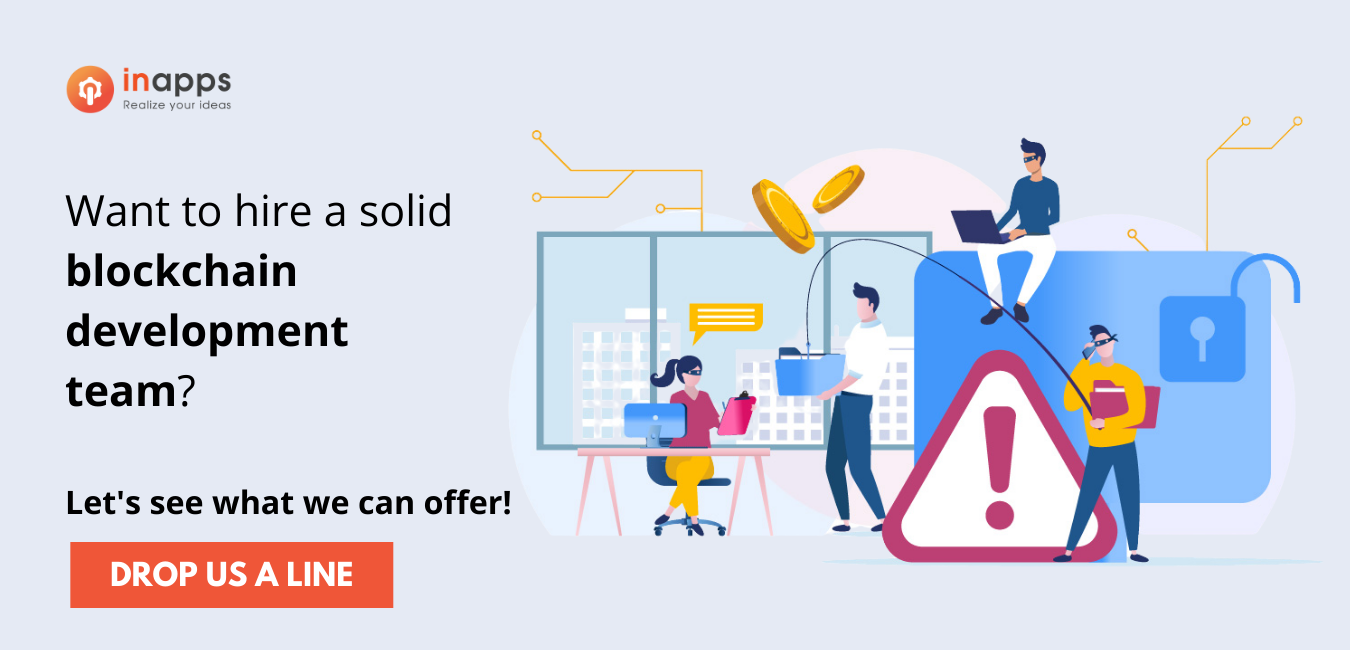 Check for C-level authority and community activity
C-level (or C-Suite) executives are the highest-ranking executives in a firm. The number of C-level executives varies with every firm and is mainly determined by its size and scale. As a result, major outsourced blockchain subcontractors will have a more significant number of highly qualified authorities to spread the dynamic workflow.
Another factor in evaluating is the company's social media activity or articles in well-known media communities. As easy as it sounds, verifying a company's account on popular media may provide you with a wealth of information and assist you in selecting trustworthy blockchain engineers.
See how InApps was awarded as the best blockchain developer by Clutch.
3 signs of a lousy blockchain outsourcing company
We have just gone through everything you should look for when hiring a blockchain development team. However, to differentiate a trustworthy blockchain vendor, we recommend looking at a few key characteristics of a lousy blockchain outsourcing firm.
Today, a plethora of organizations claim to have a dedicated and experienced staff of blockchain developers. Unfortunately, this information is frequently overdone in various ways.
Lack technical requirements preparation
We frequently see the situation in which a client initially contacts business analysts (or) consultants to discuss his concept and transform it into a technological need (or fulfills this through his employees).
As a result, the project concept is presented in PowerPoint with many visual elements, moving arrows, and spinning gears. It appears to be satisfactory, so he pays for it and believes that everything is in order. Typically, the real dev team revises and redoes 80 percent of such "technical requirements" while preparing a technical assignment for the onboarding process.

Unfortunately, the outsourcing contractors might follow what they provided in the initial technical specifications in certain circumstances. This is the worst they can do since a buyer will pay for an inoperative good. To avoid tech collisions, ensure that your development team develops a high-quality technical assignment and conducts a comprehensive business analysis.
A skilled team of blockchain developers can create a technical requirement for you while using only your idea as a base. Translation of such a technical requirement into a tech task will be easy if the same team does. As a result, you will save a lot of time.
So, feel free to come with the concept to outsource, but assess the company's capability to do such work.
Claiming too much experience
The following typical example of an improper company claims to have more than 7 or 10 years of blockchain development expertise. Such a long experience in the sector is almost impossible since, before the creation of Ethereum, it was difficult to conceive the Application of blockchain technology in any business.
Before 2015, people used blockchain for cryptocurrency, and its adoption looked very speculative and impossible. As a result, if a corporation claims to have 7 or even 10 years of experience in blockchain development, request that Satoshi Nakamoto be in charge of your project. Only recently, from 2017, has there been a significant explosion and breakthrough in blockchain development.
Blockchain is not their primary expertise
Another distinguishing element of blockchain outsourcing is that many organizations entered this field while still providing other IT services. When the blockchain "boom" began in 2018, they just added blockchain to the list of technologies they provide, rather than dealing with traditional development, back-end, or even front-end solutions.
In practice, this does not suit either the first or second blockchain development approaches outlined above, mainly because it is hard to learn high-quality programming or a slew of new languages in a short time. Similarly, there is a very minimal chance of obtaining extensive knowledge in practical blockchain architecture construction quickly.
Final Word
Blockchain is becoming popular all over the world. However, few individuals, even those who are technically knowledgeable, grasp its technology. You are at the vanguard of entrepreneurs if you are exploring blockchain for your firm.
Many experts believe that blockchain will cause a change not only in IT but in every aspect of our life. Remember that fortune does not wait for anyone. The sooner you implement new technology, the more profit you can make.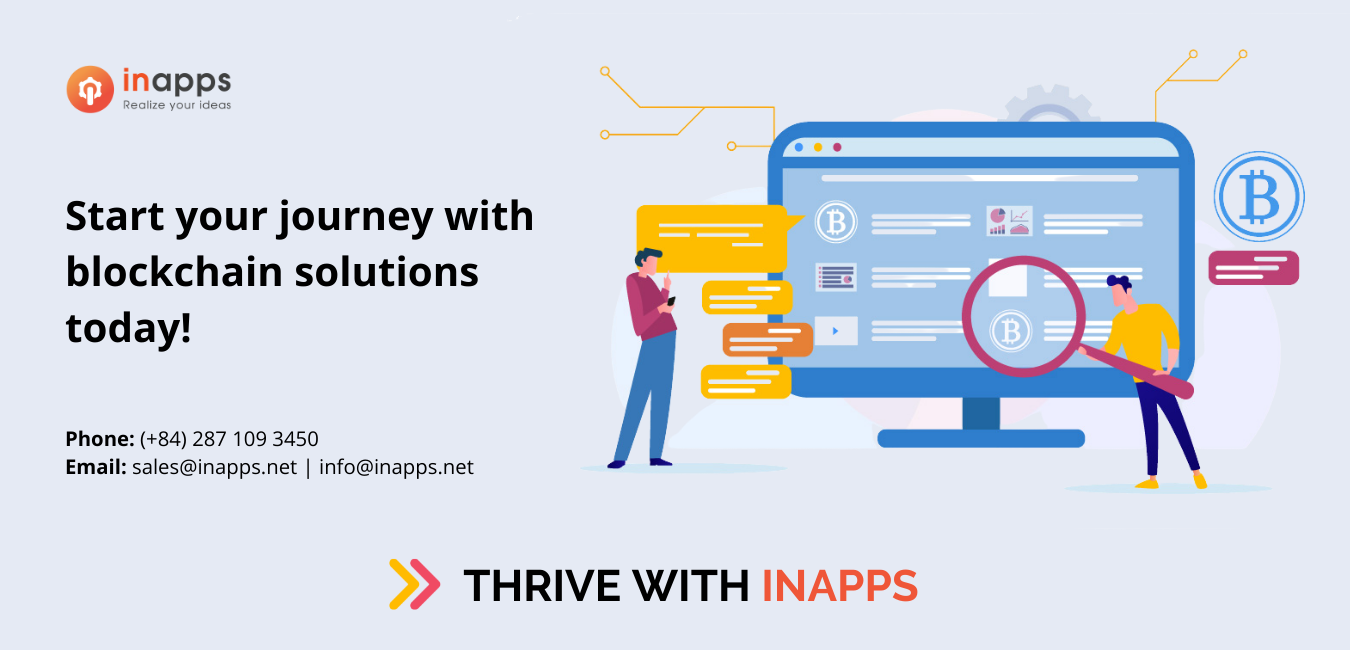 Why hire InApps' dedicated blockchain development team?
In Vietnam, InApps Technology is now the Blockchain development leading company with the 1st position ranked by Clutch. Also, we are in the 33rd position of Top global Blockchain development company. With InApps' blockchain development services, you can boost your efficiency, security, and service.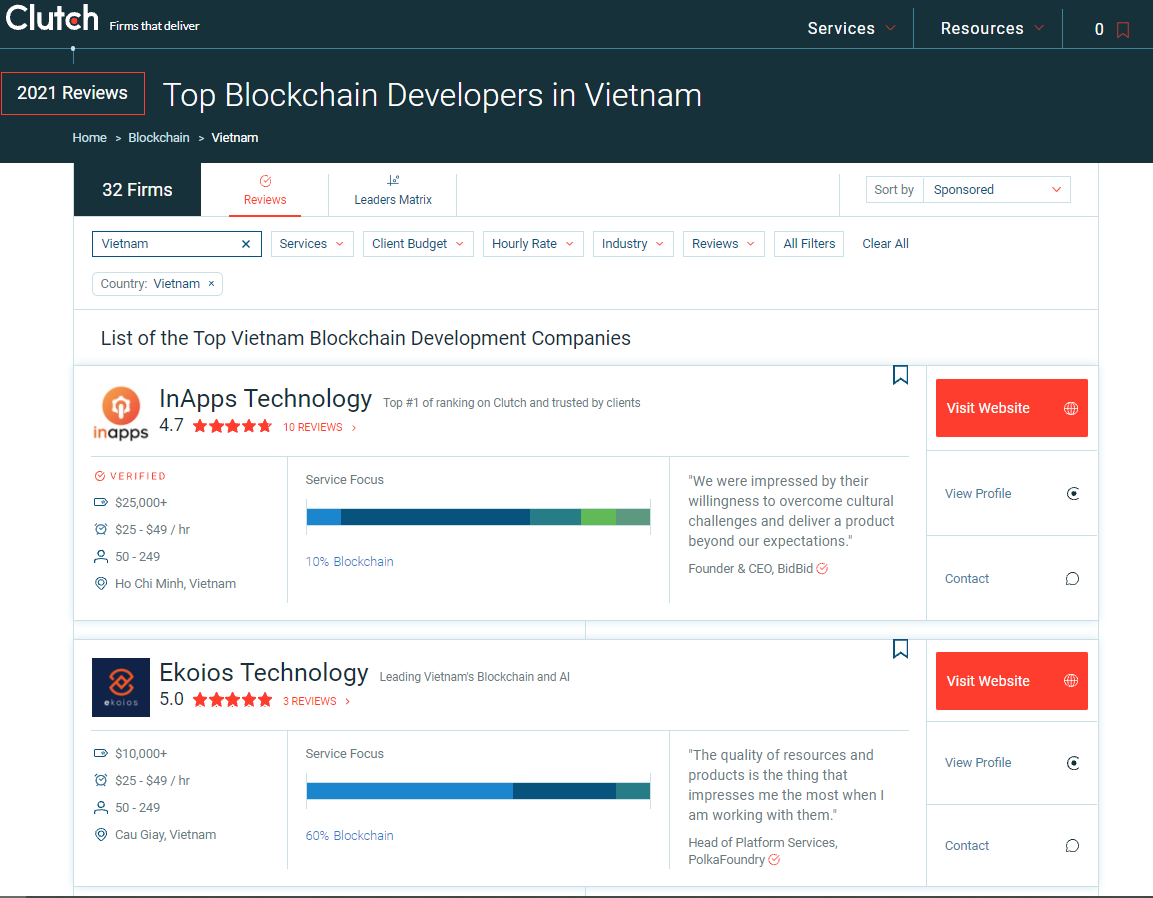 With approximately 10 years of experience in the software development industry, we have provided consulting and development services to numerous startups and enterprises, successfully launching their Token, Cryptocurrency Exchange, eWallet, and dApps.
We develop dependable and secure blockchain technologies from the ground up and customize existing blockchain solutions through various system modifications, integrations, and implementations.
The appropriate process ensures high-quality production while adhering to strict QC and industrial standards.
> Learn more:  How InApps deliver Blockchain development services

List of Keywords businesses find our service on Google:
Let's create the next big thing together!
Coming together is a beginning. Keeping together is progress. Working together is success.