>
>
INAPPS TECHNOLOGY RECOGNIZED AS TOP BLOCKCHAIN DEVELOPER IN VIETNAM BY CLUTCH
InApps is an innovative Blockchain Development Company based in Vietnam. Our Blockchain developer team creates cutting-edge applications for all platforms, focusing on Blockchain and NFT Development for various industries.
Among the thousands of blockchain development companies, InApps Technology is proud to be in position 33. Especially in Vietnam, InApps is now the Blockchain development leading company with the 1st position ranked by Clutch.
InApps is one of the best choices because of our outstanding vision for the future of digital transformation with blockchain technology.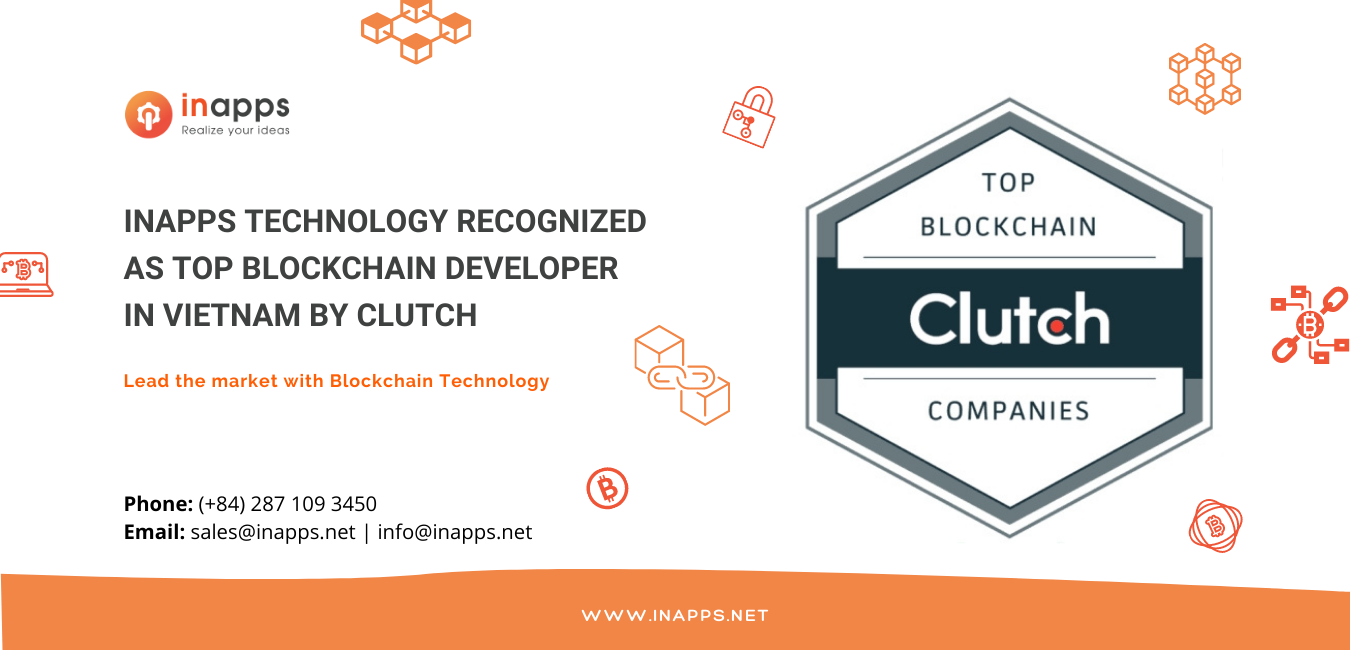 Read more: Why is the world going crazy with Blockchain?
The best Blockchain developer in Vietnam
Our agile approach to Blockchain development distinguishes us from the competition by ensuring a customer-driven design process, high-quality results, and dependable code. Since our inception in 2016, the core team has been working tirelessly and is rapidly expanding!
We are honored to have been named one of the top blockchain developers by Clutch in their most recent leader awards press release.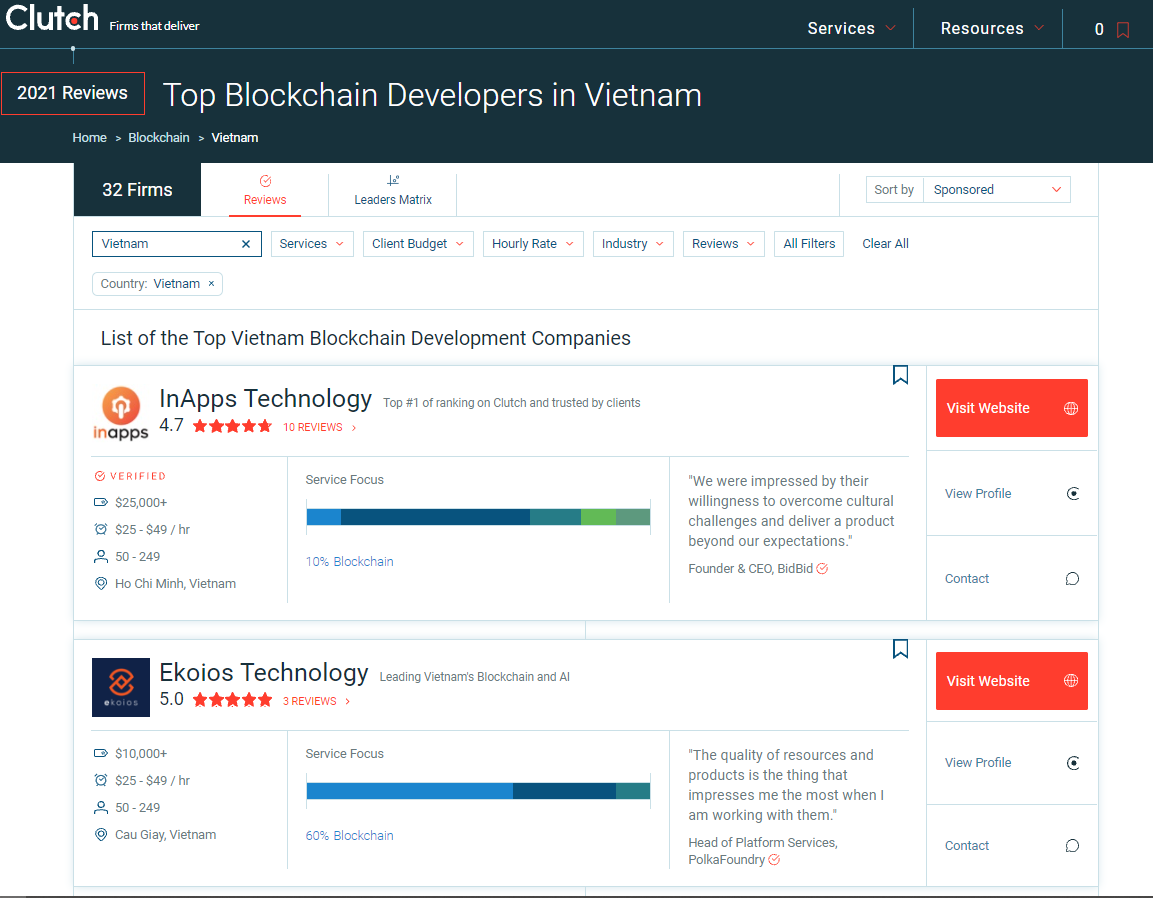 Clutch evaluated us based on essential credentials such as Blockchain Development expertise, verified customer reviews, and our current portfolio listing standard statistics such as average hourly rate, minimum project size, and client focus.
Clutch conducts in-depth interviews with clients and customers about the quality of their interactions with each Clutch-registered company to obtain the necessary information for fair rankings.
We are grateful for our collaboration with Clutch and hope that the information on their websites will be helpful to potential clients.
The level of detail in their reviews and dedication to their rankings is something that many other sites do not strive for. We are excited to continue expanding our profiles on Clutch and its sister websites, and we hope you will use these resources when making business decisions!
Learn more: What you must consider before implementing blockchain technology
Client's satisfaction with InApps
We want to thank our loyal customers once more for their continued support and participation in client interviews to assess our impact. Thank you to everyone who has made significant contributions to help us reach this milestone.
Here is our newest good review on Clutch by our beloved client – A Russian Tour Operating Company.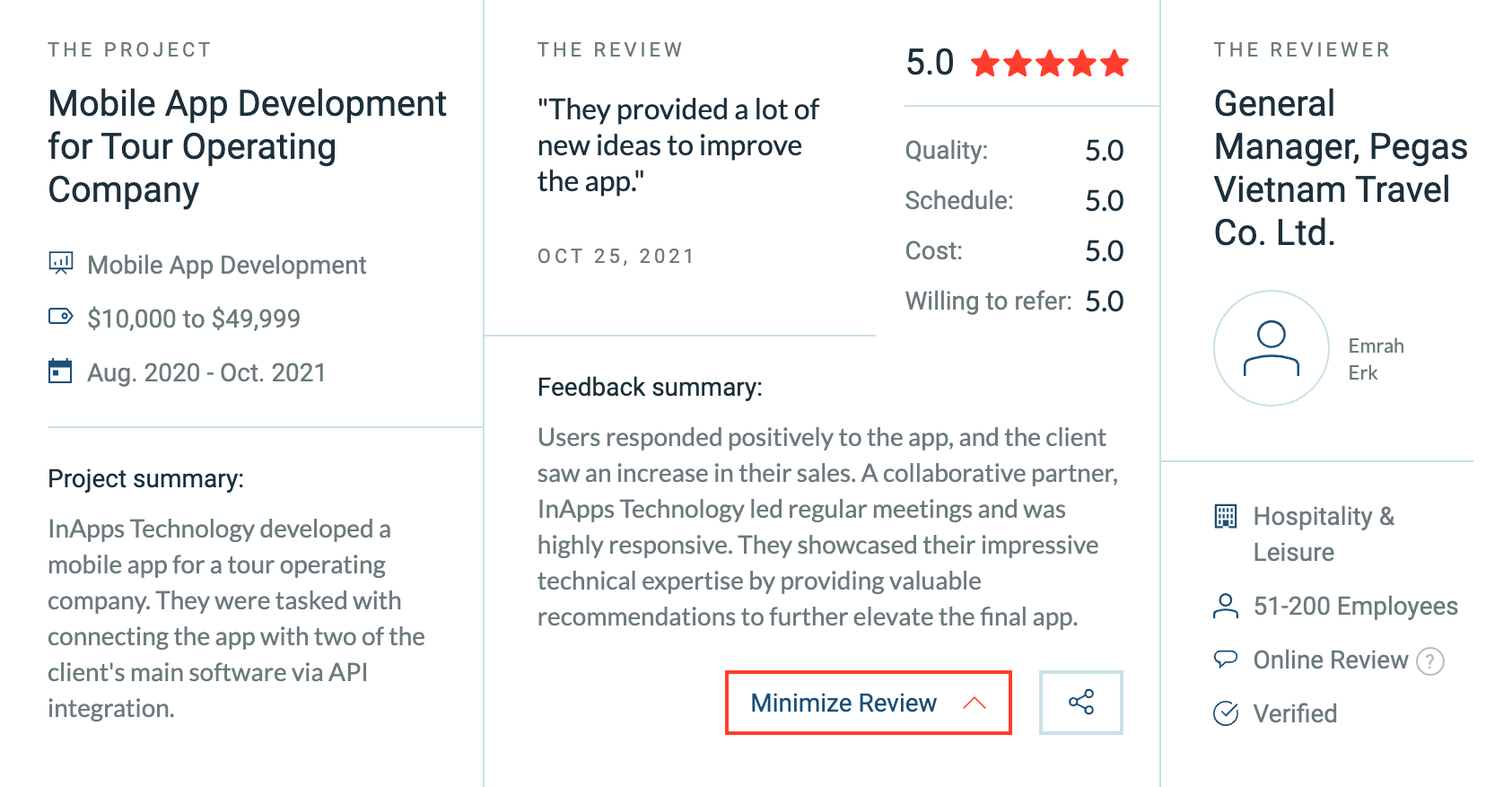 >> More details of the project: https://inapps.net/portfolio/tour-flight-app/
>> Read full review: https://clutch.co/profile/inapps-technology#reviews
Let InApps – Clutch's leading IT company implement your project at a lower cost. Feel free to email us via sales@inapps.net to receive the best technical suggestion.
Clutch Award Team
Clutch is a platform for rating and reviewing IT, marketing, and business service providers. It's a data-driven field guide to making business purchasing decisions. It conducts interviews with real clients, collects data, and compares competitors to assist them in selecting a firm for their next project.
Start your project with InApps' blockchain developer
In Vietnam, InApps Technology is now the Blockchain development leading company with the 1st position ranked by Clutch.
With InApps' blockchain development services, you can boost your efficiency, security, and service.
We provide a comprehensive set of blockchain development services and solutions. As early birds of the blockchain revolution, we have amassed extensive knowledge in this field and have established ourselves as a dependable and experienced blockchain development firm.
InApps Technology is more than a software development company. It is a dream of Vietnamese developers. Our passion for technology inspired us to start InApps with the desire of helping Startups and SMEs successfully utilize technology to growth hack their business.
Reduce your cost up to 70% – Guarantee the same or higher quality
Fast solving-problem & supporting your end-users
80% of developers are good at English communication
90% of software developers have +5 years of experience
High-level of Tech skills — Talented workforce from US, Australia, Northern Europe, or Japan
Transparency and Predictability for long-term cooperation
Latest Development Methodologies & Diverse Industry Experiences

Let's create the next big thing together!
Coming together is a beginning. Keeping together is progress. Working together is success.