>
>
9 Practical Tips to Choose a Mobile App Development Company for 2023
9 Practical Tips to Choose a Mobile App Development Company for 2023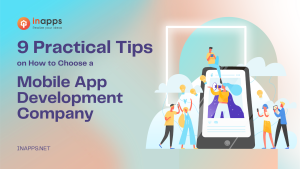 Picture this: You finally decide to build a mobile application, as a solution to drive your business growth. However, you then have to choose the right mobile app development team for your project, which can feel like searching for a needle in a haystack. With dozens of options out there in the market, it's easy to get overwhelmed and frustrated. Don't stop your search just yet, we have got you covered!
In this article, we'll be looking at 9 practical tips to choose a mobile app development company that can potentially help you to navigate your way through the process for your business. Bid farewell to the timely, stressful, and endless scrolling through countless portfolios. It's time to make an informed decision and ensure your app development journey is smooth sailing.
So, bookmark these 9 tips, and find the perfect partner for your app development's success.
Why do Businesses Need a Mobile App Development Company for Their Projects?
The fast-changing nature of the business market worldwide, combined with the growing number of mobile users throughout the years, has somewhat changed the need for a mobile app for your business. It is no longer just a fancy accessory to be distinguished – it's a necessity.
But there's a catch to that: turning your mobile app idea into a reality requires a team of experts who know the ins and outs of app development. Simply put, you'll need experts.
The struggle is whether businesses will be able to find that "perfect developers dream team" – a team that not only has the technical know-how, but also spends the time and effort to understand what your business goals are, who your target audience is, and the unique dynamics of your industry.
Moreover, without the right team by your side, there will be a high risk of wasted time, resources, and missed opportunities. Countless businesses have failed to succeed with publishing applications, due to the lack of the support and expertise of a dedicated app development company. According to Northern Arizona University:
90% of users reported they stopped using an app due to its poor performance.

86% deleted/uninstalled at least one mobile app because of its performance issues.
That's where the growing trend of hiring mobile app development companies, especially offshore developers, comes into play. Offshoring your mobile app development projects allows you to focus on the overall business workflow, and avoid costly mistakes while leaving the technical aspects in the capable hands of experienced international professionals. It's like having a well-oiled machine working behind the scenes, ensuring that your app is built to perfection and meets the highest standard goals.
Side note: In case you want to research some more before tapping into the industry, you can visit our blog posts to gain further information. We published valuable articles about in-depth comparisons, reviews, cost structure, comprehensive processes, and other factors for you to make an informed decision for your business later on.
9 Key Tips for Choosing a Mobile App Development Company
Let's say, at the moment, you are having a mobile app project in mind. You and your business are ready to find a suitable mobile app development partner. In order to help you un-complex the process, here are some notable tips when hiring a mobile app development company for your business (and cheers to your future journey):
1. Define Your App Development Requirements
Always start with some research and brainstorming a clear plan of what you want for your project, such as:
Your app's purpose,

Your target audience,

Desired features, and so on.
After having a solid vision and plan, when searching for a mobile app development company, align your requirements with those that specialize in your industry or niche. By doing so, you'll benefit from their deep understanding of your specific requirements, industry trends, and user preferences. This can increase the likelihood of crafting an application that resonates with your audience and reaches your goals.
For example, you're in the fitness industry and want to create a workout-tracking app. Our advice is to partner with a company with past record of developing health and fitness applications. This can ensure that they grasp your visions for the future app and the challenges/opportunities within this space. Their past experience and expertise can help you design features that provide realistic value to users, such as personalized workout plans, progress tracking, and integration with wearable devices.
2. Check Their Portfolio is a Must
Next, spend some time through their portfolio to have a glimpse of their expertise and experience (for example, here's ours!). Analyzing their portfolio is an important step in selecting a development partner who can bring your app concept to life with high quality.
Look for projects similar to yours, or simply caught your attention. After that, check out the design, as well as test the functionality and user flow/experience. Note it down and compare it with your requirements. This process gives you a glimpse into their capabilities and helps you figure out if their style can align with your overall application plan.
3. Read Client Reviews and Testimonials
Additionally, take a look at their clients' success stories in their portfolio as well. Case studies and testimonials provide incredible insight into the company's ability. You can check this information in your vendor's portfolio, or find the verified reviews from their past clients on listing platforms (Clutch, GoodFirms, and G2 are some great starts).
Pay attention to the app, the design, themes, or specific aspects mentioned in the reviews. Are clients praising their responsiveness, professionalism, or ability to meet deadlines? Do they highlight the company's collaborative approach or dedication to delivering quality results? Statements that demonstrate tangible benefits (such as increased user engagement, higher conversions, and improved operational efficiency) will be worth a lot more in terms of trust and reliability.
4. Assess Team Size and Expertise
Consider the company's team size, versus your team project scope and budget.
Let's say you are willing to work with a large team. If that's the case, a larger team can provide your app with better skills, faster development cycles, and dedicated resources.

On the other hand, if you prefer to have a small, dedicated team, they can also allow for a more individual approach and attention to detail.
Check team members' skills in different development aspects: UI/UX design, programming languages (Python, Java, C++, etc.), database administration, and quality assurance package. The optimal scenario is you will have a mix of experienced professionals who ensure the quality and the process of development; and young talents, who can offer fresh perspectives and ideas.
5. Evaluate the Pricing Structure
Prioritize value for your investment. Communicate with companies that provide detailed pricing structure breakdowns and are transparent about their payment terms. Make sure that there are no hidden costs during the process. After clarifying the pricing structure with your vendor, see whether their pricing aligns with your budget and expectations for the app's outcomes.
Keep in mind, the cheapest option is not necessarily the best choice in any investment. A balance between quality and cost is extremely important, especially with technology-related projects. Investing in reliable and skilled development staff can lead to better long-term results and a better return on investment.
6. Consider Development Process and Design Services
User experience! Statistics from Northern Arizona University stated at the top of our blog have proven the vital factor of designing UX/UI elements for your application. It helps improve user experience and engagement with your app, as well as your brand.
Communicate and settle with your team how the development process and design services will need to be processed. Make sure that your future vendor can conduct user research, wireframing, prototyping, and usability testing throughout the development cycle. It helps ensure they follow industry best practices and deliver a user-centric app that meets your specific requirements.
In case you need a checklist to enhance your current app development process, we highly recommend you visit our blog 9 Tips to enhance your mobile app development process.
7. Check Support and Maintenance Services
To maintain a consistent user experience even after the app is released, reliable maintenance and support services are essential. Before choosing a mobile app development company, make sure they offer a quality assurance and support package as well. Yes! Tech companies do provide post-project support!
This includes ongoing support, regular updates, bug fixes, and technical support for the established application. Businesses always prefer teams that can provide dedicated support, while being responsive and accessible. Timely resolution of issues and prompt customer service can save you valuable time and maintain user satisfaction.
8. Assess Communication and Collaboration
As the client, you must be involved throughout the development process. Effective communication is vital for a successful partnership with a mobile app development company.
You can try evaluating their collaboration tools and methodologies.
Do they utilize project management software?

Do they hold regular meetings? Through which channels?

How often will they provide progress reports?
For example, a company that employs agile development methodologies means they conduct frequent sprint reviews, allowing you to provide feedback and iterate quickly. Clear and consistent communication ensures that your feedback is incorporated, and you have visibility into the development milestones.
9. Go for a Long-Term Connection
Think long-term success! Instead of having to go through the process again, you can choose a trustworthy and adaptive partner who will help your app grow and succeed in the future.
Opt for a business that doesn't just promise short-term solutions but is willing to build a lasting alliance, keen on nourishing the success of your application far beyond its genesis. The hallmark of such a company lies in its history of nurturing enduring relationships with clients, providing them with robust support as they aim for their evolving targets.
Final thoughts
Spare no effort in conducting extensive research and making an educated choice. The journey may seem overwhelming initially, but once you land on the ideal company, you'll reap the benefits of saved time, reduced costs, and fewer headaches. Remember, your application isn't merely a product. It mirrors your brand's identity and serves as a bridge to engage with your audience.
Thus, exercise discretion, armed with these nine invaluable tips. We trust you'll be amply prepared to select a mobile app development company that fits your prerequisites, aligns with your objectives, and delivers an extraordinary application that catapults your venture forward.
Let's create the next big thing together!
Coming together is a beginning. Keeping together is progress. Working together is success.