>
>
How to choose the right Outsourcing Software Company in Vietnam?
Vietnam, a new Asian high tech hub, is developing and defining credible potential in software outsourcing market. As the second largest partner in Japan's software outsourcing market just after China, Vietnam is winning over global investment and partnership due to quality resources, competitive cost and low attrition.
Top Outsourcing Cities in 6 consecutive years since 2009
Ho Chi Minh city is in Top Outsourcing Cities in 6 consecutive years since 2009 according to TSGI (Tholons Services Globalization Index) which is a large talent pool for software industry. Many start-ups and SMEs jump into this field to build up businesses and open a new gateway to global world. Some has gained great attention from national and international clients. However, confusion has been raised among clients when facing large selections of outsourcing software companies in Vietnam, especially Ho Chi Minh city.
This article will help you evaluate technology solutions to your business problems in order to choose the right Outsourcing Software Company in Vietnam. As an expertise in software outsourcing market, our InApps Company will give you a framework to help streamline your vendor selection process.
Figure out your business requirements
Come up with a list of your business requirements for the project. Describe the problems in the importance level. Then, put together a detailed document for potential vendors, or go with a formal form of RFP (Request for Proposal). Either way needs to be as concise as possible. Include the business problems, business goals, specific requirements, and deadlines.
Evaluate vendors' credentials and certificates
Here are some evaluation criteria:
Look into their backgrounds: How long have they been in business? Are they growing or downsizing?
Look for strong capabilities and credibility: Do they have partner certifications relevant to the solutions you are looking to implement? How are their engineering team? Do they focus on product/solution quality and development?
Check other customers' testimonials.
Search for reviews, both positive and negative reviews of the vendors.
Check for hidden or additional fees.
Take a test drive.
Come up with an initial list
You are now ready to start selecting potential vendors. Your approach may vary depending on the project. Here are some ideas:
Ask your friends/co-workers/LinkedIn network for a recommendation.
Post on a domain expert forum/mailing list.
Check the industry publications.
Research on Google. This idea should be the last attempt since a high Google rank is only an indicator of good SEO skills that most vendors will pay for it.
Vendor interviews
Conduct preliminary interviews and short-list to three or five strong vendors who will send you their detailed proposals.
Vendor Selection
After getting proposals from your short list, you are finally ready to select the vendor to move forward with. If it is difficult to decide due to more than one great vendor, you can keep the other vendor as your Plan B.
Contract Negotiations
You are close to the finish line. Now it is time to agree on terms, sign the contract and move forward. Regarding the price, there is usually room for negotiation. Once you agree on the price, make sure to split the payments. The final payment will be made only when the work has been fully completed and signed off.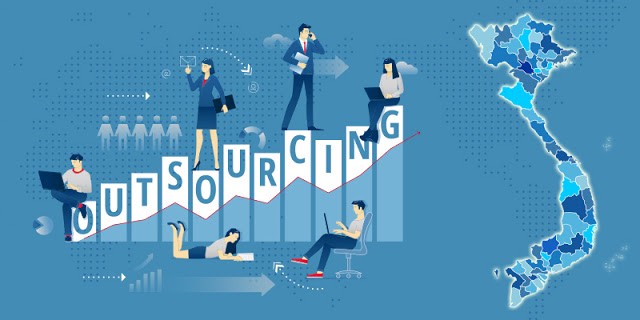 When you decide to choose outsourcing software in Vietnam, you are in good hands as many tech giants, such as Intel, Samsung, Nokia, Bosch, and Panasonic have already caught on to this shift. The significant improvements of infrastructure, steady economic growth, and a young, dynamic workforce have helped the country to become an attractive destination for technology and software outsourcing.
As long as you take your time, do your homework and keep the goal in mind, you will be able to find and hire a great vendor who will help you and your company achieve business goals.
If you need any advice, our InApps Company offers FREE consultation. Leave us message or Talk to us!
Author: Thanh Nguyen
Let's create the next big thing together!
Coming together is a beginning. Keeping together is progress. Working together is success.