>
>
JavaScript surpasses Java, PHP in the Stack Overflow Survey
JavaScript, primarily known as a front-end language for Web applications, is quickly surpassing the popularity of not only other Web languages such as PHP, but even traditional back-end programming languages such as Java, at least according to the results of the latest Stack Overflow survey, the popular question-and-answer site for developers and weekend hackers.
Described as "the most comprehensive developer survey ever conducted," the Stack Overflow survey tallied the responses from 56,033 developers in 173 countries.
While this survey isn't a scientific sample, it's an intriguing set of data, since the site has been polling its user base once a year since at least 2013.
Some of the survey's results seem obvious — for example, that there's a strong correlation between compensation and job satisfaction. But other data is much more fine-grained and useful.
Twenty-eight percent of the respondents identified themselves as full-stack web developers, while 12.2 percent were back-end developers, and 5.8 percent were front-end developers.
But among all three groups, JavaScript was by far the most popular technology — for 85.3 percent of full-stack developers, 90.5 percent of front-end developers, and even 54.4 percent of back-end developers.
"Seeing full-stack developer as the largest occupation and JavaScript as the top language among both back-end and front-end aligns with what we've been seeing in overall JavaScript adoption," wrote Mikeal Rogers, the community manager for the Node.js Foundation, in an e-mail.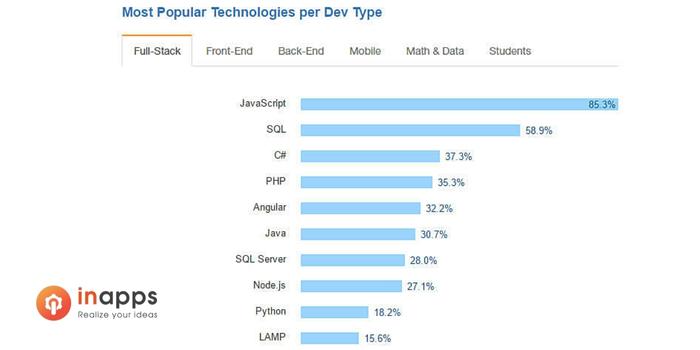 And among the entire developer population, Rust was the most-loved language (cited by 79.1 percent of respondents), followed by Swift (72.1 percent), F# (70.7 percent), and Scala.
But while Node.js came in at #11 (59.6 percent), the Node.Js Foundation's Rodgers was delighted. "It's our second year making the list and we're on the rise. We didn't make the short list in 2014 or 2013."
Stack Overflow also reported that Swift 2 was this year's fastest-growing language. And further down in the survey results, Stack Overflow points out that PHP appears to be falling out of favor as the JavaScript-based Node and Angular grow in popularity.
Stack Overflow Survey: Programming and Diversity
The survey covered more than just the technologies being used. It also revealed data about the programmers themselves.
Ninety-two point eight percent of the respondents were male — which seemed to even surprise the editors at Stack Overflow. "We know women make up a more significant proportion of the developer workforce than this suggests," they noted in their survey results, noting that, according to Quantcast, about 12 percent of Stack Overflow's readers are women.
"We also know this survey under-represents people in countries where developers are more likely to be female such as Asian countries like South Korea, India, and China."
In a press release publicizing the results, Stack Overflow added, "The survey data suggests that men and women get paid about the same as entry-level developers, but the pay gap may widen, with men earning more, as both gain experience."
But their survey suggested that the site wanted to offer their own support. "We can't claim to know the answer to bridging the gender gap in tech, but we think sharing data with the public is a productive step in advancing more dialogue across the industry," the statement read.
Of the 56,033 responses they received, 13,540 came from the U.S.A. — about 24 percent — with another 4,573 in the U.K. (8.1 percent), 4,193 in India (7.4 percent), 2,024 in Canada (3.6 percent), and 1,117 in Australia (2 percent).
But less than 4 percent of the survey's respondents were over the age of 50, with 52.0 percent between the ages of 20 and 29. "The average developer is 29.6 years old," reported Stack Overflow. "The median is 27." In fact, 7.1 percent were below the age of 20 (presumably some of whom are students).
In addition, 69.1 percent of the survey's respondents said they were at least partly self-taught, and 13 percent of respondents across the globe even said they were only self-taught.
"The education data is really important to us," Rogers added. "The fact that 69 percent of respondents are partially self-taught, yet only 25 percent use online training and only 7 percent have participated in an industry certification program validates that there's a real need to expand our educational resources and training opportunities at the Node.js Foundation.
This also seems to have led to a stark age divide on one crucially geeky question: Star Wars or Star Trek? Every group below the age of 50 chose Star Wars by a hefty margin — but that margin started to shrink as the cohorts got older. And more respondents in the 50-59 age bracket chose Star Trek (52.5 percent) than Star Wars (31.4 percent), while in the over-60 group, Star Wars drew just 29.3 percent of the vote (while Star Trek drew 47.0 percent).
Firefly was the top write-in, followed by Stargate, Doctor Who, and Babylon 5.
Stack Overflow Survey: On the Desktop
Over the last four years, the Windows desktop platform has been cited by fewer and fewer of the survey's respondents, and it's now down to just 52 percent (down from 60 percent in 2013). And meanwhile, there's been an increase in the popularity of Linux ( 22 percent) and Mac OS (26 percent) among users of the site.
Yes, for the first time, more developers reading Stack Overflow are using Mac OS than Linux as their primary operating system. "However, Windows 10 was the fastest growing desktop OS in our 2016 survey," according to a statement from Stack Overflow, "capturing almost 21 percent of developers in less than a year since its release."
Their survey results noted that the Mac had edged out Linux last year for the #2 spot, but "This year it became clear that trend is real." But there's an even more significant trend lurking in their operating system data. "If OS adoption rates hold steady, by next year's survey fewer than 50 percent of developers may be using Windows."
In a possibly-related piece of trivia, just 59 of the 56,033 responses came from Windows Phone Mobile Developers or .1 percent.
Other interesting data from the survey:
Ubuntu claimed 12.3 percent of the entire OS market and was by far the most popular flavor of Linux.
"Embedded Application Developers are most likely to identify as Engineers. Graphics Programmers are most likely to identify as Programmers."
"Executives are comfortable using more languages and frameworks than any other developer occupation."
"Every 8 seconds or so, a developer asks a question on Stack Overflow."
List of Keywords users find our article on Google
Let's create the next big thing together!
Coming together is a beginning. Keeping together is progress. Working together is success.