>
>
SOFTWARE OUTSOURCING TIPS: HOW TO SAVE MORE COSTS?
Do you want to reduce your software outsourcing costs? This week's chapters throw light on outsourcing mistakes and how to save more, assure quality when outsourcing.
If you haven't read previous parts yet, check out now:
Chapter 1 & 2: Outsourcing Costs: The Ultimate Guide for Entrepreneurs.
Chapter 3 & 4: Outsourcing Costs Vs. In-house Costs: How to analyze and calculate?
Chapter 5: Software Outsourcing Reduces Cost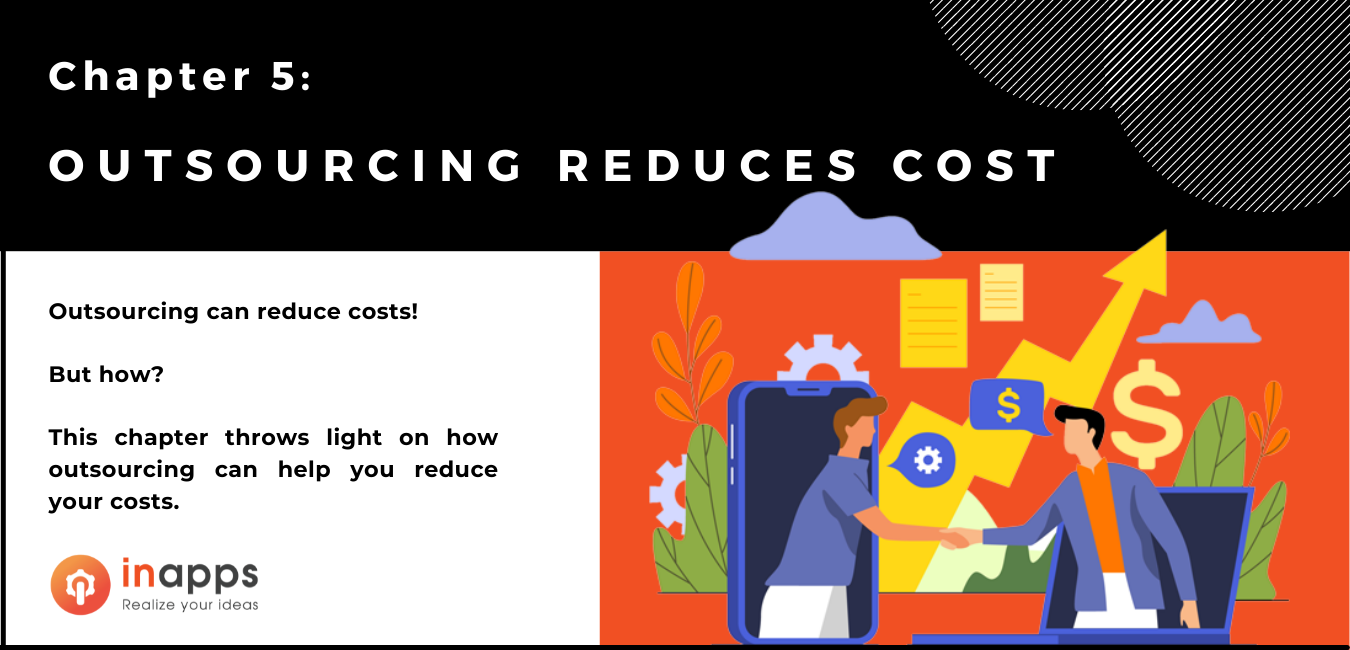 Many have hailed outsourcing as cutting costs, but no one has dared to go deep and reveal the truth!
Does Outsourcing Really Lower Your Costs? How do you reduce your costs? Do different outsourcing models have different cost reductions? Are we just seeing the reduced costs in the operations we outsource?
This chapter finds the real answer to all of these questions.
How outsourcing lowers your costs.
At this point, we concluded that outsourcing lowers costs. In fact, AMR Research found that more than 70% of respondents saw cost reductions as the main reason for outsourcing. The question that we need to answer now is how?
How does software outsourcing reduce costs?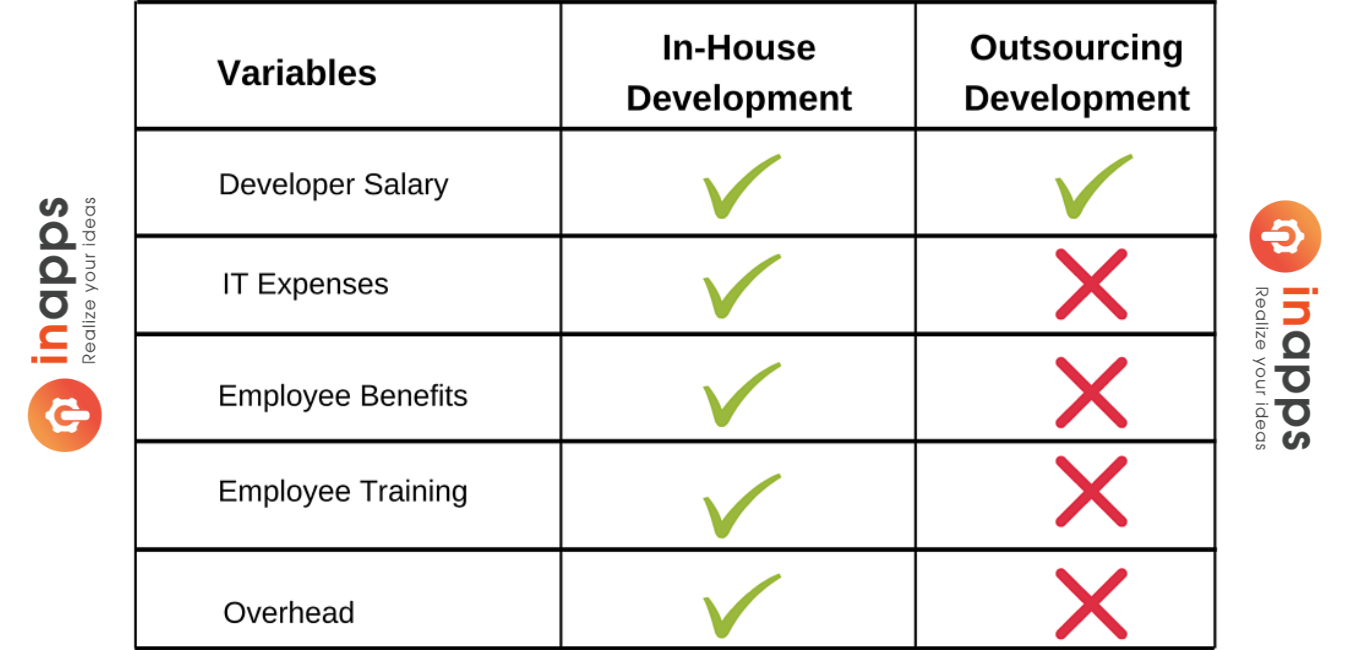 To understand how software outsourcing can reduce costs while improving business operations and final products, let us first compare in-house costs and outsourcing costs.
In addition to differential costs, you can also include opportunity costs and additional costs to understand how outsourcing can actually reduce your costs. The following is the breakdown of the analysis in the table of outsourcing costs and in-house costs.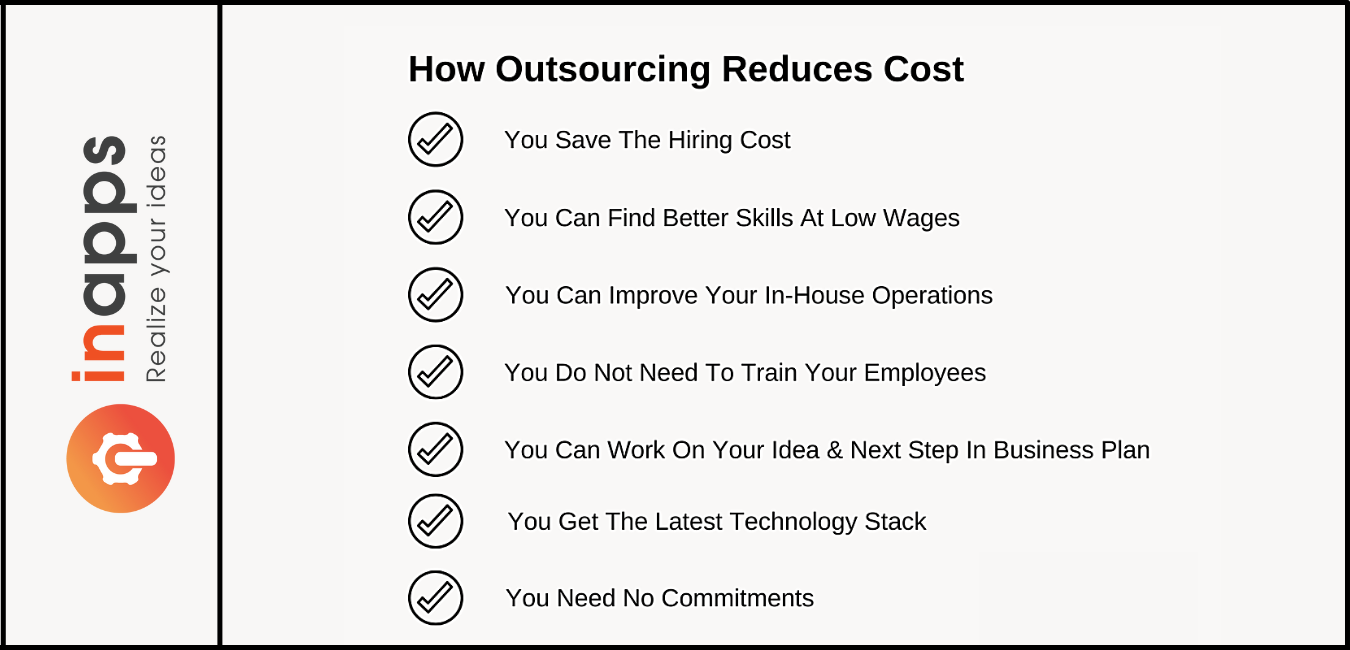 Is cost reduction only for outsourcing services?
Many entrepreneurs have asked themselves this question repeatedly, and you will certainly be thinking about it! One thing has already been established:
[su_note note_color="#ffffff" radius="5″]If you are stuck at the interface between outsourcing and establishing yourself In an in-house team, reducing costs is a permanent requirement. Outsourcing should be the way to go.[/su_note]
But would it be justified to save the cost of this service and nothing else?
Let's understand this through a case study published in MIS Quarterly by Kunsoo Han and Sunil Mithas.
The study focused on determining whether or not outsourcing IT operations would reduce non-IT operating costs. This study showed that outsourcing IT services to India or another country also reduced the costs of non-IT operations. The study came to the following conclusion:
[su_quote]"On average, an increase in IT outsourcing as a percentage of sales was associated with a decrease in non-IT operating costs as a percentage of sales by 1.26 units."[/su_quote]
How is it done? Let's see how they explain it.
Outsourcing IT operations would increase the operational efficiency of existing equipment and processes, relieve your internal team and allow them to concentrate more on their core competencies.
Existing business processes supported by an internal team would become more efficient, reducing the total cost of ownership of that process. As a service provider to the health insurance industry, NASCO has outsourced its data operations to IBM to reduce claims handling costs.
The existing tech nerds on your startup team could focus more on strategic activities that can help give the company a competitive advantage.
The study also cited research by IBM T.J. Watson Research Lab to show that IT outsourcing reduces non-IT operations. It was conducted in 244 companies and found that companies with outsourced IT operations have a competitive advantage over their industry peers because they can improve their business performance over the long term.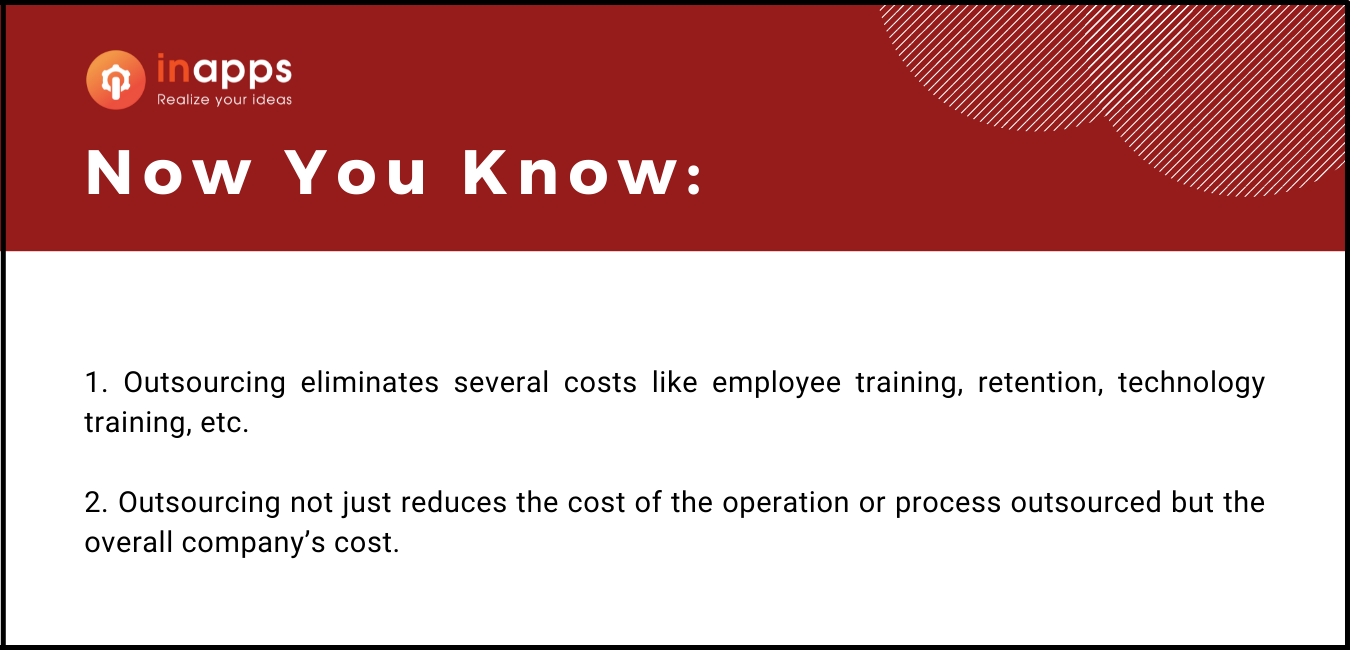 Chapter 6: Outsourcing Tips To Success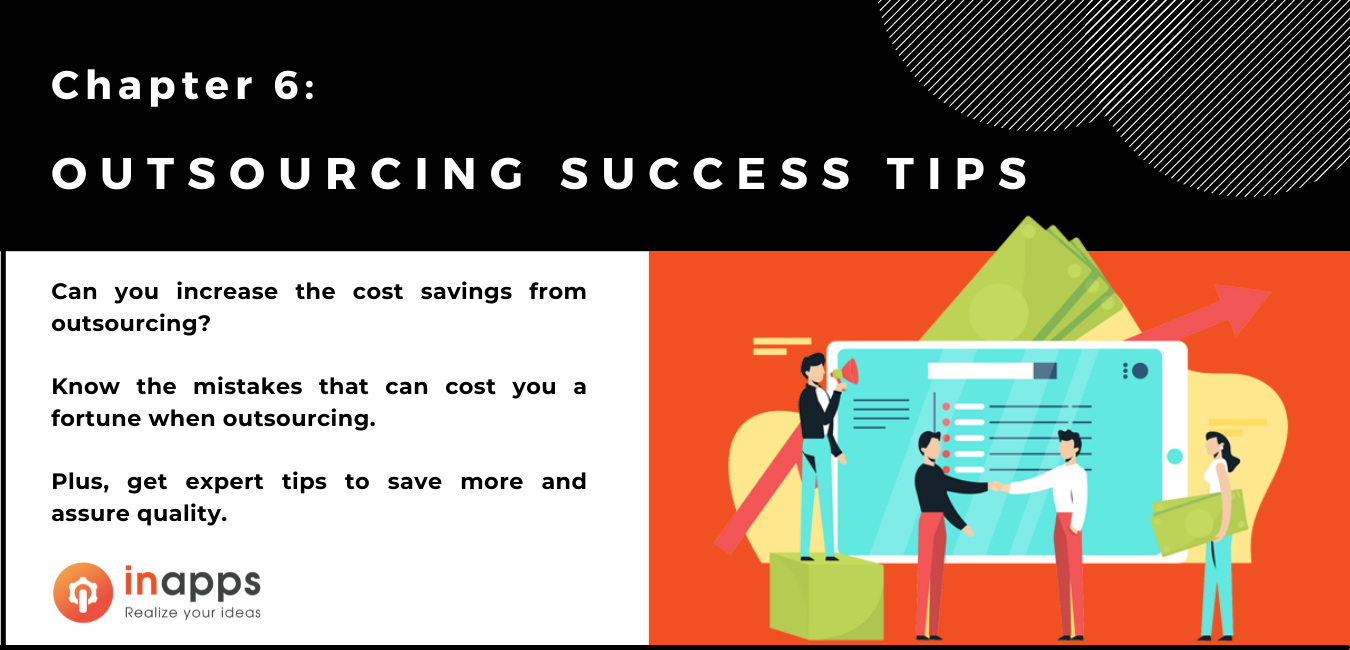 Calculating your software outsourcing cost is the biggest hurdle, and now that we have it, it all seems like a walk in the park, but what if we add more flowers to make you bloom and tell you you're outsourcing can save more?
It is surprised, right?
Outsourcing is profitable and can also help you reduce costs through various practices, tips, and approaches further. All you need to do is avoid common outsourcing mistakes and adopt best practices by following the tips for successful outsourcing in mind.
Let's discover more!
Outsourcing Mistakes to avoid
Outsourcing is a cost-saving way to manage your operation to increase efficiency and results expertly. Still, as with any business, there are some problems and mishaps that could put you off. There will also be some outsourcing myths that you will need to debunk. But while these problems and failures are just a stepping stone to your success, certain mistakes can put you on the outsourcing mistake list. Let's clear up some of these:
1. Choosing the cheapest or most expensive developer
You may be attracted to the low cost of developers you can find overseas! Or You can choose the highest bidder or the most expensive developer and think you are bidding the best! These could be two big mistakes.
Going cheap by outsourcing could lead to poor quality of work, but paying the highest amount would not guarantee quality either. It would be best if you evaluated the developers before committing properly.
2. No investment in collaboration tools
Collaboration and communication problems when outsourcing makes up about 57% of IT outsourcing errors. When you outsource, you can't reach your team members at their desks to clear up any confusion or discuss your next idea!
When passing information, many ideas or important project details can be lost. With great collaboration tools, you can overcome this problem and bring everyone together on one platform. Make sure you've invested in good collaboration tools. To avoid any failure.
While many of the tools are free, some tools may have a freemium version, and some may require you to purchase the premium version to unlock their features—collaboration tools for remote work.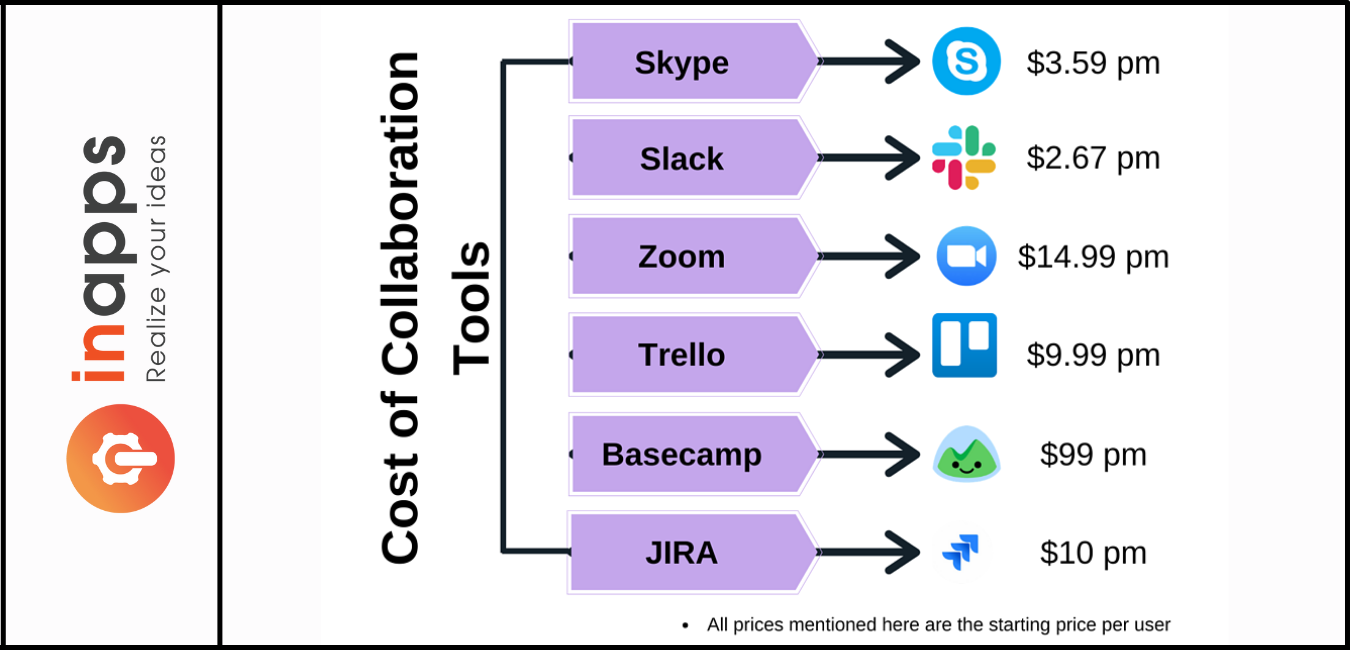 3. Not interviewing remote developers properly
Hiring remote developers without examining them, as you would with any in-house candidate, could be a major problem in the future. The developer or the team will work on your idea. No!
So make sure that you have interviewed with product development, as you would with an in-house representative, to find the right candidate.
4. Unclear goals and unspoken assumptions
Assumptions in outsourcing can lead to errors. Declare and document everything, even if it feels obvious. Don't make assumptions. Do you think your developer would do this job? Say it! Do you think they would allow this access? State it!
State the obvious and leave no room for assumptions. This mistake can be very costly for your outsourcing project.
Communication is the key to being successful when outsourcing or building an offshore development team. Thousands of ideas could arise if I vaguely say, "develop software that stores employee information." But not all of them would meet your expectations. To get what you want, you have to say what you want.
Clearly state the scope and objectives of your project. Do not leave room for assumptions or misunderstandings.
To understand this, let's take the example of product development outsourcing.
You mentioned the features that you need in your product, and you are setting a budget. They assume that the cost of upgrading the technology to the latest version would be included in the middle of the project when it was released. The internal costs could remain constant. In the case of outsourcing, however, this would be an add-on. So if you expect your outsourcing service provider to do a specific job, make sure you state it clearly.
5. Not forming the right contract
This is related to the previous error! You are not expected to say everything; You are expected to include everything in the outsourcing contract that they both sign. This would ensure that everything documented there is delivered, so it must be created with due care.
6. Failure to protect your intellectual property
Another mistake most companies, especially startups, make is not using legal means to protect their intellectual property. As a startup, your idea, your intellectual property, is your greatest treasure by all possible means.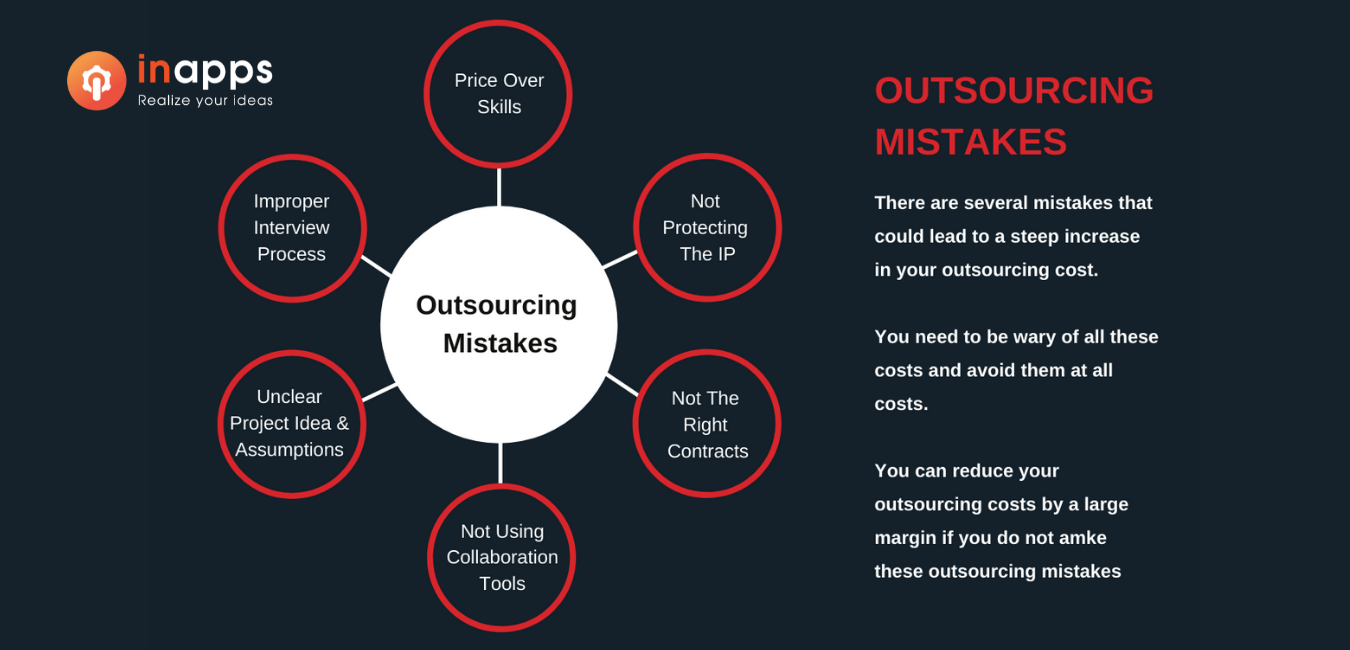 Maybe you want to read: Top 10 risks of Software Outsourcing
Outsourcing Tips to save more costs
A company should not be satisfied with just knowing the costs of outsourcing. You should always be looking for more!
Now that we know what our outsourcing costs are and how to calculate them, let's clarify a few tips that can help us reduce outsourcing costs. While outsourcing can help you save costs, these tips will help you cut even those costs.
1. Have a process that encourages flexibility
As a business owner, it would be easy to outsource your project when you have a process in hand. The best approach for this is the agile methodology. It's an iterative approach where you assign work in sprints to get small chunks of work done over time. A study has shown that agile projects have a 28% higher probability of success in project management. If you are also planning to outsource your operations, you have to decide on the agile approach.
Several short iterations in the agile methodology pave the way for a more effective and better-developed product.
Has project creation, testing, and launch in many iterations.
Ensures that if changes are required, these are implemented during project completion, and the full and final product is released on the agreed date.
There is more transparency and collaboration in agile development.
You can adapt Agile to the way your startup works.
2. Pursue the agile approach wisely
The greatest advantage of the agile approach is that it works effectively with mini-deliverables: As a startup, you neither have the resources to commission one person to examine the project management in detail nor do you have the extra funds to pay for a totally failed or different end product, so the best way out in this case is to create mini-sales that could be tailored to the sprints formulated by the outsourcing company, without giving in completely and excluding any possibility of completely different delivery.
3. Leverage technology
The next tip is about technology. When you outsource your product development, you need to be on the cutting edge of technology. Several digital tools can help you minimize or even eliminate various costs. Collaboration tools, project management tools, automation tools, robotic process automation, etc., can reduce the overall cost of outsourcing.
4. Choose the Skill, Not the Price
As mentioned earlier, going for remote developer pricing for your project would be a big mistake. An effective tip would be to sort and filter the outsourcing service providers based on their skills. You can even choose the outsourcing agency by going through the technology stack. A good tip would be to find a developer and look at their portfolio. It would be best if you always had more projects in the technology stack you are looking for. You shouldn't just show the skills on your resume. But I also worked on it.
5. Start Small to Better Understand Outsourcing
Many companies tend to outsource their entire operations at once. You should avoid this and let the outsourcing company take it a little slower. Just take it one step at a time. an operation that is not your main skill. If you like what you get and it turns out to be efficient and profitable, all you have to do is move on with the outsourcing company.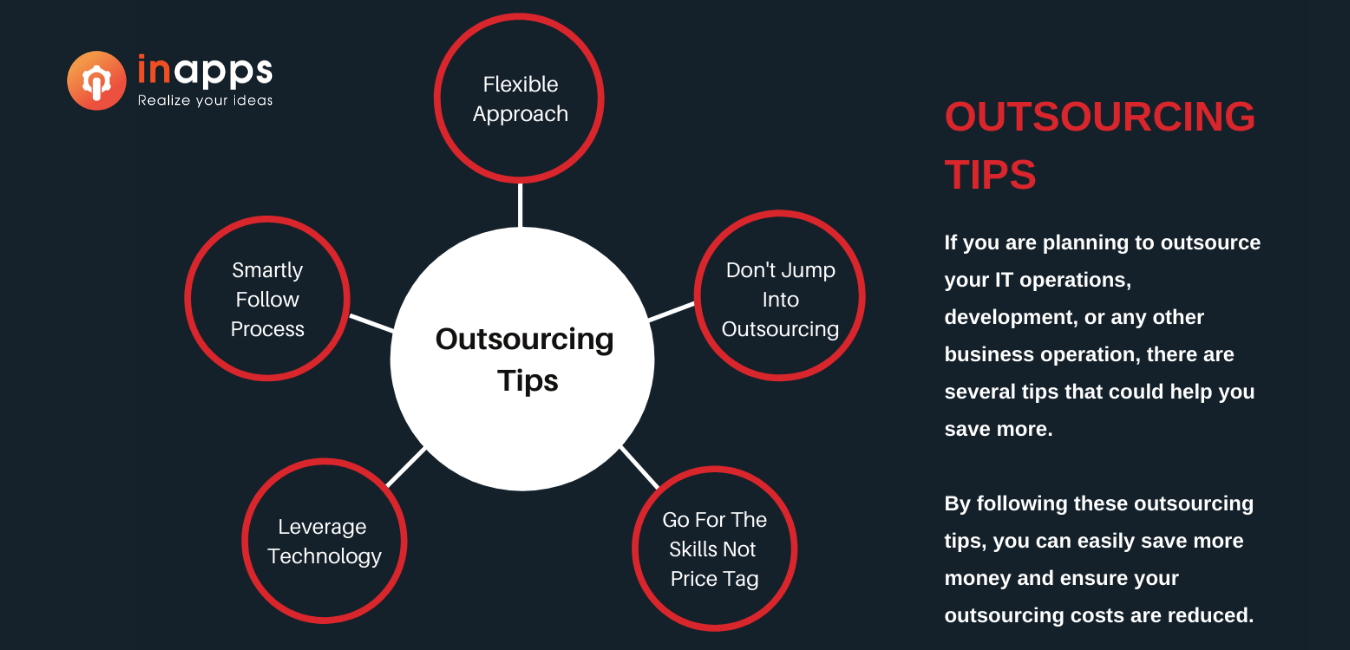 Best strategies to reduce outsourcing costs
While we have undoubtedly discussed some great tips that could effectively reduce your outsourcing costs, some practices can help reduce outsourcing costs. Many companies have adopted these practices and are reducing the cost of outsourcing, especially for startups.
1. High Priority Tasks First
When it comes to outsourcing your tasks, prioritizing your outsourcing tasks is always a good idea. Also, make sure that only high-priority tasks or functions are developed first.
[su_note note_color="#fdcda4″ radius="5″]High-priority tasks can be anything that forms the basis of your product or project. They can be the prototype, the main software screen, or the design. [/su_note]
This way, even if your budget or time is tight, you can easily cut down the outsourcing relationship at this point while having an MVP or something that requires few changes—providers who take care of lighter tasks first and then work on important tasks.
2. Getting Started with MVP Development
Another strategy you can use when you start outsourcing is first to outsource the MVP development.
[su_note note_color="#fdcda4″ radius="5″]MVP is the Minimum Viable Product that you can bring to market and improve based on your response. [/su_note]
MVP development is a major focus for startups. This would help you know how good the company is. If you and your target users are happy with the MVP, then you can continue the outsourcing relationship with them to improve as the feedback comes from startup unicorns like Uber, Airbnb, and Spotify also used MVP.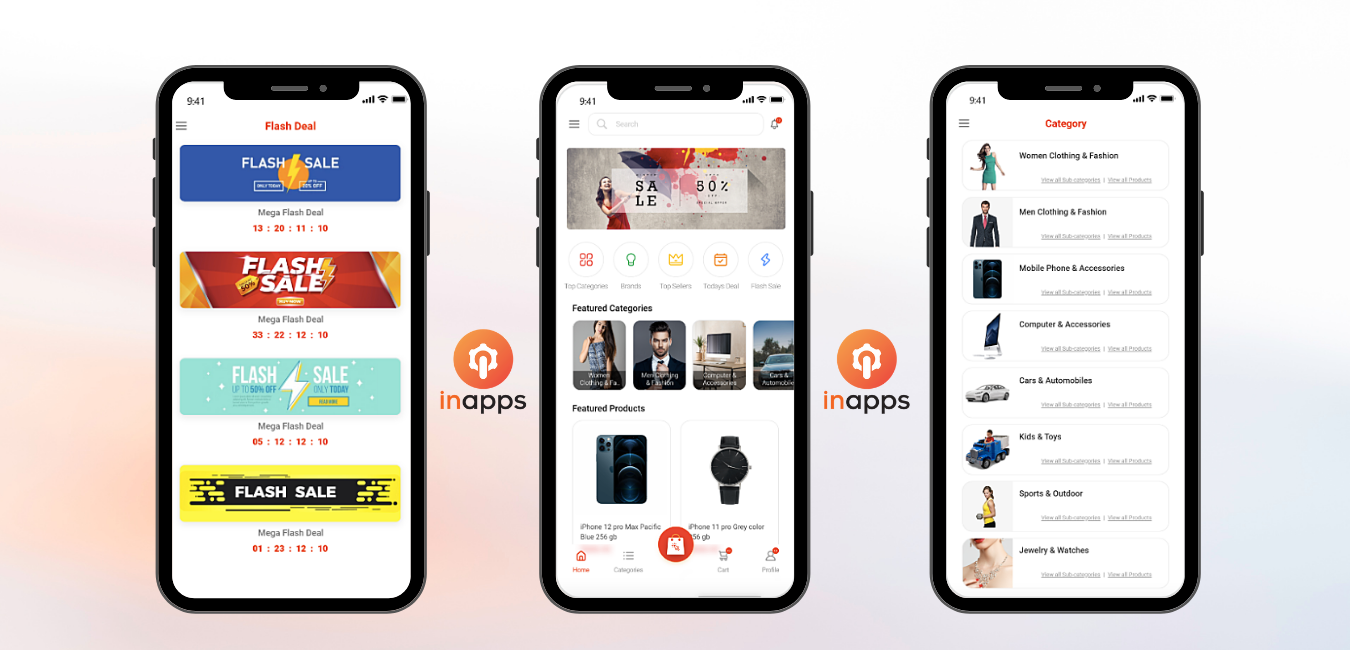 3. Take the Hybrid Approach
Another profitable practice for outsourcing is the hybrid approach. Here you bring two outsourcing approaches together and transform them into one.
[su_note note_color="#fdcda4″ radius="5″]Hybrid development is the process of getting an account manager to contact you at your location while development is outsourced to a foreign location. [/su_note]
The best hybrid approach to outsourcing is to have the outsourcing company's staff in your location handle all offshore operations. That way, you would take full advantage of both on-site and offshore development.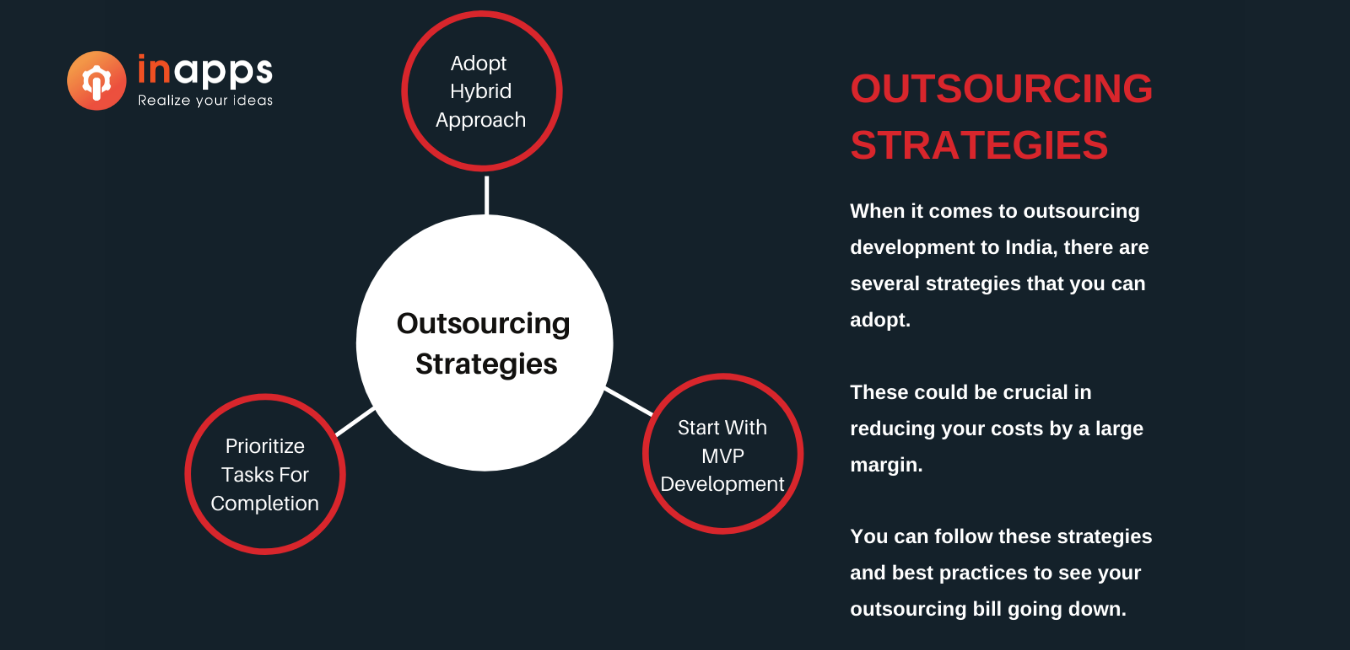 Finding The Right Company: Keys To Savings
What Is The Key To Cost Savings When Outsourcing?
An easy answer would be to find the right provider. Choosing a remote developer from a trusted web development company to outsource reduces your risks and can provide the company with greater flexibility, scalability, expertise, and more. With the right outsourcing company, you can eliminate 90% of your risks and increase the chances of outsourcing success. Read on to find out how to find the perfect company for your outsourcing business.
What are the company's niche and experience?
The first thing to check is your level of expertise, not just general experience. Check your expertise in your industry. You want them to have worked on other projects in your industry to understand your industry needs and deliver accordingly easily.
[su_note note_color="#fdcda4″ radius="5″]Pro Tip: Take a look at the company's experience along with its portfolio to see what types of projects and industries it has been working on. Request their Github profile to see their experiences.[/su_note]
How many developers do you have?
As a startup, your goal is to grow over time, and you always want to outsource to a company that allows you to scale. Whether you want to add more developers to your expanded team or find developers with new stacks of technology, the company should be able to provide one for you.
[su_note note_color="#fdcda4″ radius="5″]Pro tip: Ask the company about the teams they work with and the number of developers. Know whether or not they might agree to your escalation strategy.[/su_note]
Which communication channels do you use?
The communication channels and collaboration tools used are also important. Talk to them through your communication channels and make sure they use the best channels for smooth communication.
[su_note note_color="#fdcda4″ radius="5″]Pro Tip: Pick a company that doesn't get upset and promises to join your favorite communication channels and tools.[/su_note]
Do you let the developers choose?
If the company gives you the freedom to choose the developer of your choice, it should give you the freedom to choose the developers and whoever you like. If you don't like an existing developer, you should easily interchangeably.
[su_note note_color="#fdcda4″ radius="5″]Pro tip: Don't pick a company if you can't filter or analyze the developer. Always look for a company that gives you the freedom to work with the developer of your choice.[/su_note]
Adjust to your time zone?
Being in different time zones can be a big challenge. They need to be able to adapt to their time zones. It shouldn't create a void in your work or participation in the project.
[su_note note_color="#fdcda4″ radius="5″]Pro Tip: Pick a company that offers complete flexibility for the time zone gap and looks at the company's expertise along with their portfolio to find out what types of projects and industries they have been working on.[/su_note]
What pricing models and methods do you have?
Many companies may try to pillage you by changing their developers' pricing model once they're on board with your project. Find a company that sticks to a certain price and allows you to find developers at a fixed cost only.
[su_note note_color="#fdcda4″ radius="5″]Pro tip: Take a look at the company's experience along with its portfolio to find out which projects and industries they have worked on.[/su_note]
Do you also offer advice?
For a startup, outsourcing isn't just about development; It's also about brainstorming and counseling to help them grow. You need to find a company that can offer advice to help you improve and scale your business.
[su_note note_color="#fdcda4″ radius="5″]Pro tip: You are looking for a company that would be happy to advise you FREE on your product or product idea.[/su_note]
Is your technology stack up to date?
The technology stack that the company has played a key role in shaping its expertise. It would be helpful to trust that this company has access to new and emerging technology to give you a competitive advantage.
[su_note note_color="#fdcda4″ radius="5″]Pro Tip: Check Your Tech Stack Before You Join. They need to have the latest technology to keep their product/software updated.[/su_note]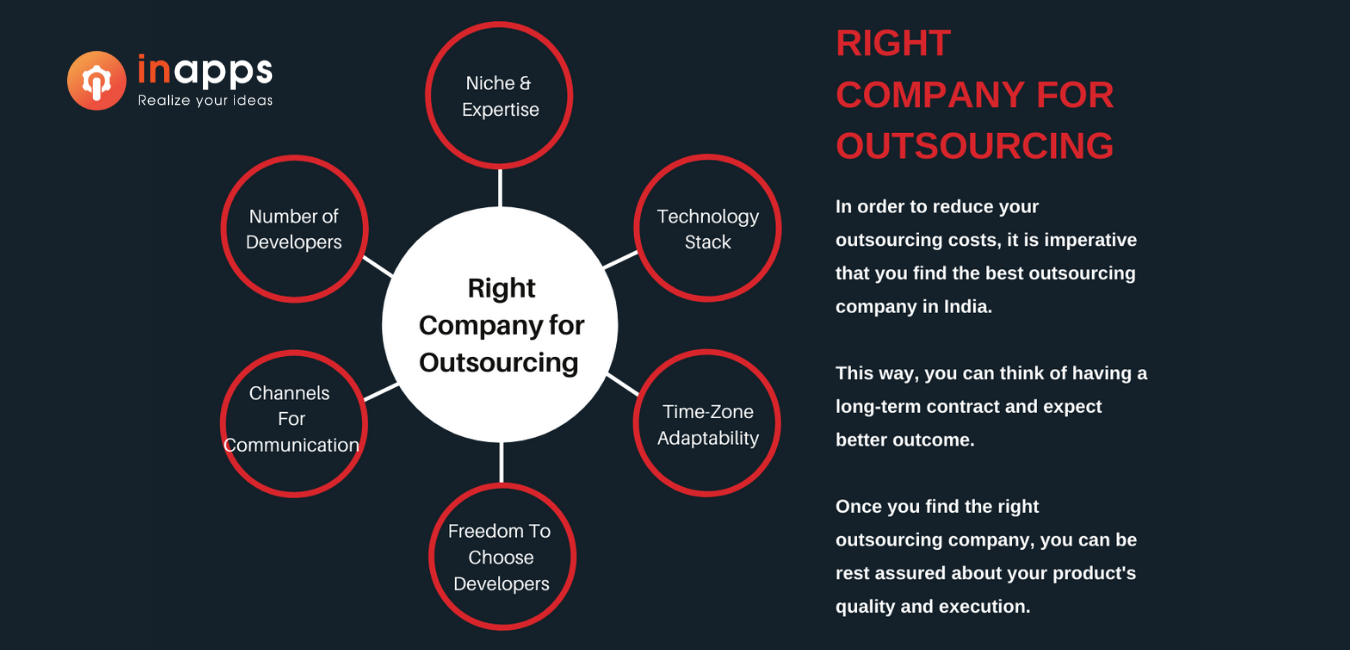 Read more: How to choose the right app developer for your project?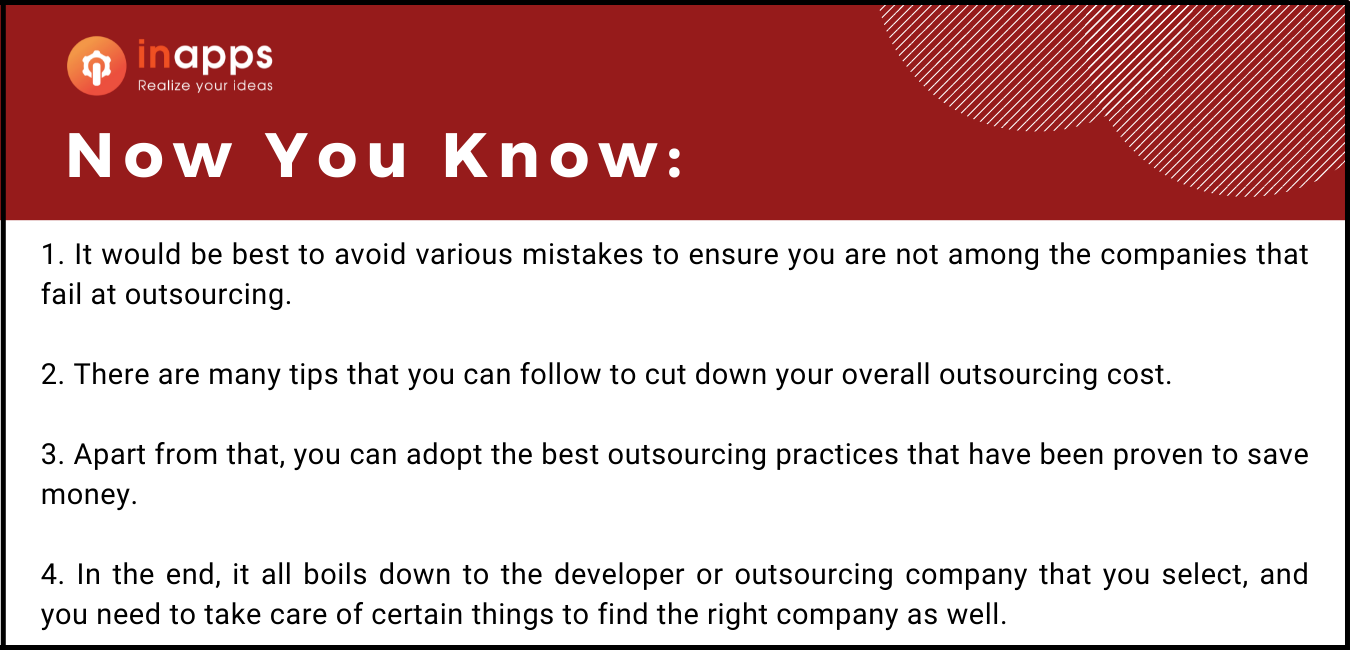 Start Outsourcing, Start Saving
When your budget is tight, and you can find an in-house team with the latest skills and technology, switch to outsourcing.
But costs should never be the only reason to start your outsourcing business!
We believe that outsourcing can lower costs, but not only can lower costs but also improve your operations while you continue to focus directly on scaling your startup.
InApps Technology – your outsourcing partner
InApps Technology is a customer-oriented company that offers complete solutions for web development, IT services, product development, application development, and much more. User-centered products and solutions.
We help startups with end-to-end product development, including project management, documentation, development, testing, and growth. From the product idea to development and growth, we help startups to be successful.
Reliability is one of the elements to make the best decision! Hence, we shall show you our reputation via Our Case Studies.
[su_image_carousel source="media: 9436,9437,9433,9449,9434,12514,9435,9448″ crop="none" columns="4″ dots="no"]

Let's create the next big thing together!
Coming together is a beginning. Keeping together is progress. Working together is success.