>
>
The Dev Shop at San Quentin – InApps Technology 2022
The Dev Shop at San Quentin – InApps Technology is an article under the topic Software Development Many of you are most interested in today !! Today, let's InApps.net learn The Dev Shop at San Quentin – InApps Technology in today's post !

Read more about The Dev Shop at San Quentin – InApps Technology at Wikipedia

You can find content about The Dev Shop at San Quentin – InApps Technology from the Wikipedia website

When confronting the question of where you're going to hire your next coders — or at least, outsource your next project, there's one resource you may not have thought of.
Why not prison?
A web development shop quietly opened in San Quentin prison late last year. Built in 1852, San Quentin is California's oldest prison. Sitting silently on the northwest edge of the San Francisco Bay, the overcrowded facility now houses 3,774 prisoners — 725 of them on a death row — and has been described by the San Francisco Chronicle as "a monotonous, controlled, alternately boring and spooky place that echoes with the shouts of lost souls." The 432-acre complex even has its own zip code.
In 2010 a pair of Silicon Valley philanthropists started to think that the prison population had untapped potential. Venture capitalist Chris Redlitz had visited to give the inmates an inspirational talk about how they could start their own business after their release. He was so impressed by the men's level of business knowledge and desire to learn, that he began to nurture the idea of creating a technology accelerator inside the prison.
Years later Redlitz told the Christian Science Monitor that he'd continued to visit the prison with his wife/business partner Beverly Parenti for over a year, trying to gain the trust of the inmates. "I'm an old white guy from Silicon Valley who is now dealing with young black guys who grew up in gangs," he said. Parenti is also prominent in the tech community, as a founding member of First Virtual Holdings (which created the first secure online payment system).
Soon the couple had decided to start a six-month program in entrepreneurship at San Quentin — and eventually, an in-prison coding school — in a burst of philanthropy that culminated with a Demo Day in front of 350 visitors.
"Powerful people were here to see us…" remembers one grateful inmate. "I was awed with joy because I saw admiration in their eyes. The politicians, tech giants, stars and my fellow inmates were looking at me with genuine respect… When I finished my pitch and left the stage Lt. Governor Newsom stood up and shook my hand…
"Demo Day allowed me to see the potential in myself."
Bigger Things
In 2010, the pair created a 501(c) (3) non-profit called The Last Mile to formalize the work of preparing inmates for technical careers. And this October, the code school ultimately led to creation of in-prison dev shop, called TLM Works, bringing the inmates a precious opportunity for paid work experience, and a chance to build a portfolio for future employers
"We'll build your website. You'll build our future," explains its web site.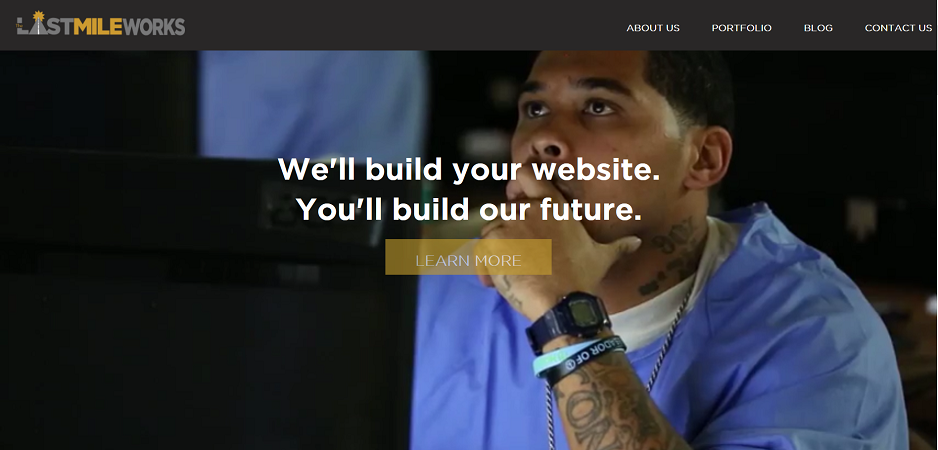 The inmates are paid $16.77 per hour, according to USA Today — the highest wage for any inmate job in the state (and more than double the U.S. minimum wage). Some of the money earned apparently goes back to the prison —  or, as the web site puts it, "offsets the cost of room and board" — while some are channeled into a support fund for crime victims, and some goes to the families of the inmates in the program. What's left goes into a savings account set up for each inmate, so they can claim the money when they're released from prison.
As the site puts it, "Your development needs can empower inmates and change lives."
The inmates are taught HTML, JavaScript, Python, along with CSS and web design, and even data visualization and some UI/UX lessons. The Last Mile site lists participants' core competencies as Node.js and WordPress, while other pages note they've also used the Express.js web application framework, as well as KeyStone, React, Angular.js, D3.js, Bootstrap, and Ruby on Rails.
The curriculum for the code boot camp was developed with code school Hack Reactor, and by last September, 51 inmates had graduated from the course, according to USA Today. Each graduate gets an internship in the tech sector after leaving prison. Thus far, nine have been employed in tech jobs. None of the 51 graduates have returned to prison.
"The talent pool we have access to is pretty phenomenal," Redlitz tells Wired. Before even interviewing for "TLM Works," each candidate has over 2,000 hours of training — and the shop's web page cites an "indomitable will to learn."
They do their work on an in-prison server — since prison rules prohibit internet access — using a proprietary programming platform "that simulates a live coding experience." Elsewhere the Last Miles describes it as "an Internet-like infrastructure for our work… complete with StackOverflow, mock Twitter and Facebook APIs, the entire npm registry and more." Clients send directions and feedback through a program manager who's also inside the prison.
The site describes their workforce as "ambitious and driven to create individualized software solutions for your business."
One recent project was for Airbnb: building a real-time dashboard tracking multiple social media accounts. "Four engineers, working together, built perfect imitations of the APIs offered by Facebook, Twitter, Pinterest and Instagram," explained the site. "Starting with OAuth verification and continuing to support a wide variety of query parameters, these mock APIs were no small feat."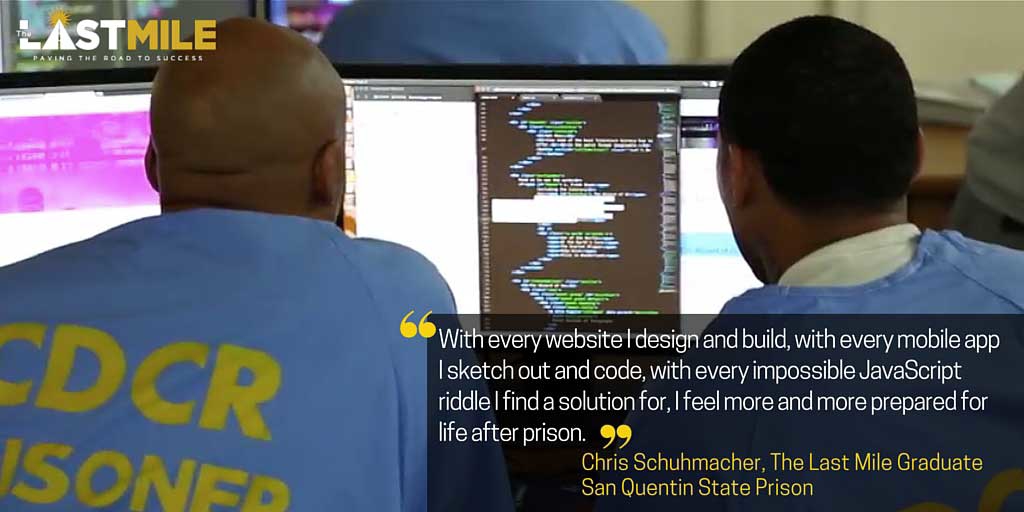 The work drew a positive review from Airbnb's global head of social marketing and content, who gushed that the site looked "even better on mobile. Incredibly useful, and I'm wishing we had done it for everything now."
Eighteen more inmates graduated from the program this March. And last month The Coalition for Public Safety (a group advocating for reforming the criminal justice system) had the inmates redesign its website.
"It's an opportunity to live our values," says Steven Hawkins, president of the Coalition. "One of the main ways to keep people from returning to prison is through employment opportunities."
https://youtu.be/kLehyoI9HqY
Of course, there can be a few drawbacks. "There are days… that our coders are on lockdown," Redlitz said. But he sees the need for real-world experience. "As folks have gotten trained in coding, there has to be the opportunity to actually engage in projects that test their skills."
And in an interesting partnership, the Last Mile also partnered with SiriusXM for a six-week radio show called "The Last Mile Radio" (on Insight channel 121), which "tracks the success stories of incarcerated men as they go through the program, parole, and return to their communities."
"We are the source of the stories, but we also wrote the platform to tell our stories. Stories of inspiration and redemption."
"We took great pride in creating this site and in having the opportunity to share our stories with you."
The radio program included a poignant question from Parenti. "At some point in time, they will be released back into society.
"So the question is, who do you want them to be?"
---
Feature image via Wikipedia, public domain.


Source: InApps.net
Let's create the next big thing together!
Coming together is a beginning. Keeping together is progress. Working together is success.