>
>
Tips for creating successful email campaigns for your business
Tips for creating successful email campaigns for your business is an article sent to you by the InApps editorial team. Hope readers will have more useful knowledge at www.inapps.net
Emails have evolved into a powerful marketing channel from plain text messages used merely for personal communication.
It has grown to be one of the most important tools to enhance your lead-generation strategy and drive more conversions. It increases the subscriber engagement and helps in building a strong rapport with them, which in turn shortens the sales cycle.
In spite of the numerous conjectures that email will not be able to stand the competition put forth by social media marketing, it's still going strong and works best to reach out to your target audience.
However, email marketing would make no difference to your business if your emails fail to stand out from what your competitors are doing.
8 Simple Tips for Adding a Zing to your Emails
To help you create awesome and memorable emails, here are 8 simple tips that map out how to successfully add that oomph to your marketing campaign and entice the subscribers to convert.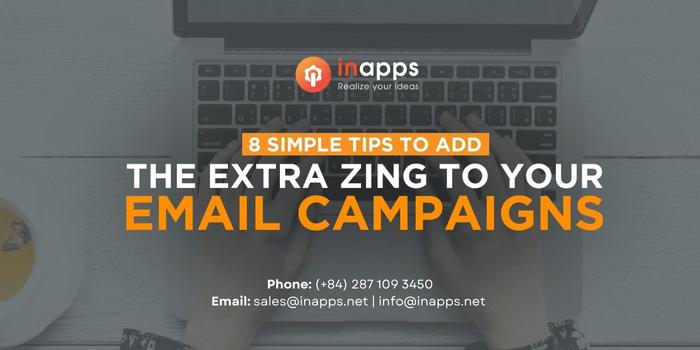 Maintain a Healthy, Segmented List
Building a subscriber list is the first step in formulating a successful email marketing strategy.
You should grow your email list organically with the help of a double opt-in method rather than buying an email list. It's quite likely that people deliberately offer a random, invalid email address just for the sake of filling out the form or enter a wrong email address by mistake.
Sending emails to such addresses can lead to deliver-ability issues and hamper your reputation as a business that sends out emails. To avoid this, it's important to have a healthy subscriber list without any incorrect (bad) email addresses.
Another thing to keep in mind is to segment your list based on several factors, including the subscriber's:
basic demographics;
geographic location;
previous purchases;
pages visited;
and other behavioral factors.
This enables the marketers to send more relevant emails with tailor made content crafted according to the subscriber's preferences.
Your email list is bound to get smaller with each passing year because of people who unsubscribe, or subscribers who change their email addresses.
As a result, you should prune your list regularly and ensue your marketing efforts are designed to keep adding new subscribers.
Employ Rationalization in Emails
Personalization is the key to effective email marketing.
Your subscribers receive numerous promotional emails each day. Therefore, it becomes imperative to deliver value through your emails.
Sending custom made emails that address the specific needs of your customers will go a long way in engaging your subscribers. They make the emails seem more pertinent for subscribers and will keep them hooked to your brand.
You can employ hyper-personalization techniques that use artificial intelligence in addition to basic personalization tricks like addressing the subscribers by their first name.
Instead of having a single master template that resembles robotic communication, add a conversational tone and use custom email designs that reflect professionalism.
Check out these great examples.
Cadbury Chocolate has used first-name personalization in their email, along with a compelling copy that entices the user to take action.
Netflix uses machine learning to create customized emails according to the shows watched by a particular user. Using a personalized subject line is a great way to improve the open rates for your email campaigns.
Create Tempting Subject Lines
Your subject line is the heart of your ongoing email campaigns; without it, even the most impressive email copy makes no sense.
But you should do well if you abide by the basic rationale of creating a strong subject line and use it to inform the subscriber about what to expect in the email.
Your subscriber's inbox ought to be flooded with tons of emails with similar-looking subject lines. So, to stand out and communicate with the recipient in a fun way, add relevant emojis.
Moreover, rather than writing a subject line like "Wonderful sale," write something along the lines of "Flat 75% Off."
Allow your subscriber to judge whether it's a wonderful sale or not. It should tap into their inquisitiveness and compel them to open the email without misleading them with click bait or a subject lines with bad information.
In the email, Urban Outfitters has written a short but elaborate subject line that evidently conveys what the email is about.
Also, notice the preheader text that throws more light on why the email is sent.
Use Crisp and Engaging Email Copy
How can you create attractive emails that manage to make your subscribers take the next action? Be certain you're writing engaging copy in the body of the email.
Humor is an effective tool. Marilyn Monroe once said, "If you can make a girl laugh, you can make her do anything," and that concept can hold true for your email subscribers as well.
Try adding a dash of humor when you're composing your emails. If you're successful, that can help generate higher click-through rates and enhance your email metrics.
Check out this Valentine's Day email by Really Good Emails that matches the theme of that romantic and special day.
Though their email is a bit long, its overall light tone serves their purpose quite well and successfully engages subscribers.
Emotional appeal also works well in driving conversions. Talk about the subscriber's dreams and hopes, or something that inspires them to do better in life.
That's what most of your subscribers are striving for.
Have a look at the email by Codecademy. It's designed to encourage the subscriber to learn something and reinvent new opportunities in life, followed by a persuasive Call To Action. The signature provides a personal touch to the email and helps strengthen the brand's relationship to the subscriber.
Leverage the Power of Interactivity
Interactivity is one of the best ways to design captivating emails that are sure to grab the subscribers' attention and prompt them to look forward to getting your emails. And keep in mind that subscribers today are much savvier about the visual look of an email, so animations in emails is another trend that's gained in popularity.
Build an impressive brand personality by using GIFs and CSS animations in the emails. You can also try countdowns in emails to promote limited-time offers and create a sense of urgency.
Marketers belonging to the retail industry also use sliders to display several products in a single email, and some brands have tried gamification to inspire creativity — as well as to increase the subscribers' interaction with your brand.
Hollister has added an animated logo to the top of their emails, with a sweet GIF that represents #CoupleGoals during summer vacay. It's refreshing to see this email in an inbox full of promotional ones. The preheader text, email copy, hero image, and everything else about this email is just perfect.
Carry out A/B testing
It's possible that what works for one brand proves to be of no use to the other. Plain text emails might work for a service-based industry, but not for retail.
Therefore, you should carry out A/B testing and figure out what resonates the most with your target audience. You can test your name, subject lines, email copy, the layout of your emails, CTA placement, the inclusion of rich media like images, GIFs, cinemagraphs, video, etc.
Pro tip: Iterations are a must when it comes to A/B testing. What's working today may get obsolete tomorrow.
Focus on a Compelling Call To Action
Your email Call To Action determines whether the subscriber will click through your email or not. Its placement, design, color, and copy are all factors that should be taken into consideration when crafting a sharp email.
Your call-to-action button should be created using a contrasting color to the background and placed in such a way that it gets easily noticed. It should be accessible on mobile devices.
As far as copy is concerned, write an actionable verb and first-person phrases in the CTA copy. This means that "DOWNLOAD MY FREE TRIAL" works better than "DOWNLOAD YOUR FREE TRIAL."
The calls-to-action by Ritual are always fascinating enough to capture the subscriber's attention. Take a look at the example below; consider the informative copy as well.
Make Your Emails Mobile-Friendly
Most of your subscribers are opening your emails on a mobile device. Make sure your emails look good on all devices, regardless of the screen size. Check out who your most used email clients are, based on your subscriber list, and design your emails based on this data.
For Example: If maximum recipients on your list are Android users, you can try something like a fixed CTA button that doesn't move, even when the subscriber scrolls through the email. This feature does not work on iOS.
On the other hand, if your recipients are predominantly iPhone users, consider inserting high-resolution retina images in your email for a better customer experience.
The below image explains the difference between retina images and normal resolution images, that makes it clear how important it is to use retina images for a brand with most of the subscribers using Apple devices.
Conclusion
Creation of successful email marketing campaigns doesn't happen overnight. It's an ongoing process that takes a lot of strategy, multiple tactics and trial and error.
Just keep an eye on the metrics and track every trivial detail related to your email marketing plan. These tips, combined with valuable email content, will help you build an ideal email campaign with the X factor that provides a competitive edge to the brand.
Follow this to make sure you've got tips for creating successful email campaigns for your business. Save and share these with those around you these extras.
Let's create the next big thing together!
Coming together is a beginning. Keeping together is progress. Working together is success.