As Statista reports, by 2020, in the US, car booking service revenues are expected to reach 2.81 billion dollars: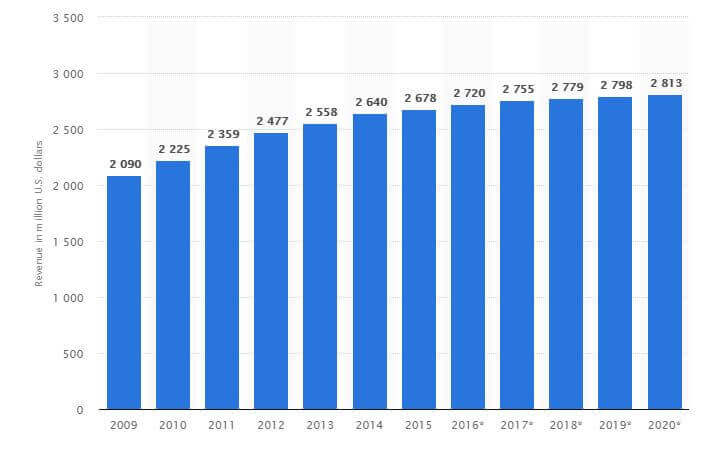 [Image source: Statista]
As you can see, the market for car booking apps has significantly grown from 2009. If in UK/US, car booking app like Uber remains the industry leader, and in Asia, Grab is expected to show a compound annual growth rate by 2024.
"The car booking market is a high-competitive niche in the whole world. And to be competitive, a mobile application is essential."
After the Uber & Grab revolution, the global businesses have started to invest in car booking app development to receive a profitable revenue. Although we understand that Uber & Grab large share of the car booking app market, but there are a lot of provinces or countrysides haven't become their market yet. This is a niche for innovations.
So, if you want to enter the tcar booking industry and discover your own market now, then this article is your.
How Much Does It Cost To Build A Car Booking App Today?
Depending on your specific requirements, the various types of apps, and the functional scope for your mobile car booking app…it can take approximately $60.000 – $100.000 for a working app. However to make it a star as Uber or Grab, you need to develop your app to grow up the drivers and riders, handle more trips & bookings…and this will take a tons of money and time.
North America — $60-250 per hour

United Kingdom — $60-150 per hour

Western Europe — $40-120 per hour
As you can see in this chart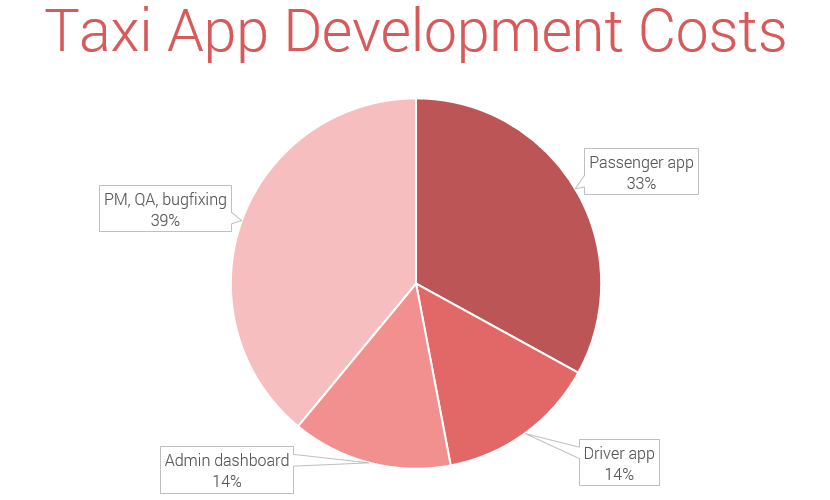 [Image source: theappsolutions]
Luckily, car booking app development by the Asian experts can help you automate everything from cab bookings and payments to the total number of drivers and taxis, and generating reports.
Moreover, with the lower tax and cost in Asia, especially in Vietnam, we also have competitive advantage for your company can save thousands of dollars (reduce up to 70% of IT cost or only from $20,000 to $40,000/project). Sound amazing, isn't it?
How To Reduce The Cost & Expand Your Car Business Up To 100% Productivity?
To cut down the costs and quickly launch your car booking business as soon as possible to gain the market, fisrt, don't try to develop the trendy features and sophisticated technological solutions.
Instead, you just need to pick out the features you really need to bring value to your users (drivers & riders) and promote your inherent strengths and resources to make a lean product that can make customers happy and ready to use. People call it an MVP (Minimal Viable Product).
From tracking drivers to generate automated invoices to allowing riders to make bookings in a few clicks, our developer will amaze you to their abilities: high technical skiss, deep market understanding about the car booking business. That is why we endorse building MVP first which can save you up to 70% of costs and time.
To develop an MVP, depending on the target audience and goals, we will advise a list of features that best suit an optimal and reasonable budget. There will be 2 solutions:
– Hire an Offshore Development Team to accompany you with product development and are always ready to provide technical support to meet customer satisfaction.
– Product Development in stages with estimated time and cost
And no matter which approach we will advise you to apply effectively in your business.
Fly With The Eagle To Be Above The Storm – Partner With Top Asia IT Company To Have An Incredible App
With more than 10 years of experience and famous as The world's top 50+ mobile app development company in 2020, InApps provides the best development solution for on-demand car booking apps for startups & SMEs.
We have analyzed, created and developed the Bus Booking App/Car Booking App, updated to improve localization across the app, perfections in messaging, UI boosts, accessibility advances, enhancements to the look and feel of selecting different ride options.
Specific Features:
– Login, logout, forget pass
– Phone verification
– Map
– Search available car
– Booking car
– Online/ Cash payment
– Ride histories
– Notification
– User profile
We can develop and upgrade the features, which will help you get a unique and able to outclass the competitors taxi booking app or a car rental app.
Not only do we focus on efficiency for customers with a mindset on ROI (Return of Investment), but InApps also research to understand your niche market and business goals, as well as define the target audience carefully to advise on appropriate product development.
Don't hesitate to contact us to receive the best technical suggestion about the project. We also have a special promotion program just for you this month.
To repeat Uber & Grab success, you should not just replicate the app, existing in the market, but create something unique with the trusted Tech Company.
Customer satisfaction is the priority: By business, weekly and monthly meetings, we immediately give customer problems in 80% of meeting to find solutions within 24 hours.
Reduce your cost up to 70% – Guarantee the same or higher quality
Due to the lower tax and cost, we can optimize the cost in Vietnam as well as re-use our experience in previous projects to reduce costs but still ensures the quality.
Fast solving-problem & supporting your end-users
Our Talent is systematically trained and must pass 2 difficult interviews & testing before starting a client's project to ensure each developer is a combination of: "Consulting + Solution + Care"
80% of developers are good at English communication
As most of our clients are from UK/US/Europe, we focus on recruiting candidates with good English communication skills to support customers and avoid misunderstandings.
70% of software developer have +5 years of experience
We prioritize building an experienced team that accounts for a high proportion to meet their expectations. Even for the freshers, they also come from top universities or studying abroad.
Transparency and Predictability for long-term cooperation
We focus on clear transparency in communication and discussions to achieve long-term cooperation goals.
Latest Development Methodologies & Diverse Industry Experiences
Reliability is one of the elements to make the best decision! Hence, we shall show you our reputation via our case studies as well as some reviews throughout 2 ranking platforms Clutch and Goodfirms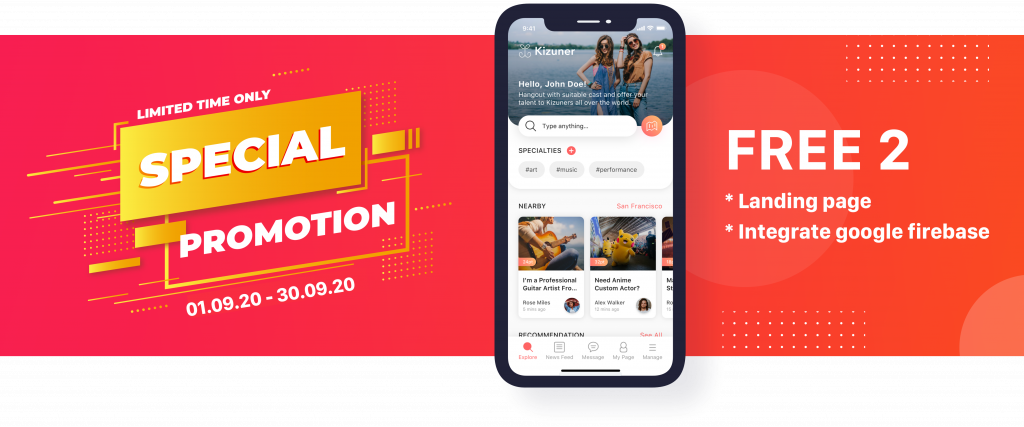 List of Keywords users find our article on Google:
grab car booking
grab booking app
grab booking car
shuttle booking app development company
bus booking app developers
bus booking app development
site:www.inapps.net
Let's create the next big thing together!
Coming together is a beginning. Keeping together is progress. Working together is success.