"Digital Health Market size was estimated at over USD 106 billion in 2019 and the industry will grow at 28.5% CAGR through 2026."
The growing number of COVID-19 cases across the globe has increased the adoption of digital health technologies and will boost the digital health industry growth.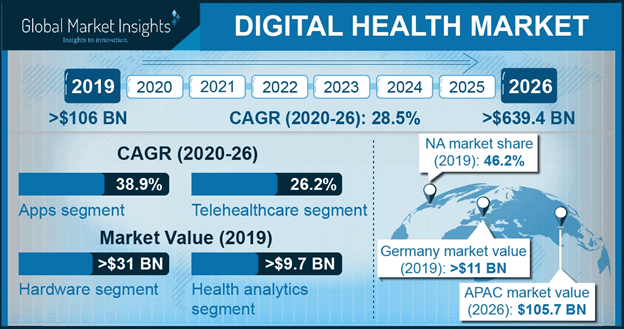 Doctor Appointment Application will be a bridge to connect doctors and patients closer than before with the speeding of pandemic. Hence, this is a great time for any doctor, clinic, or hospital to come into this market with a fresh doctor appointment application.
How Much It Costs To Develop A Doctor's Appointment Apps?
Depending on your specific requirements and the functional scope for your doctor booking app…it can take approximately $40.000 – $50.000 for a working app, but if you add more advanced features like video functionalities or AI, it would grow up to $100,000 to $150,000.
And remember that Doctor appointment app development on android O.S is cost higher than iOS development since the android application requires testing against multiple devices.
Moreover, to become the leading doctor booking site/app, you need to develop your app to increase the number of consultations per month for doctors, as well as keep the flexibility & best online service for patients. If you don't have a trusted Offshore Development Center, this will take a ton of money and time!
Discovery How InApps Satisfies Client With An Outstanding Doctor Appointment App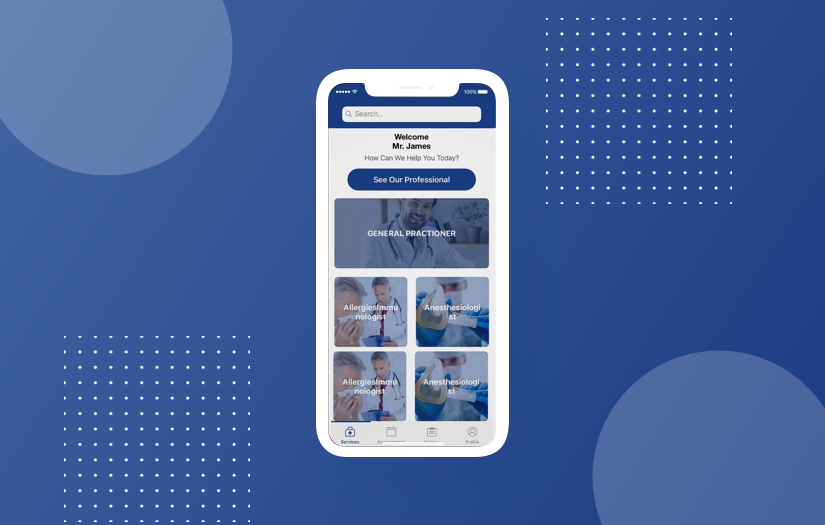 Doctor Application is one of our successful case, one type of mobile apps which connects patients and doctors easily via smartphone. Furthermore, users can find the best doctor online, who will take care of them.
What is Doctor Application?
InApps has been designed and developed after thorough research to cater to the requirements of people interested in building a freelance marketplace or other similar projects. The design focuses on usability, visual hierarchy, and aesthetics to ensure easy navigation for the end-users.
The features of this application:
– Powerful searches for doctors & hospitals
– Detail pages for doctors & hospitals
– Doctors, hospitals, and patients profile settings
– Book appointments with doctors
– One to one chat, health forum & blogs Listings
– All settings for doctors
– Manage a team for hospital & more
The way of approaching:
Although the junior developers are required to save costs, we set up a team with a minimum level in the middle and an additional team leads to support and communicate with the customer. That means we have no profit in leasing this ODC team.
– Product testers will support for verifying and find critical errors.
– Proceeding with the priority of arrangement and quick fix.
– Communicate with customer regularly to understand him, the status of products, and the priority which the customers expect to solve.
– Planning for the most stable release and important features, which help the customer has a successful demo.
Result:
– Having a successful demo for their investors.
– Investors are happy with the current product. They are in the stage of reviewing their business plans before investing.
– The customer made a decision for signing longer-term cooperation than one project about medical and doctor application.
With more than 10 years in mobile application development, InApps absolutely can help you build a Doctor Application. If you have any concerns, just email us via sales@new.inapps.net for free consultant.
Let's create the next big thing together!
Coming together is a beginning. Keeping together is progress. Working together is success.