Can There Be Too Much DevOps Automation? – InApps is an article under the topic Devops Many of you are most interested in today !! Today, let's InApps.net learn Can There Be Too Much DevOps Automation? – InApps in today's post !

Read more about Can There Be Too Much DevOps Automation? – InApps at Wikipedia

You can find content about Can There Be Too Much DevOps Automation? – InApps from the Wikipedia website

Just like everyone else, NetOps and DevOps want to save time and money while reducing human error. Yet, a recent survey by F5 Networks of 884 professionals indicates that networking and DevOps still don't agree about automation's importance in relation to priorities like security, performance and reliability.
NetOps are networking professionals that have taken on a cross-functional role similar to DevOps but responsible for working with the networking team as opposed to developers. The survey found that only 31 percent of self-identified NetOps believe greater than three-quarters of the development pipeline should be completely made available to developers via automation, which is significantly less than the 45 percent of DevOps pros that want that self-service capability. So, despite their desire to automate things, expect NetOps oriented staff to still raise objections to some automation efforts.
Opposition to automation can be reduced by redefining the scope of what is considered automatic. About two-thirds of survey respondents say they are deploying at least once a week, but DevOps pros are much more likely to say they deploy at least once a day. NetOps may believe that deploying infrastructure requires more time-intensive testing than 24 hours provides. In fact, NetOps pros reporting less than half of their deployments are successful are more likely to deploy more than once a week.
If you are planning to deploy your infrastructure-as-code, realize that once a week deployments and a few manual steps in the process may be good enough for your "automated" pipeline.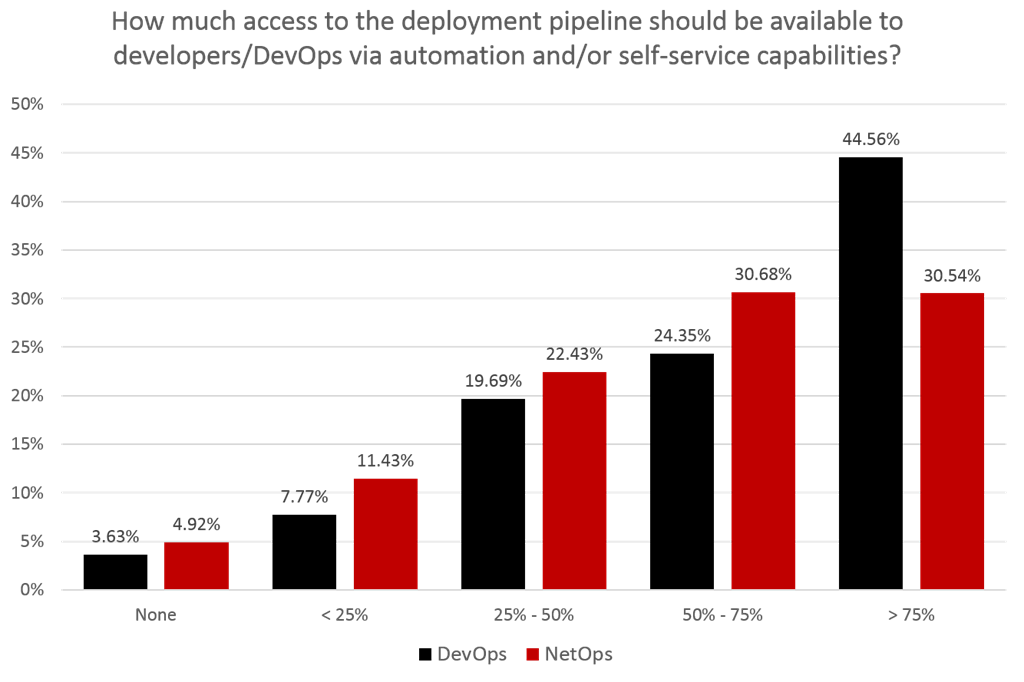 Source: InApps.net
Let's create the next big thing together!
Coming together is a beginning. Keeping together is progress. Working together is success.