Online Course App 
Today, to develop an application like iTune U, Khan Academy, Coursera, and Udemy, we do not need hundreds of thousands of dollars to develop. So what is the secret?
To develop a marketplace application
Typically, to develop a marketplace application, you'll need parts of the product like:
– App UI and UX Design
– Mobile Application (iOS and Android)
– Web Portal Admin, where you can easily manage content, manage and analyze users, and interacting with users through the campaigns
– An appropriate marketing strategy after product launch
And the team to execute the project will consist of
– Business Analyst
– Designer
– Software Developer
– Project Manager
– Quality Assurance
The product is launched in the market
After the product is launched in the market and has users, you will also need a DevOps service.
It will not cost a small amount if you want to do all the features at once.
Instead, you just need to pick out the features you really need to bring value to your customers and promote your inherent strengths and resources to make a lean product that can make customers happy and ready to use. People call it an MVP (Minimal Viable Product).
To develop an MVP, depending on the target audience and goals, we will advise a list of features that best suit an optimal and reasonable budget. We will advise in detail for you to make a wise choice about feasibility: cost, time, market acceptance.
There will be 2 solutions:
– Hire a development team to accompany you with product development and are always ready to provide technical support to meet customer satisfaction.
– Product development in stages with estimated time and cost
And no matter which approach we will advise you to apply effectively in your business.
With more than 10 years of experience in developing applications for customers. We always focus on efficiency for customers with a mindset on ROI (Return of Investment). We always research the customer's business model to advise on appropriate product development.
Please contact us to receive a proposal about the project. We have a special promotion program just for you this month that is a FREE UI DESIGN worth up to 3,000 USD.
Here is a case study we have experience in this kind of product.
We specialize in mobile online course app development aligned with our customers' specific requirements. Depending on your requirements, we can deliver various types of online course apps and assist you in choosing the functional scope for your app.
Main Features
Categories 
Courses
Start a courses 
My Lessons 
Activities
Statistics
My Account
My Current Progress
Offline Mode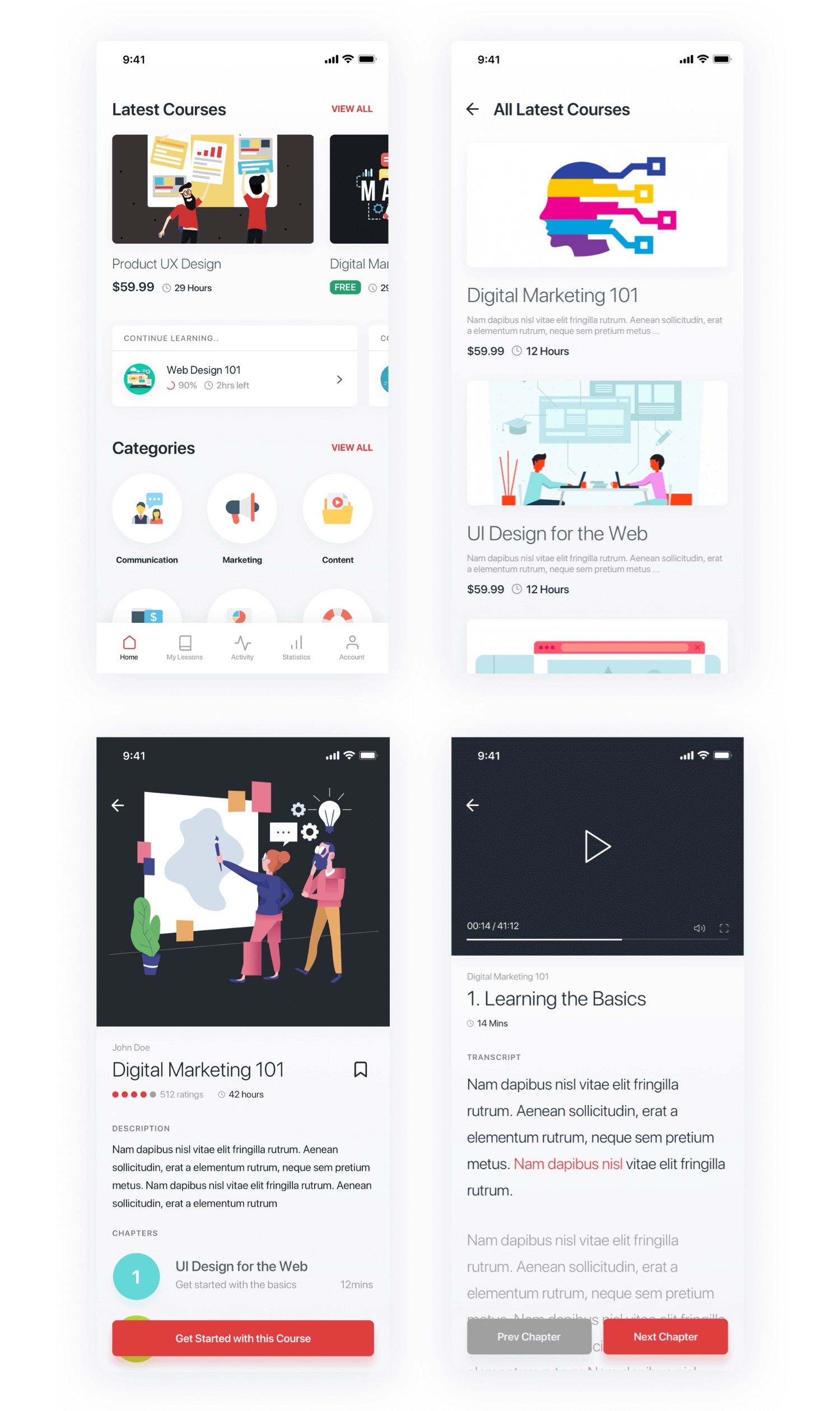 Let's create the next big thing together!
Coming together is a beginning. Keeping together is progress. Working together is success.