Offshore software development has a lot of potential and quicker turnarounds in investment. Outsourcing your projects to offshore development centers overseas could be the right choice with a lot of benefits as you will save operation costs and human resources while still be able to focus on your own business goals and objectives.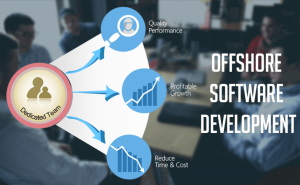 However, while working with your offshore team, there will arise a few challenges that you may find difficult to deal with. Start by investigating explicit reasons for these correspondence issues, and you'll discover strings that lead back to an unmistakable thought of what to improve. Is it the trouble dealing with the additional documentation expected to move venture prerequisites? Is it the time zone contrast? Or on the other hand the absence of regular connections which you ordinarily have with your team? Let's have a look below.
Language, time zone & cultural barriers
While language and cultural barriers can impact the quality of service provided by the offshore development team, this gap can be closed through specialization and quality control. The language barrier can be a big problem, make sure you have the team with good language skills to understand what you mean and carry out your plans accordingly. English is now the second language in most schools and universities in Vietnam. Chinese, Korean, Japanese, French are popular languages as well.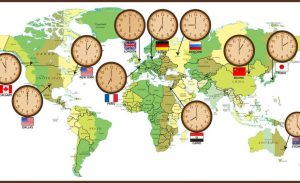 One of the biggest challenges with the offshore development team is working on vastly different time zones. Choose a team that is flexible with time zones difference. This enables us to have time for daily meetings, scrum, and Q&A.
If you place your offshore development center in Asian countries such as India, China, the Philippines, or Vietnam, remember that their culture is a lot different from customs and traditions. Plan ahead of religious holidays and celebrations that may delay the time of delivery.
Anticipated Quality (vs.) Huge Cost
Try to plan and have full control of the project cost. It helps you keep records of the expenses as well as to avoid huge costs that may occur after the project. A fixed bid occurs when you deliver the partner a detailed project spec and they commit to complete it for a fixed price. This setup can work with smaller and highly specified projects (e.g. developing a mobile app or MVP). However, it is not well suited to agile development processes since larger projects tend to be defined as they progress. Make sure there is no hidden cost in the project.

Delivery delays
The ideal team should have a Technical Lead or Project Manager, who monitors your projects to guarantee the quality and meet the deadline. Workflow management can be a great challenge and time consuming when you have to plan, organize and assign tasks to many people remotely. Get to know specialized software for workflow management such as Jira or Asana to automate task assignments and deadlines. Not only you have to manage your offshore remotely, but the team also consists of more than several members, each of them has their own personality and skills. How can you gather them and work harmoniously in a team to reach your goals without issues? Make sure you pick a capable team manager who understands and evaluates your business requirements and challenges, ensuring that expectations are aligned for every project.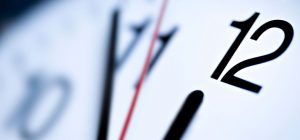 Disclosing confidential elements
The offshore team must treat its clients' IP with the most extreme consideration. A Non-Disclosure Arrangement (NDA) with every one of its clients toward the beginning of a business relationship is required. This NDA sets out the standards and obligations of the two gatherings and is carefully trailed by all representatives. The subtleties of the substance, in connection to which IP insurance is guaranteed, are likewise remembered for the agreement. 
All through the task cycle, InApps guarantees all related IP protection in both physical and electronic arrangements. The security techniques and safeguards are likewise implemented efficiently in the wake of working hours.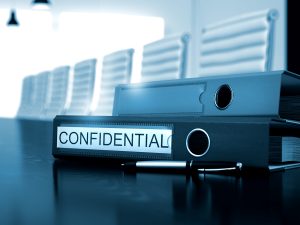 The team should ensure a high level of secrecy and security in each venture to verify the customers' records and models. Customers' data remains carefully private by utilizing the Active Directory (AD) framework to deal with the clients' specialists. Under AD, information must be seen by approved staff, and all duplicates or versions of the information are plainly recorded by logs that customers can check whenever. Customer database data is ensured during the whole task time frame, with access to delicate information being constrained to a key individual as it were. Equivalent safety efforts are taken for avoiding divulgence of data and unapproved access to the PC arrangement of the organization, and for guaranteeing safe conveyance administrations. 
To give further affirmation that all employees are completely mindful of, and delicate to, the basic significance of securing clients' privileges, all InApps representatives sign material classification contracts alongside their representative understanding after joining the organization. These understandings confirm that the representatives will conform to InApps IP assurance guidelines, with respect to secret data.
Slipping control over operations
Start with a firmly booked cycle of every day and week after week gatherings. In the Agile programming procedure, day by day standups is as a matter, of course, sorted out. Not all product firms utilize Agile, still by guaranteeing all the colleagues meet for 15 minutes consistently and for about an hour consistently, things begin to move much quicker. The individuals who are visiting, the timings and the motivation ought to be noted down in an unmistakable procedure portrayal. In the event that the gatherings become a daily practice and the procedure is followed in an organized manner, you have set out a steady establishment for the re-appropriating commitment to streamline correspondence. Correspondence issues will start to tackle itself since individuals have a day by day opportunity to examine and adjust conduct. Groups start finding their answers, without the executives going through days on preparing and critical thinking sessions.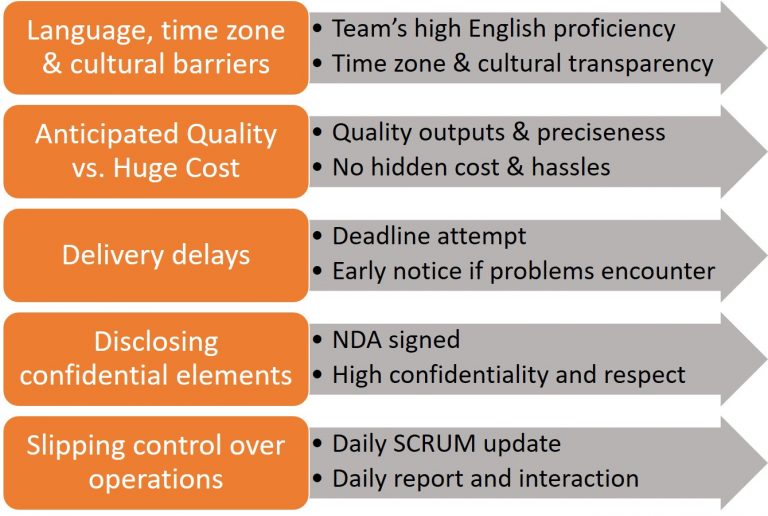 How can InApps offshore team create a win-win state for our clients?
Owning a Tech Talent Hub with 5–10 year-experienced developers and engineers, InApps Technology is proud to give 100% satisfaction and trust to clients on their projects.
You can focus completely on core activities such as business, sales, marketing, and operations while we are keeping our focus on product development with the following benefits:
Competitive cost and easy to expand your team
Good at both technical expertise and English
1-month trial and money back if not satisfied
Transparency everything for long-term cooperation
InApps Technology Offshore Development Team
Here are some reasons why clients choose InApps Technology as their offshore software development company in Vietnam:
Competitive Hourly Cost
Clear delivery management and visibility to service metrics
Transparency and Predictability. 
Close Collaboration. 
Flexible Team Structure.
Latest Development Methodologies: Agile, Scrum, Extreme Programming (XP) and Test-Driven Development (TDD)
Our team capabilities:
English communication— 80% can read and understand spoken English.
Cost-efficiency — You can find excellent developers for $17-$22 per hour.
Good Communication Skills — They are good communicators and aren't afraid to speak up or challenge you. They want to do a good job and succeed.
Talented workforce — Young developers who studied and worked abroad in the US, Australia, Northern Europe or Japan.
High-level of Tech skills — Excellent at analysis, troubleshooting and tech solution brainstorming. They are passionate developers who love what they do and desire for self-development.
Learn more about our offshore development center here: https://inapps.net/services/offshore-development-center/
List of Keywords businesses find our service on Google:
offshore software development issues
offshore software development challenges
offshore model challenges
offshore challenges
software offshore team
difficulties with offshore developers
frustrations working with offshore developers
challenges working with offshore team
how to manage offshore software development team
scrum offshore development
Let's create the next big thing together!
Coming together is a beginning. Keeping together is progress. Working together is success.