INAPPS TECHNOLOGY and AGORIZE: Partnership Announcement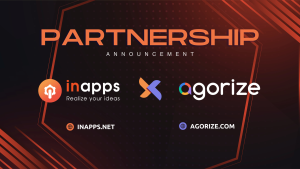 We are thrilled to announce an exciting strategic partnership between INAPPS TECHNOLOGY and AGORIZE, two industry leaders in their respective domains. This collaboration marks a significant milestone for both organizations as we unite our shared vision and goals to create a powerful synergy. Together, we introduce the HUAWEI Cloud Startup Ignite Competition 2023, drive innovation, and foster an environment that nurtures startups.
Get to know INAPPS TECHNOLOGY
At INAPPS TECHNOLOGY, we are more than just a software development company; we are a dream of Vietnamese developers. Our passion for technology has inspired us to establish InApps with the desire to help startups, SMEs, and businesses leverage technology to accelerate their growth.
Our comprehensive range of services includes full-stack software development, custom software development, mobile app development (native iOS, Android, React Native, Ionic), web app development (NodeJS, PHP, ReactJS, Python, .Net, Java), UX/UI design, and offshore development center (ODC). Our key to success lies in our dedication to our clients' success, staying updated with the latest technologies, employing highly competent and skilled software developers, and providing 100% guaranteed services and satisfaction.
Get to know AGORIZE
Agorize is the most comprehensive innovation management platform, supported by a team of experts and a community of 5 million innovators. For over a decade, Agorize has been empowering change and accelerating innovation by providing technology that connects clients and partners worldwide with startups, employees, developers, and students.
Through Agorize's platform, over 300 global enterprise companies, including Huawei, Microsoft, LVMH, PepsiCo, Bayer, Schneider Electric, Hitachi, L'Oréal, and many more, have successfully crowd-sourced, evaluated, and developed solutions. Their track record spans Europe, North America, and the Asia Pacific, making them a trusted partner for running innovation programs.
The Power of Partnership
This partnership between INAPPS TECHNOLOGY and AGORIZE brings together the collective strengths and expertise of both organizations. By combining our resources, knowledge, and networks, we aim to create a dynamic ecosystem that supports startups and fosters innovation. Through joint initiatives, we introduce the HUAWEI Cloud Startup Ignite Competition 2023, providing an opportunity for aspiring entrepreneurs to showcase their ideas and gain invaluable support to kickstart their ventures.
The collaboration between INAPPS TECHNOLOGY and AGORIZE will enable us to offer a wider range of services to our clients and partners. Together, we will deliver comprehensive solutions that integrate cutting-edge technologies, efficient software development, and innovation management expertise. This will empower businesses to stay ahead of the curve, adapt to rapidly evolving market trends, and drive sustainable growth.
Commitment
As we leverage our respective strengths and resources, we are confident that this partnership will create remarkable opportunities for startups, businesses, and the wider entrepreneurial community. Stay tuned for updates on the HUAWEI Cloud Startup Ignite Competition 2023 and the transformative initiatives that will emerge from this powerful collaboration. Together, we will shape the future of innovation and pave the way for entrepreneurial success.
Connect with us
InApps Technology: Facebook | LinkedIn | Twitter | Website
Let's create the next big thing together!
Coming together is a beginning. Keeping together is progress. Working together is success.