Software developers are shaping and building the modern technological world. The software market can be divided into two major centers: the US and the European markets. So, to determine how many software developers are in the world, which programming languages are in higher demand, we must examine the software development companies in the US and Europe.
How many Software Developers have been in the world over the years
According to the 20th edition of the State of the Developer Nation report, at the start of 2021, there were 24.3 million active software developers worldwide, including 13 million software professionals. This represents a 20 percent increase over mid-2020. 
According to Slashdata, there were 18.9 million software developers in the world in 2019. This number is expected to rise to 45 million by 2030. These are imposing figures that demonstrate that the demand for IT professionals is rising – and will continue to grow – worldwide.
| | |
| --- | --- |
| Year | Number of developers in the world |
| 2018 |   23.9 million |
| 2019 |   26,4 million |
| 2021 | 26,9 million |
| 2023 |   27,7 million |
| 2024 |   28.7 million |
| 2030 |   45 million |
How Many Software Developers are there in the US?
The number of software developers in the US has reached 4,3 million, putting the country in first place.
| | | | | |
| --- | --- | --- | --- | --- |
|   | 2016 | 2017 | 2019 | 2021 |
| Number of Software Developers in the USA | 3,87 million | 4 million | 4,2 million | 4,3 million |
In addition to software developers, the 4,3 million estimated in 2021 includes technical writers, electrical and hardware engineers, CAD programmers, actuaries, statisticians, economists, mathematicians, and anyone who writes or reads code on a daily basis. If we only consider the "traditional" definition of a software developer, we're only looking at about 3,4 million people.
Top 10 US states with the highest number of software developers
California leads the way in terms of raw numbers, with 628 thousand developers. Texas comes in second, and New York comes in third, with 325 thousand and 218 thousand people.
| | |
| --- | --- |
| State | Number of Software Developers |
| California |   628,414 |
| Texas |   324,717 |
| New York |   218,041 |
| Virginia |   204,699 |
| Illinois |   186,426 |
| Florida |   181,314 |
| New Jersey |   162,977 |
| Pennsylvania |   152,900 |
| Maryland |   147,430 |
| Washington |   143,971 |
How Many Software Developers are there in Europe?
The European software market is regarded as one of the world's largest outsourcing centers, attracting customers from all over the world.
According to StackOverflow, the number of software developers in Europe in 2016 was 4,7 million, increasing to 5,5 million in 2018. Germany has the most software developers, with approximately 901K. The United Kingdom and France round out the top three countries with the most software developers, with 849K and 533K, respectively.
| | |
| --- | --- |
| Country |   Number of Software Developers |
| Germany |   901K |
| The UK |   849K |
| France |   533K |
| Russia |   412K |
| The Netherlands |   320K |
| Italy |   314K |
| Spain |   323K |
| Poland |   295K |
| Ukraine |   200K |
| Sweden |   179K |
Learn more: How much do software engineers make by country? – Update 2022
The Number of Software Developers by Technology 
We also found some rough estimates online that you might find helpful:
Java developers:
Developer Economics says Java software developers worldwide will reach 8 million in Q3 2020.
The number of Java developers varies a lot. In 2003, there were between 1.5 and 3 million Java developers; by 2007, when Java became open source, this figure had risen to 6 million. 
According to Evans Data Corporation's Global Developer Population and Demographics Survey, the Java developer population was 9 million in 2009, making Java one of the most popular programming languages worldwide.
According to SlashData, 7,1 million Java developers worldwide in September 2018.
In 2019, the figure will rise to 7.6 million.
PHP developers:
PHP developers numbered 5 million in 2013 (source) and 5,5 million in September 2018. According to the Register, there were 6.1 million PHP developers in 2019.
JavaScript developers: 
According to Developer Economics, the number of software developers using JavaScript in Q3 2020 was 12.4 million. This means that JS was used by 53% of all developers worldwide at some point.
"JavaScript is the most commonly used programming language on the planet," according to the 2016 Stack Overflow Developer Survey. Back-end developers, in particular, are more likely to use it than any other language." Meanwhile, according to the most recent data from SlashData, there were 10,7 million JavaScript software developers worldwide in 2018.
Mobile app developers:
In 2016, there were 12 million mobile app developers worldwide. The global mobile application market was valued at $106.27 billion in 2018. It is expected to grow to $407.31 billion by 2026, at a CAGR of 18.4 percent from 2019 to 2026. According to this data, the demand for mobile app developers will continue to rise.
EvansData says approximately 5,9 million Android developers and 2,8 million iOS developers worldwide. According to the report, there will be 14 million mobile app developers by 2020. 
.Net developers:
According to a 2004 study, the total number of.NET developers worldwide was around 6 million. Many estimates place the number of.NET developers today at 7-8 million. The majority of them make use of C#.
C++ developers:
There were 4,4 million C++ software developers in 2015. 
Nowadays, the figure has risen slightly to 5,4 million.
Python developers:
According to SlashData, there were 7 million Python developers in 2018. Python is gradually catching up to Java in terms of popularity.
C# developers:
In 2018, the global number of C# software developers was 6.2 million.
The number of Software Developers in Big Tech companies
Have you ever considered: how many software engineers does google have? How many people work at Facebook?
Facebook currently employs approximately 8850 software developers, according to Linkedin.

Amazon employs approximately 36,000 developers who write code.

Apple employs approximately 20 million developers, generating roughly $100 billion in revenue.

Currently, Netflix employs only 80 software engineers who create 50 applications.

According to the official Google employee report, Google employs 27,169 software engineers (i.e., research and development).
About InApps Technology – Top software development company in Vietnam.
In recent years, Vietnam has been the destination for IT outsourcing thanks to the competitive labor costs compared to other countries, a large pool of IT talents with foreign language proficiency, and open policies regarding foreign companies of the government. During COVID-19, Vietnam is also one of the Safest Countries. 
Ho Chi Minh City in Top Outsourcing Cities in 8 consecutive years (Tholons, 2009-2016)
Vietnam is ranked 1 in pioneering location and cost environment (Cushman & Wakefield business process outsourcing and shaped service location index, 2016-2017)
Top 10 countries with the most engineering graduates (Forbes, 2015)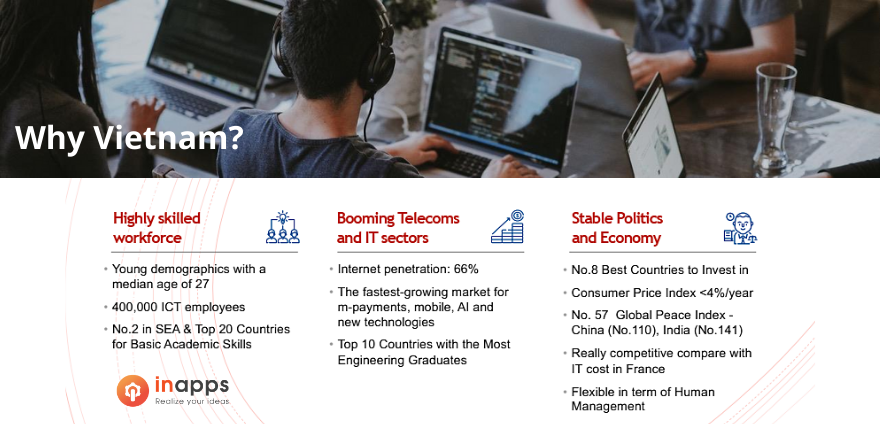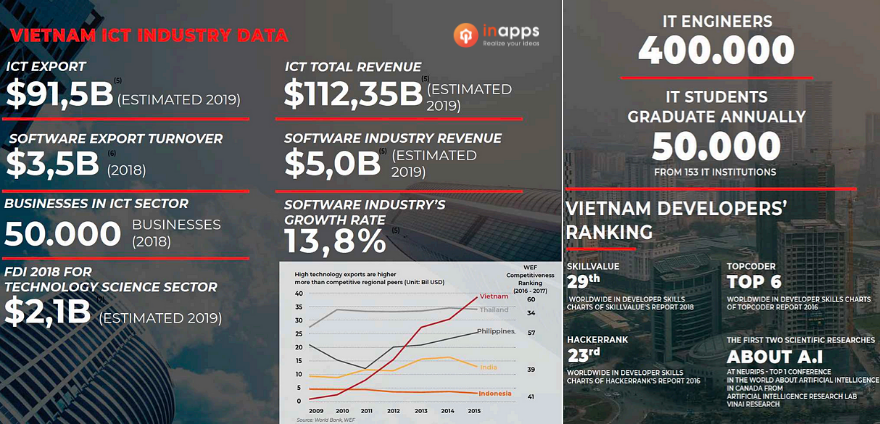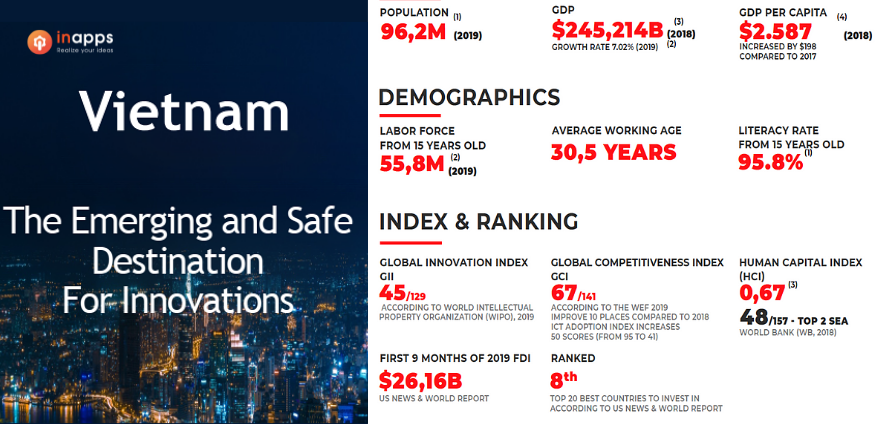 If you want to hire world-class software developers at an affordable price, look no further than InApps Technology.
InApps Technology is more than a software development company. It is a dream of Vietnamese developers. We focus on the niche market related to mobility solutions and high productivity dedicated team to expand the business model for our clients.
InApps developers are at the epicenter of the IT industry in Vietnam. Our skilled and experienced teams can work on any software development project that you might need, as proven by their high customer retention rate. Feel free to explore the website to learn more about our offerings and technology solutions.
Clutch recognizes us as:
The best Mobile App Development Companies in Vietnam
Top Software Development Companies in Vietnam
Top Web Development Companies in Vietnam
Need a trusted partner to provide the best-talented developers?
List of Keywords businesses find our service on Google:
Let's create the next big thing together!
Coming together is a beginning. Keeping together is progress. Working together is success.