>
>
Developing Ecommerce Bidding Platform
Defining the Problem
Do you struggle to get the best deal while purchasing electronic devices and home appliances?
After comparing several websites and eCommerce auction apps, we have not found the answer yet. This is the pain point that our client aims to solve in the project.
In specific, they wanted to create a solution that enables customers to get exclusive deals and bargains on selected mobile phones and home appliances.
Enhancing the idea
The client has the initial idea for the web however he has a problem in terms of making a web application due to being a non-tech person.
InApps team helps him to ideate his idea. After long discussions, we came up with the idea of creating a price bidding platform where buyers and suppliers can get their best deals.
In detail, buyers can add different price bids for the same product, for a given quantity. On the other hand, suppliers can add a price that they wish to sell their products. Eventually, the 'minimize cost' feature will work as a mediator to get both parties the best deal.
When putting the idea into practice, we encountered a problem which was visualizing the idea. This is where our UI designers and UX architects came in handy.
Identifying users & their challenges
Mapping purchase intent to offering best deal from suppliers
Reverse Bid – Enabling suppliers to offer best deals which consider buyer interest
Eventually placing the order based on the offer from supplier
Order management for back office staff
Challenges
Client Challenge
Minimise Cost
Our Challenge
Minimise Friction
Core UX fundamentals
The user-friendly UX design ensures that users can operate on the web with minimal effort.
Keeping that in mind, we kept the app clean and aesthetically pleasing. Our team of UX consultants and UI architects helped design a highly responsive and intuitive mobile and web app.
Sellers
Transparency for seeing best incoming interested buyers and figure out the best deal
Experience of making an offer and place a bid for a product
Efficiently maintain product catalog with control on Price with higher degree of maneuverability.
The final takeaway
Getting a chance to work with a client who has a clear vision is one in a million. Our client wanted to fill the gap that he believed existed in the market of electronic appliances.
The client also believed that this platform will work well since there weren't many other close competitors. Keeping this authenticity in mind and staying true to our clients vision, we successfully finished the website.
Our research
About 71% of buyers believe they will get a better deal online than in stores.
A study done by Persistence Market Research showed an astonishing increase in the consumer electronic market. It is foreseen to hit 2.9 trillion USD by 2020.
What's driving this growth is the boom in demand for smartphones, wearables, and smart home devices, coupled with the rapidly increasing online market.
The design challenge
A price bidding system is not the most common way of buying things online and we wanted to make sure that it wouldn't overwhelm and confuse the users. So we had to create the design keeping in mind the information our users already had and what they were trying to achieve.
Since price bidding is not the common way to buy things online, we needed to ensure that the web is not overwhelming and confusing to users. The design process, therefore, needs to align closely with the information that users already had.
The key users were kept in mind as both their user journeys were similar yet needed to be differentiated. To help us get perspective on our design process while maintaining the authenticity of the platform, we had to engrave ourselves in active design thinking.
Design Conceptualization
We employed agile methodology and design sprint planning to make the design better. After an extensive requirement gathered, a range of features was outlined to put the website to its best potential.
Based on the user roles identified, we had to figure out how to create a minimal design. So we created multiple wireframes to get a rough skeleton of the actual product.
Visual and Aesthetic Design
Next, we moved to the interface and visual design process. The overall look was kept minimalistic with more graphical content, and the actual phones and appliances were shown with limited typography.
We created different thematic UI references to choose from and it end up with a combination of whites and blues to keep the web elegant and realistic.
Buyers
Offer them most prominent deals and "Interest Focused" design
Quick checkout process
Admin
Birds eye view of buyers, products, sellers and orders.
Easy management with simple interface design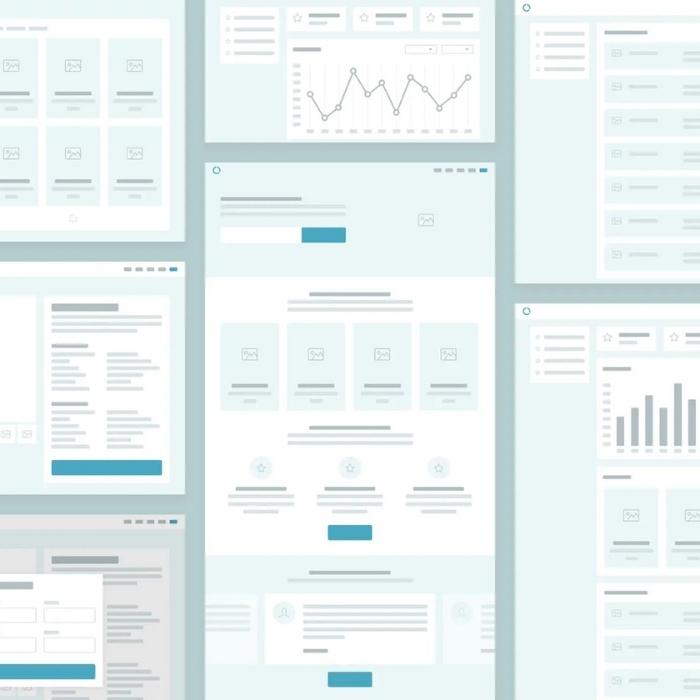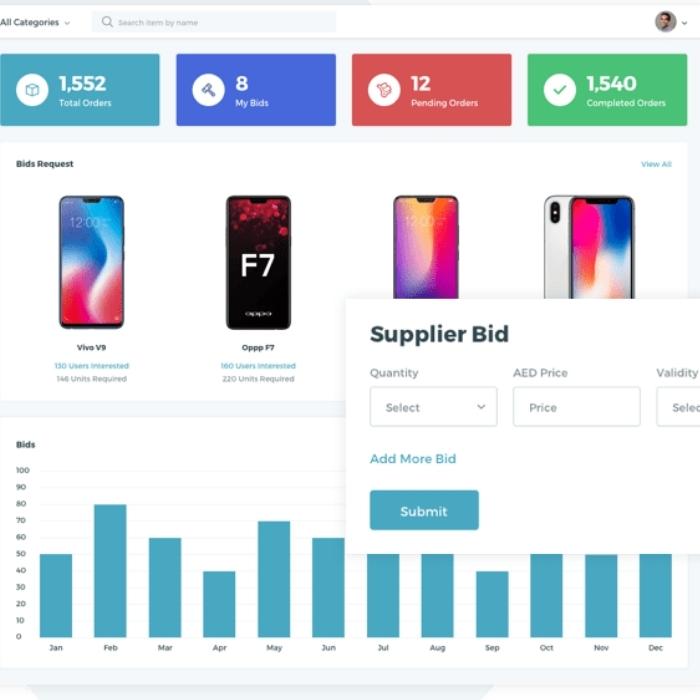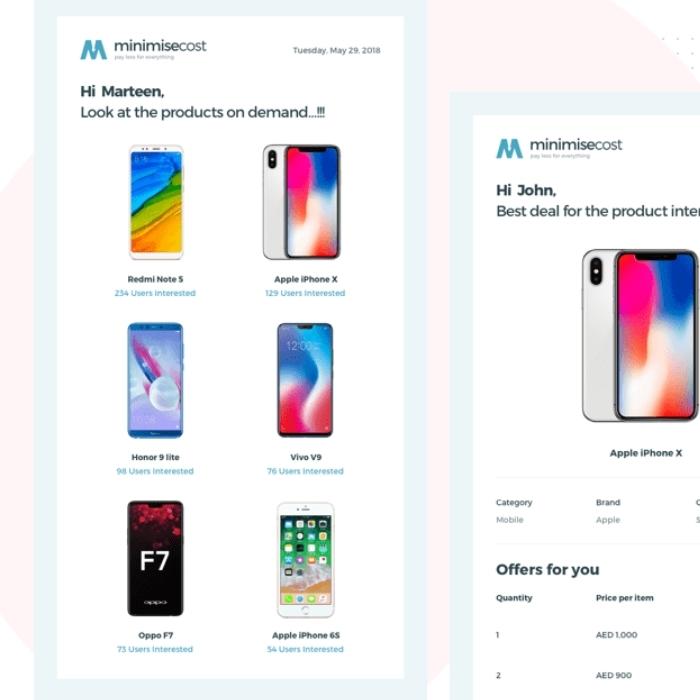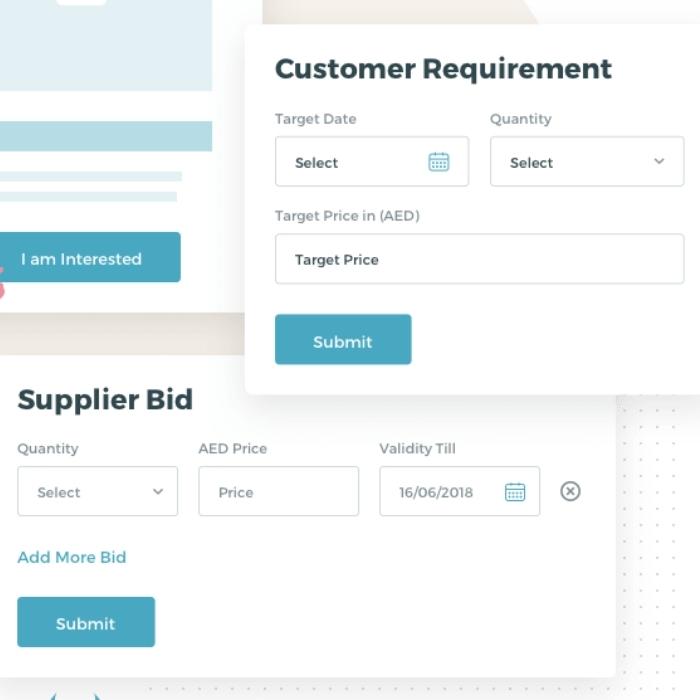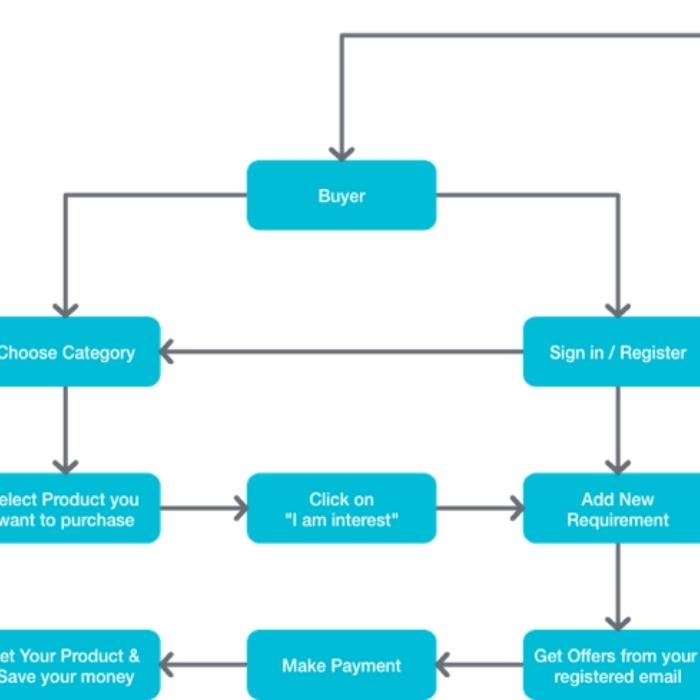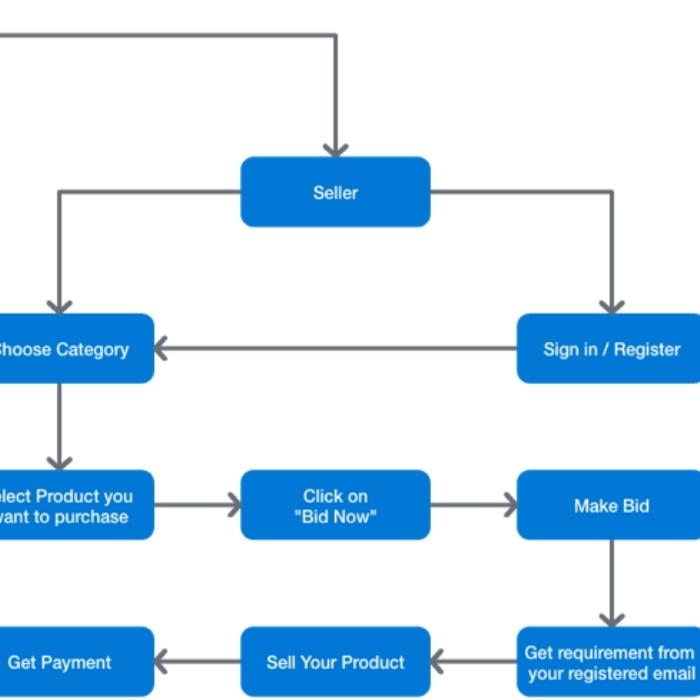 Let's create the next big thing together!
Coming together is a beginning. Keeping together is progress. Working together is success.