>
>
Top Emerging Digital Marketing Trends for Higher Education
Top Emerging Digital Marketing Trends for Higher Education is an article sent to you by the InApps editorial team. Hope readers will have more useful knowledge at www.inapps.net
If you work in the competitive field of higher education and want to know where digital marketing trends are headed, congratulations: you're smart to stay ahead of the game.
While nobody can predict with absolute certainty what digital marketing trends are going to be dominant in 2019, there's nothing wrong with trying to future-proof yourself.
You don't even need a crystal ball. Just take a few minutes to acknowledge which trends have emerged strongly this year, and take a glance at the signs already on the horizon for the new year.
Because if you want your college or university to attract top prospective students in 2019, all signs point in two key directions. One is the need for an increasingly personalized and creative focus on the user experience, and the other is full recognition and bowing to mobile supremacy.
Functionality Turns to Creativity
It used to be that how your website functioned was critical. Remember the days when developers tried to figure out how many tasks and activities they could offer viewers visiting their site?
Functionality, though, no longer represents the most important tool for engaging users. Now the shift is to use digital marketing to make user experiences more unique, more surprising — and a whole lot more fun.
For universities, colleges and other institutions of higher learning, being able to get above the competition is going to rest on their ability to offer something that catches students by surprise, feels out of the ordinary, and is something they didn't expect.
And the question is: How do you market what's outstanding about your campus and academic culture and turn it into a one-of-a-kind digital experience?
A lot of that creativity leads us back to the importance of mobile. If you know where to find your university's key audience — and hey, we all know they're constantly browsing on mobile — you also know where your digital marketing efforts need to start.
Here are some trends showing impressive results so far in 2018.
Top Emerging Digital Marketing Trends for Higher Education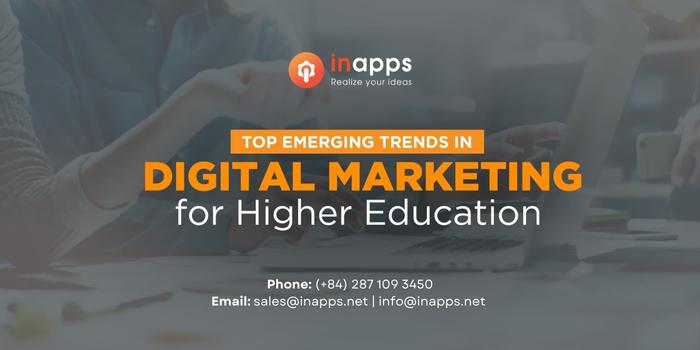 1. Mobile-First Marketing
Anyone working in a classroom knows it's virtually impossible to find a student who shows up without a smartphone. Forget books, pens, and notebooks. Smartphone is King!
Studies show that 94 percent of students want to use their smartphones in class, and up to 75 percent of students prefer getting information from their mobile device rather than a desktop computer.
And we know people are comfortable using their smartphones for shopping and looking up information, so there you go: handheld devices are HUGE, so universities are turning to geo-targeted ads geared directly toward reaching students where they're spending the most time.
"The effectiveness of geo-targeting is only going to further improve as mobile use grows and location data becomes more accurate and available. The Local Search Association (LSA) just released data that found that, for the first time, mobile devices surpassed PC use in search for local businesses and services. As I reported last month, the majority of searches (52%) for local information on mobile devices occur either in the car or away from home or work." — Wesley Young
But what are the most effective mobile-first marketing strategies?
First, think about what kind of images, photos and texts look good on mobile devices. Your designs need to look sharp and stand out on all varieties of hand-held devices, not laptops.
And the audio and video components are just as important. Test how your ad looks and sounds on a mobile device before running it.
And think about which platforms are most popular with students, like YouTube, Snapchat, and Spotify. Go directly to the sites they're visiting.
The bottom line: find ways to provide prospective students with a strong user experience that recognizes they're getting information — including about college s– by tapping their fingers into the keys on a mobile device.
2. How To Share Great Academic Moments
We all know the power of Influencer Marketing, and mercifully we don't need celebrities to make it work for us.
That's another way of saying that prospective students don't need to hear that a movie star or rocker loves their school. They're going to be influenced far more successfully by watching other students describe their awesome experiences on campus and in the classroom.
And it's important to leverage Influencer Marketing in smart ways. It's easy to find students writing about their campus experiences on social media, we all know that.
So find the ones who have a lot of followers, reach out to them and ask if they'd be willing to share their thoughts on your institution's social media pages.
How about live streaming their day on your Facebook page as another creative way to allow the students happy with your college to help sell it?
Word-of-mouth recommendations are becoming increasingly important in the digital world, and research indicates that 92% of people trust online peer reviews more so than professionally crafted content and copy.
"It's fair to say that 2017 was the year of influencer marketing. Brands flocked to influencers in hoards to help sell their products and services to engaged audiences. Don't expect this trend to stop any time soon. Influencer marketing is going to continue to be a driving force for brands looking to grow their audience and improve sales through social media in 2018." — Dominique Jackson
This is also a smart way to get prospective students to engage with fellow students who already know what the school is like and what it has to offer.
3. Paid Social Media
Speaking of social media, a growing number of these sites are limiting the reach of organic traffic. Their numbers are down, users are dropping off, and sites like Snapchat are facing backlash over new, controversial designs.
This year, it's become clear that having strong content on your business social media sites might not be enough.
There have been declines in users or flat growth for sites like Twitter, Facebook and Snapchat, and as a result social media platforms are pushing harder to monetize the distribution of business content.
In order to ensure high community engagement, higher education marketing departments may need to invest more in paid social media.
But it's also still important to stay relevant when it comes to your content. Story sharing has been particularly promising for schools when it comes to engagement with students.
Another smart idea is to create a hashtag that students can start using to link their academic experiences on social media sites.
4. Live Streaming
Live streaming is very popular with students and a great way for a college or university to connect with them – the 2018 method for those crucial face-to-face chats.
Research indicates that a fast-growing number of people prefer watching live streams to reading a social media post.
And a great way to do your livestreaming is at special events held on campus, visually allowing prospective students to get a great feel of what your school is like.
Do the same with different departments at your university. What's going on at your music department? How about the theater department?
The amazing accomplishments your students have on campus can be a great source for livestreaming.
5. Integrated Experiences
College admissions departments have long known that campus events or meetings with faculty or alumni – in-person experiences – are critical. Today, the web and social media offer the same kind of human interaction to improve one-to-one connections.
But the critical aspect of this is to use digital to better understand prospective students' goals, desires, interests, values and behaviors. Knowing that can help marketers create stronger and more effective opportunities for lasting digital and social in-person connections.
With so many photo and video filters on social media apps, and being used by millions, simple augmented reality applications offer amazing engagement opportunities for a generation of students who are now sharing pictures and videos of the things that are important in their life.
Knowing that prospective students want personalized web content and enjoy authentic human interactions on social messaging apps, this offers endless chances for colleges and universities to connect in creative ways.
That also means increasing your focus on micro-moments for those doing quick mobile searches online.
6. Pay Attention to Search Rankings
We all know SEO is a major tool for marketing universities, but that doesn't mean universities can rely on the same keywords they used in 2017.
Higher institution marketers need to pay careful attention to the keywords they use that can help maximize their rankings.
Also important are the meta descriptions visible in the search results; if you have a particularly compelling description of your college and this is the first thing that students read when they're doing online searches, you're likely to rank higher as well.
Conclusion
Research by comScore demonstrates just how radically mobile Internet usage has changed the way we operate. Mobile use now accounts for 60% of time people spend online, while their studies also indicate that 21% of Millennials don't use desktops at all, only mobile devices when it comes to accessing the internet.
Additional research indicates that in 2019, the internet is going to catch up to television when it comes to the amount of hours people spend watching it — 2.6 hours a day online compared to 2.7 hours a day watching television.
This means a shift of your budget from television advertising to ads on social media, the web, and, most importantly, web videos are likely to play a key role in digital marketing advertising in 2019.
The bottom line: a great advantage to digital marketing is the ability to conduct marketing through different mediums, including ones that allow for personalization and creativity. It's getting easier to engage with students directly with all the digital tools available.
You just need to know where students are looking, and how to capture their attention and interests.
Follow this to make sure you've got What Are The Emerging Trends in Higher Education Marketing. Save and share these with those around you these extras.
Let's create the next big thing together!
Coming together is a beginning. Keeping together is progress. Working together is success.