The year 2021 has come to a close! It's time to keep an eye on the Fintech trends shaping the financial industry and what promise might fintech hold for the future.
With the ongoing epidemic, the problems of digital transformation have dominated 2020 and 2021. Firms' substantial jumps in switching systems to digital platforms, operating remotely, and developing user-friendly goods and services that kept clients during lockdowns appear to be calming down now.
Fintech companies, in particular, have experienced a surge. This article will highlight eight Fintech trends to look out for in 2022 and beyond.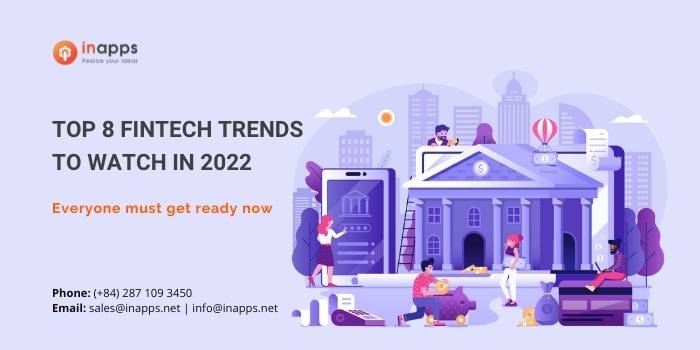 The rise of Fintech
Fintech's ongoing growth is also a crucial influence in the changes occurring in the sector. Fintech is a mix of technology and financial services that is transforming the manner financial businesses operate, interact, and transact with their clients, regulators, and other stakeholders.
All types of companies, from startups and tech companies to established firms, are using Fintech. In recent years, many variations of Fintech have emerged that draw on cutting-edge technologies tailored explicitly for particular sectors or functions within the financial services ecosystem, such as regtech, and insurtech.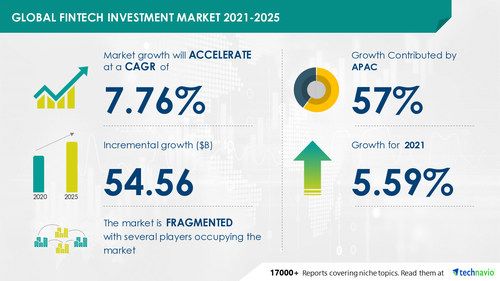 Fintech Growth Report During COVID-19
Despite the instability and chaos that COVID-19 caused to businesses throughout the world, Fintech around the globe recorded an average growth in Q1 and Q2 2020. (University of Cambridge, 2020).
This rise, however, was not uniform across all areas. And marketplaces, the industry was fast to adjust to the pandemic's problems by altering or introducing new products and services based on ongoing market circumstances.
However, Fintech continues to face significant headwinds in operations, fundraising, and regulatory challenges worldwide.
For example, before the pandemic, fintech firms were having difficulty raising funds since many investors favored Fintech with a well-established and transparent business strategy (Deloitte, 2020). Fintech must also contend with interest rate reduction and a global economic recession.
On the plus side, analysts believe that the COVID-19 situation will generate new chances for the financial industry.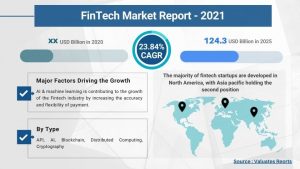 For example, the ongoing social distance needs are driving the necessity for digital payments. Digital wallets are exploding, and governments are scrambling to establish national standards.
When the epidemic began, 83% of people used digital wallets, and experts predict the business would be worth more than $10 trillion by 2025. (TelecomTV, 2021).
Furthermore, in 2020, there will be over 779 billion digital transactions globally, which is predicted to climb 13% in the following years, making cash payments the least prevalent payment method by 2022. (Capital On Tap, 2020).
Top 8 Fintech Trends to watch for in 2022
Embrace the future of payment processing and capitalize on its advantage. We've compiled a list of 8 technologies changing the industry to help you stay on top of all the latest trends driving the fintech revolution.
Fintech trends no.1: Digital Banking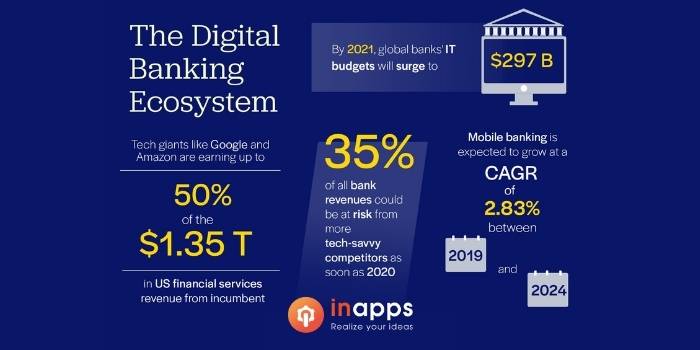 Banks have come a long way – the concept behind this fintech wonder is to combine the advantages of the globalized economy and cryptocurrencies into an all-in-one banking solution for the consumer market.
Consumers may enjoy the conveniences of peer-to-peer (P2P) transfer, MasterCard with no transaction fees, and the flexibility to make worldwide payments without the need for time-consuming paperwork or long queues at a traditional bank.
According to Global Market Insight in 2019, the fintech evolution of digital banking has reduced physical visits to brick and mortar bank offices by 36%, and the trend is anticipated to continue.
Fintech trends no.2: Blockchain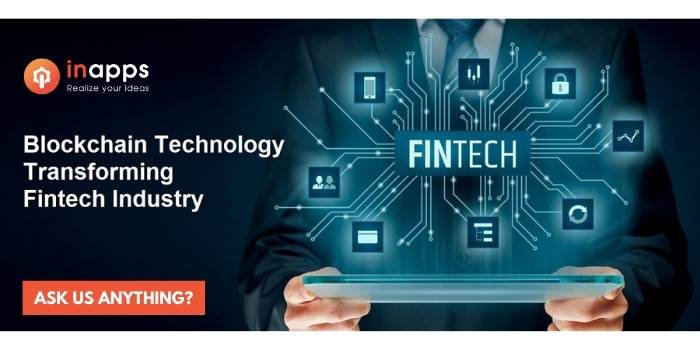 Fintech and blockchain are a perfect combination; they shine in many areas but are especially effective in supply chain management.
The use of blockchain technology can deliver lightning-fast, low-cost, and dependable payment processing services without sacrificing security.
It will most likely be accepted as an alternative to the expensive and less dependable traditional incarnations that have plagued the financial sector for many years, including revolutionary techniques of fool-proof auditing, record keeping, and accounting.
Fintech trends no.3: Artificial Intelligence (AI) technologies
Since its inception, machine learning has made big promises – from automating millions of basic activities to processing millions of complicated transactions in seconds. AI Fintech has enormous potential in finance.
AI is expected to become a gold standard in day-to-day transactions, enhancing all areas of digital business transactions from security (intelligent fraud detection) to sophisticated investment analysis.
According to financial analysts, AI Fintech will accrue a net value of $8984.9 million in only four years due to prominent firms' sustained investment in AI-powered finance.
Fintech trends no.4: Payment innovations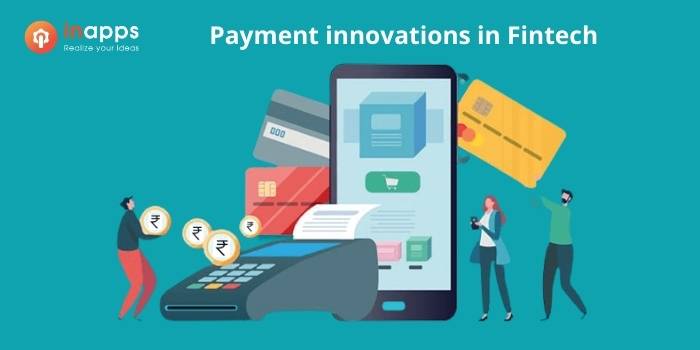 This FinTech sector includes one of the most important aspects of modern-day commercial transactions.
Mobile wallets
Contactless payments
ID verification technology
Security-oriented machine learning
Fintech AI
According to PaymentJournals, the move to online purchases is predicted to expand in value to more than $2.7 billion in 2022, with the possible chance of increasing the value of global e-commerce to more than $5.4 trillion in 2025.
Fintech trends no.5: Open banking
Banks can use open banking to link third-party APIs to their banking platforms. Customers can share their financial information with third parties in exchange for new services and improvements to current information. Customers, for example, may authorize access to a utility company app to pay bills directly from their bank account rather than having another login and payment method on file.
Other recognized open banking use cases include third-party payment proposals based on transaction data or previous spending habits, customized services such as improved loan offers from banks, and investment advice from wealth managers or Robo-advisors.
Fintech trends no.6: Gamification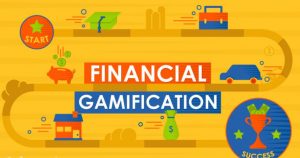 Financial organizations have begun to incorporate gamification into their goods and services. Gamification is a design-based approach that uses game features like personal scorecards or badges to engage users in doing certain activities. These games enable clients to track their spending patterns by using events or progress bars while also delivering positive feedback for making wise financial decisions.
Fintech trends no.7: Cybersecurity
As hackers uncover new security holes in systems, professionals must develop even more inventive solutions to protect critical data. Even with the most stringent data security measures in place, hackers are continually devising new ways to access critical information.
Fintech businesses are integrating cybersecurity technologies, such as blockchain, in ever-innovative ways to provide a more secure manner of storing information. Other notable cybersecurity improvements in the financial sector include multi-cloud data storage, secure access service edge (SASE), and decentralization.
Read more: How to secure the code
Fintech trends no.8: E-commerce security
While automating a company's complete set of day-to-day transactions is profitable, adding an AI-powered platform to identify legitimate consumers from fraudulent ones is a vital but typically significantly more challenging addition.
As Fintech solutions become more widely available, the necessity for appropriate risk management becomes more evident, and a few businesses have profited on this need.
Wrapping up: What's coming ahead?
Fintech strives to simplify time-consuming financial procedures while lowering total costs on both sides of the transaction. These 8 Fintech trends are projected to be among the most influential in an industry that shows no signs of slowing down.
Fintech will continue to improve the accuracy and efficiency of financial services while providing easy access to them. Given the significant expansion of the fintech business, the worldwide fintech market is predicted to reach almost $324 billion by 2026, rising at a CAGR of around 23.41 percent from 2021 to 2026.
As a result, advancement in the fintech industry will occur concurrently with the development of embedded infrastructure. Furthermore, the acquisition of breakthrough artificial intelligence and machine learning algorithms is causing fintech advancement.
Fintech evolution comes from firms' efforts to combine these elements with building a stronger foundation. This more extensive basis opens up financial access to a new generation of consumers while propelling rapid innovative tech.
Looking for a fintech software development company?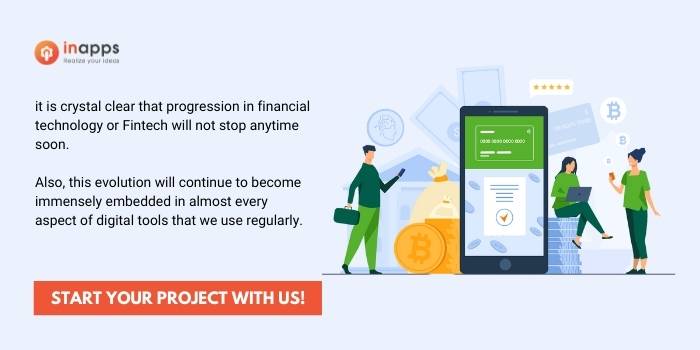 You've come to the right place. We're a team of experienced developers with expertise in building solutions for financial businesses. We'd love to talk more about what we offer. If you want to see our work in its early stages, check out our Portfolio and Clients' review.
List of Keywords find users find our article on Google:
Let's create the next big thing together!
Coming together is a beginning. Keeping together is progress. Working together is success.