>
>
9 Tips to pick the right Digital Marketing Agency to increase your ROI
9 Tips To Pick The Right Digital Marketing Agency To Increase Your ROI is an article sent to you by the InApps editorial team. Hope readers will have more useful knowledge at www.inapps.net
Hiring a digital marketing agency can make or break your company.
A good digital agency will get you on the path to making tens or hundreds of thousands of dollars per month, but a bad digital agency could cripple any existing organic or paid traffic you get.
It's important to choose carefully, and that's what I want to show you how to do today.
If you're thinking about hiring a digital marketing agency for your company, I've put together some guidelines that can help you make the right choice.
Let's start…..
1. Amazing "Digital" Talent Inside the Agency
According to Forbes, the advertising industry is in transition. This is the most auspicious period in recent history, yet it's also the most disruptive. An agency either has the right 21st-century talent, or it doesn't. Employees either understand digital, or they are actively pretending that they do. Observe the CEO and leader of the agency and see if they really understand digital in complexity.
Based on the recent talent assessment, only 8% of the digital workforce are strong across all digital areas.
Digital is much more complex and fast-moving compared to Traditional or Creative agencies. Traditional agencies will never really understand digital, so if you are partnering with an agency that was originally traditional or highly focused on creativity, then why hire them to understand digital? Think again.
2. Great Agencies Use Data Correctly and Transparent
The new data can also be a trap. When deciding on an agency, it's important that the agency uses the mountains of data correctly. Maximizing ROI using data can be overwhelming if not done correctly.
Image Source
A study conducted by Princeton and Stanford University psychologists found that people often hurt themselves by misinterpreting data. The study also found that we are sometimes so obsessed with filling information gaps that we get the wrong results.
Your business may want to create one more report or consult with one more business analyst.
The right agency helps companies avoid errors that deal with campaigns, codes, tag managers, eCommerce, Adwords and Analytics, filers, and reporting. Things like custom campaigns not being tracked or results from other properties showing in data derail companies. Marketing agencies maximize ROI by steering clients away from these errors.
The right marketing agency knows how to go through the data and keep clients from overthinking. Also, it's very important that your agency is transparent with all the data to you. Ask and they must show!
3. Their Website Projects Their Business
Websites matter. The right marketing agency knows this. When deciding what agency is best for you, study their website before you talk to a salesperson. It's human nature to highlight strengths and downplay weaknesses. Most companies place their core competencies on their site and don't mention the services they're weaker in. Use this as your guide.
Website information will narrow the list of companies and show you which ones will help your business. An agency that's strong in branding and design will specifically talk about that on their site.
Similarly, an agency strong in PPC or SEO will prominently display it on their site.
4. They Shape Their Practices Around Leads, Sales, or Conversions
A great marketing agency gets a true view of ROI when everyone focuses on how marketing impacts sales.
When looking for the right marketing agency ask each one, "How are your marketing investments affecting sales productivity?" Focus on which marketing programs are profitable. Use this data to increase sales by anchoring analytics on a strategy, not the previous year's budget.
Image Source
Understand the consumer's decision journey to purchasing your product or service. Discuss ROI with everyone, not just marketing and sales.
They use analytics correctly to really drive this focus.
The right agency knows what you need to actively reach out to your target customers. They understand that demographics can determine destiny. Regression analysis based on detailed customer surveys, brand tracker surveys and focus groups are tools that help you understand consumers at different stages of the decision journey across multiple channels.
5. The Right Marketing Agency Will Use the Best Tools of the Trade
Marketers need a number of tools to make marketing plans succeed. Using the right tools makes it easier to create the ROI we need and want.
Tools can be large or parts of your overall plan like social media, content, ppc, etc. They can also be programs, technology, or subscriptions like graphic design software, in-house or freelance writers, and automation services.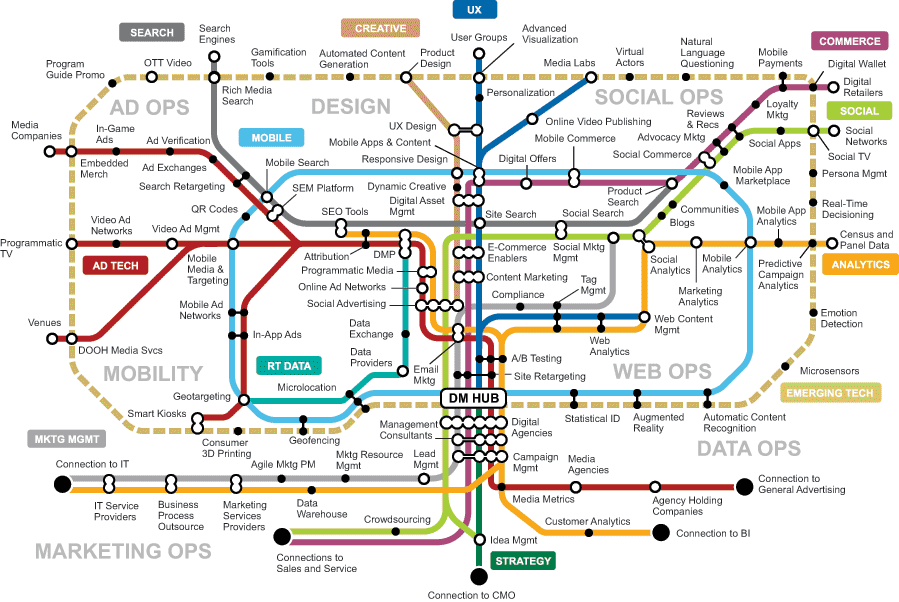 Image Source
Tools like Coschedule and Active Campaign are excellent ways to handle email, planning, and automation issues. Hubspot, Buzzumo, and Sprout Social help with everything from content creation to understanding analytics. A great example of how a sound strategy and an array of useful tools work together can be illustrated with social media.
6. They Stay Up to Date and Thought Leaders Even
Any agency that you are studying must illustrate that they are current on today's best practices and methodologies. They should show that they practice what they preach. When discussing their processes, each step should support their strategy or plan. Check was well if they are thought leaders and not just followers.
Any contenders must have a mobile responsive site (mobile is clearly the future) that is optimized for SEO, working with strong presences on social media. Great agencies use automation platforms for their own efforts. Take a close look at their content, including the frequency of posts and if their posts are compelling, entertaining, and fit the persona that they are trying to sell to.
Study their reporting practices. Look at examples. If the data does not clearly show ROI but are simply pretty stats, that's one less agency that you have to consider.
The right marketing agency will be on point with the standards of today and leading the use of tomorrow's cutting-edge innovation.
7. Take a Look at their Partners
Great marketing agencies don't work alone. Each agency is part of a system. That system is a very good indicator of the agency's approach. Ask these questions when choosing:
Does the agency interact with leaders in their region?
Does the agency have a national or worldwide reach?
Is the agency a thought leader … or a follower?
How often does the agency contribute to the system?
The right marketing agency, like anything in life, can show how good or bad it is by the company it keeps. How the agency interacts within its own community will show its leadership potential. In our connected world, agency-client relationships are often strengthened by shared experiences as well as commonalities and goals.
8. Look in the Mirror
Image Source
Are you a "do it all for me" client or a "do it my way" client? Are you a collaborator or simply someone who wants to learn?
"Do it all for me" clients often spend a lot of time deliberating on which agency to choose. Once they've made their decision, they push all of the work onto their agency. Their motto? "Just take care of it."
If this is you, be sure to choose an agency with a strong leadership focus. If you don't, you will lose ROI going back and forth with no one making a decision.
"Do it my way" clients have a definite vision or plan they want their agency to follow. They're more interested in finding someone who can deliver on their vision and less interested in agency feedback and collaboration. If this is you, be sure to choose an agency that doesn't mind having someone else take the lead. There's an old saying that if you have two quarterbacks, you have none. Never agreeing is the fastest way to lose ROI.
Collaborators want an equal partnership with an agency. They want to use the agency's expertise to help them put their visions into the real world. They want to sit down and create plans and strategies with the agency. They want to be challenged when wrong but supported when right. They believe that two heads are better than one.
It is easy to see how this relationship can maximize ROI, but be careful: sometimes one person needs to make the decision.
Teach me clients want to learn. It's that simple. They don't know what they are doing. They look to the agency for education. Once they learn everything, they move everything in-house or they hire others to continue. This version can grow ROI rapidly as the client learns, but it can lose ROI if they feel like they are ready before they actually are.
Knowing which client you are will help you avoid pitfalls and grow your ROI, not lose it.
9. Make Your Decision, Stick With it, Move On
Space ships don't come equipped with rearview mirrors. Once you go through this process and decide on the right marketing agency, regretting that decision can cause problems.
Image Source
A study conducted by Princeton and Stanford University psychologists found that we are sometimes so obsessed with filling information gaps that we may choose the wrong path. Your business may want to create one more report or consult with one more business analyst. Our challenge is to make a good decision without accumulating more data.
Overthinking is a real thing!
Conclusion
Choosing the right marketing agency can seem intimidating or frustrating. No one wants to lose money.
If you want to increase your ROI, be sure that whatever company you choose fits you. It's your money. They are simply there so that you can make more of it.
Follow this to make sure you've got 9 Tips To Pick The Right Digital Marketing Agency To Increase Your ROI. Save and share with those around you these extras.
To learn more about Inbound Marketing
Contact us:
www.inapps.net
List of Keywords users find our article on Google
Let's create the next big thing together!
Coming together is a beginning. Keeping together is progress. Working together is success.