>
>
Make A Big Match In The Dating App Market With InApps
Love is all we need! That's why the global online dating market has witnessed continuous growth. Dating services are estimated to reach $3.2 billion by 2020. Therefore, if you look at the opportunity to increase the income from the dating app, you should start to build your app with A Dedicated Software Development Team from now on.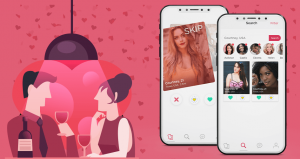 WHAT MAKE THE USERS SATISFY WITH A DATING APP?
Tons of dating apps are available in the market but very few of them are successful dating apps like Tinder. The users look for a dating app with these vital qualities: a unique concept, privacy, easy to use interface, and high security. Hence, you must make sure that your dating app meets their needs, especially suitable for your specific niche market.
HOW DOES A DATING APP MAKE MONEY?
Let's be honest, people spend approximately 90 minutes/day on dating app, but making money on dating apps is a challenge unless your app offers them something truly valuable for their love life. For example, some users might be willing to pay for their profile show up more often than other users.
Advertising is a new way to make money on a dating app. You can display deals from businesses relevant to the dating industry such as restaurants and nightclubs, florists, jewelers, or candy stores. Don't hesitate to make partnerships with local venues or gift shops and you will mutually benefit from these partnerships.
IT'S TIME TO REALIZE YOUR SUCCESSFUL DATING APP IDEA WITH INAPPS
Today, to develop an application similar to Tinder, Bumble, or OkCupid, you don't need hundreds of thousands of dollars to develop. So, what is the secret?
>> InApps have a fantastic track record of building some of the best dating mobile apps for both domestic as well as international clients. We use the latest technology integration to make dating apps that suit the demands of app users.
>> Our dating app developers bring you the best app which is highly secure, easy to use, and more personalized (AI dating app). This personalization helps to make the most successful dating app as it improves the user experience immensely over other dating apps available in the market. 
Many start-ups & SMEs used Application Development Outsourcing as the 'key secret' to quickly have a successful investment. If you want to find an effective company to be your partner, why not check out our dating app's case studies to contact the right one.
——- Why InApps? ——
Reduce your cost up to 70% – Guarantee the same or higher quality

Fast solving-problem & supporting your end-users 

80% of developers are good at English communication 

90% of software developer have +5 years of experience

High-level of Tech skills — Talented workforce from US, Australia, Northern Europe or Japan

Transparency and Predictability for long-term cooperation

Latest Development Methodologies & Diverse Industry Experiences
CONTACT INAPPS TO FEEL THE REAL GROWTH!
Let's create the next big thing together!
Coming together is a beginning. Keeping together is progress. Working together is success.