The online retail industry is growing manifolds with each passing day and it is a ferociously competitive space out there when we talk about e-commerce solutions that power them.
What are e-commerce solutions?
An e-commerce solution is a specialized software that helps you sell online. You don't need any tech skills because it's designed to give you all the tools you need. There are hosted and self-hosted versions depending on your store's needs.
E-commerce solutions are the products and services that help a company conduct business electronically. The range of available e-commerce solutions is vast, including those that allow traditional businesses to design, create, and operate World Wide Web sites.
In this post, we have tried compiling the top 16 e-commerce platforms for growing business. Let's check out!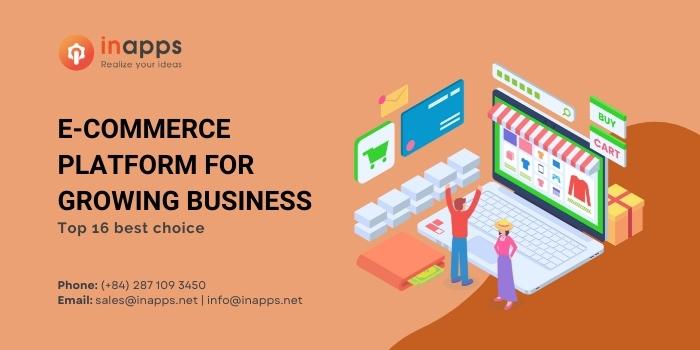 E-Commerce Solutions for Growing Business
1. Shopify
Shopify started in 2004 by a group of snowboarding enthusiasts, is the leading e-commerce solution with over 1 million businesses across 175 countries.
Shopify is the simplest to learn thanks to its codeless store-building tools and intuitive interface with a lot of support resources available to help.
Basic users can choose from a wide range of pre-existing design templates or create one themselves.  For advanced users, Shopify gives full access to the code.
Additionally, there are a large number of add-ons and extensions available from independent developers that can extend the capability of your store. All this makes it easy for Shopify to scale between small and large online stores.
Who should use?
Everything you need from storefront design to content marketing to performance analytics is already integrated into the platform. Once you have the basics set up, it's a simple matter to upgrade your store with third-party extensions–or even changing the shop's code itself.
Verticals supported:
Shopify's retailers cover a gamut of sizes and industries.
Beauty & Cosmetics
Consumer Electronics
Fashion & Apparel
Food & Beverage
Home Furnishing
Price:
Basic Shopify ($29/m)
Shopify ($79)
Advanced Shopify ($299).
A 14-day free trial is available, no credit card is required.
Site building features:
Unlimited product listings
Custom domains
Real-time sales statistics
Inventory tracking
AI/Personalization
Over 70 themes/templates are available
Is analytics available?- Yes
Dashboard
Product Reports
Export Reports
Google Analytics
Traffic/Referral Reports
Level of support
24 hour chat support
Phone support
Community forums
Online help center
2. Shopify Plus
Shopify Plus is built from the same platform as the lower-priced model, its focus on enterprise markets means it is more complex in terms of feature set and customizability.
To customize Shopify Plus, you need to either learn their proprietary front-end customization language, liquid, or hire a third-party agency that is experienced in working with Shopify Plus.
In addition to the eCommerce platform itself, Shopify Plus offers additional services and benefits more suited to large, multinational companies. Shopify Plus offers greater levels of technical and onboarding support, as well as automation tools to help brands function at scale.
Best for:
Shopify Plus is one of the best eCommerce platforms for enterprise companies, thanks to its ability to simplify complex technology while still allowing it to handle large product lineups across multiple channels.
Also read: Top E-commerce applications software development company
Verticals supported:
Beauty & Cosmetics
Consumer Electronics
Fashion & Apparel
Food & Beverage
Home Furnishing
Price:
Starts at $2,000/ month. The final price depends upon the options selected. Trial available upon request.
International options:
Available upon request
Site Building Features:
Unlimited product listings
Custom domains
Real-time sales statistics
Inventory tracking
AI/Personalization
Over 70 themes/templates are available
Level of support:
Dedicated account manager
24 hour chat support
Phone support
Community forums
Online help center
Is analytics available?- Yes
Dashboard
Product Reports
Export Reports
Google Analytics
Traffic/Referral Reports
Additional App Integration
Customizations Available
3. BigCommerce
BigCommerce giving a tough fight to its competitor Shopify, despite it offering a few templates to offer. It makes it easy to edit & modify SEO-related features like custom URLs, page titles.
But the biggest differentiator for BigCommerce is its ability to sell in multiple currencies, which Shopify and other platforms lack.
Best for:
BigCommerce is the best e-commerce solution for SMBs who require a lot from their online retail platform and have huge capital to invest.
Its base tier is loaded with features but priced higher than other competitors. Advanced features like BigCommerce's abandoned cart feature and shipping integrations are some of the best in the industry but are not available at the lower tiers.
Please note- Instead of charging a fee per transaction, BigCommerce caps the number of sales you can do per tier. 
Verticals Supported
Fashion & Apparel
Health & Beauty
Food & Beverage
Manufacturing
Automotive
Price
Pricing for BigCommerce is divided into 4 tiers:
BigCommerce Standard ($29.95/m) – $50,000 annual sales limit
BigCommerce Plus ($79.95/m) – $180,000 annual sales limit
BigCommerce Pro ($299.95/m) – $400,000 annual sales limit
BigCommerce Enterprise- Available upon request
A 10% discount is available for the Plus and Pro options if paid annually. The trial period is 15 days.
International options: Available.
Site Building Features
The following site-building features are available from the base BigCommerce Standard plan-
Custom domains
Unlimited product listings
Unlimited bandwidth & file storage
Multi-currency sales
Reporting
Ratings and reviews
Gift cards
12 free themes and 160+ paid themes
Integrations with shipping and POS software
Level of support
BigCommerce has plenty of support resources available, but certain support methods like 24-hour live agent support are only available on paid plans.
24-hr Live chat
Phone support
Email support
Community forums
Online help center
Is analytics available?- Yes
Dashboard
Product Reports
Export Reports
Google Analytics
Traffic/Referral Reports
4. Yo!Kart
Yo!Kart is perhaps the most well-known multi-vendor marketplace software and has come a long way since its inception in 2015. The robust eCommerce platform provides a splendid level of scalability for online marketplaces – meaning it can follow and shape your business' growth. True to its word, you do not require any technical or design skills to use Yo!Kart to create a marketplace like Amazon or Alibaba.
The solution is self-hosted, fully customizable, and available for a lifetime of use with one-time payment. It has a full-fledged CMS with which users can manage the functionality and layout of their marketplace. What further enhances its appeal is the availability of essential eCommerce features and business API pre-integrated. 
Yo!Kart has an in-built Abandoned Cart Recovery module to help follow up cart abandoners and motivate them to make the purchase. It has 20+ pre-integrated payment gateways including PayPal, Stripe Connect, Amazon Pay, etc. To streamline shipping & tax management, it also has pre-integrated APIs such as AfterShip, ShipStation, TaxJar, and Avalara APIs. 
Yo!Kart also offers in-depth analytics of how visitors are using the marketplace website, and powerful marketing tools such as SEO optimization, discounts, gift cards, and email marketing tools. The platform also offers free technical support for up to 12 months.
Best for:
Yo!Kart is inherently designed as a multi-vendor marketplace solution ideal for entrepreneurs to quickly start/scale their online marketplace. The team follows agile methodologies to continuously add new operative increments redefining the platform. The software is highly customizable and can be tailored to fit your unique business requirements.
Verticals Supported:
Handcrafted Items

Grocery Marketplace

Organic Products

Fashion and Cosmetics

Liquor and Wine

Jewelry and Ornaments

Digital Products

Kitchen Utensils and Appliances

Sports Goods
Price:
GoQuick – $999

GoQuick Boost – $2499

GoCustom – $7499

GoCustom Prime – RFQ
Site Building Features:
Yo!Kart is a feature-rich multi-vendor platform that comes with:
Robust eCommerce Features:

Multicurrency, user management, discount coupon management, CMS, multiple payment gateways, tax management
Engaging UI/UX Experience:

Responsive design layout, intuitive user panels, manageable homepage, streamlined checkout
Product Management:

Import/export, inventory tracker, product reviews management, managing order requests, location-based product sorting.
Marketing Features:

PPC advertisements, blog integration, smart recommendations, rewards & discounts, and suggested products.
Conversion-Focused Features:

Sign-in using phone number, abandoned cart management.
Multiple Payment Options:

Wallet, reward points, withdrawal request management, stripe connect.
Reporting & Analytics:

Sales report, traffic insights, top-selling products, conversion statistics, non-performing products & categories.
Security Features:

Restricted SQL injection, data validation & sanitization, restricted cross-site scripting.
Shipping & Fulfilment Features:

Order & item-level shipping, managing shipments, creating shipping labels.
Mobile App Features:

Multilingual with RTL support, custom push notifications, deep linking, geolocation.
Is analytics available? – Yes
Separate dashboards for the admin and seller

Sales Reports

Traffic Reports

Conversion Statistics

Google Analytics and more
Level of support:
Email or Live Chat Support

Video tutorials

User Manual and Guides

FAQ forums
5. Magento
Magento is one of the most powerful e-commerce solutions in the market, at the cost of a steep learning curve. Open-source users have access to a large and knowledgeable Magento community that can help answer questions and troubleshoot problems.
It was originally released in 2009 and then replaced by Magento 2.0 in 2015 with an improved code base and more usability/stability features.
Adobe purchased Magento in 2018, and today it exists in 2 versions: Magento Open Source and Magento Commerce.
Best for:
Magento is the best e-commerce platform for small-to-medium businesses that are already established, as well as the time, manpower, and skill to build their site.
The platform is very powerful and has a library of over 5,000 extensions, but requires a longer development time and a larger budget than most of its rivals.
Verticals Supported:
Beauty & Cosmetics
Consumer Electronics
Fashion & Apparel
Food & Beverage
Home Furnishing
Sporting goods
Price:
Prices in Magento are in 2 tiers:
Magento Open-source is free to download and use. But you have to pay for everything else associated with the site like hosting, themes, development, add-ons, etc.
Magento Commerce is an enterprise-level solution. Prices are quoted by a sales rep and are reported to run anywhere from $15,000 to $50,000 annually.
Please note- there is no trial period for Magento.
International options? Yes
Site Building Features:
Magento Open-source comes with the following basic features:
Integrated checkout, payment and shipping
Mobile-optimized shopping
Global selling
Catalog management
Extended Functionality via App marketplace
Instant purchase
Site search
Customization options available
Level of support:
Open-source support is virtually non-existent, as you are expected to develop your site on your own using available guides and community resources.
Magento Commerce support includes support direct from Magento, which comes at a steep price tag.
Online help center
Community forums
Is analytics available? 
Yes, with integrations and add-ons.
6. WooCommerce
WooCommerce is a free, open-source WordPress shopping cart plugin owned and developed by WordPress. It is one of the most popular eCommerce options on the market and runs on 30% of all stores on the internet.
Like most open-source e-commerce platforms, WooCommerce carries a steep learning curve for those who have not created a similar site before. Although the WooCommerce plugin is relatively straightforward to set up and install, users have to develop their expertise using community forums and online help guides.
Best for:
WooCommerce is one of the best e-commerce solutions for small businesses that already have a site on WordPress, or who operate on a tight budget but want a robust online store.
It has thousands of third-party themes and plugins, giving it a great deal of flexibility to accommodate most needs.
Verticals Supported:
Beauty & Cosmetics
Consumer Electronics
Fashion & Apparel
Food & Beverage
Home Furnishing
Price: 
Free to download, with extensions and add-ons.
International options? Available through extensions.
Site Building Features:
The free WooCommerce download comes with the following features:
Mobile-optimized shopping
Geo-location support
Catalog management
Inventory management
Shipping options and calculator
Search engine optimization
Coupons and discounts
Product reviews
Level of support:
WooCommerce does not have phone or email support. Users have to file a ticket, which will be answered via live chat within 24 hours.
Live chat
Online help guides
Community forums
Is analytics available? Yes
Google Analytics integration
Third-party plugins available
7. Squarespace
Squarespace is a New York-based SaaS (Software-as-a-Service) company that provides website and e-commerce store building and hosting to customers.
SquareSpace has one of the easiest design interfaces in the market. Customers use drag-and-drop functionality and pre-built website templates to create their web pages.
It is very easy to assemble for all. However, there aren't many add-ons available in the default builder, and there is no app store for third-party extensions which will limit the functionality of your e-commerce site.
Best for:
This e-commerce solution is effective but only as a companion to the main website builder. Businesses with more advanced online retail requirements who handle a large amount of inventory would be better off with more dedicated platforms.
Verticals Supported:
Squarespace serves the following verticals:
Arts & Design
Food & Beverage
Beauty & Cosmetics
Fashion & Apparel
Toys & Games
Price:
Squarespace offers 4 monthly pricing tiers:
Personal ($16/m)
Business ($26/m)
Basic Commerce ($30/m)
Advanced Commerce ($46/m)
Please note- Only the Business tier and up include e-commerce functionality. Squarespace charges a 3% transaction fee on any purchase made in the store. 
Free trials available, no credit card required.
International options: None
Site Building Features:
Squarespace offers the following options for its eCommerce extension-
Abandon cart auto-recovery
Digital products
Personalized products
Product import/export
Real-time shipping rates and tracking
SEO tools
Upselling and cross-selling
Gift cards
Automatic discounts
Limited integration options
Level of support:
Squarespace has plenty of ways to get help from both official and unofficial sources. All support options are accessible to all pricing tiers.
24/7 Twitter support
24/7 email support
Live chat support (Monday to Friday)
Online help center
Community forums
Is analytics available? Yes
Default builder analytics mostly serves generic websites. Only a few eCommerce-specific reports are available.
8. Wix
Wix is an easy-to-use, cloud-based e-commerce solution that allows users to create online stores through drag-and-drop tools. It has an extensive range of templates and designs that make it easy for beginners and resource-strapped business owners to build a compelling and functional website.
The website builder is very user-friendly, as is its e-commerce component. There is a large selection of templates that are likely to fit your business.
Wix functionality has most of what a business would need but doesn't scale well as dedicated platforms like Shopify or Magento.
Best for:
The website builder itself is easy to use and the e-commerce functionality is robust enough to fulfill basic needs. Plugins can help extend the functionality, but businesses with deep or complex product lines may be better off with a dedicated e-commerce platform.
Verticals Supported:
Arts & Design
Food & Beverage
Beauty & Cosmetics
Fashion & Apparel
Sporting Goods
Toys & Games
Price
eCommerce ($17/m)
VIP  ($25/m)
Business Basic ($23/m)
Business Unlimited ($27/m)
Business VIP ($35/m)
Enterprise ($500/m)
Please note- Monthly, Annual, and Bi-annual payment plans are available. Wix does not charge transaction fees per sale. 
International options? No
Site Building Features:
The lowest eCommerce-capable tier of Wix.com offers the following eCommerce options:
Digital products
Product galleries
Shipping options
Discount codes
Inventory management
Abandoned cart recovery
Mobile-optimized
Payment options
Other functionalities available via extensions
Level of support:
Phone support
Social media support
Email support
Community forums
Online help center
Subscribing to the Business VIP plan gains you priority phone and ticket status.
Is analytics available? Yes
Google Analytics integration
In-app analytics
9. Bigcartel
Big Cartel is a simple and hassle-free top e-commerce solution for the artists and for the artists. Starting in 2005, this SaaS site builder focuses on creators who need a place to sell artwork, clothing, jewelry, and photo prints.
Its setup wizard does a great job of guiding you and you can get up and running faster than sites like Shopify. This simplicity comes at a tradeoff, however.
Big Cartel has a very limited feature set and isn't appropriate for businesses that sell a large volume of products.
Best for:
The builder itself is simple and uncomplicated and helps artists put their best foot forward.
Vertical Supported:
Arts & Design
Clothing & Apparel
Makers
Photographers
Price: 
Big Cartel offers the following price options:
Gold (Free)
Platinum ($9.99/m)
Diamond ($19.99/m)
Titanium ($29.99/m)
Please note- No credit card is required for the free tier. The number of products is the primary tier differentiator. 
International options? None
Site Building Features:
Big Cartel site-building features include:
Dashboard
Product options with different price points
Multiple selling channels
Online checkout
Limited tax calculation
Inventory management
Discount codes
SEO tools
Plugins available
Level of support:
Big Cartel only offers limited support options, but their responses are helpful and timely. Questions posed through social media are often redirected to email.
Email support
Social media support
Online help center
Recorded webinars
Is analytics available?- Yes
Google Analytics integration
10. Salesforce Commerce Cloud
Salesforce Commerce Cloud, formerly known as DemandWare, is an enterprise-level eCommerce platform that offers a full range of features and capabilities that make it an excellent fit for multi-national companies that process millions of dollars in orders.
As an enterprise-level e-commerce solution, Salesforce Commerce Support cloud offers flexibility and depth most other platforms can't match. That brings a very steep learning curve that is best handled by experienced programmers, hired consultants, or by Salesforce developers themselves.
Best for:
It's a complicated but highly capable platform that has enough customizations to cover practically any business application, whether B2B or B2C. As a Salesforce product, Commerce Cloud benefits from integrations with every other Salesforce product in the ecosystem.
Verticals Supported:
Beauty & Cosmetics
Fashion & Apparel
Sporting Goods
Toys & Games
Food & Beverage
Cars & Automotive
Parts & Manufacturing
Chemicals
Other B2B applications
Price:
Salesforce Commerce Cloud comes in 2 editions:
Salesforce B2C Commerce (contact vendor)
Salesforce B2B Commerce (contact vendor)
There are no free trials available.
International options? Yes
Customizable according to setup
Site Building Features:
The features for B2C Commerce Cloud are as follows:
Product and catalog management
Marketing and advertising tools
Customer segmentation
Site search
Guided navigation
AI personalization
Social media integration
Global scale
Responsive design
One-touch mobile payments
Multiple channels and retail locations
Customer targeting
A/B split testing
Commerce Cloud Endless Aisle
Full development platform including API support
The B2B Commerce Cloud has many of the same features as the B2C version, but also has:
Segment-specific pricing
Contract ordering
Multiple customer accounts in one company
Ability for sales to order stock
Order templates
Shipments split across locations
Real-time reports and analytics
Multisite management
Integration with other Salesforce product clouds
Level of support:
Online reviews indicates that customer support can be slow to respond and, because individual needs are complex and situational, may take time to come to a fruitful conclusion.
Salesforce Implementation partner
Online ticket system
Community forums
Online help center
Is analytics available? Yes
In-app real-time reports and analytics
11. Volusion
Volusion is one of the longest-lasting e-commerce solutions in the market, first introduced in 1999. With over 30,000 stores using the system and having generated over $28 billion in sales, it is very popular despite the entrance of recent competitors like Shopify and Wix.
Volusion offers a drag-and-drop site builder, but it's not as robust or convenient to use as other platforms like Shopify's or Squarespace's.
Users often describe Volusion as dated and lacking, although the company is working hard to update the functionality and interface for modern times.
Best for:
Volusion is the best e-commerce platform for startups and small businesses who want to get started quickly but still have room to grow within their chosen solution.
Unlike other platforms that require you to go through an app store, many important features are already included as part of the standard dashboard. Volusion shows its age in many areas, but it's still a robust system that serves most business needs.
Verticals Supported:
Beauty & Cosmetics
Consumer Electronics
Fashion & Apparel
Food & Beverage
Home Furnishing
Sporting goods
Price: 
Volusion offers the following pricing tiers:
Personal ($29/m)
Professional ($79/m)
Business ($299/m)
Custom (contact vendor)
Volusion does not charge transaction fees. Free trial available, no credit card required.
Please note- Each tier imposes a limit on maximum annual sales and available products that progressively increase. 
International options? No
Site Building Features:
Volusion offers the following site-building features:
Secure checkout
Drag and drop builder
Free and paid themes
Secure payments
Inventory management
Discounts and coupons
Automatic tax calculator
SEO tools
Social media integrations
Ratings and reviews
SKU import/export
Abandoned cart reporting
The Business and Custom tiers unlock complex requirements like Amazon & eBay integrations, batch processing, third-party gateways, and higher levels of support.
Level of support:
Volusion's support reviews indicate largely positive feedback, although there are cases where the company's support team takes a long time to respond to questions.
Social media support:
Live chat
Community forums
Online help center
Is analytics available? 
Y/N first, then include list integrations if applicable:
Google Analytics
Salesforce
Etc.
12. 3dcart
Since its release in 2001, 3dcart has served over 22,000 online businesses with clientele including PCMag. They have some practical features like unlimited storage and no transaction fees. You can also use their POS, and they support multi-channel selling.
3dcart doesn't do as well as BigCommerce and Shopify despite being older than they are and the reason is clear. It's not for beginners. Although there is a nice onboarding video when you log into your dashboard, the whole operation is hard to figure out; the builder is not very visually appealing.
The templates they have are more industrial, but they feel outdated. Also, customizing the store takes a lot of time to understand and get used to except for experienced users because there's no drag-and-drop functionality.
They provide advanced shipping solutions with no API required.
Please note- Similar to BigCommerce, 3dcart restricts the volume of sales you bring in on each plan. The lowest which costs $19 per month allows up to 50k.
Best for
Better blog feature than other SaaS e-commerce solutions.
Level of Support:
Supports all the integrations you would need
Great business user management tools (email, QuickBooks, inventory, etc.)
Cons:
Templates feel dated
Negative feedback on customer support
Potential issues upgrading
Not for beginners
13. Prestashop
Founded in 2007, PrestaShop Ready is like the other hosted platforms. The dashboard is straightforward. There's an onboarding video, but it's not as comprehensive as Shopify. However, you can achieve most needs through modules that you enable with one click. Those allow better SEO working, Ads, Cross-selling, and social analytics.
With the free downloadable version, you'll have to pay for web hosting, SSL certificate, and other modules to complete your store. Also, if you don't have the heavy technical skills in HTML, CSS, and/or PHP, you'll have to pay a developer.
Price:
You can either download the software and customize it to fit your needs for free or go with PrestaShop Ready which is the paid version for €24.90 per month or €19.90 if you pay yearly.
There are ten themes (all free) available in the admin. You might need little knowledge of HTML and CSS as the theme customizer doesn't have a drag and drop functionality.
Please note- You have access to the 16 days trial or pay straight away. It comes with an SSL certificate.
Level of Support:
Open-code allows extensive integration with couriers, payment gateways, accounting, warehouses, ERP, and more.
Best for:
Prestashop is an open-source and very flexible e-commerce solution, with tons of apps and integrations available. Also, it has a strong SEO and options for both self-hosted and hosted. Besides, Prestashop has a very large and ready-to-help community.
While the word "free" automatically makes most of us salivate, the other costs you will accrue with the free version might make the PrestaShop Ready look like a better option especially if you don't have the technical skills.
Cons:
Slower than the other builders
Add-ons can add up
Limited third-party marketing integrations
Developer skill needed to tweak
No multichannel functionalities on the hosted version
14. Weebly
Founded in 2006 and with about 40 million customers, Weebly is an easy-to-use e-commerce platform. They offer the basic tools you need for a functional store without flashy extras to confuse you. You can upload products in bulk, and the dashboard is simple.
Until recently, there hasn't been a solid focus on e-commerce, and as such, you wouldn't find some of the sophistication that other top platforms have. Nevertheless, it remains an excellent choice for startup entrepreneurs or those who do not wish to hire a developer.
Price:
Weebly has 3 price plans, and though they all support eCommerce, the higher two (Business and Performance) are better suited for eCommerce businesses.
The reason is that the starter plan is lacking in many relevant e-commerce features like custom shopping carts, coupons, and inventory management. Also, you can't sell digital goods on it. For physical goods, you're restricted to 25 products with a 3% transaction fee.
There's a drag and drop editing tool and an option to use HTML and CSS to customize your template. About that, there are many free themes with premium themes at around $45. Not all are mobile responsive though so choose carefully.
Please note- But if you plan to do any type of marketing, you'll quickly outgrow Weebly. Don't use Weebly if SEO is important to you.
Best for
Weebly has excellent value by offering stunning low cost and free designs. It provides the lowest price for e-commerce marketing automation and powerful e-mail tools. Additionally, it has a simple dashboard that's easy to use and a mobile app too.
Cons
Charges an additional transaction fee
Sucks with SEO
Amazon doesn't seem to be on their radar
Inventory management is still very basic
15. Opencart
OpenCart is another easy-to-use, open-source e-commerce solution, which currently supports over 342,000 eCommerce stores. They have many built-in features and an extensive library of free extensions.
Their platform is mobile-responsive, and you can choose from free and paid themes as a base. You can find both options in OpenCart's marketplace, which features over 13,000 modules and themes. However, the marketplace itself looks a bit messy, so we recommend you check out the ratings and comments beforehand.
You can add unlimited physical or digital products with both one-time and subscription selling methods. OpenCart provides an option between guest and registered user checkout by default.
OpenCart has 36 integrated payment gateways. You can choose any of these, such as Authorize.Net, Amazon Payments, First Data, Klarna, LiqPay, Skrill, PayPal, SagePay, and many more. They also have integrated shipping methods with Australia Post, Citylink, FedEx, Parcelforce, Royal Mail, UPS, and USPS.
Your online store's management is also quite straightforward for managing products, customers, orders, tax rules, and promo codes. The admin dashboard comes with an overview of your online store's performance. Also, you get a default sales report, viewed products, and purchased products already built-in.
Please note- They also offer a paid dedicated commercial support option with a price starting at $99/month per site.
16. Zen cart
This e-commerce solutions website design program is developed by a group of like-minded shop owners, programmers, designers, and consultants that think eCommerce web design could be and should be, done differently.
Some shopping cart solutions seem to be complicated programming exercises instead of responding to users' needs, Zen Cart® puts the merchant's and shoppers' requirements first. Similarly, other shopping cart software programs are nearly impossible to install and use without an IT degree, Zen Cart® can be installed and set up by anyone with the most basic website building and computer skills.
There are hundreds of shopping cart programs available, but none come close to offering the level of options, features, and support available with Zen Cart. Even commercial programs have a hard time competing.
Popular Features:
Freely Customizable
Zen Cart® is Free Open Source software. It is licensed under GPL2, meaning you are free to modify the source code in whatever ways your application requires.
Easily Integrate with your Payment Gateway
With many popular payment gateways built-in, you can start accepting payments immediately. And if you need to integrate a custom module, there are hundreds of community-contributed payment modules to select from, or from which to build your own.
Works with any* hosting company
You may install the software on any hosting service you prefer &emdash; Zen Cart® will run on servers with relatively simple requirements of PHP, Apache, MySQL.
*Keep in mind the server requirements for Zen Cart.
Use your domain name
Your website will be at whatever domain you choose. You will create and configure your domain with your hosting company.
Ready immediately!
Zen Cart® is ready to run immediately. You can start accepting payments immediately.
Just create your products and go!
In A Nutshell
At the end of the day, every business establishment has its own needs and budget requirements that set the momentum for the kind of retail online application they are looking for. No e-commerce solution can be a be-all 'best' e-commerce platform for any business.
Furthermore, do your due diligence and examine all your business needs closely and run a few trials to see which e-commerce solutions uplift your business.
Few crucial observations regarding e-commerce solutions:
When selecting the best e-commerce platform, it's recommended to go for free, open-source platforms but if you don't have any programming experience go with out-of-the-box platforms. Even though the platform is free, there are extensions and integrations that you need to pay for if you want to include them.
When looking at paid platforms, take into consideration the possible future costs when you want certain upgrades like abandoned cart recovery or in-depth reporting.
Tell us about your e-Commerce app idea. InApps would love to help you choose the best solution.
FAQs
What is the perfect platform for your E-commerce business?
1. Shopify
2. Wix
3. Squarespace
4. WooCommerce
5. Big Commerce
Which E-commerce platform is the fastest at present?
Shopify is currently considered the fastest eCommerce platform as per the comparative study.
What is a commerce platform?
A commerce platform is a technology for managing all aspects okaf a retail or restaurant business. If a business is being conducted both online and on-premise (either in the store, at the bar, or at the curb), the commerce platform will connect those channels for more unified management.
This goes beyond simply tracking sales across a business. As customers move between channels, so do inventory data, payment information, loyalty program rewards and more.
By syncing every aspect of a business, modern commerce platforms offer consistency for business owners, employees and customers. They also have a lot to offer suppliers, as commerce platforms can put businesses in direct connection with vendors.
A commerce platform like Lightspeed covers all aspects of a business:
Merchant services
Supplier services
Consumer services
Financial services
Data services
Let's create the next big thing together!
Coming together is a beginning. Keeping together is progress. Working together is success.