>
>
3 Unpredictable Factors You Should Know Before Hiring An Offshore Team
To reduce the operation costs, outsourcing your projects to Offshore Development Center overseas could be the right choice for the global organizations, especially in the spread of Covid-19 pandemic, we all need to cut down some fees to keep business alive and increase the income every day.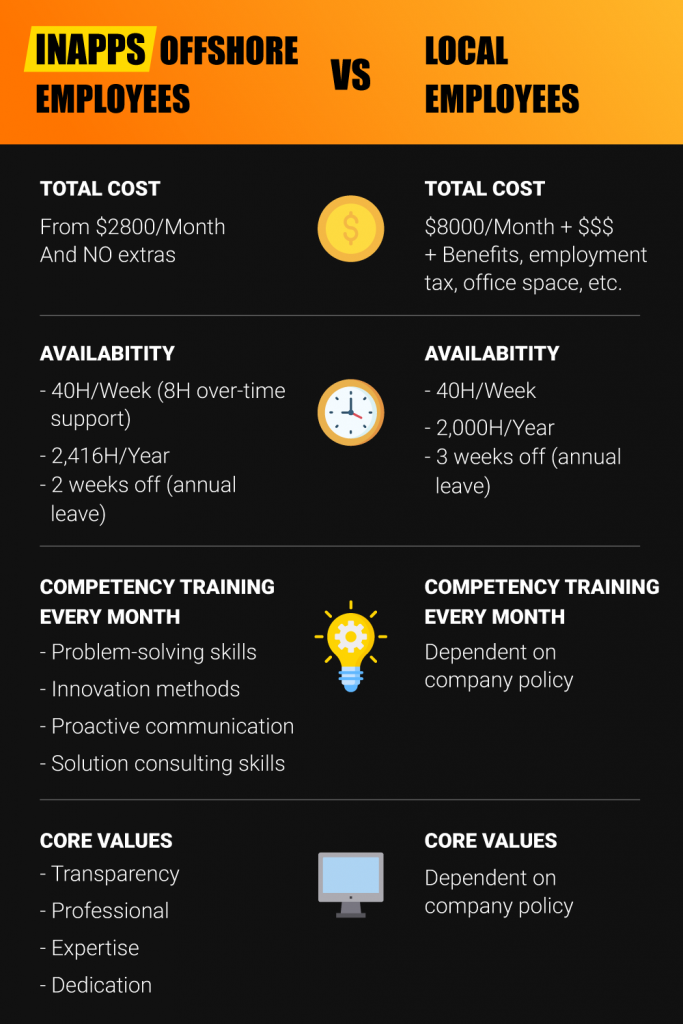 However, we also realize that there are a few unpredictable factors that you find satisfy or may difficult to deal with. Hiring an offshore team could be a good way to reduce costs for business to get over the Covid-19 pandemic, but knowing what to expect when working with an offshore group will truly help you keep the project on track.
YOU MAY THANK GOD FOR HIRING THE RIGHT OFFSHORE TEAM WHEN THEY CAN DO…
 #1 REALLY REDUCE THE IT COSTS
Because the cost of living is lower in countries like Vietnam, you can find an offshoring partner with lower offer rates than the equivalent back home in Europe or the US. If they can save up to 70% of IT cost or only from $20,000 to $40,000/project, then surely this new offshore outsourcing team is your financial game-changers.

You can also get specific all IT costs in a discussion or even unforeseen costs during the project. The right partner will be able to supply all the answers without hesitation.
#2 BRING THE BEST VALUE
Remember that you find a good team to develop a product, not to buy a new t-shirt, so don't put 'reduce cost' becomes the priority. 
The key is assessing which constitute the best value of an outsourcing company. They have well-known case studies or public products on the App Store and Google Play. Their developers have outstanding IT backgrounds, from the project leader to the members, as well as they can solve all the simple or complex issues. They also well communicate in English. Congratulation! You just found the right team to feel confident in letting them help build out your business.
#3 DEDICATED WITH YOUR BUSINESS
You need world-class developers, but you need them to understand your business mission and be dedicated to your company for the long-term. That's what top quality offshoring is: a permanent workforce which is wholly and completely devoted to, and employed by, your company.
To bring the best result, we also motivate others and make sure the work can get done correctly and on time. Besides, they also have the experts to train the developers: creativity, solution mindset, innovative mindset, troubleshooting skills…so that you not only satisfied with their skills but also their spirit.
LET INAPPS' OFFSHORE TEAM ERASE YOUR CONCERN WITH QUALITY AND ABILITY
Owning a Tech Talent Hub with 5–10 year-experienced developers and engineers, InApps Technology is proud to give 100% satisfaction and trust to clients on their projects. That's also the reason why we receive the noble title The world's top 50+ mobile app development company in 2020, among the hundreds and thousands of mobile app development companies.
More than 10 years of developing website & application for many international clients, not only that we've famous for having the best mobile app developers, but our products also highly recommended by users as well as got clients' gratification.
Join InApps today, all you need to do is focus on business activities and let us do our best – developing your products with the following benefits:
– Good at both technical expertise and English
– Competitive Hourly Cost
– 1-month trial and no hidden costs
– Clear delivery management and visibility to service metrics
– Transparency and Predictability.
– Close Collaboration.
– Flexible Team Structure.
– Latest Development Methodologies: Agile, Scrum, Extreme Programming (XP) and Test-Driven Development (TDD)
Reduce your cost up to 70% – Guarantee the same or higher quality

Fast solving-problem & supporting your end-users 

80% of developers are good at English communication 

90% of software developer have +5 years of experience

High-level of Tech skills — Talented workforce from US, Australia, Northern Europe or Japan

Transparency and Predictability for long-term cooperation

Latest Development Methodologies & Diverse Industry Experiences
Let's create the next big thing together!
Coming together is a beginning. Keeping together is progress. Working together is success.