>
>
4 IT services that can be outsourced in Vietnam
Why IT outsourcing good? What are the benefits of IT outsourcing?
There are many reasons for enterprises to decide to outsource their IT departments. The main reasons are to reduce and control operating costs better and to have the ability to focus on other plans and purposes as well as to increase the efficiency of internal resources.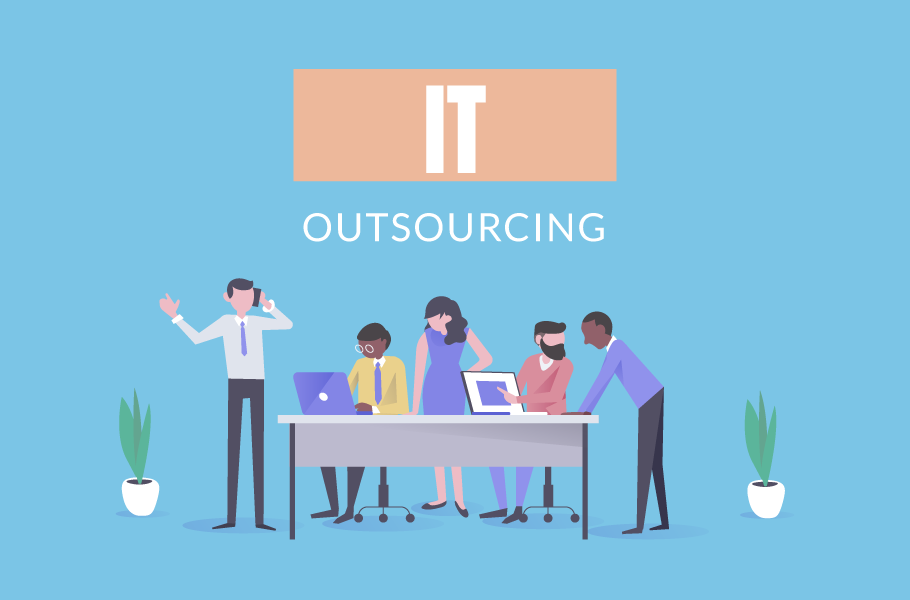 What is an IT outsourcing company?
An IT outsourcing company is the external organization that provides, manages, maintains and supports IT requirements and functions in terms of software development services, application development services, infrastructure solutions, technical support or help desk, database development, networking and communications, data center storage and management, etc.
it-outsource
4 IT Services That Can Be Outsourced
Smartphones have revolutionized the way we do business at a faster rate than we anticipated. Mobile applications help us do the task conveniently and efficiently. Subsequently, the popularity of mobile apps is increasing at a swift pace. 
Web application development services
The modern web is not just for static websites and content consumption. It's the most open, flexible, and immediately accessible application runtime available today, both via mobile and desktop browsers. Modern web applications use architectures that make them more like their native app counterparts.
User Experience (UX) and User Interface (UI) design & development services are provided to maximize user experience and satisfaction for a particular application or website.
Software offshore services are provided to help clients increase their software development capacity while significantly reduce the cost of hiring an in-house team.
As experienced and qualified software and app developers are highly-paid across the world. Software development companies incur huge costs on recruitment of the best talent. Then they have to pay salaries and perks as well. However, is hiring the best talent enough to keep the software development business going?
Software development companies have to take up a variety of projects. And, every project has a deadline. To meet the deadlines of the project, and to achieve all that is expected by the clients, the development companies have to maintain a team with professionals having varied skill-sets.
Moreover, even after completing a project, it has to pay salaries and perks to the workforce, which is made to sit idle because the company doesn't have work to keep them occupied. The company cannot even choose to lay-off some of its developers as the next project might require their expertise.
Why should you choose Vietnam for IT outsourcing?
Vietnam has been the key player in the business process outsourcing (BPO) and IT outsourcing (ITO) industries. BPO market has grown 20% to 35% annually, with a revenue of 2 billion USD in 2015. Big companies from South Korea, Japan, North America, Australia, and Europe are amongst our clients. As those countries have high demands for IT services but the cost of labor, IT infrastructure, and staff management are among their difficulties to operate their projects effectively. Fortunately, most IT companies in Vietnam have grown fast with the latest technologies such as big data, artificial intelligence, and the internet of things. Vietnamese engineers and developers can carry out projects for customers all over the world with dedication and profound knowledge. 
Great for offshore outsourcing
In the past big firms from North America had destinations such as India, China or the Philippines, which offer political stability, lower costs, to outsource their IT – related projects but now they consider Vietnam, with better rates, highly experienced staff, political stability, and available resources.
Great for nearshore outsourcing
Countries such as Japan, South Korea or Singapore choose Vietnam as their nearshore outsourcing destination. The geography distance conveniently makes travel and communication between the two countries easier.
InApps Technology – The Top IT Outsourcing Company in Vietnam
Why choose InApps?
There are many software development companies in Vietnam offering IT outsourcing services and InApps Technology is proud to rank:
Here are some reasons why clients choose InApps Technology as their offshore software development company in Vietnam:
Competitive Hourly Cost
Clear delivery management and visibility to service metrics
Transparency and Predictability. 
Close Collaboration. 
Flexible Team Structure.
Latest Development Methodologies: Agile, Scrum, Extreme Programming (XP) and Test-Driven Development (TDD)
Here are some of the top reasons to hire InApps Technology developers:
English communication— 75% can read and understand spoken English.
Cost-efficiency — You can find excellent developers for $17-$21 per hour.
Good Communication Skills — They are good communicators and aren't afraid to speak up or challenge you. They want to do a good job and succeed.
Talented workforce — Young developers who studied and worked abroad in the US, Australia, Northern Europe or Japan.
High-level of Tech skills — Excellent at analysis, troubleshooting and tech solution brainstorming. They are passionate developers who love what they do and desire for self-development.
Let's create the next big thing together!
Coming together is a beginning. Keeping together is progress. Working together is success.