>
>
5 Steps to Hire Developers in Eastern Europe – Update 2022
How to Hire Developers in Eastern Europe in 5 Steps is an article under the topic Offshore News that many of you are most interested in today!
Read more about How to Hire Developers in Eastern Europe in 5 Steps at Wikipedia
You can find content about How to Hire Developers in Eastern Europe in 5 Steps from the Wikipedia website.
Over the past two decades, Eastern Europe has become one of the top supply regions for software development services. Ukraine, Poland, Romania, and Belarus account for a combined 5% share of the global IT outsourcing market.
The region has achieved worldwide recognition as the home of highly skilled professionals who have solid expertise both in popular technologies and rare specializations. Eastern European offshore developers are increasingly aligned with Western cultural values, making them perfect for software companies in the US, Great Britain, Germany, and Australia.
In this article, we discuss the most important aspects of hiring seasoned tech specialists from Eastern Europe and share some tips on ensuring fruitful collaboration.
---
Businesses that decide on outsourcing to Eastern Europe are often delighted to discover the wealth of technical talent and the availability of first-rate, innovation-oriented engineers. The region is home to more than 1M programmers. Nearly one-third of them (30.8%) are located in Poland, another 15.4% live in Ukraine, and 10.7% in Romania.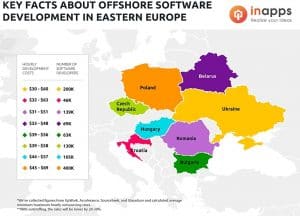 CEE Offshore Software Development in Numbers
Eastern European countries are known for their strong educational focus on science, technology, and engineering. The region houses over 200 universities and colleges, which produce 60K IT specialists annually. Plus, 87% of newly minted professionals claim they have learned a technology or a programming language by themselves, proving that most Eastern European developers are passionate about their work and consider it rewarding.
In addition to a solid tech background, Eastern Europe can boast one of the highest English literacy rates worldwide. According to the EF English Proficiency Index, Hungary, Poland, Czech Republic, Romania, Belarus, and Ukraine are ranked among the 45 best countries by English skills.
Challenges of Hiring Eastern European Developers
Eastern Europe is a veritable treasure trove of tech talent gems, but top-notch professionals may not be easy to find. If you decide to source programmers on your own, you should be aware of the hurdles that might lie ahead:
You will need at least basic native language proficiency to browse local job boards. Since these websites target their domestic markets, they don't have an English version to facilitate user navigation in most cases.
Lack of Information Online
Your recruitment efforts can fall short because local tech specialists may not have enough online exposure. Some offshore development companies expand their business through recommendations and recurring sales rather than B2B portals like Clutch or Goodfirms.
Knowledge of Local Job Market 
Sourcing talent in another country requires a good understanding of the local market. You need to find out through which information channels developers learn about open vacancies and their job search mechanisms.
For example, in Ukraine, some of the most popular means for seeking employment are Djinny, a local IT matchmaking platform, and Dou.ua, a dedicated tech industry portal. Ukrainian developers also pursue new opportunities via job boards like Work.ua and Robota.ua. Other common channels include LinkedIn, social media postings, the company's website, and recommendations from friends and colleagues.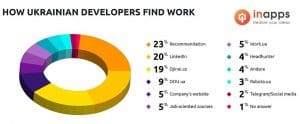 How Ukrainian Developers Found Their Current Job
Best Approaches to Sourcing Software Developers in Eastern Europe
To connect with tried-and-tested remote service providers, you should first ask for references from your friends and partners or check dedicated tech communities on social media platforms. This way, you may get helpful tips from people who have already been in the same situation.
Platforms like LinkedIn and Clutch are also good places to start your quest for a reliable offshore development partner. They are common search points for many international businesses looking to move their IT services to nearshore Eastern European locations. They can give you an idea about the firm's area, workforce capacity, and previous projects.
Companies that decide to use outsourcing as a way of expanding or enhancing their business operations usually take one of the following routes to hire developers in Europe:
Check Freelance Marketplaces 
There are many online platforms to find qualified Eastern European developers for your project. Portals like Upwork, Guru, and Fiverr offer access to a vast talent pool of engineers with diverse experience, backgrounds, and tech stacks.
Hiring freelancers might be convenient for small projects with a tight budget. It's also a good choice if you plan to outsource only specific tasks or need to bring in additional expertise. On the downside, freelance platforms usually don't provide skill assessment testing to ascertain the competencies of their users, so you run the risk of hiring an unreliable developer.
Partner with Local Recruiters 
You can save yourself a lot of hassle if you work with local consultants who are attuned to the peculiarities of the local market. Partnering with HR specialists from your preferred offshore destination is a good idea because they can scan all the relevant sources, perform background checks, and review resumes and portfolios to find the candidates matching your specifications.
The primary goal of recruiters is to put you in touch with suitable developers or offshore development teams. However, you must participate in the process and assess the prospects yourself. Apart from your active engagement, this option also requires considerable financial outlay, as the agency will charge you a fixed fee for every tech pro they find for your project.
Team Up with a Reliable Service Provider 
If you are looking for trust and safety in a business relationship, you should go with an accomplished software development company. They have an individual approach to each client and deliver high-class services.
Hiring developers in Eastern Europe: Step-by-Step Overview
If you want to attract high-end talent, you need to know precisely what you are looking for. First, identify the customer pain points and how you plan to resolve those issues with your product. Although it's an obvious step, it helps ascertain the actual scope of work, encompassing every conceivable aspect of the project. Once you have a clear picture of how you want the product to turn out, you can break the task down into smaller milestones to easily understand vendors.
Recognizing your objectives leads you to the next stage of the development process. At this point, you need to figure out how to translate your vision into a specific action plan.
To get some insights into the technical side of your idea, you should be ready with the answers to the following questions:
What kind of professionals do you need for your project?
Which technology stacks are crucial to achieving consistent product success?
What level of experience would you prefer?
Which infrastructure does the project require?
What is the expected product time-to-market?
This questionnaire can guide you when you kickstart the talent sourcing phase. You will likely get a hold of dozens of developers and outsourcing companies, so you need an application procedure to boil down the list of contenders to a few real prospects.
An in-depth review of your potential service providers will help to determine where their strengths lie and what resources they can bring to the table. If you consider hiring remote developers in Europe, you should stick to the following plan, which comprises several essential steps: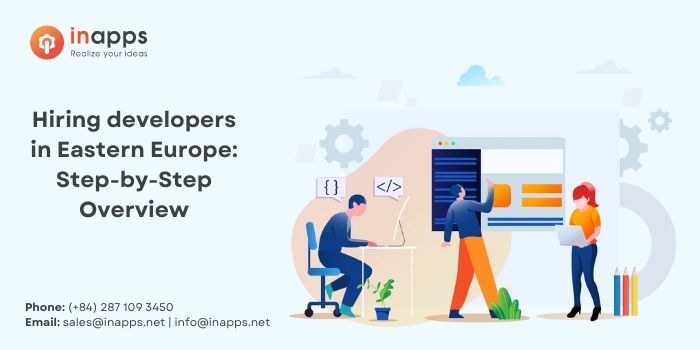 Tech Screening
There are over 2500 IT outsourcing companies and nearly 1.3M software developers in Eastern Europe, so you can find the offshore development team which will perfectly suit your needs. While you browse candidates' profiles on Linkedin, sift through their resumes or check out their website, it's essential to focus on these aspects:
Your tech partner should provide engineering talent in most web, mobile, or desktop technologies. It might be easier to evaluate candidates if you create an extensive list of the programming languages, front-end and back-end tech stacks, and database systems you need to get your project off the ground. You can assign value to each criterion and then total your results to identify the best outsourcing team to execute your technical vision.
Deep tech expertise is a unique selling point for most Eastern European software development companies. But this trait alone won't get you very far if your remote workforce doesn't understand the goals you want to achieve with your product.
So to ensure a fruitful working relationship, try to narrow down your search to agencies that have some previous experience in the field you are operating in. Such business expertise helps to speed up the development process and empowers your vendor to deliver the project according to the industry best practices.
In IT, experience demonstrates the level of a developer's maturity and is an indicator of technical know-how. The higher the engineers' competence, the more varied the challenges they have faced. It means they have had to come up with out-of-the-box solutions and more efficient approaches to troubleshooting.
Work Review 
Proficiency in your tech stack is not enough to find out which team is the best. You must look for someone well-aligned with your style and approach to work. It may sound like a daunting prospect, but their track record can give you a hint.
Project portfolios and customer testimonials allow you to see what your potential vendors have done in the past. Feedback from past clients tells you a lot about the abilities, knowledge, and innovation that offshore software companies in Eastern Europe can bring to the table. Verified reviews provide you with information on their tech maturity, team composition, client involvement strategy, and competency in the domain.
You may dig deeper with your due diligence and try to reach out to your vendor's former business partners to confirm their satisfaction with the project outcomes. This may give you some insight into the organization of the development process, including time management, communication with clients, data protection standards, and resource pipeline. It can help gauge how well your domestic team and remote developers will work together.
Coding Test 
A trial programming task is the best way to ensure you are hiring seasoned Eastern European developers. It's a perfect tool to facilitate your headhunting efforts as it helps screen their tech abilities in mere hours.
Tech sourcing platforms like HackerRank, Codility, or Devskiller offer online coding assessments that allow you to interview candidates for all sorts of mobile, web, and software development roles. Once applicants submit their work, the system will automatically analyze and score their code and generate a detailed report about each candidate's coding abilities.
Such code-assessment platforms are convenient for companies looking to streamline their technical interviewing process and make data-driven hiring decisions, especially if they don't have in-house tech experts.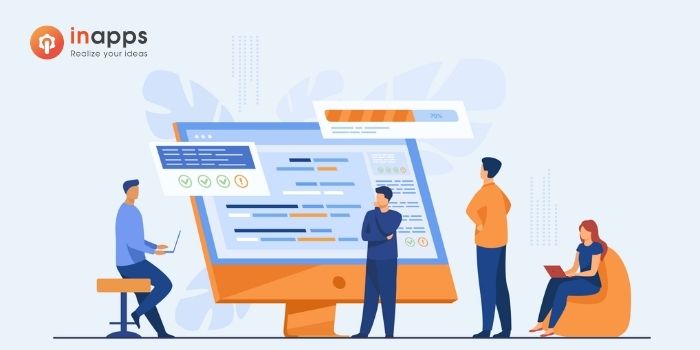 Final Interview 
This is the last step before you begin negotiating rates and terms. At this point, both you and potential prospects can unwind after a challenging selection process. Now you can shift your focus to the often overlooked aspect of nearshore software development — direct human connection.
Unlike tech expertise, this domain can't be scored or standardized, so you need to trust your instinct. It might take several meetings or calls to identify the most suitable candidate. However, some indications can show that you've already found your perfect match:
Smooth communication skills
This defines how effectively Eastern European developers can support your domestic team. It fosters active cooperation between the two parties and allows them to resolve misunderstandings, lead discussions, and track the progress of each other.
You need to make sure everyone is on the same page and can express themselves without misunderstandings. Luckily, Eastern Europe has one of the highest English literacy rates, with 49% of IT specialists having high language proficiency and 35% showing intermediate level.
Your potential tech partners should be flexible enough to allow you to add or remove programmers at any stage of the development process. To be on the safe side, check out how they allocate tech specialists for their offshore development team and whether they can guarantee a sufficient number of engineers for your project.
Knowledge management strategy
Knowledge transfer refers to mechanisms that convey critical corporate information to a system that can easily be stored, shared, and used by all employees, both in-house and remote. Thus, the environment within the partner company has to encourage developers to share their wisdom, experience, and specific occupational knowledge with their colleagues on the project.
A key to building a dedicated development team is to align individuals to your organizational goals. Adopting a culture of empowerment helps create a setting where employees are granted authority and power to exercise their discretion and take ownership of their work. When your remote staff feel valued and see why their work matters, they are more inclined to deliver high-quality results.
Final Thoughts
This is everything you need to know about hiring developers in Eastern Europe. You should remember that business relationships are a two-way process, so the choice is not only yours to make. The software development company is also appraising the possibility of working with you. They have the right to ask questions to make an informed decision. The sure way to find the right match is to be open about your company's expectations and future objectives.
Source: InApps.net
List of Keywords users find our article on Google:
Let's create the next big thing together!
Coming together is a beginning. Keeping together is progress. Working together is success.