>
>
App development budgeting mistakes that you can avoid 2022
The last two decades have been phenomenal as far as technological transformation is concerned. We have seen an unusual rise in software usage, whereas the number of smartphone users has crossed 2.5 billion, which pushed the usage of mobile apps.
Most businesses are investing in mobile app development, since they have realized the potential of mobile apps in reaching out to their customers, offering service, and helping them to transform their branding.
It is important to have an effective project plan and enough budget to excel with mobile app development. With such intense competition, availability of a plethora of applications, increasing complexities in the development process, it has become obvious for developers or app owners to commit mistakes that could prove counter-productive to the success of their mobile apps.
Among all, budgeting mistakes are very critical for any mobile app. Developers or app owners do make wrong decisions while undergoing the pressure of whipping out mobile app ideas that can provide the business requirements.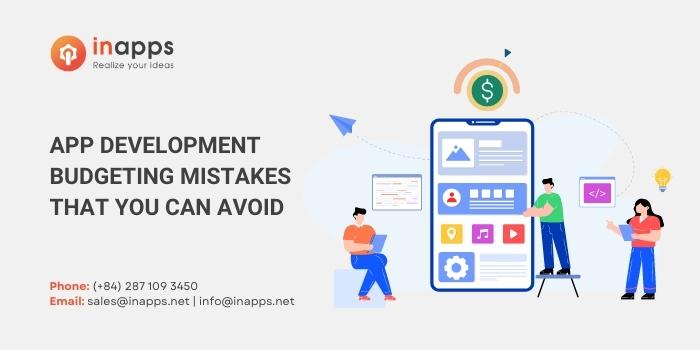 It is important to plan, divide a suitable budget, and avoid making common budgeting mistakes while devising a blueprint of the mobile app development process. In this article, we will put more focus on the common budgeting mistakes that must be avoided to prevent any issues during mobile app development.
But before going any further, let's have a look at the eminence of budgeting while developing a mobile application.
Importance of budgeting in mobile app development
Like any other business, budgeting holds prominence in the mobile application development process, thus it must have complete planning and correct measures to deliver the expected business values and results.

Source: Freepik
Well, contrary to the usual perception, the scope of budgeting is not limited only to app development; it goes beyond that. Other crucial components of budgeting are app upgrade, app testing, promotion, marketing, etc. Thus, it is right to say that efficient allocation of resources via a robust strategy is a must for any business.
It is critical to pull in all resources and put them with utmost precision to ensure a successful and cost-effective app development process.
Not Identifying the actual needs
Well, this is a big mistake that any company can commit, and unfortunately, this is among the most common ones. It is important for a mobile app development company to identify the need of applying for a business and determine its usability to achieve the goal of an organization.
It gives the advice to conduct thorough market research, surveys, and other activities to gauge the requirements of an application, its usability, and its relation to the organizational vision.
The idea of an application must confirm with the business logic, as this will help you to develop a mobile app to complement the user's needs.
Underestimating the total cost
It is critical to define a detailed scope of all resources you need to build a mobile app, that helps to calculate the total cost of app development. You must consider the development hours, space, material, other potential overheads, and marketing and operation costs while devising the budget.
All these aspects translate into your capital investment and must be considered before initiating a mobile app development project.
The total cost of the project also includes user training, employee hiring, and so on. If you underestimate these costs or ignore them, then it may cause several painstaking issues at a later stage.

Source: Unsplash
Not performing adequate market research
 It is important to conduct thorough market research before allocating the budget for app development. We have many categories for mobile apps, such as Educational, Financial apps, On-demand, eCommerce, etc. Detailed market research will help you to decide about the development budget, the complexity, platforms, and the domain of your mobile app.
It also helps to determine and assign development tasks to a 3rd party software development company if you are planning to outsource the entire process.
Not developing the MVP correctly
This is the most common mistake made during the initial development stage. It is important to consider budget and other cost factors while developing an MVP version of a mobile app. You must consider incorporating essential features only while developing the least viable product, as it helps you to project the usability of your mobile app to potential customers.
It also helps to test the application and improve any performance bottlenecks. In most cases, organizations skip these vital steps while developing an MVP, which led to the budget escalation at the later stage of mobile app development. 
No adequate attention to the app testing
 Mobile apps must be tested to ensure a bug-free experience for the end-users. You need to pay more attention to unit testing and identify and fix the flaws to improve app performance and user experience. If an app is not tested, then it may crash or cause other issues, which in turn frustrate your customer. You must devise a schedule, assign a dedicated team to perform all sorts of testing, and remediate the issues that crop up. It will help you gain more users and revenue.
Thinking it all ends with a mobile app launch
There is a notion that it all ends once the mobile app is launched, though it is not true. Mobile apps need frequent updates that provide it adequate security and more functionality.

Source: Unsplash
While making a mobile app development budget, it is important to consider the post-launch and support activities and make the necessary budget allocation for the same. You need to ensure that your app is compatible with the latest devices and technologies in the market so that users can access it. 
Ignoring mobile app marketing budget
You can develop a brilliant mobile application, but the whole aim will falter if you can't market it among potential users. Most of the development companies tend to ignore the app marketing budget, as their whole focus remains on the app development and testing process.
Thus, it is important to divide a significant budget to market the application and make users aware of its benefits and usability. This helps an organization to achieve better revenue due to more downloads.
Treating mobile app development like a website development
This is among the most common mistakes committed by companies while concluding the mobile app budget. Most of the enterprises get their website before developing a mobile app, and in most cases they divide a similar budget for the later.
However, mobile app development is a complex process, and it needs niche expertise and resources. An enterprise must take all the aspects of mobile app development while settling on the budget to prevent any issues later.
Sole focus on user interface
The user interface of a mobile app is the most important commodity as it can do wonders to an application if it is designed.
However, it could backfire if we devote too much time and attention to building and improving UX/UX components only. We must give equal attention to other components as well and make necessary budget provisions to take care of backend infrastructure and business logic.
Conclusion
To ensure seamless mobile application development, all budgeting requirements must plan and execute with perfection. An organization can sustain its mobile applications for a long time by curating a well-devised budgeting framework.
Though we also maintain that above mentioned budgetary factors must be considered along with the technology stack, platforms and device support functionality and purpose, and integration points to ensure a seamless mobile application development lifecycle.
If you prevent these budgetary mistakes, then you can develop an optimized mobile application that can transform your business like anything.
If, however, you messed up in planning your app development budget and you're unsure which process to choose for developing powerful and efficient mobile apps you can contact InApps.
Source: InApps.net
Let's create the next big thing together!
Coming together is a beginning. Keeping together is progress. Working together is success.