>
>
Bobbing up on-demand aviation/private jet booking app 2022
Is the current state of air cargo traffic prodding you to have a dedicated airline app of your own? Go for it!
Although the Aviation industry requires innovation much more rapidly to secure its environmental, and financial viability in the future it is still one of the main drivers behind globalization.
A network of airports, airlines and air traffic management organizations link major cities and small communities across the world 24/7. Aviation supports 65.5 million jobs worldwide, enabling $3.5 trillion (4.1%) in the global gross domestic product (GDP).  It equates to the GDP of the Netherlands and Indonesia altogether (updated 2021). 
In hard-and-fast figures, updated post-pandemic, the aviation sector accounts for $961.3 billion direct GDP and $816.4 billion indirect GDP, $692.8 billion induced GDP and $1 trillion in tourism GDP. (Reference: https://aviationbenefits.org/economic-growth/adding-value-to-the-economy/)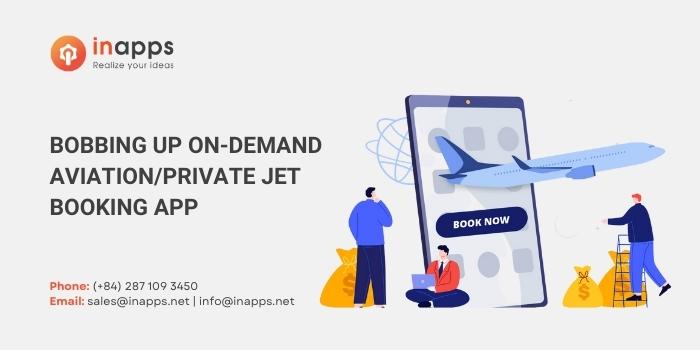 Mobile app solutions for airports: why do you require an aviation industry app?
The aviation industry has to pay for its infrastructure and maintain runways, terminals, air traffic control. As the return of passengers puts pressure on aviation infrastructure, they are looking towards expanding their capital expenditure following the region's forecasted passenger growth.
Air transport also facilitates the progress of world trade by 'facilitating' the delivery of critical products like face masks, medical gowns, medical gloves, ventilators, and vaccines. 
The aviation industry includes passenger transportation on scheduled and non-scheduled routes both domestically and internationally and cargo airlines. 
Helpful Topic: Increasing Usability of Booking App Soon to Become Mainstream
Benefits of aviation sector/private jet booking app
Reduced passenger demand affected the airline industry when unnecessary air travel got restricted during the pandemic to limit the spread of the virus. Still, Aviation is speeding up and is one sector that is seldom stagnant. It directly generates more employment opportunities within – (1) airlines, (2) air navigation service providers, (3) airport operators, tourism, (4) contributing to economic growth, more so in developing countries.
Challenges faced by airline industry/private jet booking app like Uber
Airlines around the world have been struggling with (1) high jet fuel prices, (2) sluggish economic growth, (3) missed flights, (4) confusing navigation, (5) limited traffic to retailers, but the countercyclical fiscal policy of the government aids across the world establishing hopes for the steady recovery of the aviation industry in the aftermath of the pandemic. If we ignore the effect of the pandemic, the aviation industry has still demonstrated stable growth, which suggests the possibility of continued expansion in the years to come.
Features you would like in your on-demand air-travel/private plane booking app
The airline industry is braided with ancillary revenue streams and automating ticketing technologies, ongoing reregulation of civil aviation in many markets worldwide. It raises the emergence of low-cost airlines. Airlines like Ryanair (Irish) have been dubbed an ultra-low-cost carrier (ULCC) and Southwest Airlines to attract a growing customer base. Many carriers have taken to charging their customers for ancillary services to uplift revenue. Low-cost carriers are so successful that upstart airlines like WOW Air, La Compagnie, Norwegian are trying to enter the market.
User Panel
Admin Panel
Vendor Panel
Log-in in and Profile

Hotels Listing/Comparison

Flights Listing/Comparison

Plan your holidays

Advanced search and filters

Bookmarked

In-App Chat

In-App Sharing

Multiple Payments

Push Notifications

Booking History

Reward Points

Support and Help

Dashboard

Sub-admin/role management

User Management

Bookings Management

Flight Tickets Management

Commission Management

Penalty Management

Advertising Management 

Content Management

Category Management

Email Alerts to Registered Users

Register/Login

Orders Management

Products Management

Manage Rooms

Manage Flights Tickets

Custom Holiday Packages

Transaction History

Customer Booking Status

Manage Special Offers

In-App Chat

Multiple Payment Gateways

Multiple Language Support

Coupon Code Generation
Helpful Topic: How to Create an Online Booking System?
Conclusive: let us bob up to your private jet app idea with some actionable code
Governments across the globe made necessary adjustments in the aviation industry to take the spread of the pandemic under control. Flights were cancelled, and individuals had to keep high levels of safety measures such as social distancing. It makes it difficult for the airlines to be able to operate.
As we overcome the impact of the coronavirus, even as sporadic lockdowns continue in various areas and officials order greater scrutiny of passengers on-board, curbs stem from global struggle to maintain its "Zero Covid" strategy as stringent becomes impractical. We're here to rev up your aviation app development as we consider striking aspects and unfounded attempts to incite tensions.  
Also, we're open to discussing the proof of concept, minimum viable product, and bespoke product, and corresponding cost to develop an air travel app.
Source: InApps.net
Let's create the next big thing together!
Coming together is a beginning. Keeping together is progress. Working together is success.