The underlying trend of today's technology and lifestyle is simplicity and convenience. And that is exactly what digital banking is all about — make banking fast and simple.
There is a rapidly growing demand for independent digital banking solutions, especially in metropolitan areas, capital cities. Consumers have turned to non-cash payments via the internet and smartphones to help them fulfill their needs safely and conveniently.
So how can you get started or enhance your existing digital banking strategy? This article brings you 18 must-have features of a digital banking system.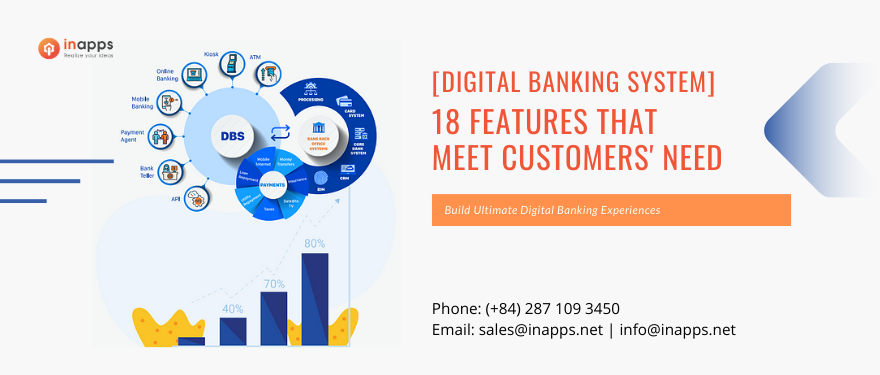 What is Digital Banking?
Here's a visual equation that sums up (literally) digital banking:
Online Banking + Mobile Banking = Digital Banking
Online banking means accessing banking features and services via your bank's website from your computer. You may log into your account to check your balance or pay your electricity bill. You can access additional banking features, such as applying for a loan or credit card, at many banks via your online banking portal.
Mobile banking means using an app to access many of those same banking features via mobile devices such as smartphones or tablets. These apps are proprietary, issued by the bank where you hold your account, and usually use the same login information as your online banking portal.
Together, online and mobile banking creates the digital banking umbrella, giving people access to banking wherever they may be—or, in some cases, wherever they're graced with secure Wi-Fi and strong cell signal.
Trends in Digital Banking Services Technology
Banking is quite a conservative niche. However, with digital transformation, even financial services caved into popular demand and convenience. The idea of building a digital bank is to move the traditional activities and services to the web and reduce or remove the need for an individual to be physically present in a bank.
Going digital helps the banks meet the increasing expectations as well as the trend of transactions on electronic devices of customers, simplifying processes, processing procedures, improving competitiveness, cut down the costs. First of all, let's learn about the trends and technologies used in digital banking.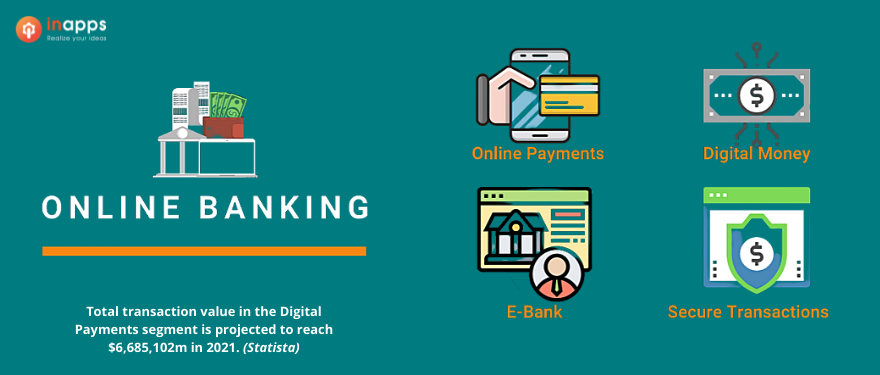 [su_tabs vertical="yes"][su_tab title=" Virtual cards" disabled="no" anchor="" url="" target="blank" class=""]A representation of your actual card that can be easily disposed of if something happens to it. For example, if a virtual card is hacked, you can delete it and create a new one, while the real cards won't be compromised in any way. It is used for more convenience of transactions and security.[/su_tab] [su_tab title=" Automation interactions" disabled="no" anchor="" url="" target="blank" class=""]Text and video chats are already a must for banking institutions; the next step is to use AI to power the conversations (e.g., Cleo). Automation helps reduce staffing costs by minimizing interaction with humans only when it is necessary — why spend human work time answering simple, routine questions.[/su_tab] [su_tab title=" Mobile banking" disabled="no" anchor="" url="" target="blank" class=""]Cashless mobile banking is one of the quickest growing and popular trends. The mobile bank is the choice of the younger generation. They strive for the convenience of pinging smartphones against a connected device instead of the hassle of carrying cash and waiting for change. [/su_tab] [su_tab title="Cybersecurity" disabled="no" anchor="" url="" target="blank" class=""]Consider the newest fraud-prevention technology before you make your bank. For example, machine learning models based on real-time insights are used for detecting fraudulent activity. You can also implement device fingerprinting where the system, based on several parameters, identifies whether a device has been used in fraud-related activities.[/su_tab][/su_tabs]
18 Key Features to build a Digital Banking System
Online banking is the future and it's important to build high-quality digital banks and online financial services. How can you do that? Let's discuss all the important details you need to know and keep in mind when starting a digital bank.
1. Personal Money Management Dashboards
Personal money management dashboards are created in a way that can be easily customized to different audience segmentations. This delivers amazing and personalized user experiences.
[su_list icon="icon: check" icon_color="#ef5808″]
Personal money management dashboards are targeted to different customer segmentations.
Customers can fully control their dashboard: add or remove the functional widgets and create their own customized dashboard by adjusting.
Personal preferences are recorded for every device to easily navigate to the customer's personal dashboard, which can be optimized for relevant devices.
Display actionable insights and marketing campaigns for each customer.
[/su_list]
2. Products & Transactions
An all-inclusive list of transactions – from numerous accounts and products and the capable searching abilities. Allow clients to search for any transactions through multifunctional filters and approach any transactions in the most detailed way.
[su_list icon="icon: check" icon_color="#ef5808″]

Easy to supervise the balances of all personal accounts: payment accounts, saving accounts, credit cards, and debit cards.
Focus on the details of transactions with multi-level classification, multifunctional filters, and capable searching abilities.
Comment and #tag on the transaction, divide a transaction into many different types.
Follow completed transactions and awaiting transactions, transacting at ATMs, or purchasing goods by debit or credit cards are included.
Grouping accounts and particular accounts are customized.

[/su_list]
3. Consistent Money Movement
Types of the transaction are combined to create a seamless user experience, which allows remembering transactions/payments, process scheduled transactions, and centrally manage all these payments.
[su_list icon="icon: check" icon_color="#ef5808″]

Intuitive money transfer tools, including personal to personal payments (P2P), account to account (A2A), member to member (M2M).
Support transfer through interaction between center gateway with other banks.
Provide scheduled payments.
Integrate with personal address book to assist customers with a quick and safe transaction through Email or Phone number.
Tools to monitor scheduled and processing transactions.

[/su_list]
4. Centralized Account Management
Our ready support allows banks to integrate multiple accounts from third parties and start to widen payments, promote the success of the Open banking effort. Ensure compliance with Revised Payment Service Directive (PSD2), Account Information Service Provider (AISP), or Payment Initiation Service Provider (PISP) standard. Join the open banking revolution and ensure endless customer journeys.
[su_list icon="icon: check" icon_color="#ef5808″]

Including multiple banks and credit card accounts.
Create a seamless experience between bank services, real-time, for a superior customer experience.
Leverage 3rd parties' account data to run smart sales campaigns.
Integrate strong authentication for online payments.

[/su_list]
5. Personal Finance
Predictive money planning abilities enable clients to follow up expenses, visualize cash activities and how they affect liquidity. Provide a better understanding for customers about the inflows and outflows of money.
[su_list icon="icon: check" icon_color="#ef5808″]

Reports on cash flow history based on remaining balance and transaction data.
Reports on forecasting of short-term account balance and cash flow.
Highlight upcoming bills, payments, transactions.
Foresee balance for each personal account.
Detect patterns and suggest upcoming transactions included in forecasting money flow.

[/su_list]
6. Plans & Goals
Support customers by manage existing accounts, enable customers to make plans, manage budgets, and saving targets through a fully incorporate and intuitive interface.
[su_list icon="icon: check" icon_color="#ef5808″]
Firmly integrated with Personal Financial Management (PFM) functionality.
User-friendly budgeting and spending tools for exploiting financial abilities.
The automatic budget relied on spending history.
Set a full plan for total spending in all accounts.
Automatically track the process of goals based on the account balance.
[/su_list]

7. Service Management
Provide new clients an easy registration process to form their client's experience from the beginning. Incorporate with Know-Your-Customer (KYC) services and Anti-Money-Laundering (AML) services to accelerate the process.
[su_list icon="icon: check" icon_color="#ef5808″]
Enable clients and staffs to shape products in an intuitive and convenient way.
Make use of mobile devices to scan and upload important documents apart from friction.
Link to KYC/AML services (credit verify, identity verify,…)
Channel switcher – protect the interaction context and client data across channels.
Gather, tackle digital and electronic signatures.
[/su_list]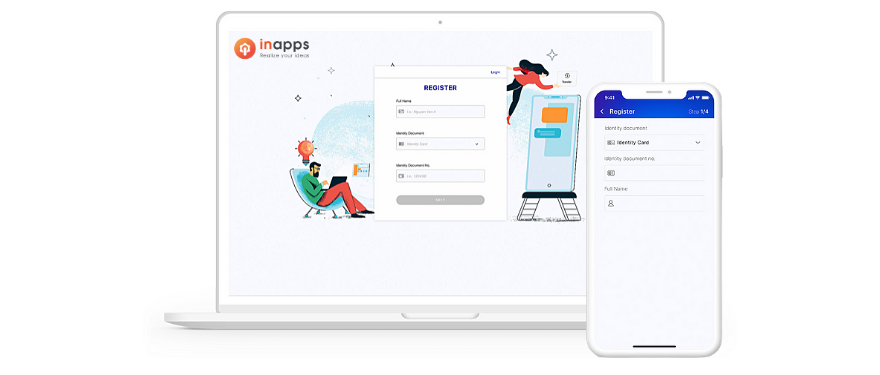 8. Centralized Information Management
Centrally manage alerts/notifications, allow customers to communicate safely and securely. Our solution protects sent and received messages using common security types for digital banking transactions.
[su_list icon="icon: check" icon_color="#ef5808″]
Easily connect to the existing customer contact center or front-office support platform.
Secured mail/message can be used for any type of query, including account and transaction queries, product information, or transaction error explanation.
Centralized information management will be integrated directly with Notifications and Smart actions, allows customers to receive notifications of successful/failed/scheduled transactions, account balance changes, or an increase in daily limits,…
[/su_list]
9. Adjustments & Notifications
Our solution provides notifications that can be customized personally. From that, banks can manage and create relevant notifications and suggestions at the most suitable time.
[su_list icon="icon: check" icon_color="#ef5808″]

Notifications in internal apps (Webs, Mobiles)
External notifications via SMS, Email,…
Notifications for unusual spending and balance alerts.
Shared personal financial or personal saving information.
Adjust notification-receiving channels for notifications and alerts.

[/su_list]
10. Smart Banking
Smart banking means using more and more smart approaches and smart personal financial management which allows customers to identify what are the smart actions helping them to automate manual tasks and providing smart context knowledge to improve their financial status.
[su_list icon="icon: check" icon_color="#ef5808″]

Provide a seamless overview of bank products and net value.
Allow customers to round up transactions and automatically contribute to their savings. Easily figure out by users.
Subscription overview – Provide detailed information of scheduled transactions (bills, subscriptions), by identifying spending patterns. Allow customers to make better decisions.

[/su_list]
11. Bill Payments
Bills are arranged together in one place. Customers can keep track and pay bills efficiently without any confusion. Our solution provides a bill reminder function that can remind users to pay a bill on time, refrain from late payment fees and penalties. Whenever due dates are coming, customers will be notified.
[su_list icon="icon: check" icon_color="#ef5808″]

Provide multiple bills payment for existed/saved payee.
Allow customers to manage payee (create, edit, delete).
Display upcoming bills.
Notifications for scheduled bills are offered in our solution.

[/su_list]
12. Term Deposits
Allow customers to easily set up and create their check deposits on smart-phone at any time and anywhere. Easily capture the transaction receipt to ensure success for first-time users, improve a higher usage and rating.
[su_list icon="icon: check" icon_color="#ef5808″]

Using a smartphone to scan the exact QR/NFC and transfer money.
Integrated on both Android and iOS.

[/su_list]
13. Card Management
Provide self-service products to help customers manage multiple cards (debit card and credit card). Integrate Middleware system in the back-end. Improve customer experience and minimize customer support queries.
[su_list icon="icon: check" icon_color="#ef5808″]

Allow customers to manage credit cards and debit cards.
Allow customers to request new cards, block or charge card limits.
Change address and contact details.
Report card lost or stolen.
Display the timeline, purchase history, and apply for cashback.

[/su_list]
14. Deposits & Loans
Display the overview of all deposits and loan accounts, simplify loan processing and approvals. Fully understand the entire picture of deposits and loan agreements.
[su_list icon="icon: check" icon_color="#ef5808″]

Capture the entire summary of deposits and loans on a single screen. View deposit and loan agreement details.
Check all savings, credit card limits, loans and/ or overdraft status, interest, priority payment via "Smart payment"
Get into details of all deposit account activities including interest, transfer within accounts, and withdrawal.
Display all the loan activities base on the bank's policies.

[/su_list]
15. Profile Details
[su_list icon="icon: check" icon_color="#ef5808″]

Allow customer to manage their own profile on any device and at any time.
Easily update contact details and contact preferences.
Clear overview of products, services, including transaction history, which customers have purchased.

[/su_list]
16. Seamless Security
Provide strong authentication at the transaction time, evaluate risky situations to enhance the security of data and transactions.
[su_list icon="icon: check" icon_color="#ef5808″]
Centrally manage identity to provide, update and take back granted access permission.
Quickly adapt to security and authentication policies based on user context and devices. Increase ability to acquire multiple authentications in case of risky situations.
Single login easily accesses many functions with only one identity.
Easily integrate with other identity management and authentication systems.
[/su_list]
17. Address Book
[su_list icon="icon: check" icon_color="#ef5808″]
Integrated with the address book for easy payments.
Seamless connection to mobile devices and social networks.
Offer P2P payments through Email, phone number, or social profile details.
[/su_list]
18. Atm/Branch Locator
[su_list icon="icon: check" icon_color="#ef5808″]
Full view of nearest ATMs/Branches.
Integrated with Google Map that allows easy navigation.
Advanced search and filter options, based on opening hours and services.
[/su_list]
View more: Case Studies
Ready to get started with your digital banking strategy?
Banking App Development Experts
We've already had +10 years of experience in designed, managed software, solved problems for many kinds of mobile app/web, specially developed Digital Banking Applications for international startups, SMEs & enterprises.
Why you would love to work with InApps:
– Our innovative team offers the best solutions based on the insights of your business model. 
– Our talented developers are conscientious with high troubleshooting. 
– We are ready to support and communicate with you 24/7 to understand the business goals, the status of products, and the priority which you expect to solve.
– We are a trusted partner for a long-term companion with a guarantee policy: Most of our ongoing projects have phase 2, phase 3, and more. 
– Always commit to the deadline and regularly update the development status.
>> Read more: Our Clients' review on Clutch
Reduce your cost up to 70% – Guarantee the same or higher quality

Available 24/7 – Solving-problem & supporting your end-users anytime, anywhere

80% of developers are good at English communication – No more language barrier!

90% of software developers have +5 years of experience

High-level of Tech skills — Talented workforce from US, Australia, Northern Europe, or Japan

Transparency and Predictability for long-term cooperation

Latest Development Methodologies & Diverse Industry Experiences
Let's create the next big thing together!
Coming together is a beginning. Keeping together is progress. Working together is success.