According to the forecast from Internet Retailer, consumers worldwide spent online $2.93 trillion in 2018. As we can guess, eCommerce is growing faster and faster.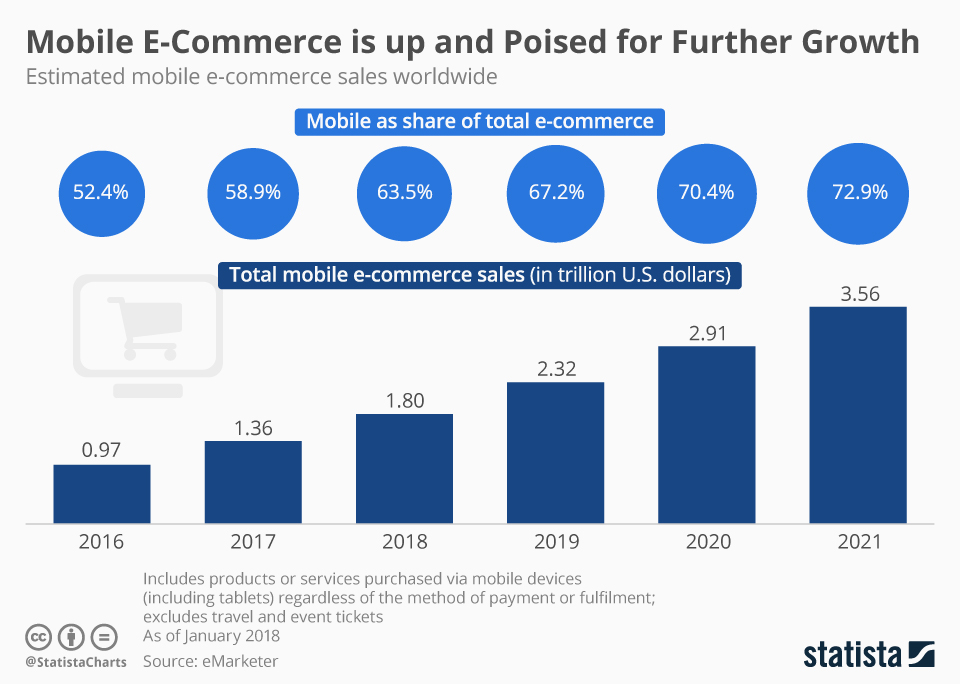 Source: Mobile e-commerce is up and poised for further growth, by Dyfed Loesche, March 6, 2018.
According to eMarketer estimates, retail e-commerce sales reached $2.3 trillion in 2017, a 23.2 percent increase over the previous year. The mobile share of this stood at 58.9 percent, or $1.4 trillion. In 2021, mobile e-commerce could rake in some $3.5 trillion and then makeup almost three quarters (72.9 percent) of e-commerce sales. 
From now, we can see eCommerce is indispensable to life. Why? In fact,  people really love to shop. Additionally, online shop is started easily and low operational cost with e-commerce platform.
About consumers, they can easily select products from different provider without moving. Did you download these apps, such as Shopify, Lazada,…Yes, they are growing a successful business! A mobile app for eCommerce has some benefits. It is faster and easy to use. An application can load the content faster and drive higher user engagement. Besides, pushing notifications in an app is cheaper promotion channel than SMS marketing. 
Amazon is an example…
According to Statista, from 2004, Amazon have 6.92 billion US dollars, until 2019, it is 280.52 billion US dollars.
Amazon.com, an American e-commerce company originally founded in 1994, is the world's largest online retailer. In 1995, the first item ever was ordered online on Amazon is a book. And now, everything we can find on Amazon. Ecommerce has revolutionized retail. It has developed to adapt the changing demands of people, and to make online shopping easier for the modern days.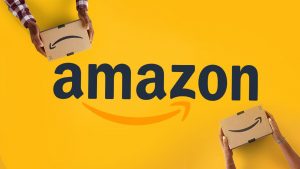 How can InApps support your ideas about e-commerce applications?  
We are InApps Technology Company and we have continually evolved over the past years to reach to the forefront of being the best software outsourcing company in Vietnam.
We work across the entire life-cycle of taking an idea to market with ideation, validation, product strategy, engineering, ongoing maintenance, and growth.
With skillful eCommerce Software Developers, we partner with Start-ups and SMEs as well as enterprises globally to help them solve their toughest challenges, mitigate the risks and bring their great ideas to life. We have experience in making applications such as learning app, e-commerce app, dating app,…
Furthermore, we also provide Offshore Developing Center (ODC), which can help company have a good developers team, then work for their projects. With e-commerce app development, we can not only help build your team, but also help you develop your products. 
Conclusion
The rapid expansion of E-commerce and its integration with mobile software development have made it possible for almost big retail companies to set up their own online stores with regularly updated content. Therefore, it is now easier than ever to obtain an item from the latest collection of your favourite clothes brand, or be among the first to take advantage of a clearance campaign. Moreover, E-commerce is also a good chance to expand their reach to potential customers and increase the selling volumes
Setting up a brand new E-commerce store can be quite hard and at the same time, quite easy. Hence, if you have experience in creating websites involving PHP and MySQL programming, you will not have a problem to create the store from Scratch. When you want to improve your Woo commerce site, outsourcing an offshore team will help you save cost and acquire the project quality.
If you are interested in E-commerce mobile software development service, please contact us for free consultation.
We are confident to help your business because:
InApps Technology is ranking 3rd for Top E-Commerce App Developers on Clutch by getting great ratings and reviews from our clients.
Our team has good English communication— 80% can read and understand spoken English.
Cost-efficiency — You can find excellent developers for reasonable rates per hour.
Good Communication Skills — They are good communicators and not afraid to speak up or challenge you. They want to do a good job and succeed.
Talented workforce — Young developers who studied and worked abroad in the US, Australia, Northern Europe or Japan.
High-level of Tech skills — Excellent at analysis, troubleshooting and tech solution brainstorming. They are passionate developers who love what they do and desire for self-development.
Let's create the next big thing together!
Coming together is a beginning. Keeping together is progress. Working together is success.