>
>
[GUIDELINE] HIRING INTERNATIONAL TECH TALENTS: WHY, WHERE, AND HOW?
The market for tech talents is continuously heating up. Hiring tech teams from overseas countries which are safe and have a much lower cost seemed like a temporary solution due to the global impact of COVID-19. Now it's a permanent fixture of businesses around the world adapting to a new digital workplace.
TOP 5 in-demand roles of Tech Talents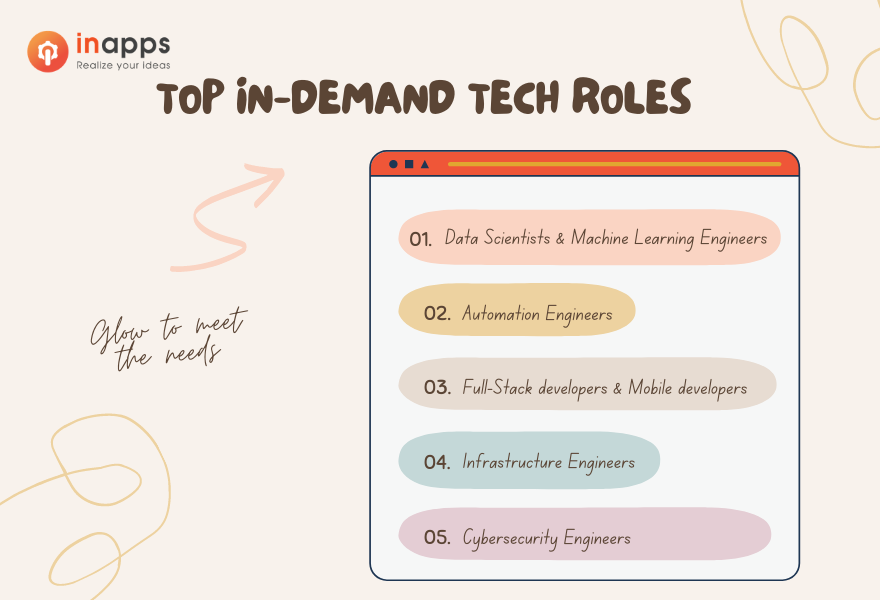 Data Scientists & Machine Learning Engineers
The pandemic has accelerated the demand for data scientists by 50% for the year. 55% of all the data scientists on LinkedIn are located in the United States. Still, there are other hotbeds of data scientists in countries like India, the Netherlands, and Israel (The State of Data Science).
Automation Engineers
It is predicted that more than 3 million automation jobs will emerge in the next decade. The pandemic has accelerated the demand with increased reliance on logistics companies, retail, e-commerce, manufacturing, and healthcare
Full-Stack developers & Mobile developers
The annual increase in demand for Full Stack Engineers over the past four years is 35% (LinkedIn's 2020 Emerging Jobs Report). Increased demand in ed-tech, health tech, e-commerce, and gaming has accelerated that demand.
View more: Can hire a full-stack developer to be cost-effective and high-quality?
Infrastructure Engineers
Infrastructure Engineers include test, design, build, and maintain a company's infrastructure, such as a search engine, database, or other platforms. The demand for infrastructure engineers has been exponentially increasing, especially within the telecom industry. Increased online traffic, e-commerce, and cloud migration have accelerated demand.
Cybersecurity Engineers
Since moving to remote work last year, Cybersecurity attacks have increased 150%. It is expected that in 2021, there will be 3.5 million unfilled cybersecurity roles globally, and the yearly cost of cybercrime will reach $6 trillion (Cybersecurity Ventures).
>> View more: Network Security and Privacy Issues for IoT
Why hiring international tech talents?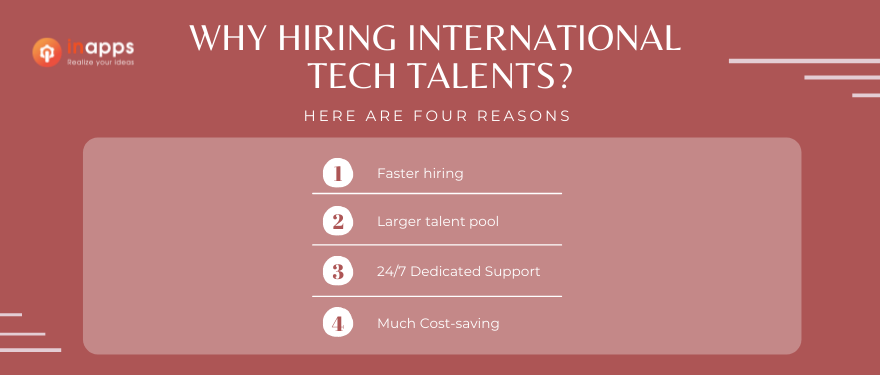 Faster hiring
Hiring international tech talents can significantly reduce your time to hire. By choosing to hire a worker overseas, you can dramatically reduce the lead time to fill the role. You can go with a trusted ODC (Offshore Development Center), which has available resources. You don't need to find candidates; go through the CVs and interviews.
>> View more: Checklist to hire an Offshore Development Center
Larger talent pool
Companies such as Microsoft, Amazon, Facebook, and Apple know that hiring tech talent is competitive, so they recruit globally for top talent. Choosing to hire offshore developers allows you access to a wide variety of talents worldwide with the latest technology so that the quality of the projects still balances international standards.
If you adopt the most effective ways of how to manage remote teams efficiently, you can increase the productivity of your offshore tech talents team significantly.
24/7 Dedicated Support
If you only have a local team, the midnight execution would require your team to work additional hours. But with an offshore team that has a decent time gap (i.e., 4-6 hours) that enables for some overlap but also has some working hours outside of your local time, you can address problems that arose at the end of your business day and work on them outside your business hours.
Having your own IT department, working with international tech talents in a separate time zone facilitates the execution of a 24-hour development cycle that enables you to catch up more rapidly with the demands and modifications that are significantly impacted by real-time behavior (typical for internet solutions that are used globally).
>> Find out How can an offshore team achieve maximum productivity?
Much Cost savings
Nowadays, hiring resources in countries with lower living costs in comparison to where the headquarters are located can help reduce costs up to 70%. This is how businesses can dissimilarly utilize the cost in recruitment, maintenance, infrastructure and other benefits for full-time local employees.
For example, the remote programmer salary in many countries in Asia and Eastern Europe is much lower than the same in North American and Western European countries. With the same number of skilled professionals in the team, the costs incurred are much less. When you can build software for less, you sell it for less and it gives you a costing edge!
>> View more: Saving 70% Of IT Cost & Be Ahead Of Competitor With An Offshore Development Team
Which country is the best place to hire Tech Talents?
In recent years, Vietnam has been the destination for IT outsourcing thanks to the competitive labor costs compared to other countries, a large pool of IT talents with foreign language proficiency and open policies regarding foreign companies of the government. During COVID-19, Vietnam is also one of the Safest Countries.
Ho Chi Minh City in Top Outsourcing Cities in 8 consecutive years (Tholons, 2009-2016)
Vietnam is ranked 1 in pioneering location and cost environment (Cushman & Wakefield business process outsourcing and shaped service location index, 2016-2017)
Top 10 countries with the most engineering graduates (Forbes, 2015)
View more: How do I set up an offshore development center in Vietnam?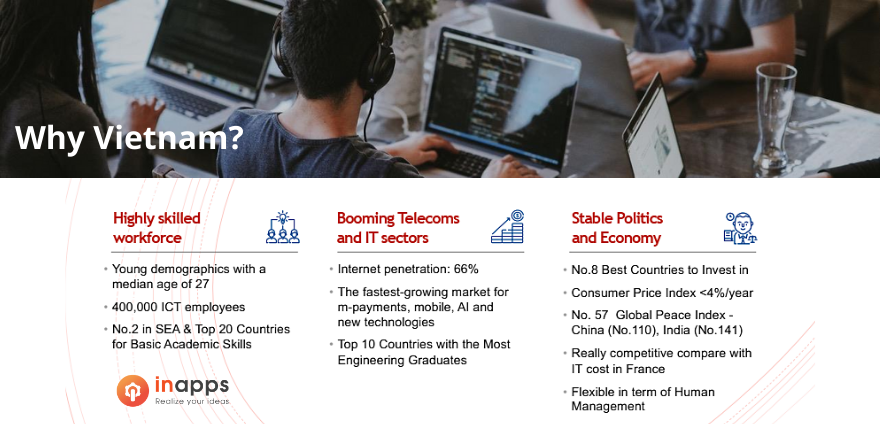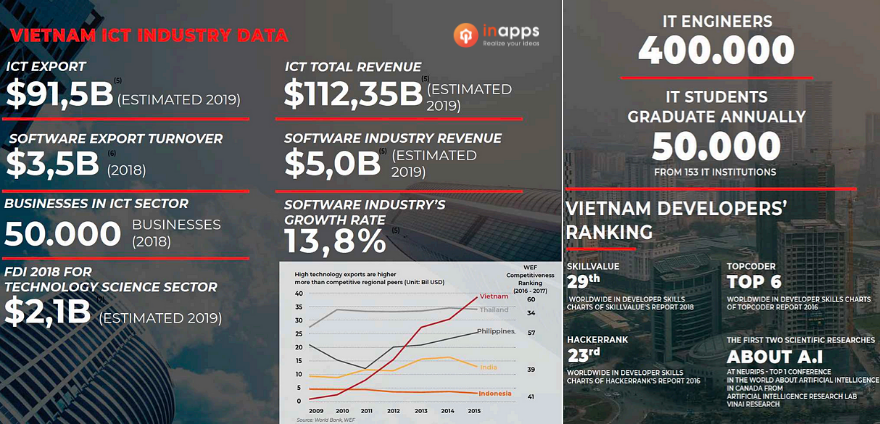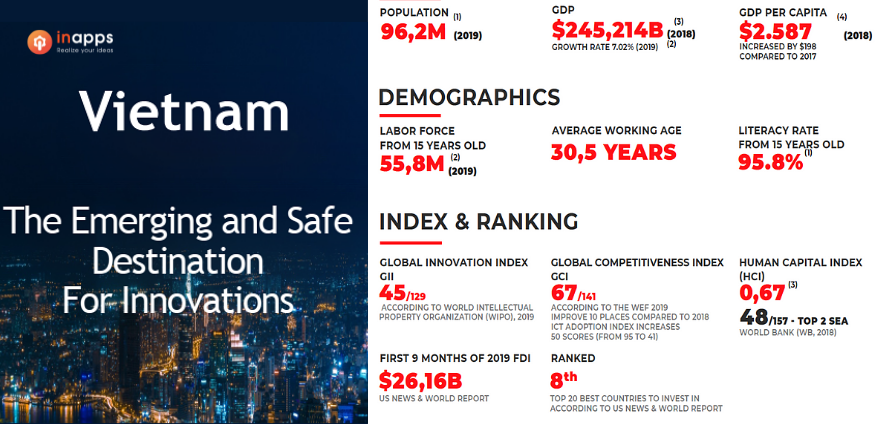 There are many software development companies in Vietnam offering offshore development center services to provide international tech talents and InApps Technology is proud to rank:
Need a trusted partner to provide the best-talented developers?
How to hire the best Tech Talents?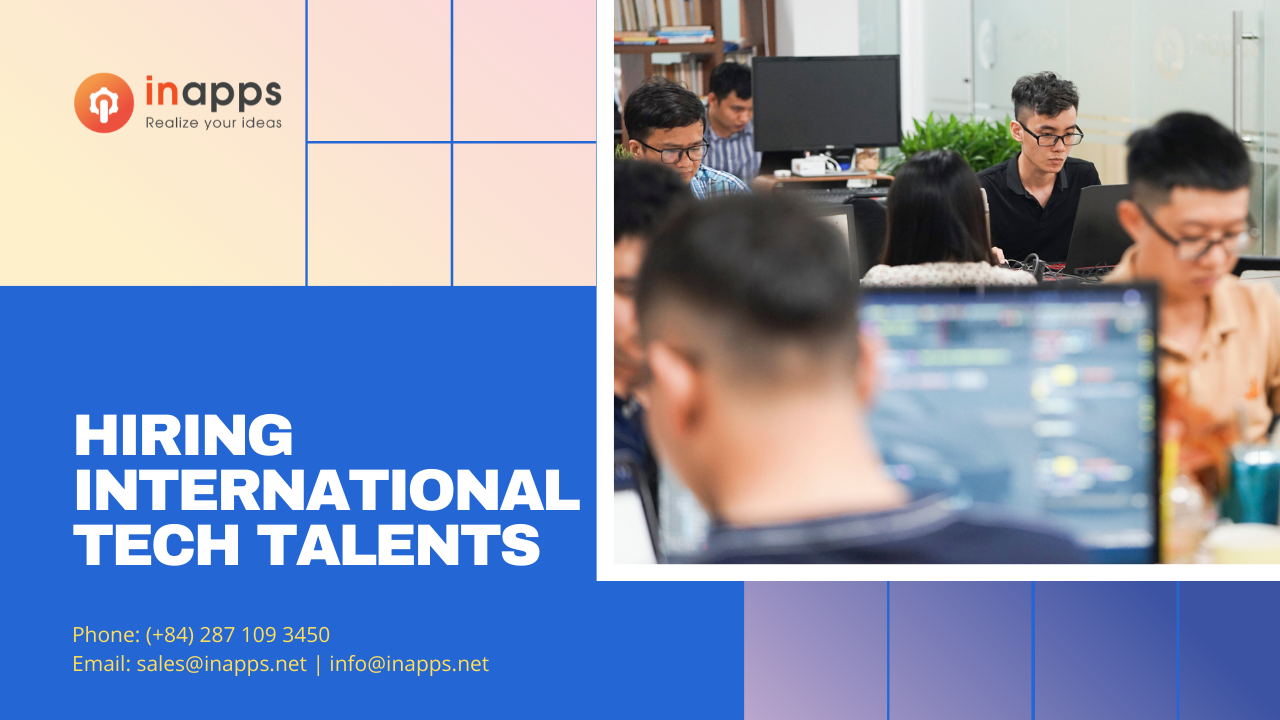 First, you should choose the right location with large IT talent pools, convenient transportation, and full available resources and infrastructure, such as Vietnam.
Secondly, make sure that you partner with a trusted and quality IT outsourcing company as it will provide you full assistance from recruiting top talents, setting up the office to managing the team and security risks, do all the legwork and legal paperwork, etc…You can also make a search for Clutch's or Goodfirms' Leader for more information and trusted feedback.
Besides, ensure that the team understands your project and has all essential technical skills during and after the project with full responsibility.
Owning a Tech Talent Hub with 5–10 year-experienced developers and engineers, InApps Technology is proud to give 100% satisfaction and trust to clients on their projects. Feel free to email us via sales@new.inapps.net or contact us for more information.
Here are some reasons why clients choose InApps Technology as their offshore software development company in Vietnam:
Competitive Hourly Cost
Clear delivery management and visibility to service metrics
Transparency and Predictability. 
Close Collaboration. 
Flexible Team Structure.
Latest Development Methodologies: Agile, Scrum, Extreme Programming (XP) and Test-Driven Development (TDD)
Reliability is one of the elements to make the best decision! Hence, we shall show you our reputation via our PORTFOLIO.
Let's create the next big thing together!
Coming together is a beginning. Keeping together is progress. Working together is success.