Until now, web developers used to build applications on the basis of research and surveys. But this method became outdated ever since businesses started generating a large amount of data.
Big Data has become a popular topic of discussion in recent years, supporting businesses and IT specialists in a variety of processes.
For example, it is now impossible to browse through millions of Google search results to find the best deal for hotel booking. This is where Big Data steps in…
What is Big Data?
In simple words, Big Data refers to the immense volume of data, both structured and unstructured, which can't be processed with existing traditional applications. Big Data processing starts with data that isn't aggregated, and can't be stored in a single computer's memory.
Today, more and more businesses are using big data in different ways to gain quality insights in order to serve their customers better, reduce costs, and so on.
The Convergence of Big Data and Web Development
The majority of startups, as well as enterprises, are still not comfortable in using big data for their web app design and development.
But today, web development is no longer just about writing code based on surveys and predictions. It is more about curating insights through big data analysis to build dynamic, data-driven applications that never fail in engaging users.
Simply put, Big Data can help companies make strategic adjustments according to customers' demand, which can maximize profits and minimize expenses.
When looking into the subject more in-depth, you will discover numerous interesting aspects revolving around Big Data, but one of the most important impacts worth mentioning here is the support offered to web development.
5 major ways in which Big Data is transforming Web Development
How exactly has Big Data impacted this area? What can switching to a data-driven website can do for you? Here are the main factors that highlight the pros of relying on Big Data for web development:
1. Faster development process
The demands of users are usually ever-changing, and big data will allow you to stay on top of those demands in a timely manner. With accurate information at your disposal, web development becomes easier and naturally faster.
In the old days, web developers used to design a webpage layout using their own creativity or guessing what the users would prefer. Today, that is not the case.
Web developers, nowadays, use advanced analytical tools to analyze large volumes of data that provide precise recommendations about specific functions or features that are popular among users.
2. Update Automation
The big data analytics tools and machine learning make it possible to eliminate the manual administration of updates.
The updates that needed to be done manually in the past, can be handled automatically by compile data and make version up-gradation when users demand.
As a result, web developers will no longer have to guess what would users like the most or what improvements they want to see next. Instead, Big Data will bring all these insights using data science and machine learning so that they can make their web app self-learning.
Simply put, through big data analysis, it will be possible to make web apps enhance themselves at regular intervals to meet the ever-changing demands of next-gen customers.
3. Cost reduction
Web development and web design usually come with certain financial requirements. The reduction in costs has been made possible thanks to Big Data processes.
Big Data can provide insights into the purchase history and future trends. It helps make accurate predictions as to how much amount of stock will be needed to fulfill the customers' demand without wasting stock.
For instance, a product manufacturing or retail business can prevent waste and save money by knowing which distributers need which products, the volume of their requirements, the time of regular delivery, and more. It allows fulfilling customers' demands while minimizing material waste and maximizing ROI.
Pepsico does the exact same thing. Mike Riegling, the Customer Supply Chain Analyst at Pepsico, shared that through big data strategy, the company was able to predict which retailers need which products, the volume they needed, and the time they needed, saving Pepsico lots of money and wastage.
4. Personalize User Experience
Big Data will help web developers to identify UX shortcomings and provide valuable insights for creating more interactive designs. With the help of Artificial Intelligence (AI), developers can easily track users' behavior, their likes, dislikes, and make appropriate modifications to better engage those users.
For instance, while developing a music-streaming app, developers can include multi-language, genre, and other functions, which allow users to select their preferred music. Analyzing user preferences with Big Data analysis helps provide more personalized suggestions based on their streaming history. Thus, with improved user interaction and engagement, businesses can gain high brand loyalty.
5. Virtual Assistance and Efficient Testing
Sites and web apps created using Big Data technologies have the capacity to remember the preferences of users. When a visitor reenters your site, if you've made use of these technologies, they can start where they left off during their last site visit. This can work as a virtual assistance approach, improving the general experience your web users have with your site.
Rather than relying on customers' feedback to make site changes, businesses can leverage the in-built testing tools with Big Data to deploy better products at the first go. For instance, performing A/B testing on the site appearance and marketing campaign can make a huge difference.
Developers and businesses can perform A/B testing on everything, including search ads, web layouts, color & placing of buttons/menus, sales emails, and more. The quantifiable, data-driven evidence help to deliver faster product delivery and updates to gain an edge over the competition.
> Read more: THE 5 BIGGEST TECHNOLOGY TRENDS IN 2021
CONCLUSION
Big Data is driving web development trends and changing the future of web technology significantly. It is, along with tech advancements that have been increasing over the years, helping businesses to create a robust online presence and get optimal results.
However, the right understanding of using Big Data processes and concepts is crucial to stay ahead of the curve.
Toward this, an experienced website application development company can build innovative web applications, which can help you leverage the power of Big Data. As a result, you can implement optimal modification according to market needs and offer compelling, engaging user experience.
InApps is a Web Development Expert
1. Offshore Web Frontend Development
With a team having many years of experience in web design and development aiming at the user experience and following the modern trend, we offer the offshore web frontend development team to turn paper ideas into reality.
Sketch, Zeplin

Web Responsive, HTML/CSS/JS

ReactJS

VueJS

Angular
2. Offshore Web Backend Development
With experienced Backend development engineers, we provide a dedicated team of experts in the development of Admin Portal, Web service APIs, CRM, CMS, Admin Portal, Cloud service to help your business. Customers operate most effectively.
Google Cloud Platform, Amazon Web Service

Apache, Nginx

Laravel, Codeigniter, Express.JS, Socket.IO, Magento, .Net Core, Django

PHP, NodeJS, .Net, Python, Ruby

MySQL, PostgreSQL, MongoDB
Take a look at the Webs developed by InApps
Why InApps
Owning a Tech Talent Hub with 5–10 year-experienced developers and engineers, InApps Technology is proud to give 100% satisfaction and trust to clients on their projects.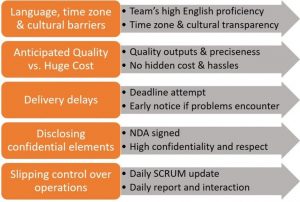 In recent years, Vietnam has been the destination for IT outsourcing thanks to the competitive labor costs compared to other countries, a large pool of IT talents with foreign language proficiency and open policies regarding foreign companies of the government.
Ho Chi Minh City in Top Outsourcing Cities in 8 consecutive years (Tholons, 2009-2016)

Vietnam is ranked 1 in pioneering location and cost environment (Cushman & Wakefield business process outsourcing and shaped service location index, 2016-2017)

Top 10 countries with the most engineering graduates (Forbes, 2015)
Let's create the next big thing together!
Coming together is a beginning. Keeping together is progress. Working together is success.