Continuing our previous article, we hope you got a picture of the benefits when you choose outsourcing web development services when compared with hiring a freelancer or a local team. In this second part, we will point out how to arrange the web development outsourcing process correctly and effectively through three simple steps.
If you haven't read Part 1 yet, check out now: Web Development Outsourcing: A useful guide (Part 1)
1. Wrap Up

Your

Business Goals Before Outsourcing Web Development
Prior to choosing a web outsourcing team, it is advisable you have a finalized concept and understanding of your goals, what you want to achieve, what are your challenges and barriers, etc. After that, you are safe to move to the next steps.
In general, web projects can be carried out in many different ways and apply different methodologies as well as technological stacks. For that reason, the first initial step in web outsourcing is to do your own homework, particularly:
Make a general description of your web project

Come up with a list of objectives related to your web project (for example business goals, tech requirements, what tech stack you want to apply, and so on)

Create a questionnaire for the pre-screening process for website outsourcing teams

Understand the budget you are willing to allocate for your web project
2. Select the Suitable Web Development Outsourcing Partner
After conducting a somewhat detailed analysis and clearly defined your needs and requirements. They should be both in a business and a technical aspect. You can move on to the next step is to find your outsourcing partner.
It is recommended you check out B2B review platforms like Clutch, GoodFirms, Softwareworld and Themanifest, etc. These are accredited B2B directories that list top offshore development vendors. 
Your checklist
Your checklist to evaluate an appropriate vendor to outsource web development should at least have the following points:
Vendor's portfolio and level of experience

Tech capabilities, competencies, and specialization

Reviews from the previous clients

The company presence on platforms like GitHub for web development; or Behance and Dribble when outsourcing web design
Vendors Criteria
Then, you should come up with a list of potential vendors you are most interested in and most suitable for your needs and budget. After that, start reaching out to them. After you have left your info in their mailbox, here are some criteria you should check during video meetings:
Information on software development processes (like the methodologies they used, quality assurance and quality control procedures, ongoing support process, and so on)

Communication aspect (for instance level of professionalism, formality, how information is presented, level of English, are they willing to go beyond for their clients, etc.)

Enquire deliverables like code samples, CVs, or design samples, etc.

Ask for recommendations and references from previous clients
Notes Taking
To help with notes taking during calls, you can:
Write your questions or information in a list for better visual

Make use of digital workplace apps like Google docs or sheets, Microsoft docs, Beenote, etc.

Ask beforehand if you can record your meeting session and gain mutual approval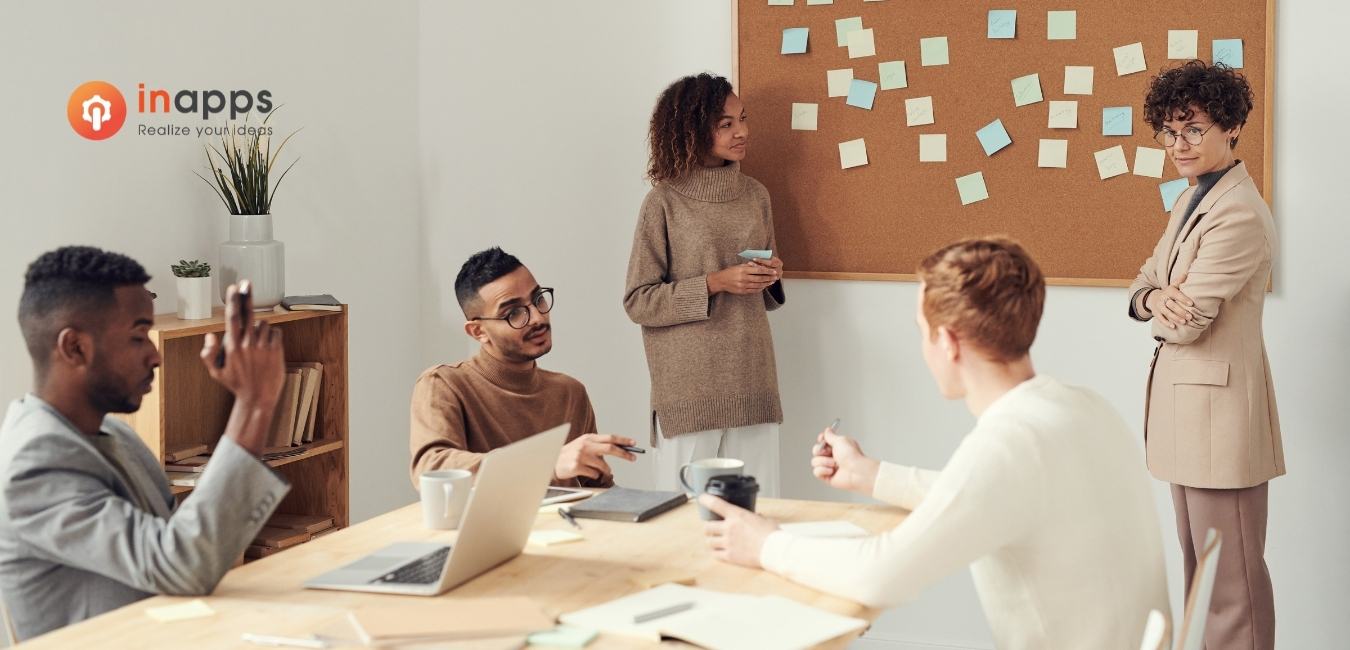 Basically, before hiring a web development outsourcing vendor, you should get as much information as possible. This is where you can ask all the questions you have come up with beforehand. If companies can answer your needs carefully and transparently, it is one of the very good signs. 
Additionally, try your best not to schedule your calls rapidly or all at once. This is because you may take some time to process and avoid being overwhelmed with information.
It is not advisable to choose the first company you like solely because you like to hear what they are telling you. A well-thought software outsourcing company will tend to ask plenty of questions relating to the project. Then, provide their technical solutions that fit best to your needs and budget. 
During these stages, you should apply critical thinking, be open to new suggestions and recommendations, carefully listen, make detailed notes, and check the information carefully.
Last but not least in your journey is signing the contract, agreeing on the terms of payment, and clearing all organization-related questions. You should have all the important points clarified, like web project deliverables, hourly rates, etc.
3. Apply Efficient Communication During Web Development Outsourcing Process
When working with offshore vendors, the most important aspect is communication. It is recommended that you consider differences in time zone, work schedules, and national holidays to best suit both parties working environments.
Digital Collaboration Means
The 2020s era welcomes the expansion of digital collaboration efficiency enhancement applications like Microsoft Teams, Slack, Telegram, Skype, Whatsapps, etc. It is easy to align your communication process in the best possible. Furthermore, you can control task progress via tools like: 
JIRA for project task management

GitHub and GitLab for source code management

InVision for web design checking

Harvest for time tracking and billing

Microsoft Teams for communication and task management

Dropbox

Trello
In good web development outsourcing vendors, the Project Manager (PM) is assigned to control and keep track of your project progress, and give you posted regularly. So, feel free to give comments and ask questions for clarity if you have any.
During developing web projects, customer feedback is very useful and valuable. If you like or dislike certain things, or would like to make adjustments, please speak your mind in a timely manner. So that both you and web developers do not waste any time in going back and forth fixing to your liking. 
Scrum framework
Initially, you should set up meetings daily to set the process on the right track.
According to the Scrum software development framework, at the very beginning of each development sprint, the developer team plans the scope of work (a planning meeting).
Next, the team meets up every day to synchronize progress across all areas (a daily meeting).
At the end of each sprint, the team updates the progress to the client or product owner and shows the result of the sprint (demo meeting).
After that, they will gather feedbacks, the sprint results are then discussed, and improvements to the process are made (retrospective meeting). Sprints will continue until the team delivers the final product for deployment or release. 
Next, after the working process has been agreed upon and implemented, all you need to do is keeping track and giving prompt feedback to the team's results. You should bear in mind that to have the desired results when web development outsourcing, you need to maintain proper communication.
To wrap things up, here is an infographic that visualizes a general picture of the whole process that will guide you to wisely outsource web development.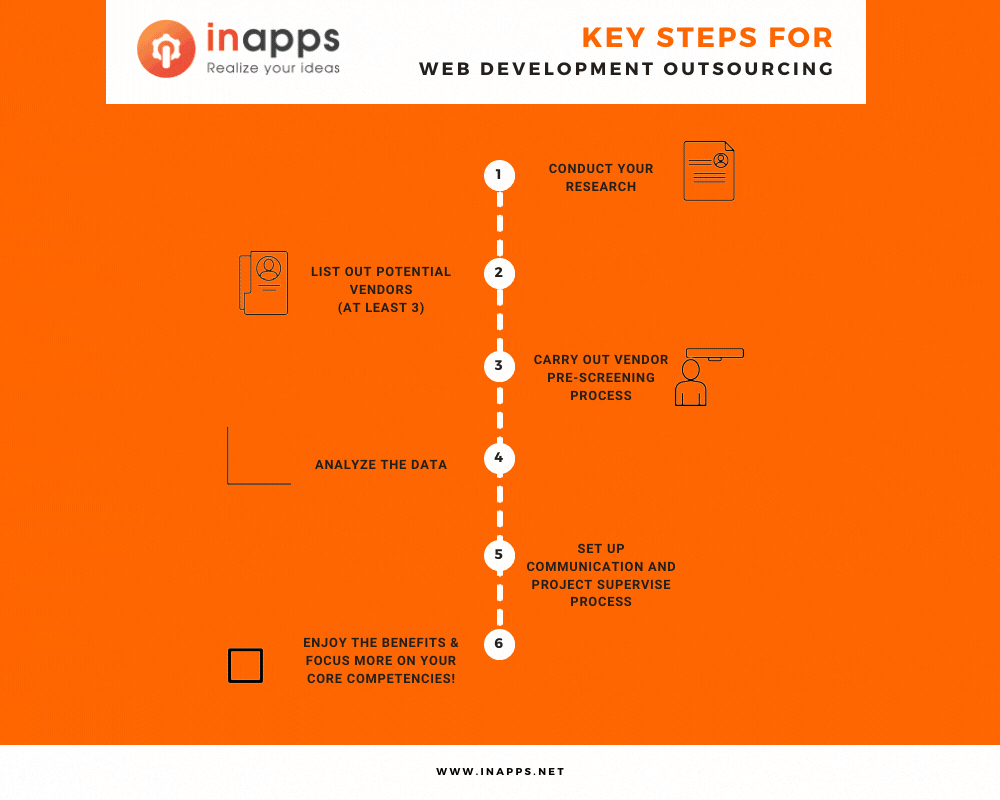 Last But Not Least
How can you decide whether or not to outsource web development projects if you have never tried them before?
This is a very good question. You can start by outsourcing a few smaller tasks or a web project of a smaller scope. Or you can opt for an MVP software development service. Generally speaking, these are appropriate approaches to outsource web development projects. By doing this, you can check the company's capabilities, level of expertise and try the web outsourcing process later on.
Want to learn more about MVP, read our Complete Guide to Benefit from MVP Development here!
Summary
Many reputable global companies like Microsoft, IBM, AT&T, Samsung, etc. have chosen outsourcing services. In modern days, it is irrational to look for a development team solely bases on your geographic location. The question is, what is stopping you? Contact us now to realize your idea!
Typically, there are various reasons for web development outsourcing, particularly for small-to-medium companies and startups. From cost reduction to receiving great domain knowledge to further accelerate your position. You should need to keep an open mind and careful when choosing a reliable outsourcing partner to help you achieve your goals while staying within your budget. In case you miss our previous post, read them here! 
To reduce the likelihood of a negative web development outsourcing experience, you may start with a simple or smaller web project. Or if you are currently working on an offshore project and want to check if is there any signs you have fallen into a bad team, and how to solve them, read our guide here!
To successfully outsource web development, here are 8 key takeaways:
Step 1: Do your own research
Create a project description

List your business goals

Specify technical requirements (the more detail the better!)

Estimate the project's budget

Note questions for the pre-screening process
Step 2: List out all the potential web development outsourcing vendors
Step 3: Carry out vendor screening process (either via e-mail, or Skype interviews, etc.)
Step 4: Analyze the collected data (for instance website, proposals, portfolios, clients testimonials, resumes, tech capabilities and skills, years on the market, number of projects, also B2B review platforms!)
Step 5: Choose a reliable web development outsourcing company
Sign the contract & a Non-Disclosure Agreement (NDA)

Negotiate your terms of payment
Step 6: Set up communication and project supervision process (take advantage of management tools such as JIRA, Google Docs, Microsoft Teams, Confluence, InvisionApp, etc.)
Step 7: Provide timely feedback, share your likes and dislikes with your teams because prompt feedback equals quick adjustments
Step 8: Sit back and enjoy the benefits of web development outsourcing, and focus more on your core competencies
Let's create the next big thing together!
Coming together is a beginning. Keeping together is progress. Working together is success.