>
>
Do you know the Salary & Benefits Of IT Industry in VIETNAM?
Salary and Benefits are always hot topics on information technology forums and programming forums. This can greatly affect the outsourcing rates as you decide to hire a development team. In this article, we will go deep in the Salary & Benefits Of IT Industry in V ietnam.
Do IT workers ask for a pay that exceeds their ability? Or in fact, there is no common salary range; compensation depends on the company's financial capacity.
Aiming to provide an objective point of view on this issue, we are thankful for the references from VietnamWorks and Forbes. Now we will let you these statistics in the second half of 2017.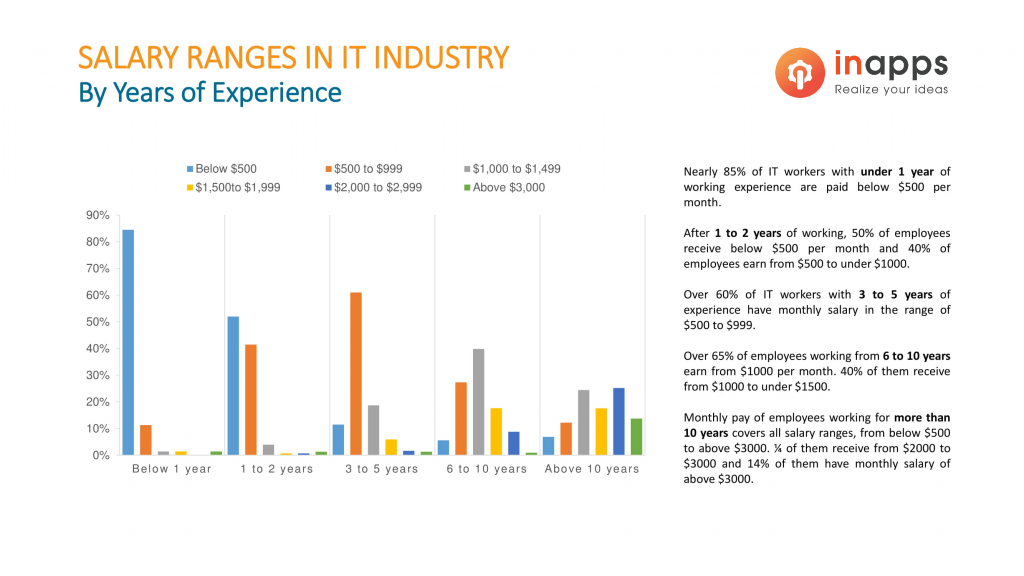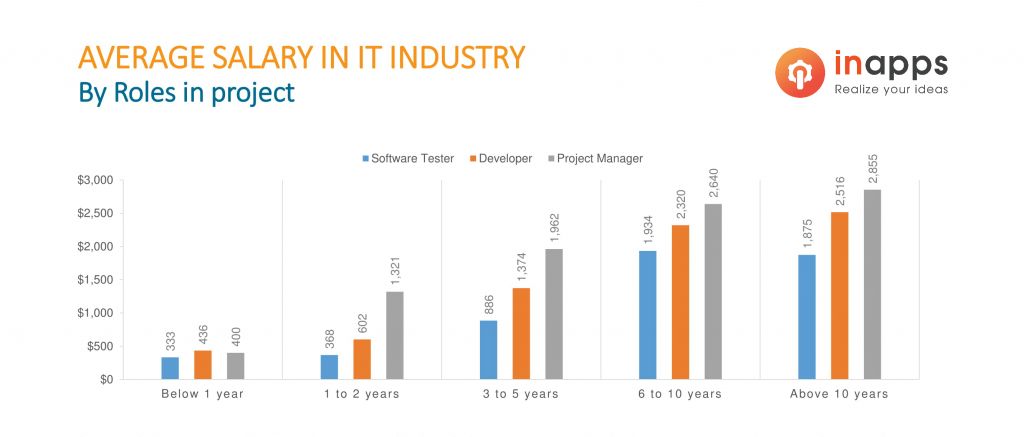 Generally, starting pay of Project Managers, Developers, and Software Testers has no crucial distinction. However, the gap in salary among these roles become clearer by years of working experience. Only after 1 to 2 years, Project Manager can earn more than $1300 per month, which is triply higher than the beginning salary. After 3 to 5 years, Developers are paid averagely $1400 per month whereas the average monthly salary of Software Testers is only approximately $900.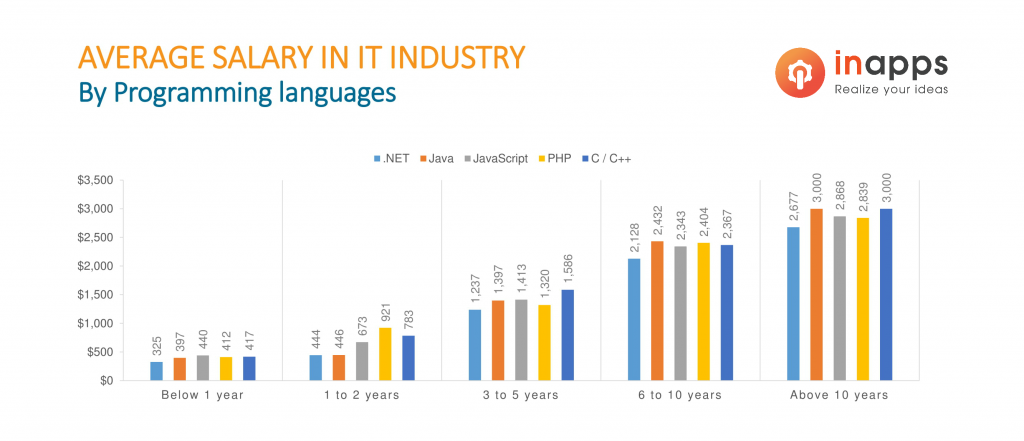 In the first 2 years, employees using PHP as the main programming language earn the fastest-growing salary, from over $400 to over $900, increasing as twice as the starting pay. After 6 years, employees working mainly with Java have the highest average salary, over $2400 for 6 to 10 years of experience and $3000 for over 10 years of experience. Despite that, there is no substantial difference in average monthly wage among popular programming languages in all levels of experience.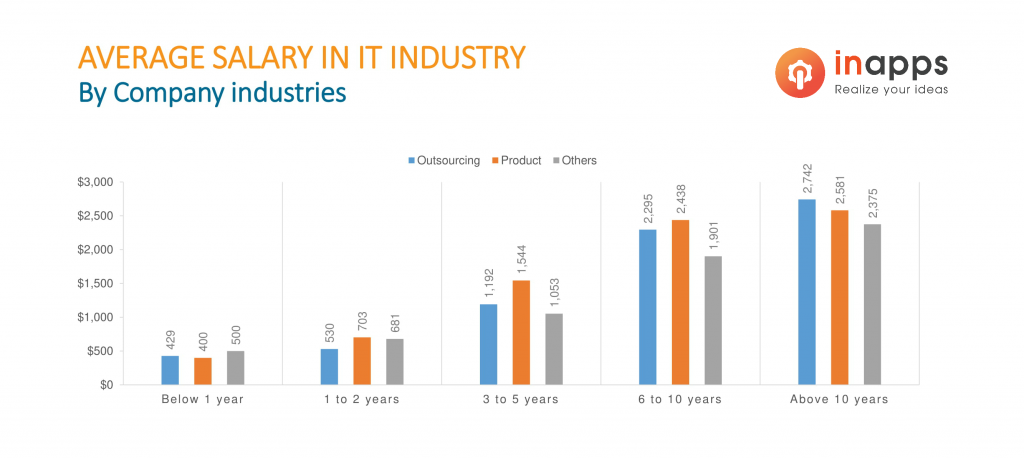 Product companies pay the most competitive salary for employees who have from 1 years to 10 years of working experience. Meanwhile, employees with above 10 years of experience earn better in Outsourcing companies. Other companies, on the other hand, are the ideal for Fresh graduates in terms of wage.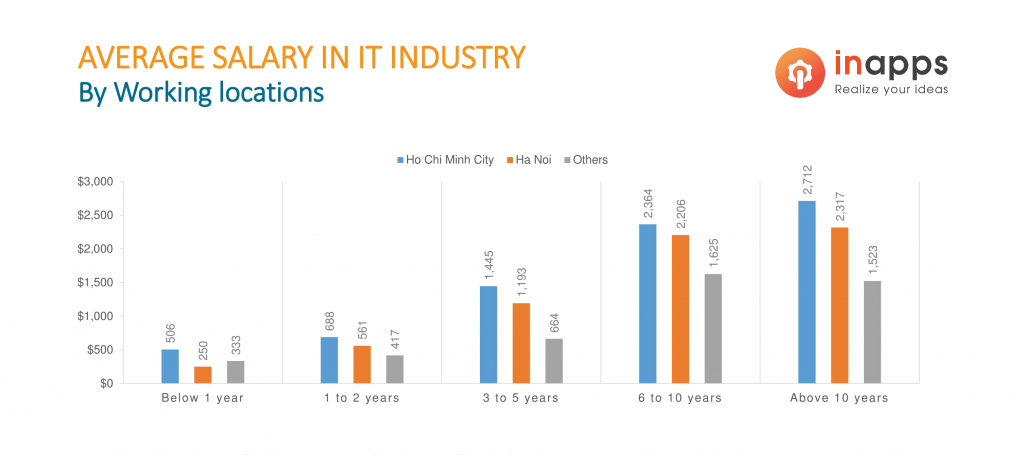 Generally, Ho Chi Minh City still leads in average pay of IT industry in all levels of working experience. Ha Noi is ranked number two in average salary, with no considerable difference from Ho Chi Minh City. Employees from 3 years of working experience in other areas earn significantly less than Ho Chi Minh City and Ha Noi. The biggest difference in the same experience level is about $1200 per month compared to Ho Chi Minh City and approximately $800 per month compared to Ha Noi.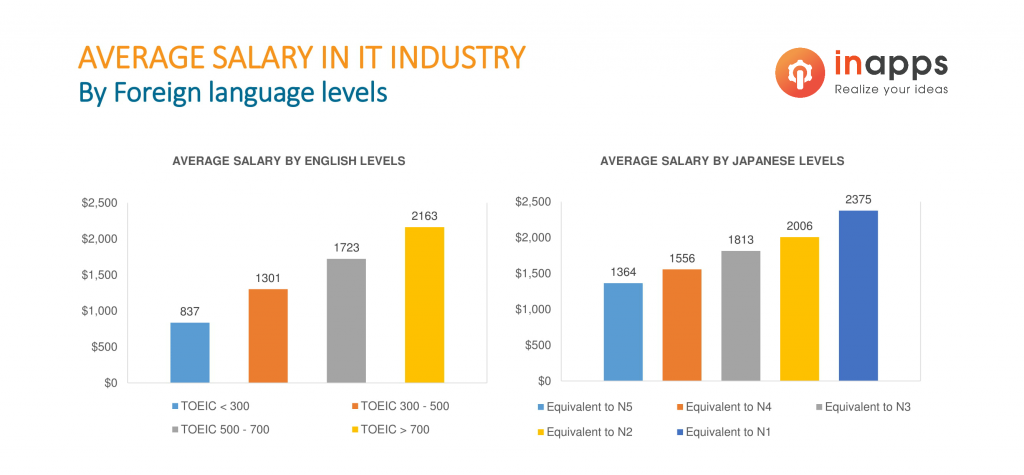 In general, employees with a higher level of foreign language earn the higher salary. There is a greater gap in average salary between two consecutive levels of English than between two consecutive levels of Japanese.
Let's create the next big thing together!
Coming together is a beginning. Keeping together is progress. Working together is success.