Are you planning to outsource your software development in Vietnam but not know the market leaders? Here is a list of the best software services companies in Vietnam based on GoodFirms' ratings and reviews. Let's find the right partner to create customized software solutions for your needs!
Software Services Companies –  Overview
Many tech start-ups have entered the software services market and have grown significantly. This has a two-sided effect: in addition to significantly increasing GDP for the country's economy, it has increased customer confusion when selecting a suitable partner for their software project.
Software services include software design, development, and maintenance. The major categories are application software, system infrastructure software, software-as-a-service (SaaS), operating systems, database, and analytics software. Simply put, it includes all the activities involved between the conception to the final manifestation of the software.
In 2020, the global software services market was estimated to be worth USD 389.86 billion. From 2021 to 2028, it is expected to grow at a compound annual growth rate (CAGR) of 11.3 percent.
Top 10 Software Product Development Companies in Vietnam
Now, let's take a look at some of the most prominent companies in the Vietnam software outsourcing industry. We decided to dig into the top 10 software services companies in Vietnam based on client ratings and reviews on GoodFirms.
KMS solutions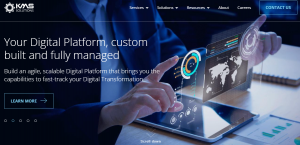 KMS Technology, founded in 2009, is a US-based engineering and services firm with development centers in Vietnam. International clients trust KMS Technology due to the high quality of its products and the expertise of its Vietnamese engineers.
The company regularly collaborates with universities in Vietnam, participates in IT training activities and specialized events, and sponsors scholarship programs.
SotaTek software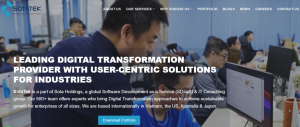 With Software Development & Blockchain Technology as its main expertise, the company provides an advanced web app, cloud-based solutions for various industries; blockchain apps, cryptocurrency exchange, smart contracts, IDO, allowing your enterprises to leverage the latest technology with ease, gaining competitive advantages and becoming the industry leader.
Power Gate software
Around 200 projects have been completed by PowerGate Software for clients worldwide. Their teams of hundreds of hand-selected in-house engineers are specifically chosen for their modern approach to producing your unique software solutions, led by seasoned technology executives. They've created, developed, delivered, and supported projects from start to finish, transforming them into worldwide recognized market-leading products.
Enlab software
Enlab is a Vietnam-based offshore software development company. ASP.NET, Python/Django, PHP, Laravel, StreamInsight, T-SQL Programming, SQL Server, MongoDB, DevExpress, Telerik, Kendo UI, Angular, VueJS, HTML5, CSS3, Xamarin, Flutter, Azure, AWS are among the company's technology stacks.
The company has worked in various industries and domains, including real estate, construction, education, data management, procurement, marketing, recruitment, and ERP.
Beetsoft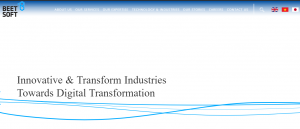 Beetsoft is a global outsourcing firm with over 400 developers worldwide. The company works on a wide range of projects, including mobile app development, web development, and even game development, utilizing technologies such as AngularJS, NodeJS, Java, and Swift. They have shifted their focus to the healthcare, finance, and manufacturing industries.
InApps Technology – B
est software development companies in Vietnam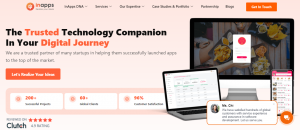 With a customer-centric approach, InApps has become a trusted technology partner for companies worldwide from the USA, UK, Europe to Australia and Singapore. The company helps startups and SMEs disruptively enhance their business growth with the latest technologies and innovations. Solutions. 
As a leader in the offshore software development field since 2016, the company is targeting the niche market of mobile solutions and high-performance development teams to expand a business model for its clients.
The company's technology stacks include Flutter, React Native, Swift, Android, NodeJS, PHP, .Net, Python, etc., in various industries such as eCommerce, SaaSPlatform, Marketplace, Blockchain, NFT, Artificial Intelligence, Data Analytics, EdTech, FinTech.
LinxHQ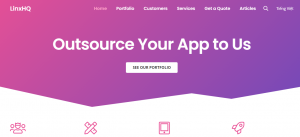 LinxHQ, founded in 2008 in Singapore and Vietnam, offers software outsourcing services to customers. Customers can get help with the design, development, deployment, and ongoing maintenance of their web-based and native mobile app products.
ICTS Custom software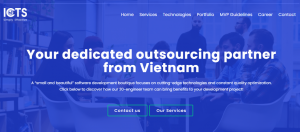 ICTS is a software development company based in Vietnam specializing in cutting-edge technologies. Its 30-person engineering team specializes in custom CRM/ERP software for businesses looking to increase productivity or expand their e-commerce division.
The company also develops applications for SMEs (small and medium-sized enterprises) and startups, assisting them in increasing revenues or visualizing their ideas into minimum viable products.
Saigon Technology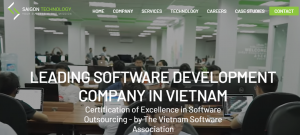 Saigon Technology Solutions is a Vietnam software development outsourcing company that focuses on providing clients with cost-effective solutions. Customers are located in the United States, the United Kingdom, Australia, Germany, and the Netherlands.
Custom software development, web application development, and mobile application development are among their offerings. .NET Core, Java, PHP, ReactJS, Angular, Azure, AWS, microservices, and machine learning are also available from Saigon Technology Team.
Adamo software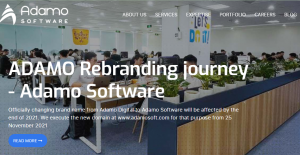 Adamo is a Hanoi-based software outsourcing firm. The company specializes in web development, mobile app development, UI/UX design, DevOps, and Big Data projects. Their ever-expanding team now numbers close to 250 people. They have experience in the travel and hospitality, food and beverage, health care, and social networking industries.
View more: Hire a dedicated development team in Vietnam
Why Choose Vietnam?
Why should you hire software services companies in this competitive market? The benefit of outsourcing in Vietnam is a long list, but there are a few key reasons as below:
Talented Developers
Vietnam has seen an increase in talented developers entering the labor force. It has prioritized training its workforce for the tech sector, so it has been actively opening engineering schools. Vietnam developers are expected to continue to improve their IT skills in the coming years, thanks to government investment and a concerted effort to grow the country's tech sector.
Excellent English Skills
Developers from Vietnam have extensive knowledge of the English language. Because most of the software engineers you would hire are college graduates, they will have taken English classes over the years and will most likely be proficient in English.
It is much easier to outsource to other countries when you have good communication skills in English. If you want to work in software engineering or business process outsourcing, you should have excellent communication skills.
Good Hourly Rates
Vietnam software outsourcing market is one of the most cost-effective options available. The cost of developing in Vietnam is very appealing and reasonable when you consider the talent that you will receive in return. You will receive high-quality talent at a reasonable price, whether you are looking for software development or business process outsourcing.
Modern Business Hubs
If you decide to outsource your software project to Vietnam, you may want to visit the developer's office to check on the project's progress and meet your team. Vietnam is a simple country to visit with direct flights from the United States to Ho Chi Minh City.
The country's software development centers are primarily located in Ho Chi Minh City and Hanoi, the country's capital. The talent search becomes more focused because the brightest of Vietnam's workers are concentrated in these few cities.
Wrapping Up
Vietnam is an excellent location for your company or project to seek software development companies. This list helps you in your search for software services companies. Finding developers capable of developing using your technology stack or project requirements is not a problem at all, with various agencies offering everything you could require.
Every name listed above still has pros and cons in service and workflow. So, choosing the best depends on your specific needs and requirements.
Need to find a Reliable Tech Partner?
InApps developers are at the epicenter of the IT industry in Vietnam. Our skilled and experienced teams can work on any software development project that you might need, as proven by their high customer retention rate. Feel free to explore the website to learn more about our offerings and technology solutions.
We'll advise you on the best approaches to the development process as well as roughly estimate your software project concept cost.
List of Keywords businesses find our service on Google:
Let's create the next big thing together!
Coming together is a beginning. Keeping together is progress. Working together is success.