>
>
How to Learn Android Programming – Step By Step in 2022
In this guide, you will not just learn Android programming step by step but will also be able to develop your Android application by the end of the article. This guide has been equipped for beginners to make them learn basic Android programming. After finishing this guide, you'll find yourself at a moderate level of Android programming expertise from where you can move to the next level. So, let's get started, shall we?
What is Android?
Android is an open-source and Linux-based OS for mobile devices such as smartphones and tablets. Android is a community of developers known as the Open Handset Alliance and commercially backed by Google. It was released in November 2007 and the first commercial Android device was introduced in September 2008.
We have approximately 2.3 Billion that is android based and are embraced by users all around the world. Needless to say that android is here to stay for years to come, and with the regular updates from Google, it is only going to grow gradually. Now that you know the importance of Android and other beneficial factors, let's head on to start learning more about it.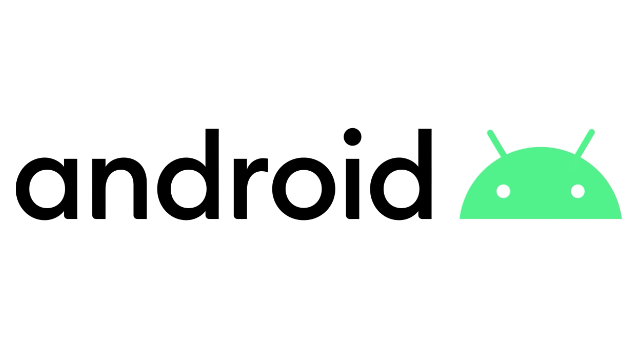 Skills required to become an Android Developer
Knowledge of SQL and XML
Expertise in Java or Kotlin or both
Android Software Development Kit (SDK) and Android Studio
Databases and APIs
Working on app functionality and UI
Executing unit tests
Fixing bugs and errors
Knowledge of Git
Steps to follow for Android learning:
1. Have a detailed overview of the official Android website
Check the official website of Android Development. To be frank, it is so essential to learn about the entire website to analyze the layout and a multitude of ideas, suggestions, and technologies relevant to Android. It is not one of the mandatory tasks to become an Android developer, but you're going to have a better insight into Android Development and its concepts.
2. Start learning Kotlin
Google has officially supported Kotlin on Android as a "first-class" language since May 2017. Fewer businesses are designing commercial applications using Java only, so learning Kotlin is a required move to be a good Android developer. You can use the documentation for Android development on the official Kotlin website and learn the language online. This is a significant step on the path to becoming an Android developer.

3. Explore Material Design
Go through the entire site to see how it is developed and what the notion behind it is. Material is a Google design system designed to allow teams to create high-quality and efficient apps for Android, iOS, Flutter, and the Web. Material Design is influenced by the real world and its patterns, and how they represent light and shadows. Material surfaces reimagine the modes of paper and ink.
4. Install Android Studio IDE
Android Studio is the Official Integrated Development Environment (IDE) for Android app development. It is centered on the IntelliJ IDEA, an integrated Java software development environment, and integrates its code editing and developer tools. Install Android Studio on your system and start practicing code while designing basic apps on it.
5. Build your first Android app
Start with learning Android and how to build and run an Android Studio "Hello, World!" project. You will then establish a new interface for the app that will accept the input from the user and move to a new display in the app to present it. Before you get started, there are two primary components that you need to learn about Android apps: how they have multiple points of entry, and how they are adaptable to various devices.
6. Create your first Android project
To help you get started, we have compiled easy to follow steps to run your first ever Android project:
Install the latest version of Android Studio.
Click on "Create New Project" when you see the "Welcome to Android Studio" screen. (Go to File > New > New Project if you have already had a project opened).
Select "Empty Activity", click "Next" on the "Select a Project Template" screen.
Now, go to "Configure your project" and perform the following steps:
Write "My First Android App" in the Name field.
Enter "com.example.myfirstapp" in the Package name field.
Change the save location folder if you want.
Choose between Java or Kotlin as your preferred language.
Select the lowest version of Android your app will support in the Minimum SDK field.
5. Click Finish once you are done and satisfied with the options you selected.
Wait for some time for this window to appear on the screen.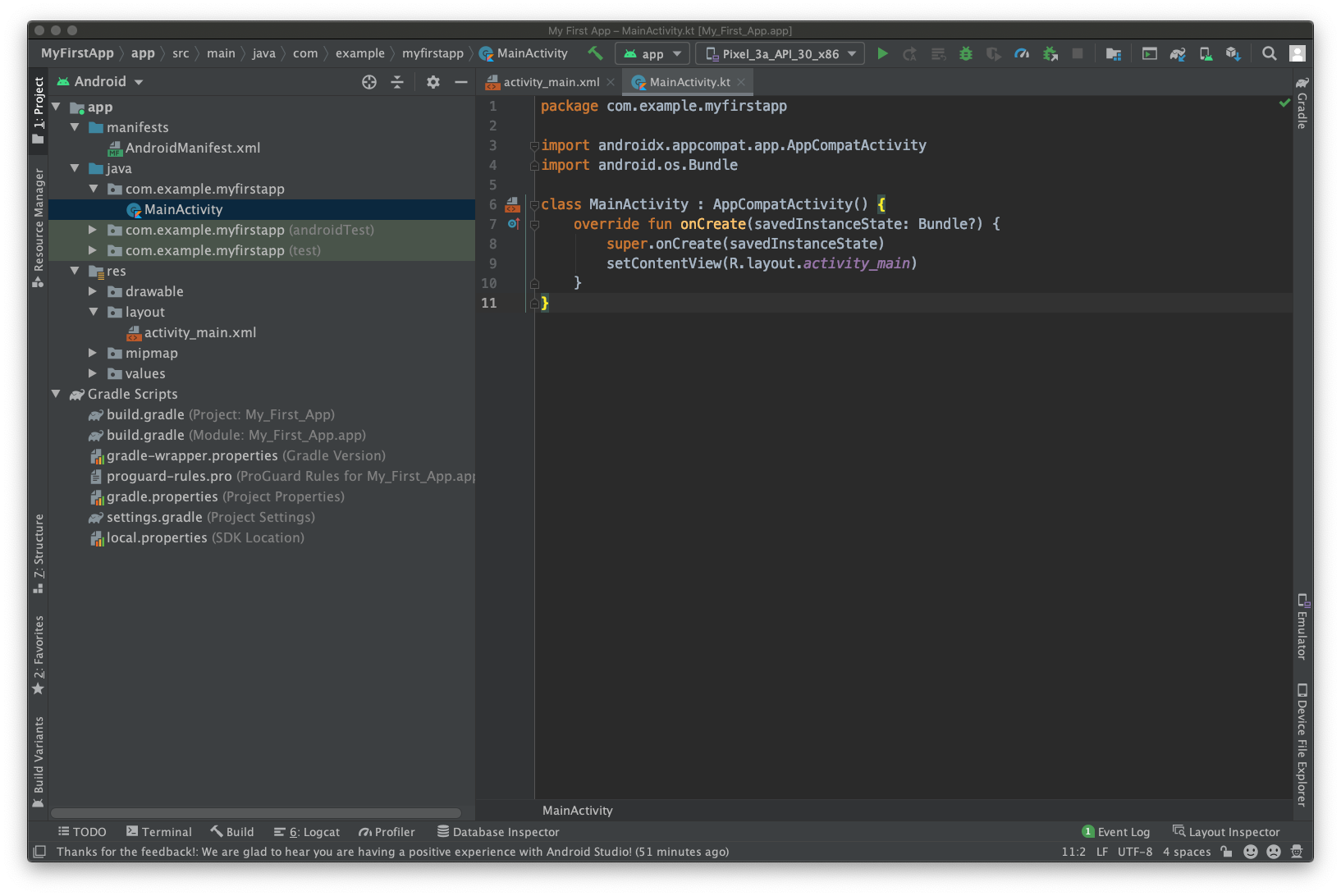 Open the project screen (View > Tool Windows > Project) and select the Android View. Now, you may be able to see the following:
app > java > com.example.myfirstapp > MainActivity
When you develop and execute your app, the system launches an instance of this Activity and loads its layout.
app > res > layout > activity_main.xm
This XML file will be defining the layout for the activity's user interface (UI). It has a TextView element with the text "Hello, World!"
app > manifests > AndroidManifest.xml
The manifest file explains the basic attributes of the app and defines each of its components.
Gradle Scripts > build.gradle
There are 2 files with this name: one for the project, "Project: My_First_App," and one for the app module, "Module: My_First_App.app." Each module has its own build.gradle file, but this project currently has just one module. Use each module's build.gradle file to control how the Gradle plugin creates your app.
7. Run your app on a real device or an emulator
Now that you have created your first project and are all done and dusted with the coding part, it's time to run the project and see if it works or not. Let us follow the steps mentioned below to see how you can run your first ever Android project:
Running your Android App on a real device:
Connect your device to your system with a USB cable. Install the compatible USB Driver if you are using windows.
Go to the Developer Options and enable USB debugging after performing the following steps:
Go to the Settings app.
If your device uses Android v8.0 or higher, select System. Otherwise, go to the next step.
Scroll to the bottom and select About phone.
Scroll to the bottom and tap Build number seven times.
Return to the previous screen, scroll to the bottom, and tap Developer options.
In the Developer options window, scroll down to find and enable USB debugging.
In Android Studio, choose your app from the run/debug configurations drop-down menu in the toolbar.
In the toolbar, select the device that you wish to run your app on from the target device drop-down menu.
Finally, click on the Run option and you will be able to see "Hello, World!" displayed in the app on your device.
Running your Android App on an emulator
You can choose from the many top emulators available in the market. However, installing the emulator can be a task, for which you can follow the steps mentioned below:
In Android Studio, establish an Android Virtual Device (AVD) that the emulator can use to install and run your app.
In the toolbar, select your app from the run/debug configurations drop-down menu.
From the target device drop-down menu, select the AVD that you want to run your app on.
Click Run. Android Studio installs the app on the AVD and starts the emulator. You now see "Hello, World!" displayed in the app.
The Short Version: Learn Android Programming Step By Step
Step 1: Grasp the fundamentals of Java programming. The basics of the Java programming language are a must for Android development. Java expertise is needed to make the most out of Kotlin.
Step 2: Start learning Kotlin's programming language a bit. As Kotlin is formally the first-class language for Android app development, learning Kotlin is very essential and will come in handy.
Step 3: Put a little focus on advanced features of Java & Kotlin.
Step 4: Get an idea of some of the important Android applications like Handler Looper, Context etc.
Step 5: Learn the basics of SQLite Databases and designing og database schema. Having to design a database appropriately is essential for any Android developer.
Step 6: Acquire knowledge of Networking, GET, POST requests. You should be able to implement caching effectively for your app to run smoothly while consuming lesser data.
Step 7: Practice debugging in your spare time. The more you debug, the better you will become.
Step 8: For a fast and smooth running app, you must have a suffcient knowledge og garbage collection and memory leaks.
Step 9: Get your hands on data structures concepts and understand how optimization works. Apply your learning to enhance the rendering speed of UI.
Step 10: Understand Kotlin language-specific features like extension function, lambdas, etc.
Step 11: Have an overview of architectures like MVP, MVVM, etc, and unit testing and frameworks like Dagger, RxJava which will help you write your code faster.
Step 12: Try to gather more and more information about 3rd party libraries.
In A Nutshell
To Learn Android Programming Step By Step and ace Android Interviews, you must also remain consistent all the time while learning the concepts and practicing the code. It should not matter if you are just getting started with programming or Android development or if you are an advanced developer, you should be able to master the skill with enough learning and consistent practicing.
Get acquainted with various facets of all the Android frameworks and libraries, explore some basic concepts, get used to IDE, construct a framework and app-building elements, debugging, etc. In short, a great choice with an amazing tutorial will help you get acquainted with the Android Studio and Android SDK and you will be good to go in some time.
Now that you have become very familiar with the basics. You are ready to dig deeper. Google's Android documentation is something you should be able to understand quite easily by now  So, go through their documents on various subjects, download the sample codes, and run to your own PC. Go through the codes and try to comprehend how things work.
Once all of that is done and dusted, you should be able to install Android Studio and run your very own projects. And if you are an organization looking out to hire a well-versed Android Developer, don't fret. Go to Codersera to get in touch with the top-notch professional Android developers.
You can theoretically build native Android apps without learning any Java at all.
The development of an app takes between 4 and 6 months. However, if you're beginning to learn about developing Android apps, you should realize that you can do it in less time if you're taking an online course.
Yes. By learning about Android development, you make yourself available to a range of career opportunities, such as freelancing, becoming an independent developer, or working for high profile companies like Google, Amazon, and Facebook.
The easy response is, yes, it can be complicated. As you learn Java programming, you can discover some basic concepts such as variables and functions, but there are also more abstract, complex ones such as objects, inheritance, and polymorphism that can be difficult to grasp.
Source: InApps.net
List of Keywords users find our article on Google:
is it easy to learn android programming
best website to learn android programming
android studio tutorial 2022
best way to learn android programming
"in need of an android app"
how to learn android
learn android programming
"what features should an mvp have"
android studio hello world
become developer android
kotlin vs java
android studio hello world tutorial
best way to learn android
"kotlin"
android basic concepts for beginners
Let's create the next big thing together!
Coming together is a beginning. Keeping together is progress. Working together is success.