People have been using The Food Delivery App more and more due to its convenience, especially during COVID-19. It helps people fast order food everywhere and every time.  
Food Delivery App Development
According to Business Wire: "The world F&B e-commerce users reached 1.5 billion in 2019 and are expected to grow by 800 million, with an average of 25% y-o-y growth by 2024. "
There are a lot of food delivery apps in the world but you still can put a foot on the market by using the advantages of the application.
You need to find out these two matters: What is the fastest way and latest technology to develop a food delivery app? InApps can solve these problems to bring your ideas come true by applying the lastest technical solution to your app.   
Being a reputed food delivery app development company, we understand the pain points and offer you an effective user-friendly app with advanced features to easily scale your food delivery business.
Why You Should Have A Food Delivery App Now?
Increased demand for food-delivery amid COVID-19 pandemic
We all know that with COVID-19 becoming increasingly widespread. Almost everything is closed except for essential services. Food delivery services are the most essential business out there.
The target market used to be busy people who needed a restaurant delivery service because they didn't have time. Now, the target market is everyone. Most people now require home deliveries.
With people practicing social distancing, self-quarantine, and staying indoors to stop the spread of the virus, food-delivery companies are in demand more than ever. 
If you already have a meal delivery business or restaurants, this may be a good time to build a food delivery app. 
The food-delivery arena has the potential to flourish in the future
Till now, the most common method of food ordering is to place an order online and from the restaurant. As of now, the tendency of people is no more to wait for food in restaurants. However, people do find more convenient to get food at their doorsteps after a few minutes of placing the order through the app for food delivery.
Undoubtedly, the food delivery market is in the midst of dramatic changes. This market has the potential for robust growth.
If you own a food delivery business, then a food delivery app can be a miracle for your business. So, it is high time to develop a food delivery app for your business.
Advantages Of Developing Food Delivery App With InApps
Our solution uses a flutter framework created by Google is open-source mobile application development. It is used to develop applications for both Android and iOS, as well as being the primary method of creating applications
Besides, we use Laravel (PHP Framework for Web Artisans). Laravel is a web application framework with an expressive, elegant syntax. We've already laid the foundation — freeing you to create without sweating the small things.
1. For Restaurant Manager / Owner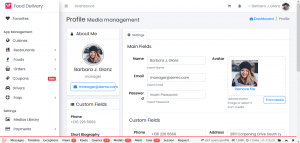 Multi-functions of this App including:
Manage orders, restaurants.

Chat with customers.

Assign drivers.

Edit profile settings.

Have Multi-languages to choose

Receive notification using FCM (Firebase Cloud Messaging).

Can use Dark or Light mode.

Easy to restyle and theming by on your branding sites.

Cash on delivery and payment on pickup methods.
2. For Portal Admin
Here are the key features:
Have Laravel PHP admin panel.

Manage products, menu, category, orders, customers. 

Handle payment. 

Have google maps integration.

Multi roles & permissions

Manage chat, Coupon, Tracking orders.

Can use Multi-languages.

Receive notification using FCM (Firebase Cloud Messaging).

Dark & Light mode.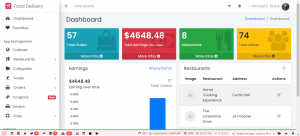 3. For User
Customers can register by entering simple phone number and begin using the mobile ordering app.

Choose restaurants based on location, cuisine choices, timings and more from a beautiful listing.

Track orders real-time and have alerts keep them informed about the order status.

Select from categories of restaurants, based on ratings and other factors.

Make payment in a mode they decide, with a variety of promo codes to choose from.

Select delivery times based on their own convenience.

Manage profiles, addresses, payment details, notification settings for a better experience.

Based on service, pricing, quality and other factors, customers can leave reviews and ratings.
4. For Driver
Functions including:
Orders assigned.

Orders history.

Profile settings.

Multi-languages, support RTL languages (Arabic, Farisi…).

Push notification using FCM (Firebase Cloud Messaging).

Dark & Light mode.
Outstanding Features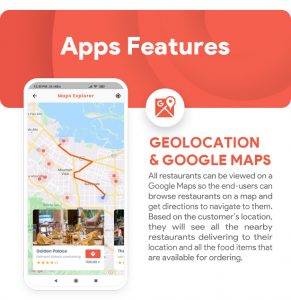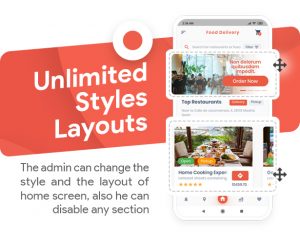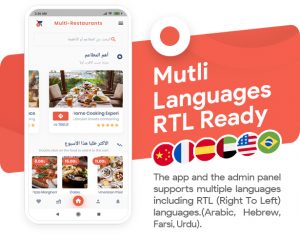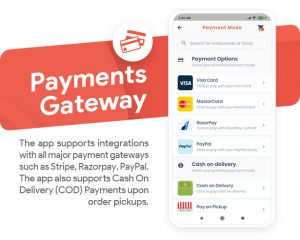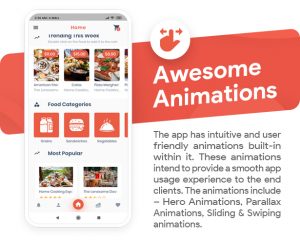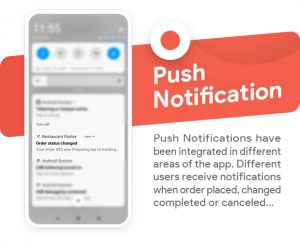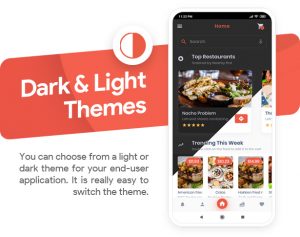 InApps Is Here To Help You Launch A Best Food Delivery
With more than 10 years of experience and famous as The world's top 50+ mobile app development company in 2020, depending on your requirements, we can deliver various types of food delivery apps and assist you in choosing the functional scope for your app.
InApps provides the best development solution for on-demand food delivery apps for startups, food chains & restaurant aggregators.
Not only do we focus on efficiency for customers with a mindset on ROI (Return of Investment), but InApps also research the customer's business model to advice on appropriate product development.
Don't hesitate to contact us now to receive the best technical suggestion about the project. We also have a special promotion program just for you this month is a FREE UI DESIGN.

Read more InApps case study
Let's create the next big thing together!
Coming together is a beginning. Keeping together is progress. Working together is success.