Do you need a dedicated development team or a single developer in the United States? Are you wondering what is the average salary in the US? Let us assist you in locating the solution.
Software engineers earn different salaries depending on the technology in which they specialize. Many factors, such as skills and experience, influence the rate of a developer.
What is a front end engineer?
The front-end of a website is the aspect with which users interact. Everything you see while browsing the web, from fonts and colors to dropdown menus and sliders.
Front-end engineers plan, design, build and implement the website, software program, and web-based user interface systems. Their primary goal is to provide a positive user experience without problems, errors, or downtime.
They design and optimize systems, participate in testing and troubleshooting, and resolve accessibility and browser compatibility issues. They frequently act as a bridge between the user and the backend developers, and they modify tools and platforms to adapt to real-world use situations.
Skills required for a frontend developer include:
Good knowledge of frontend programming languages ​​
The ability to create a responsive design
Knowledge of testing and debugging
Understanding of front-end development tools and functions such as automation, content management systems, version control systems, APIs, and frameworks
Front end vs back end developer salary
How much do front end developers make? How about backend developers?
Front-end developers can earn $100,180 per year, while backend developers can earn $114,708 per year (according to Indeed – updated January 11th, 2022). While it is not the highest-paying job in the tech industry, it is possible to earn a raise with each year of experience.
The difference in Roles of Front-End and Back-End Developers 
Because front-end development involves the user interface of software, web, and mobile apps, developers design the visuals, layouts, and interactions.
Backend developers work on the server-side of apps and software behind the scenes. They facilitate the exchange of information between what happens on the client-side and the databases. Backend developers' primary responsibility is to write code and work with APIs, server logic, integration, and other processes to make your product work.
Front end vs Back end Salary in comparison
According to Glassdoor, the average salary for a front-end developer in the United States is $71,385 per year. However, according to Payscale, the annual salary is $73,004. Aside from their salary, front-end developers receive a bonus of approximately $2,500 per year.
Salary levels may also vary depending on the experience of the front-end developer. For example, entry level front end developer salary is on average $60,853 per year, but a senior front-end web developer salary is around $88,513 per year.
What is the average salary in the US for front end developers?
The average base front-end developer salary in the United States is $74K per year, according to PayScale and Upwork. Senior front-end developers make $113K per year (PayScale). A mid-career front-end developer earns about $74,000 per year. A junior front-end developer with 1–3 years of experience makes $49K per year.
How much does a front end developer make? – Compare on states of the US
San Jose has the highest average front-end developer salaries, ranging from $78K to $179K per year. In 2021, the intermediate entry level front end developer salary in Los Angeles will be $64K per year. The average salary for a front-end developer in Chicago and New York is $58K. (as reported by GlassDoor, SalaryExpert, and Indeed)
How much do front end developers make in the US?
State
Front end developer salary entry level 
Front-end developer salary middle level
Front end developer salary senior level 
San Francisco
$63K
$91K
$125K
New York
$58K
$84K
$114K
Los Angeles
$64K
$91K
$125K
San Jose
$78K
$91K
$179K
Chicago
$58K
$84K
$114K
SAN FRANCISCO
The average Fron end web developer salary in San Francisco begins from $63K a year for junior engineers, while the average senior web developer salary in San Francisco reaches $125K.
NEW YORK
The average salary for a junior front end developer New York is about $58K. The Middle front end developer salary New York is around $84K. And senior developers can earn $114K.
LOS ANGELES
Web designer salary entry-level in Los Angeles starts from $64K. And $125K is offered for the senior level.
CHICAGO
From Entry level front end developer salary to senior developers salary is the same as New York.
SANJOSE
In San Jose, a junior engineer's average front-end developer salary reaches $78K per year. $91K is offered for middle-level positions and $179K for senior positions.
How much does a front end developer make? – Compare on skills
A React.js developer's annual salary in the United States is $82K, making them one of the most expensive front-end developers (PayScale). The average salary for a front-end developer working with CSS and HTML5 is around $70K. JavaScript developers come in second, earning $74K per year.
CSS programmers' average front-end developer salary in 2021 is $70K.
An HTML5 front-end developer can expect to earn around $70,000 per year.
The average front-end developer who uses JavaScript earns $74K per year.
React.js engineers will earn $82K per year as front-end developers in 2021.
View more: App developer hourly rate – detailed comparison
Most Popular Front end Technology in the world?
Finding the best technology to use can be time-consuming because you have to consider numerous factors. These data can help. According to Stack Overflow, JavaScript is the most popular front-end technology. Nearly 70% of front-end developers use it as their primary technology. And React.js is the most frequently used front-end framework.
Front-End Technologies
Front-End Frameworks

JavaScript: 69.7%

HTML/CSS: 63.1%

SQL: 56.5%

Python: 39.4%

Java: 39.2%

React.js: 74.5%

Vue.js: 73.6%

Angular/Angular.js: 57.6%
Read more: Top 3 front end javascript frameworks for web development in 2022
Which is the best place to hire Web Front end Developers?
Hiring offshore front-end developers may be more cost-effective. Southeast Asia is an ideal destination that has skilled talents with salary rates lower than US rates. Notably, Vietnam has many IT universities and hubs to train new front-end developers ready to make their mark in the global talent pool.
In recent years, Vietnam has been the destination for IT outsourcing thanks to the competitive labor costs compared to other countries, a large pool of IT talents with foreign language proficiency, and open policies regarding foreign companies of the government. During COVID-19, Vietnam is also one of the Safest Countries. 
Ho Chi Minh City in Top Outsourcing Cities in 8 consecutive years (Tholons, 2009-2016)
Vietnam is ranked 1 in pioneering location and cost environment (Cushman & Wakefield business process outsourcing and shaped service location index, 2016-2017)
Top 10 countries with the most engineering graduates (Forbes, 2015)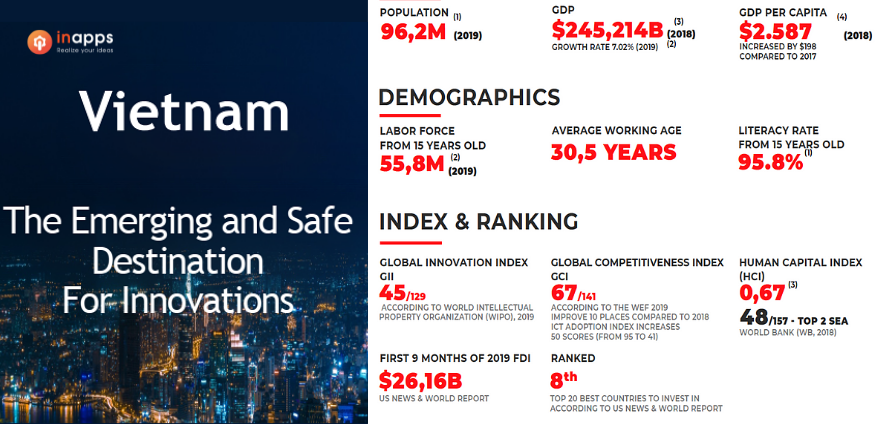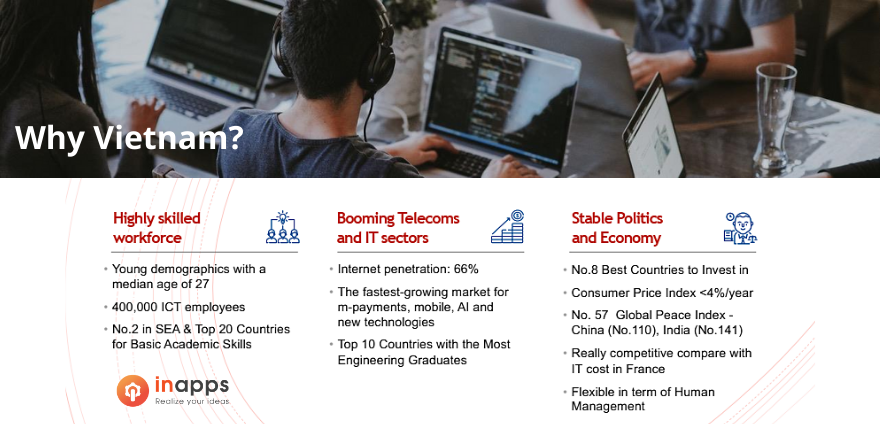 Need to hire dedicated developers? Look no further than InApps Technology.
DROP US A LINE and get access to the best talents.
List of Keywords businesses find our service on Google:
Let's create the next big thing together!
Coming together is a beginning. Keeping together is progress. Working together is success.