>
>
Why hire a Software Outsourcing Company from Vietnam?
The cost and expenses are one of the biggest factors running a business. Every business owner wants to keep their operating cost to the minimal level as much as possible. This is why 'outsourcing' has become a renowned culture in the past couple of decades.
When you want to get your business work done at a reduced price and have someone who can do that (irrespective of their location), you outsource the project and task to them. The most beneficial industry of this culture is IT, as any work can be completed from anywhere around the globe without any need for proximity. While outsourcing seems a viable option for IT companies the question arises is which country and region to pick.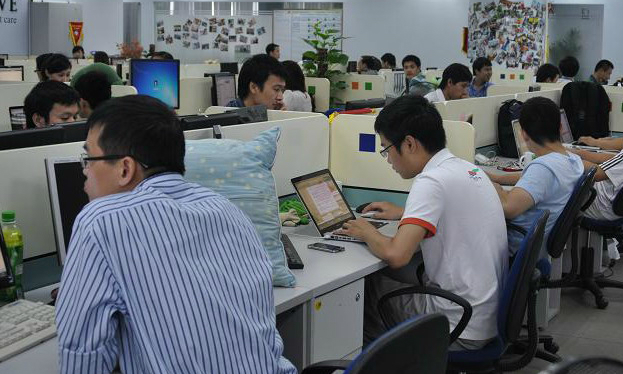 Vietnam, in present times, has become a highly popular destination for IT and software outsourcing owing to several advantages over other countries, which are listed below:
Economical Workforce
The most important advantage IT companies look to when outsourcing their work is availability of low cost, and Vietnam offers that. The country's costing when it comes to rendering outsourcing services is way lower than the neighbouring outsourcing attractions including India, China and other nations.
High Education Level
Being low on the cost doesn't mean that the knowledge and skill level is low. This is where Vietnam has grown and evolved considerably in the last few years, having created a system of IT specialised schools that develop young talent who holds expertise in software, programming and other IT domains. The education level, as a whole, is of high class with a literacy rate of 97% and a higher percentage of that is engaged in learning information and communication technology. The focus towards English is also high and you will find any Vietnamese working professional in IT industry very fluent in English communication.
Young Personnel
If we evaluate the population dynamics of Vietnam, then the statistics show that around 70% people are under 35 years of age and around half between 15 to 35 years of age. This means that a higher percentage of population is the young workforce who are knowledgeable and skilled in latest market trends and technologies.
Stable Country
With a constant growth rate of around 7%, and the country devoid of any political conflict, religious extremism, and economic stability, it provides the ideal platform for western countries to work with people from a liberal and steady culture. This allows foreign companies to get ideal support without any external indulgence or diversion and can freely move to the country for training and other purposes.The above reasons make this destination an ideal location for software outsourcing for any small to large enterprise, considering any size of work. The Vietnamese are highly polite, friendly people who adhere to timeliness and proficiency in their work.
Let's create the next big thing together!
Coming together is a beginning. Keeping together is progress. Working together is success.