>
>
Vietnam's IT industry overview 2017 – software development and outsourcing service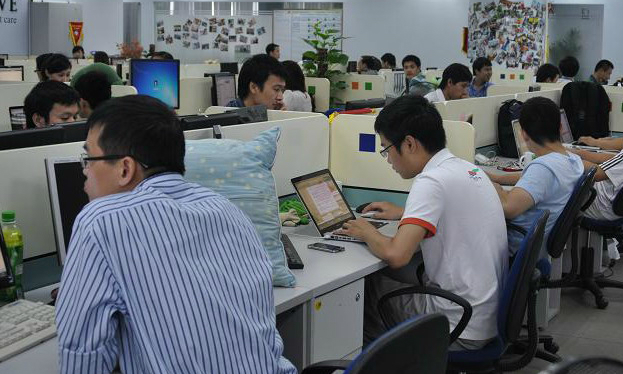 Vietnam's IT industry overview 2017
Vietnam first achieved a "good" rating from Gartner back in 2010 when it was named one of the top 30 countries for offshore services. There has been a steady improvement since then with a continued maturity of the existing industry, a wave of new graduates, foreign investment, and startups.
Vietnam's high demand for IT professionals
Vietnam could become one of the next outsourcing hubs for software development.
The industry's job demand is higher than ever, and the trend will continue over the next years. Experienced software developers and managers continue to be in high demand. As many as 81 percents of IT companies said they planned an annual payroll rise of between 6 percent and 20 percent this year, professional recruitment firm VietnamWorks said in the survey conducted late last year with thousands of IT professionals, specialists, and companies.
The number of tech jobs has doubled over the last three years, VietnamWorks data showed, adding that Vietnam currently has around 250,000 engineers, but will need more than 400,000 by the end of 2018. Salaries have increased significantly in recent years and many companies have even offered generous bonuses to attract and retain employees. Up to 80 percent of the jobs that requires IT professionals with at least two years experience would pay a maximum $1,160 per month.
Vietnam first began offering software development services 15 years ago as global companies started to look outside India for a low-cost technology outsourcing opportunities.
Vietnam's software industry makes its mark in Japan
Vietnam has surpassed China to become Japan's second biggest software outsourcing partner.
The Japan External Trade Organization (JETRO) said more than 10 Vietnamese software and IT companies have made major inroads into the Japanese market in recent years. Speaking at a recent event to promote cooperation in the IT industry, a representative from JETRO confirmed that Japan is currently Vietnam's second largest market for outsourcing services, with stable growth from 20 to 40 percent a year. Vietnam itself has surpassed China to become Japan's second biggest software outsourcing partner, with a 20.6 percent market share. India remains on top.
The Vietnamese government has been trying to develop the IT industry in its quest to transform its economy into a high-value, knowledge-based one. Vietnam's IT revenue reached $49.5 billion in 2015. The software sector alone earned $1.6 billion, with 58 percent coming from international markets.
Low-cost labor is still a strength of Vietnam's software development and outsourcing service
Vietnamese engineers are now earning much less than their peers with similar skill sets in the region.
Though holding equal qualifications, employees in the sectors are taking lower pays than their peers from other Asian countries, said Nguyen Thu Giang, general secretary of Vietnam Software and IT Service Association (VINASAS)
Highly experienced IT engineer in Vietnam earns around $2,000 per month, just half the amount he or she could in Malaysia or Thailand. Fresh graduates in Vietnam earn $280 a month on average, only a fifth of what their peers get in Japan and South Korea, according to data from the Asian-Oceania Computing Industry Organization (ASOCIO).
Competitive labor cost has always been one of the main drivers of growth for the sector, drawing many foreign investors into Vietnam. The 2016 version of AT Kearney's Global Location Services Index, a biennial study of global offshore services locations, has ranked Vietnam among the world's most financially competitive services markets, just after India, Indonesia, Sri Lanka and Egypt.
Let's create the next big thing together!
Coming together is a beginning. Keeping together is progress. Working together is success.