>
>
Why React Native app development is such cost effective for startups 2022
There is a myriad of reasons that strengthen React Native's standing as one of the most amazing frameworks when it comes to software development. You will find a flock of factors making React Native stand out across cross-platform mobile development. However, this blog is about the ones that help you emanate the same robustness at an attractively low cost and aggressive efficiency. Let us unravel how it is cost and time-effective to create react native apps for startups.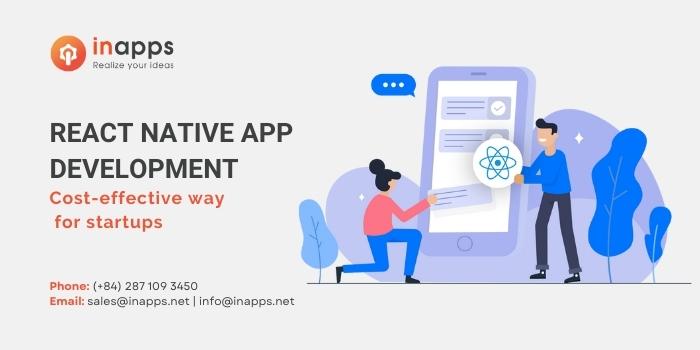 What is React Native and How It Saves Time and Money?
React Native is one of the rapidly evolving development frameworks, breathed to the floor by Facebook. This cross-platform mobile app development framework is open source and it gives a hand to mobile app developers to build mobile apps, saving both time and money. Allowing development for Android and iOS enables you to devise feature-abundant apps using JavaScript language.
This popular solution is studded with tons of power-packed specs that ensure its reliability and stability out in the world. But what really fuels it to play the best in its way of doing the job with time and cost-effectiveness. Now, this is wonderfully a chance to not look over for any budding business with a stiff line with budget and fervour to establish MVP. 
With its tremendous power to extract speedy results to the floor, React Native makes one of the most beneficial solutions for companies with long-term goals for app development. So how does it exactly become a favorite among the players of app development services? How does it bag your results briskly and React Native developers can become a savior of your money?
We have this list to show you all the answers.
Advantages of using React Native mobile app development
It is free and flexible
React Native is an open-source platform and it is backed by an immense amount of flexibility which tops as the number one checkpoint on this list. It brings numerous native components to the table, enabling developers to architect feature-packed apps without hurting their pockets.
React Native cross-platform apps are free birds when it comes to roaming around different operating systems. Therefore, they are easily accessible across various devices. Thanks to wider scalability, it gives you a window for flexible reconfiguration of apps without consuming long hours and effort. 
Reusable code
One of the most important grounds that factor React Native's popularity is its code reusability function. It helps you develop cross-platforms seamlessly without exhausting your budget. Developers get the ease of reusing native components which leads to the eradication of expenses for app development. And with common codes at service, it also helps cut debugging time.
Easy to maintain
React Native apps perform like a native app and make use of all the device components to run functionality. These apps do not demand version tweaks in Android and iOS and this remarkable characteristic of React Native chisels it to the tag of 'easy maintenance.' This helps you save money on your business app subsistence.
The fact that there are common codes to function at developers' requirements casts a big fuss off their heads as it makes a way for quicker and easier upkeep of React Native mobile apps. While there awaits a pile of regular patches, updates and troubleshooting on the to-do for native apps, maintaining it as a React Native App development company invites a good deal to save time.
Faster product launch
Accentuating your business app with a hand from React or a React Native development company unfolds one more time-saving advantage- MVP. React Native reduces time to market and lets you gear up your MVP and check up on your stance in the eyes of users. It makes sure that your app is on the go for the date it is meant to launch. So if you are targeting a fast business launch then this cross-platform is your treat to make it a success. 
Hot reloading
For any React Native programmer, this ground is too substantial to not name. In most frames, hot reloading is one of the most prominent features offered by this platform. It allows developers to refresh the app right during the React Native app development step.
Apart from that, this feature enables users to bring in new databases while the app is running. It's wonderful how hot reloading ensures that none of your states are wiped off when customizing the app's UI. You can fuss-freely get your operations to automatically reload when your code changes and breathe speed into the process.
Less number of developers
Since React Native is accelerated by JavaScript, one of the most popular languages among software developers, the learning curve to top the game gets way clement. Besides that, one can simultaneously create apps for both Android and iOS which minimizes the need to hire React Native app developers.
Now that needs to be said but smaller teams lead to lower costs and thanks to the Java-based knowledge and skill set, developers become able to accent more effectiveness and innovations in app creation. 
Popular Apps Made With React Native
If you are waiting for more reasons that make React Native outshine its fellows to come to the spotlight then take a look at this list of some prominent developments made with this framework:
Instagram
Facebook Ads
Airbnb
UberEats
Skype
React Native app development- a rescuer for cost and time
You just went through the significant factors that make React Native a time as well as a cost saver. There are multiple ways how it makes headway to tons of savings for startups. From reusable codebase to minimizing the need to hire React Native programmers, this mobile development solution is a sign to seek. 
While there are a number of areas that need a touch-up of betterment, this cross-platform definitely counts for cost and time effectiveness while taking on grand projects. Not to say, but this side of React Native holds high significance which makes it a straightforward pick for many startups and a revolution in the world of app development.
To get services for React Native app development Click here now.
Source: InApps.net
Let's create the next big thing together!
Coming together is a beginning. Keeping together is progress. Working together is success.