>
>
GLOBAL APPLICATION DEVELOPMENT SOFTWARE MARKET SIZE AND FORECAST
The Application Development Software market was valued at USD 168.71 billion in 2019 and is expected to reach USD 1039.89 billion by 2027, expanding at a CAGR (Compounded Annual Growth Rate) of 25.54 percent from 2020 to 2027.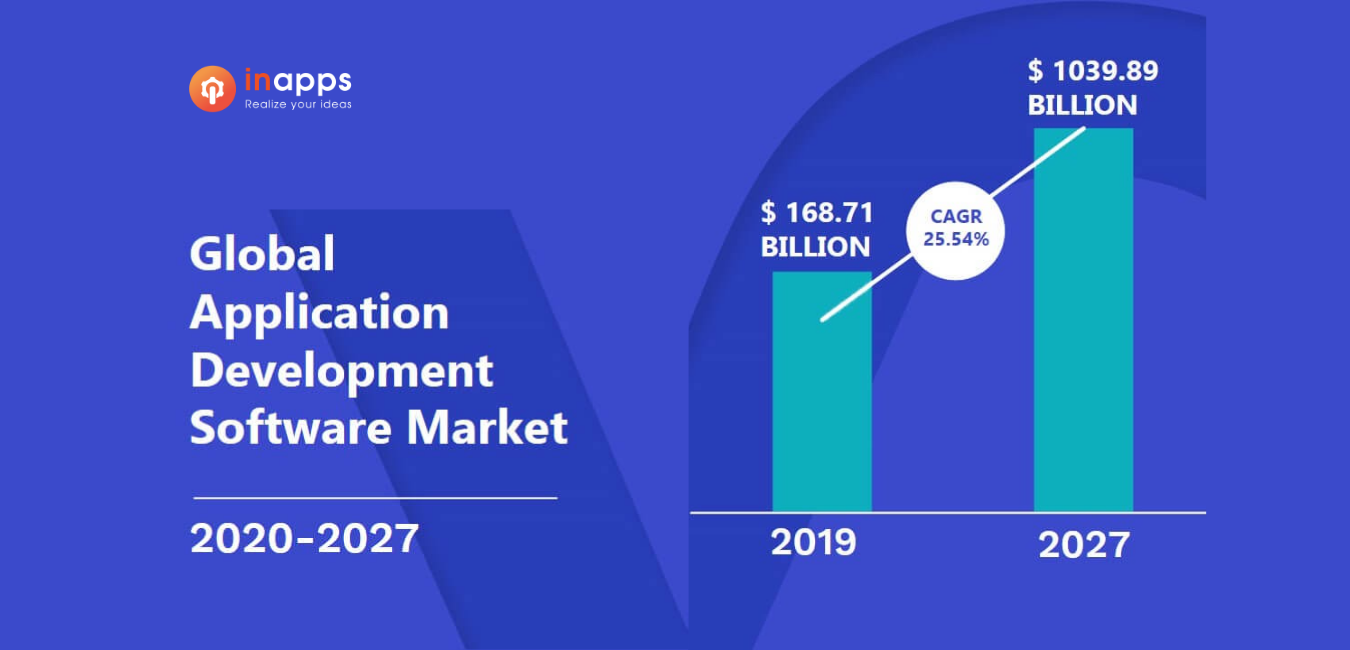 The growing popularity of cloud-based solutions and the expanding use of IoT technologies have been propelling the Global Application Development Market. Similarly, the worldwide market is being driven by the demand for innovative technology apps for solving company challenges and boosting job productivity due to digitalization.
What exactly is Application Development Software?
Application Development Software is used to design and develop various advanced applications. These developed apps are compatible with the vast majority of smartphones, computers, and digital devices. It makes a task more accessible and more efficient to complete. Application development software is used to create games, news apps, music apps, and many others. The app's ability to perform many tasks, such as:
Calculating daily and monthly expenditures
Scheduling appointments
Sales reports
Assists businesses in automating processes and increasing business efficiency.
It is divided into two types: web-based and installed. The growing popularity of cloud-based deployment is propelling the Application Development Market forward. Application development software enables businesses to create software products such as mobile apps and web apps.
Platforms for application development are typically industry-specific. They also necessitate varying levels of technical expertise. Mobile development and integration, code assist tools, feedback and analysis, automation and workflow, development tools, APIs, development environments, and visual testing.
The app aids in the management of complex operations with greater efficiency, at a low cost, and a rapid pace. Also, the app can assist in the automation of robotic automation processes and gather feedback from users for better business alignment and return on investment for customer engagement with applications. It can increase the speed of operations in the business by 50% and assist in the provision of security and the maintenance of a robust architecture in the business by implementing new systems of engagement.
Learn more: Custom App Development Services
Application Development Software: Market Overview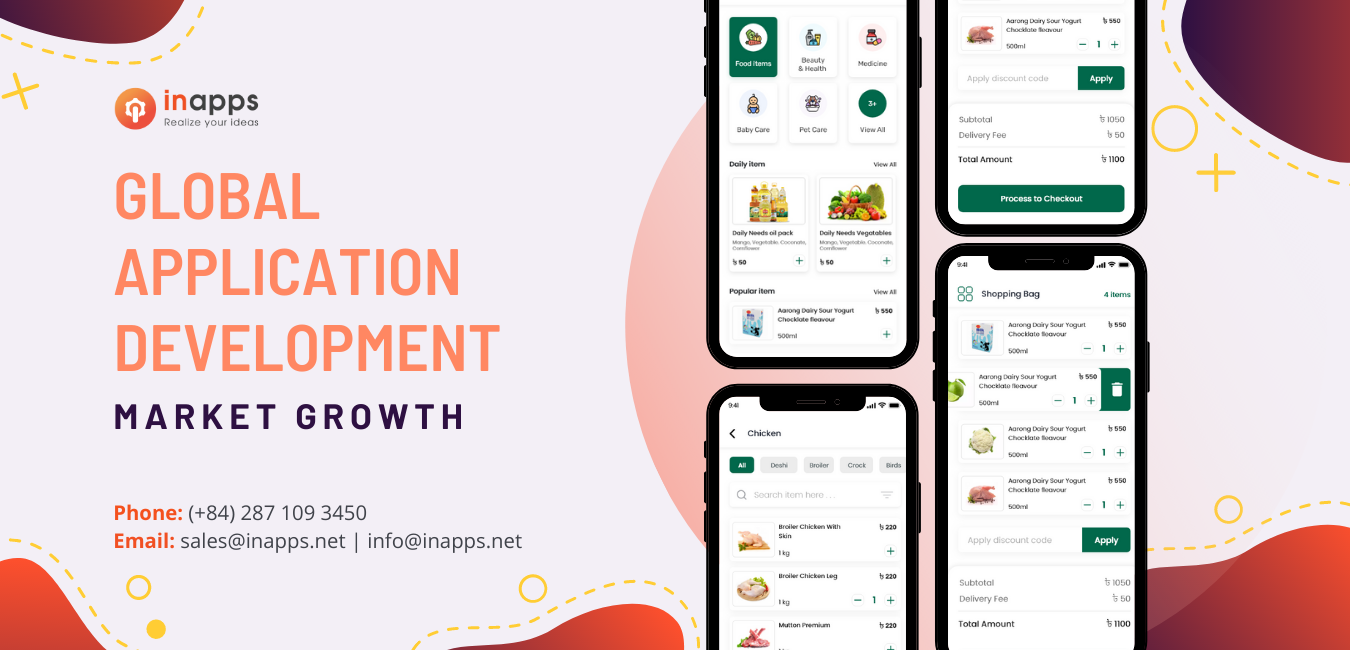 The market rapidly grows by rising demand for application development software for simplifying and speeding up company operations and the increased use of cloud-based solutions and IoT technologies due to digitalization. As a result of increased digitization, there is an increasing need for the platform as a service (PaaS) and software as a service (SaaS) to improve the efficiency of organizations and businesses worldwide.
Furthermore, the IOS segment is expanding quicker due to the increased introduction of IOS-based applications worldwide. The main element driving market expansion in the worldwide Application Development Market is the benefit of cost reduction owing to operational streamlining.
Certain obstacles and limitations are being experienced, which will impede overall market expansion. Factors such as a lack of trained labor, IT experience, and the lack of standards and procedures restrict industry expansion. Besides, security and privacy issues are expected to slow development during the projected period.
Also, complicated integrated systems and competition from open-source alternatives, and a lack of proactive and real-time application visibility are possible constraints to the worldwide market's overall growth.
Nonetheless, technological advancements such as the launch of new innovative technologies such as multi-cloud, 5G, AI, IoT, and Analytics are being implemented globally, and untapped potential in emerging markets may create a massive opportunity for the global Software Application Development Market during the forecast period.
Maybe you want to read more: What does it take to develop a successful app like Amazon?
Application Development Segment Analysis
We can clarify the global Application Development market into three parts: type (web-based and installed), application (Android, IOS, Other), and geography.
Type
The market has two types: web-based and installed. During the forecast period, the installed app segment has the largest market share. The factors that can be attributed to the growing number of mobile-based application users worldwide due to increased internet connectivity and rising smartphone users are accelerating demand for the installed app segment.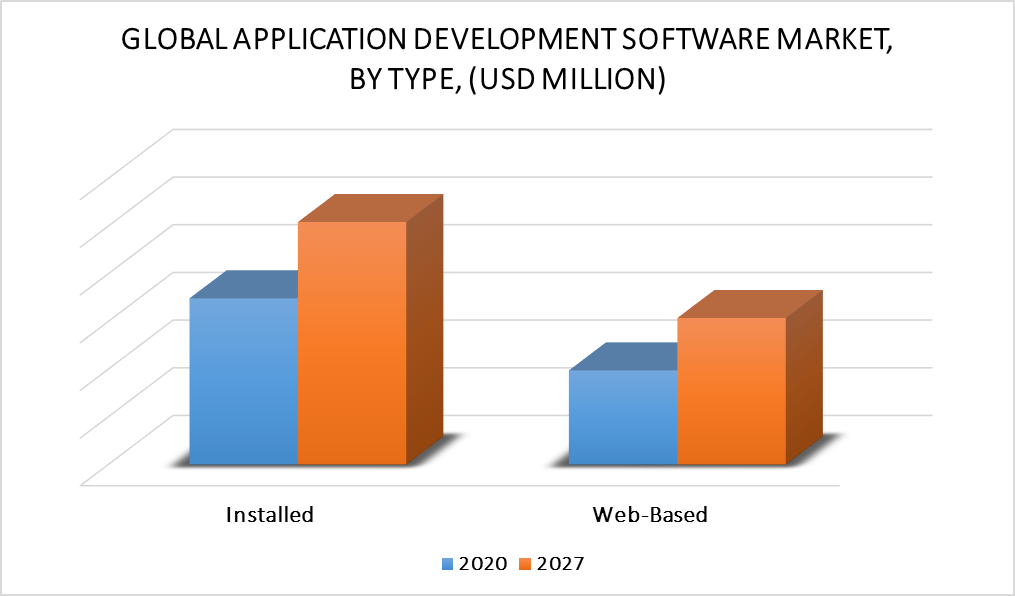 Application
The market has three sections based on applications: Android, iOS, and Others. During the forecast period, the android segment will have the largest market share. The factors that can be attributed to the increase in android mobile technology users worldwide are fueling demand for this segment.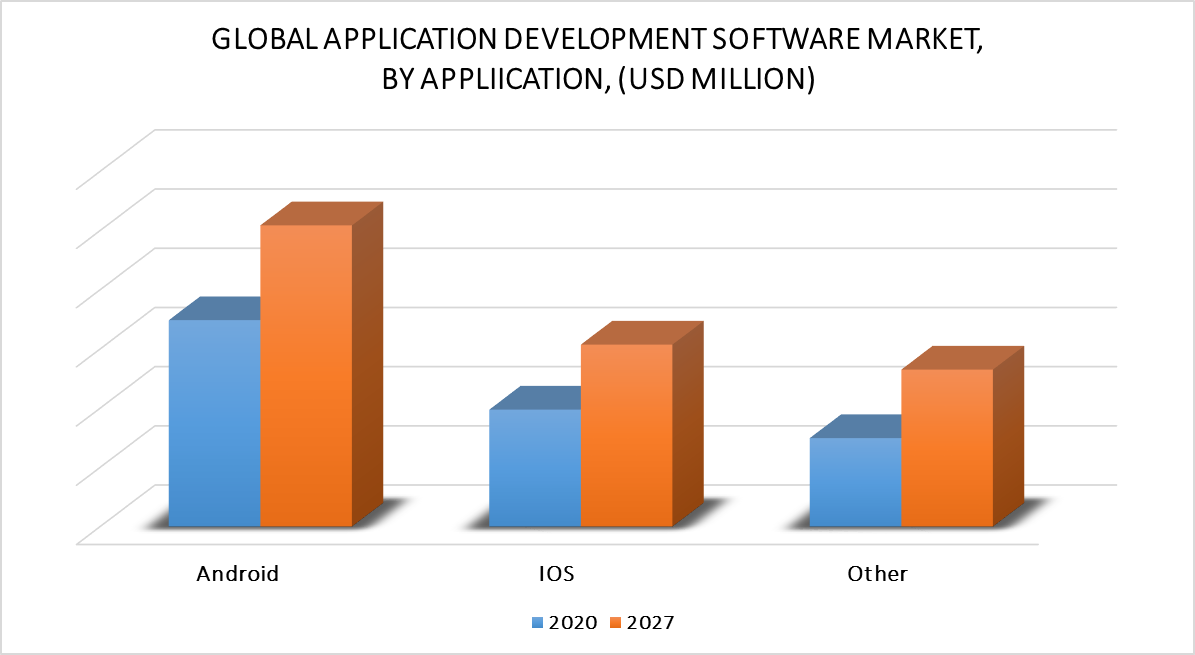 Geography
Based on regional analysis, we have four regions:
North America
Europe
Asia Pacific
Rest of the world
North America holds the largest market share. The presence of many leading digital platforms with advanced technology, growing digitalization, the surge in digital platforms, and ongoing projects will drive the North American market.
Key Players in The Market
The major players in the market are:
AppSheet
Google Cloud Platform
GitHub
Zoho Creator
Azure
IntelliJ IDEA
Twilio Platform
Datadog Cloud Monitoring
Axure RP
Reliable Application Development Company
InApps Technology is one of the best app outsourcing companies in Vietnam and in the world ranked by Clutch, The Manifest, GoodFirms, SoftwareWorld, Yahoo Finance… and many other trusted sources. 
We can start with a flexible budget depending on your purpose of starting a business with the app or just customize your current business to a mobile app platform. Or you have already had a business and a mobile app idea, but are not sure how the market will react to your app idea.
That is why you want to test the market by creating an MVP (Minimum Viable Product) which will be the best way to reduce the risks and convert challenges to opportunities.
After identifying your app idea journey and considering your budget, you would like to go with an offshore development team for cost-efficiency and flexibility.
Reliability is one of the elements to make the best decision! Hence, we shall show you our reputation via our case studies.
Our Expertise
1. Mobile App UX and UI Design
InApps offers a complete package of UI/UX services that will work closely with your team to develop the highest quality graphics, user interfaces, and designs needed in your application or software. We realize the impact that a well-designed interface can have on its users and our aim is to deliver an experience that will be unparalleled to anything they have ever seen.
2. React Native App Development
InApps builds cross-platform apps that run on both iOS and Android from a single code base. Code written in React Native is an operating system–agnostic, yet apps written in React feel just like native apps written in Java or Swift. Using React Native speeds up mobile app development for iOS and Android.
3. iOS App Development
The number of people who own Apple iPhones is growing year over year. You certainly want to offer your unique solution to this huge user base! We develop iOS apps using the Swift and Objective-C programming languages for the best user experience.
4. Android App Development
Did you know that Android users show higher brand loyalty than iOS users? An Android app will certainly pay off! We do Android mobile application development from scratch and can port your existing iOS application to Android. We use Java and Kotlin to build incredible apps.
5. Mobile App Testing Service
Ensuring a mobile application is running smoothly and as intended is critical to the success of any application. We understand the importance of having an application that runs properly and has created a Mobile Application Testing Center designed specifically to perform various tests on mobile applications such as White Box & Black Box Testing, Performance Testing, and much more.
6. Offshore Development Team
Are you looking to hire Dedicated Mobile Developers to build a robust, secure, and interactive mobile app? At InApps, we house a pool of smart and brilliant dedicated developers whom you can hire to get your job done as per your requirement, budget, and timeline. Hire the team from InApps right now and get satisfactory end results at affordable prices.

List of Keywords businesses find our service on Google:
Let's create the next big thing together!
Coming together is a beginning. Keeping together is progress. Working together is success.