Today, mobile app development has become accessible more than ever before thanks to the mushrooming of mobile app development software.
Thanks to this type of software, both developers and non-developers can easily create their own apps. It is especially beneficial for small and medium business owners with a tight budget to build their own in-house apps or even apps for the open market.
However, which will be the best mobile app development software to invest in will be a tough question for beginners. Therefore, InApps has prepared a curated list of the best mobile app development software that we believe will come in handy.
For better reference, besides listing out the software, there are detailed reviews from end-users and comparisons to help you draw your conclusion on
List of most popular mobile app development software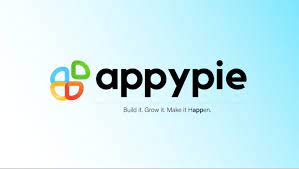 About Appy pie
Appy pie is an app development software that enables users to develop mobile apps without knowing a single line of code. The software provides a wide range of easy-to-use options and tools for app development.
Appy pie is simple to use: selecting, adding desired features, personalizing, and publishing the app on the Google store or Apple store.
With a drag-and-drop system, users can easily get familiar with the software within a short time. Moreover, users are equipped with a series of tutorial videos that facilitate users in their app development process.
With Appy Pie, users can build apps for almost any business field from the restaurant, delivery, real estate, or even a radio app.
Pricing plans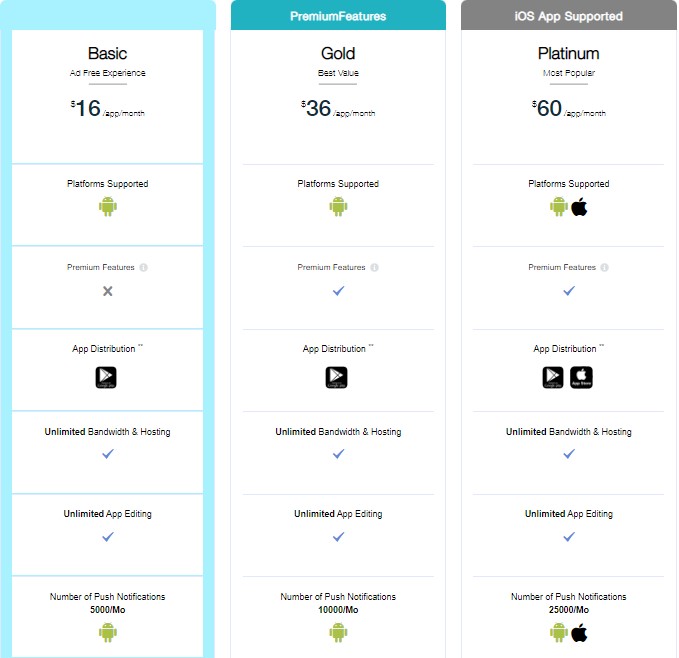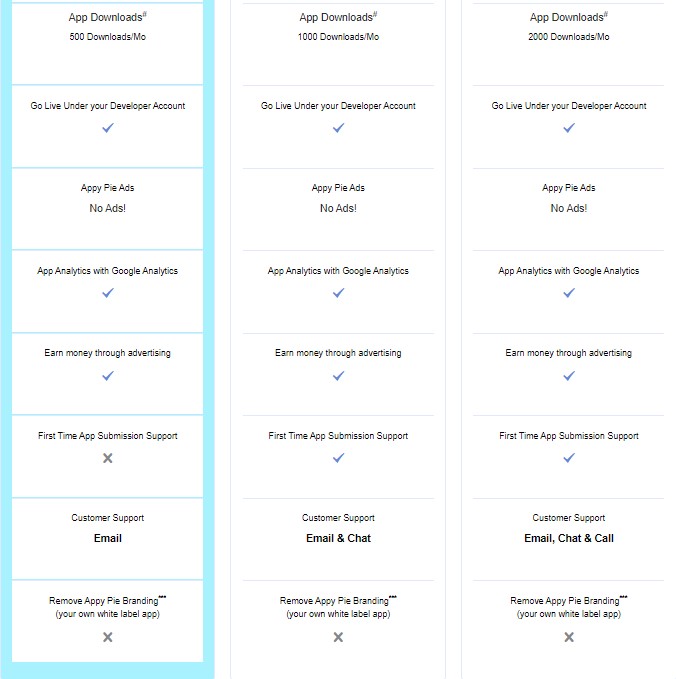 Reviews from users
Strengths
Appy Pie received quite a lot of satisfaction from users, there are some significant features that most users make lots of compliments on the software.
"From the beginning and to this day, their customer service, sales, and tech team have been phenomenal! We are very professional, easy to get in contact with, always provided clear answers and easy-to-follow directions, and are very patient. And they were also good communicators who are very knowledgeable and friendly!"

"In the chat, you can communicate very quickly and get your point across. Customer service is a top priority, and no matter what, they are always willing to help every customer."

"The customer service is exceptional, and the ease of use is unbelievable. It is the best and easiest way to go for someone unfamiliar with app development."
"The app is very easy to use, even if you don't know much about creating apps. "

"I liked the built-in templates where we can use them as a foundation. It does actually work with various wireframes and we can build customer platforms as well without any struggling or much coding!!"

"What I like most is the wide variety and possibility of building functional applications."
Weaknesses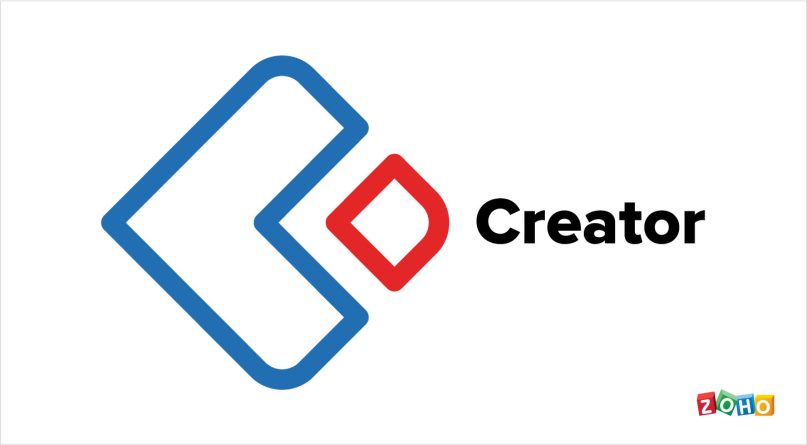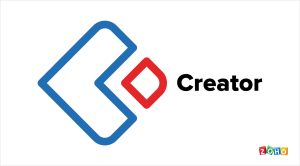 About Zoho
Zoho Creator is a multi-platform mobile app development software that allows users to create a brand new app or build based on a ready-made one.
The software is tailor-made for enterprises that are looking to simplify and automate tasks namely creating apps for the purposes of managing events, orders, logistics or event, etc.
However, regardless of the final purpose, businesses can freely customize the app the way they want. The platform has a drag-and-drop editor tool to help build the app from within a single dashboard.
While initially targeted at businesses looking to develop apps for specific needs within their company, Zoho Creator can also be used to develop apps for the wider market. 
What's more, users can also integrate data from other apps into the app created with Zoho. Possible integrations include other apps within Zoho ecosystems, Paypal, Twilio, Google Workspace, and Quickbooks.
Pricing plans
Zoho Creator has three pricing plans for users to choose from, ranging from $0 – $400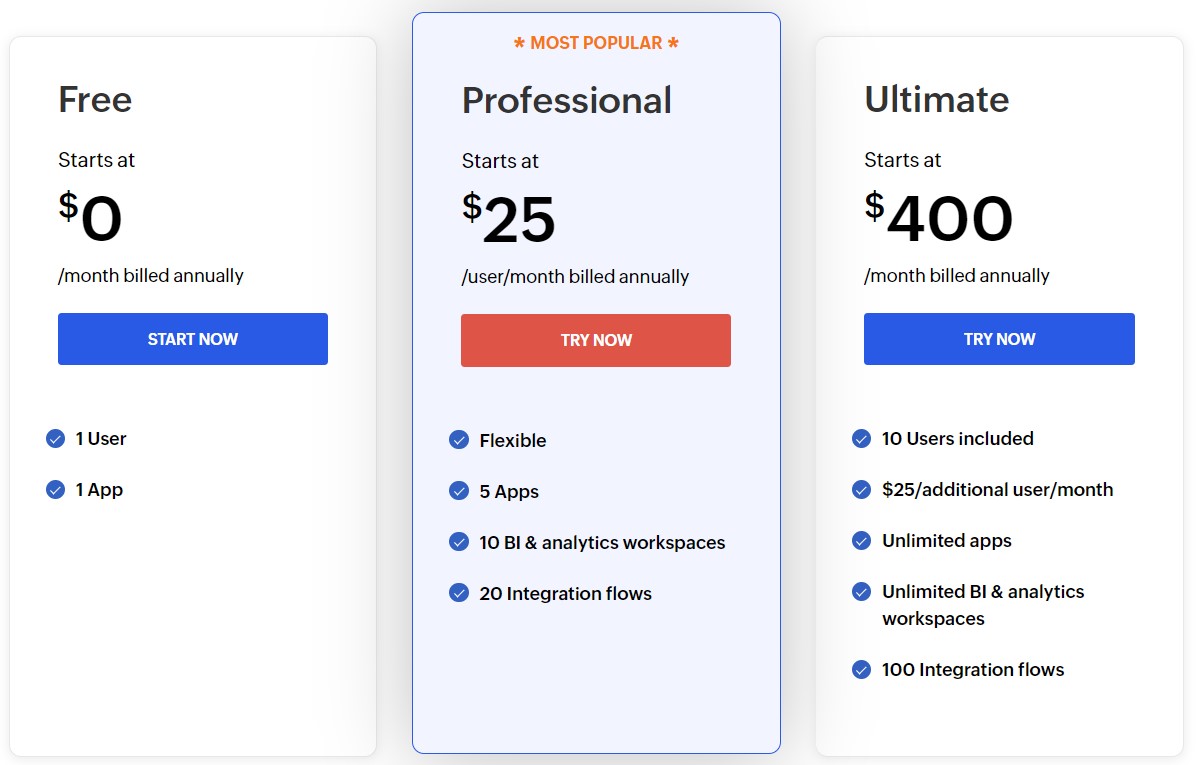 Reviews from users
Strengths
"This is a low-code application which means you can create your workflow/process and automate them. Also, you can connect with so many applications to automate your manual work. It has drag and drops option to create a form but you should know Deluge to create a function and actually get benefit from this."
"Easy to integrate with Zoho internal products"
"I liked the built-in templates where we can use them as a foundation. It does actually work with various wireframes and we can build customer platforms as well without any struggling or much coding!!"
"Zoho one provides a complete package of all the applications needed for a company. It has a very clean UI and it is very easy to navigate around the product. It also has capabilities to integrate with multiple external applications which is very flexible."
Weaknesses
Besides the mentioned bright sides, Zoho also has its own drawbacks that needed to be further improved:
There is some restriction as this is a low-code app.

You need to know Deluge to be able to use this.

Sometimes it takes forever to load/save any forms.

They do not have an application to install on Windows/Mac.
"Sometimes it is hard to understand while creating the dashboard. It doesn't calculate metrics in general ways. And creating API is also much difficult as per our needs. And it's quite much costlier for non-profit organizations like us."
Reporting capabilities are seriously limited. Even the most flexible "pages" reports are clunky and include a ton of unused space, while users have to scroll through tiny panels to see actual data. Competitor solutions are better at adjusting panel sizes on the fly so information takes priority.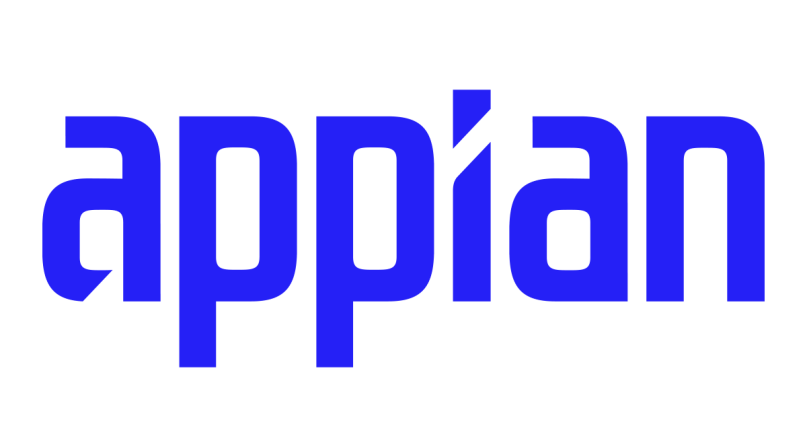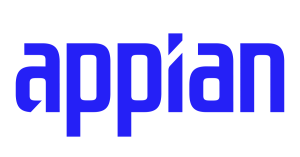 About Appian
Appian is a low-code mobile app development software and the software claimed to take as little as 8 weeks between developing the idea and completing the app. Appian mainly focuses on apps for businesses, to optimize processes using automotive processes and AI to present data in a useful and meaningful way.
Furthermore, users are provided with useful insights thanks to the process of orchestrating data and unified information from multiple sources. With the gained insights, business managers can have an overall picture on everything from management processes to workflows to operations.
The development process itself involves using a visual editor, to select desired functions and how data is to be routed through these. The aim is to allow for complex options to be set up in a simple way so that data can be intelligently managed.
Once completed, the design can be saved as a web app or native app for Android and iOS as required. Further changes can be made on the fly without causing downtime.
Pricing plans

Reviews from users
Strengths
Nice and user-friendly UI (user interface)
"The Design interface makes it easy to create nice-looking interfaces. The visualization and ability to test individual components make debugging easier. I also love the version history feature for comparisons."
"Appian has a nice UI out of the box and development is faster than traditional languages like C#. This allows you to focus on designing solutions and not trying to make the product look pretty."
Powerful built-in capabilities
"Appian is a very powerful and flexible tool to extend its capabilities by creating plugins when needed. Appian process models are super brilliant with lots of powerful features, especially monitoring and playing around with an instance to troubleshoot any issues. Overall It's a great enterprise tool that's getting even better as and when they release a new version of Appian."
Weaknesses
"I found it a little challenging to use their debugging features during development, which can be significantly improved. Also, I think that their product is overpriced. I wouldn't say I liked their reporting feature. Sometimes when you face issues during development, you need some coding knowledge to fix them. Since their debugging tools are inadequate, troubleshooting can become challenging if what you are building is not simple."
Tips to choose the best mobile app development software: 
Apps that Look Great On Every Device
Native apps and progressive web apps (PWAs) are the most common types of mobile apps. There are a few mobile app development tools that can also help you create hybrid apps, but those are few and far between.
Native apps are the ones you see in The App Store and Google Play. They're designed to work on one specific operating system, hence they're named "native."
Because of that, they're highly optimized for fast performance on that specific platform. And they offer a lot of additional functionality users can't get from a mobile browser, like push notifications and a distraction-free experience.
On the other hand, PWAs look and feel like mobile apps but run inside a web browser. PWAs adapt to fit any device and offer more functionality than a mobile responsive website.
So, users can't download them on app marketplaces, which takes away a lot of the added value of having a mobile app. Put simply, PWAs offer less functionality than native apps, but they're more affordable and require less maintenance.
Some providers on our list charge extra for iOS apps. Appy Pie, for example, only supports Android apps on its lower two tiers. You have to upgrade to the highest tier to develop iOS apps and submit them to The App Store.
With Zoho Creator, you have to be on the top tier to publish both Android and Apple apps. Otherwise, you can only distribute them internally.
We highly recommend native apps for every device. But PWAs—or Android only—are affordable alternatives if you're on a tight budget, want to play around, or want to test proof of concept before launching across all platforms.
Mobile app development software that supports both App Store and Google Play
If you're developing an internal use business app, you may not need to publish it to The App Store or Google Play.
Zoho Creator makes it easy to give clients, employees, and partners access to your apps without MDM software or publishing to any public app marketplaces in just a few clicks.
But if you do want to publish your app to the public, the process of getting accepted into The App Store and Google Play can be complicated.
So, it's important to look for app development software that'll help you along the way.
First, you'll need a developer account with each marketplace you want to publish to. For Google Play, it's a one-time $25 fee. For The App Store, it's $99 per year.
Depending on what your app is, the data it collects, and who it's for, the process of launching it to the public can be quite intense. So, choosing a provider that'll help you out or do it for you can save you a ton of time, especially if you've never done it before.
Some solutions on our list will handle all of the reviews and the process of uploading your app to each marketplace for you.
All you have to do is click one button to let them know you're ready and they handle everything else. The service may be included in your monthly subscription or you may have to pay a one-time fee.
Other solutions may offer support and guidance along the way if you get stuck but won't do any of the work for you.
And others won't help you at all unless you pay for an add-on or premium support package. Appy Pie falls under this umbrella—you have to be on the middle tier or higher and pay for its add-on package.
Know your Budget
Developing a business mobile app requires investment along with knowledge and strategy. Knowing your budget and allocating it properly among each stage of app development is essential. There are various aspects of an app which requires money to be invested in; app development, maintenance, updating, marketing etc. Basically you app budget depends on your niche. The type of app you want to create and the type of content you wish to add in your app.
Provide Pragmatic Support 
Even if you choose software that's easy to use, a lot of work goes on to get an app from idea to published on the marketplace.
If you've never done it before, the process can be incredibly confusing. So, you need to ensure that there's adequate documentation, onboarding information, and training materials to help you through it.
The quality of online self-help definitely varies from one provider to the next.
Appy Pie, for example, has excellent resource centers that cover just about everything.
On the other hand, Zoho Creator's documentation and training materials are pretty poor. This is one of its biggest downfalls since it's a low-code option that's not particularly easy to use for non-developers.
While finding quick answers in online help forums and knowledge bases is excellent, you should also be able to easily reach an actual human if you can't find what you need.
Tech support quality and timeliness can make or break your app-building experience. This is especially true if you get stuck and have to wait days or weeks for an initial response.
Some of the options on our list offer 24/7 support. However, others limit support hours to weekdays during normal business hours unless you're on an expensive plan. Obviously clock support is ideal since you never know when you're going to hit a snag or experience unexpected downtime.
One of the best ways to gauge customer support is to sign up for a free trial or free plan and get elbow-deep in the software. When you run into a problem or have a question, look for online documentation and reach out to the team.
You can also look through support forums to see how long the company takes to respond to and fix customer complaints.
Mobile App Development Software In A Nutshell
Among the software mentioned in our list, which one is the best mobile app development software? This is very dependent on the business's demand and capacity. Instead, you can based on the criteria suggested above and evaluate the software on the score.
Still, if you are looking for more time-saving solutions and want to focus all your resources on your expertise, hiring an outsourced mobile app development company will be the answer that you're looking for.
With InApps, you can save thousands of dollars (reduce up to 70% of IT cost or only from $20,000 to $40,000/project). We offer full services of MVP App Development and Mobile App Development with:
Transparent cost and commitment.
Free consultation and completed proposal.
Free design mobile application concept.
We're proud to be a reputable partner who've provided mobility solutions, mobile app design and development for +60 international startups, SMEs & enterprises from many industries namely heallthcare, dating, gaming, payment, Food & Restaurant,…
Reliability is one of the elements to make the best decision! Hence, we show you our reputation via our case studies.
Let's create the next big thing together!
Coming together is a beginning. Keeping together is progress. Working together is success.