>
>
Creating A Payment App That Meets All Your Requirements
In recent days, we could see a significant increase in using the payment transfer app. People prefer to perform non-cash to pay for everything: splitting bills, sending remittances, booking trips, managing expenditures…
According to Allied Marketre Search, "The mobile payment market size was valued at $601 billion in 2016, and is projected to reach $4,574 billion by 2023, at a CAGR 33.8% from 2017 to 2023."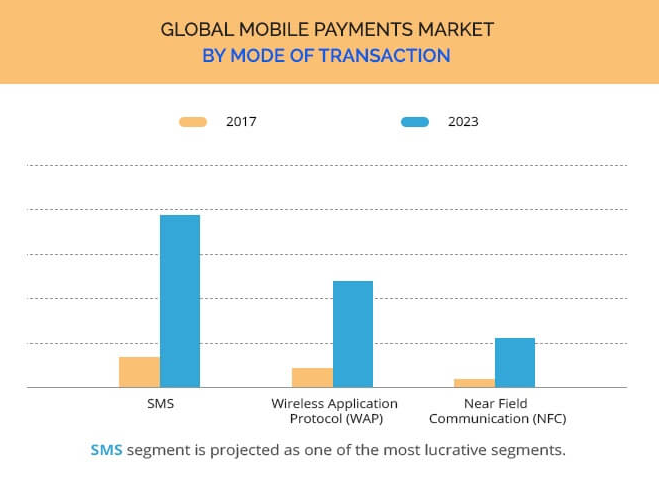 [Image Souce: Allied Marketre Search]
Mobile payment transfer apps are rushing us into a cashless, card-free, order-in-one-click, and pay-contactless universe. Hence, this article explains to you what it is and how develop an outstanding money transfer apps.
What Is A Payment Transfer App?
A mobile payment system is an application that we use to make electronic money transfers to a friend, relative, employee or for goods and services:
Easy transactions
Unlike traditional ways, the digital mode of money transaction proves its way in adding money to your wallet via credit card, debit card or net banking.
No transaction charges
With easy and quick sending and receiving of money anywhere at any time, the current money transaction applications does not charge transaction charges thus making more profitable options.
Mobile wallet application beneficial industries
Since the evolvement of money exchanges, mobile wallet applications are been associated with financial sectors. They can also be used as money remittance applications in various fields.
Based on mobile pay type, the mobile payment market is bifurcated into mobile wallets/bank cards and mobile money. With the growth in awareness about mobile wallets, along with launch of mobile wallet apps such as Google wallets and Paytm, the mobile wallet segment is expected to witness robust growth in the coming years.
How Much Does It Cost To Develop A Payment Transfer App?

[Image Souce: konstantinfo]
The cost of developing a mobile payment transfer app depends mainly on the cost of hiring dedicated mobile app developers, as it requires a lot of skill and experience to develop a top-notch app. Hence, depending on the features that you want to add to the app, the cost of developing this app ranges from $20,000 to over $140,000.  
Luckily, payment transfer app development by the Asian offshore team, especially in Vietnam, can help you can save thousands of dollars (reduce up to 70% of IT cost or only from $20,000 to $40,000/project).
>> It depends on specific requirements, please contact us for a free quote.
How To Find A Dedicated Payment Transfer App Development Company In Vietnam?


We're InApps – well-known as the Clutch's Leader in Asia and The world's top 50+ mobile app development company in 2020. Our dedicated team is equipped with years of experience in payment transfer app developments, such as the E-wallet app, Finance app… Therefore, they always come up with the best technical solution to get things done in a fast and secure way.
Main Features:
– Secured Transaction
– Send money
– Pay money
– Top-up
– Request money
– Chart report
– Payment gateway integration
– Customer loyalty points
– Good UX/UI on the mobile app
If you are interested in this item, feel free to email us via sales@new.inapps.net or contact us for more information.
Customer satisfaction is the priority: By business, weekly and monthly meetings, we immediately give customer problems in 80% of meeting to find solutions within 24 hours.
Reduce your cost up to 70% – Guarantee the same or higher quality
Due to the lower tax and cost, we can optimize the cost in Vietnam as well as re-use our experience in previous projects to reduce costs but still ensures the quality.
Fast solving-problem & supporting your end-users
Our Talent is systematically trained and must pass 2 difficult interviews & testing before starting a client's project to ensure each developer is a combination of: "Consulting + Solution + Care"
80% of developers are good at English communication
As most of our clients are from UK/US/Europe, we focus on recruiting candidates with good English communication skills to support customers and avoid misunderstandings.
70% of software developer have +5 years of experience
We prioritize building an experienced team that accounts for a high proportion to meet their expectations. Even for the freshers, they also come from top universities or studying abroad.
Transparency and Predictability for long-term cooperation
We focus on clear transparency in communication and discussions to achieve long-term cooperation goals.
Latest Development Methodologies & Diverse Industry Experiences
Reliability is one of the elements to make the best decision! Hence, we shall show you our reputation via our case studies as well as some reviews throughout 2 ranking platforms Clutch and Goodfirms
Let's create the next big thing together!
Coming together is a beginning. Keeping together is progress. Working together is success.