>
>
BUILD AN ECOMMERCE WEBSITE FROM SCRATCH: A COMPLETE GUIDE
Now is the best time to build an eCommerce website for your business. Retail eCommerce sales worldwide totaled 4.28 trillion US dollars in 2020, with e-retail revenues expected to reach 5.4 trillion US dollars in 2022. Online shopping is now one of the most popular online activities all over the world.
In fact, there are several approaches to building an eCommerce website from scratch, and we've created this eCommerce website development guide to answer your questions. Let's start your journey in creating an outstanding online store!
Why should you build an eCommerce Website from Scratch today?
In recent years, eCommerce has become an essential component of the global retail framework. Like many other industries, the retail landscape has undergone a significant transformation since the advent of the internet. Also, thanks to the ongoing digitalization of modern life, consumers from virtually every country now benefit from the advantages of online transactions.
As internet access and adoption rapidly grow worldwide, the number of digital buyers keeps growing year after year. Over two billion people purchased goods or services online in 2020, and global e-commerce sales surpassed 4.2 trillion US dollars in the same year.
Buying goods and services online has become a common practice for many people all over the world. Some people buy online for convenience, while others do so because of the competitive prices offered by some eCommerce platforms.
When shopping, digital buyers can be influenced by various digital resources, such as brand emails and product reviews. Aside from the reasons for purchasing, the number of digital buyers is increasing.
You're wondering how to build an eCommerce website from scratch but aren't sure if the effort is worthwhile, consider the statistics below.
Here are some reasons that you should build a shopping website today:
Increased purchases
People prefer to make purchases online. The global number of digital buyers is projected to reach 2.14 billion by 2021. This means a massive opportunity for growth, which should compel business owners to think carefully about building an eCommerce website from scratch.
Lower initial investment
When you compare the costs of building an eCommerce website to opening a physical storefront, you will notice a significant difference in budgets. This is frequently the primary reason business owners inquire about building an eCommerce website from scratch.
The ease of use
Convenience is one of the initial reasons why online shopping has grown in popularity over the last decade.
Expand your target customers 
The vast majority of customers begin their product searches on the internet. These customers will not be able to find your merchandise if you do not have an online store. SEO combined with digital marketing aids in developing an eCommerce website, increasing its chances of success.
Mobile commerce
If you're wondering to build an eCommerce website, consider incorporating the development of a custom mobile app into one of the project phases.
Implementation of new technologies
Incorporating VR and AR into retail will undoubtedly change the way we shop soon.
To summarize, the enormous market and amount of money circulating within the eCommerce industry justify these ideas on building an eCommerce website from scratch. Despite the high level of competition, there is still a lot of room for new players, so in the next part, we will go over how you can conquer the world of online sales in more detail.
Cost & Timeline to build an eCommerce Website from Scratch
It is impossible to determine the best way to build an eCommerce website without first learning about the budget that will be required and how long the development process will take.
The final price of a custom eCommerce platform development project will range between $50,000 – $200,000+ depending on the eCommerce platform requirements. In terms of the timeline, the process may take:
3 months for the basic version
6 months for a mid-sized one
8+ months to build a large & complex eCommerce platform.
In general, the cost and timeline for building an online store are determined by the following factors:
Development model: local or outsourced, hourly rates, etc.
The level of customization and the complexity of the design.
Functionality scope
Third-party service integration
eCommerce website hosting, domain, marketing, and other costs.
Steps to build eCommerce website

from Scratch
In this section, we walk you through a step-by-step process for successfully launching an eCommerce business.
1. Conduct a market analysis and research on competitors
It is impossible to decide how to build an eCommerce website without conducting extensive market research and competitor analysis. Determine the products or services you will provide and research which stores provide similar services.
2. Establish goals and key performance indicators (KPIs) for your business
Depending on whether you plan to resell products or offer your own, you may need to think about your pricing strategy, the amount of revenue you need to generate, allocate expenses, and other financial aspects of starting an eCommerce business and make it financially profitable.
3. Determine the unique selling points (USPs) of your products and services
To build a successful eCommerce website from scratch, choose a unique and easy-to-remember name and a corresponding eCommerce domain. Investigate how you can differentiate yourself from your competitors, as well as what your unique selling proposition will be.
4. Choose delivery and packaging partners
Whether you want to create an online store for a local or global market, you may need to look for companies that will handle delivery and packaging.
5. Complete all paperwork
It is critical to understand how to build an eCommerce website from the ground up and turn it into a legitimate business. Research your local laws and regulations or hire a company to assist you with the paperwork to avoid legal problems.
6. Select and hire a trusted web development vendor
Finding a company that understands how to build an eCommerce website from the ground up and all the ins and outs of the best eCommerce practices is essential for any eCommerce store development.
Consider the following factors when looking for vendors:
Extensive experience in providing high-quality software development services
Successful case studies of eCommerce websites
Previous customer feedback
Consider whether they offer ongoing hosting and support.
7. Choose the features of your eCommerce website
Create a list of features for the first version of the website and future iterations and upgrades in collaboration with the eCommerce web development company.
8. Establish a scalable eCommerce project architecture
While you may want to start with a small or medium-sized store, keep the long term in mind. Web developers should create an eCommerce website using a scalable project architecture to withstand high loads while not impeding business growth.
9. Create a user-friendly UX/UI design
Create an eCommerce website that is not only visually appealing but also user-friendly and feature-rich. Experienced web designers will understand how to build an eCommerce website from scratch and design the best purchasing process to convert visitors into customers.
10. Create and implement a marketing strategy.
Building an online store isn't enough; you also need to make it easy for customers to find it among the thousands of other stores. Begin developing a marketing strategy long before you begin building an eCommerce website.
The goal here is to raise awareness of your store among potential customers. This step is critical if you want to build an eCommerce website and make it successful.
11. Put your eCommerce website through testing, deployment, and launch
These elements are critical because they are the last steps before a website goes live. For example, thorough testing will allow you to identify and fix any problems or bugs before they cause problems for customers and prevent them from proceeding to the checkout page.
12. Communicate with your customers
Do not stop after you have successfully built a web store and it is up and running!
Connect with your customers, invite them to share their thoughts, observe their behavior, and use the data gathered to plan future online store development and improvement.
After that, you may obtain helpful feedback during this stage to decide which features should be added in subsequent stages.
Custom eCommerce Website Development
In general, the eCommerce website development process includes the following custom development services:
Services for business analysis (project backlog and functional specification creation)
UX/UI design for web development
Quality control and Quality assurance (QC&QA)
Project management
Ongoing assistance and development
eCommerce website features

In actuality, we distinguish four types of features: user-related, product-related, search functionality, and admin panel or content management system (CMS).
Let's take a look at one of InApps' case studies of building an eCommerce website. Check out detailed information from the TrungSon case study where we show our experience in building eCommerce websites and complex projects.
Experienced eCommerce Website development company
We hope our eCommerce website development guide is helpful for you. Now you know the best way to build ecommerce website. 
If you need any technical advice or a team of experts to build your eCommerce website from scratch, you can always trust InApps. InApps Technology is ranking 1st for Top E-Commerce App Developers in Vietnam on Clutch by getting great ratings and reviews from our clients.
We have a fantastic track record of building some of the best eCommerce websites for domestic and international clients. We use the latest technology integration to make the eCommerce website that suits the demands of all users.
Interested in learning more about how InApps Technology can help your company thrive? Reach out to our team for more info about working with us!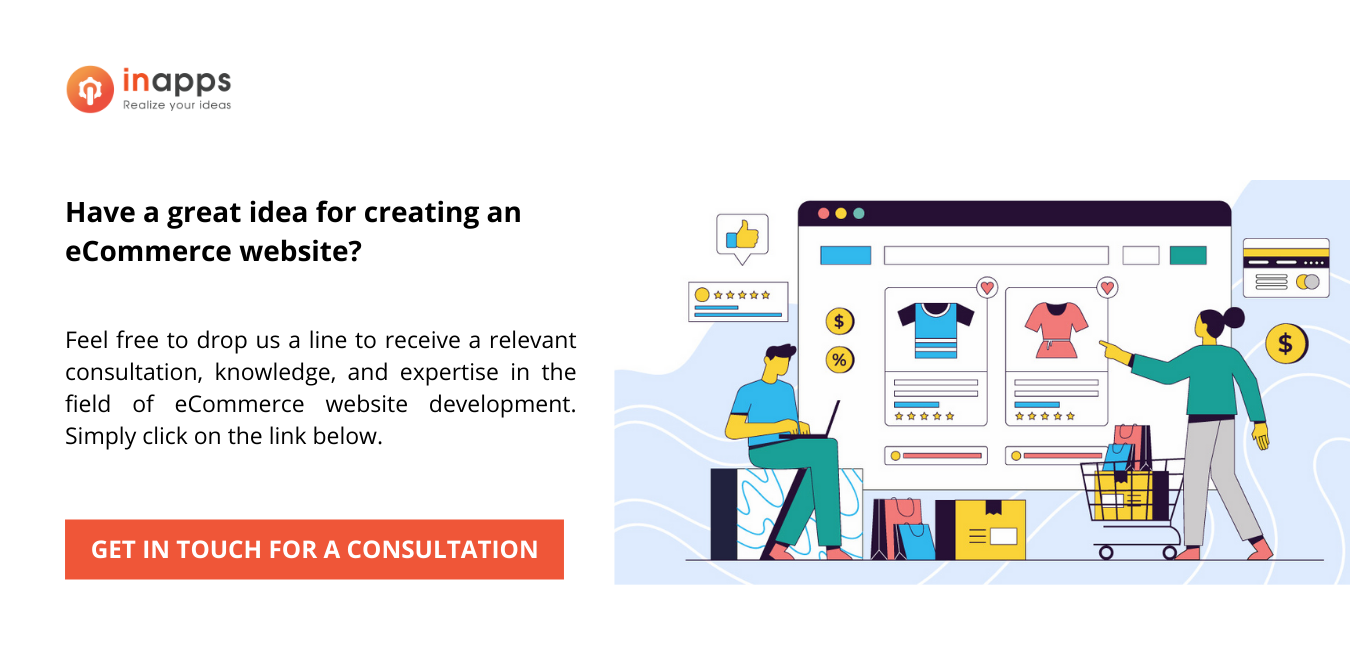 List of Keywords users find our article on Google:
Let's create the next big thing together!
Coming together is a beginning. Keeping together is progress. Working together is success.