>
>
What is the next mobile communication?
Mobile communication technology is evolving daily and has become a must-have for everyone. From 1G to 4G, with such technologies behind phenomenal growth and essential developments along the way, we wonder what the following mobile communication is.
InApps will help you obtain a complete understanding of mobile communication through stages and give you the answer to your question above.
What is mobile communication technology?
Mobile Communication is the use of technology that allows us to communicate with others in different locations without any physical connection (wires or cables). Mobile communication makes our life easier, and it saves time and effort.
Mobile connectivity enables voice and multimedia data transfer from a computer or mobile device without connecting physical or fixed links. Mobile interactions are improving daily and have become a must for everyone.
Mobile communication is, at the same time, the exchanging of voices and data, independent of any physical connection, through the communication infrastructure. Mobile networking infrastructure allows organizations to work more effectively and efficiently and increases human living standards.
Mobile networking and mobile computing are just two separate names, naming the most compact machines and computing devices found in standalone locations or environments for the ability to use mobile technologies when driving. In this topic, we are going to learn about Mobile communication technology.
Mobile communication history
The first commercial analog mobile network – 1G – was rolled out in the US in 1983. It enabled a mobile phone the size of a brick that could only make and receive calls.
Then, 2G technology came in 1991. It was a digital network that added better security and text messaging through SMS.
Ten years later, 3G networks rolled out. It revolutionized technological advancement in mobile email, internet GPS, and multimedia messaging. During the 3G era, two of the most iconic devices of our time were launched:
The Blackberry 6210 in 2003 provided wireless email, phone, and SMS.
The iPhone and Apps, 2007, established the smartphone era.
Shortly after that, the unveiling of 4G occurred in 2009. Its network speeded ten times faster than 3G, ushering in the video and data era.
4G – An App led the revolution for the consumer
With the smartphone and IOS/Android providing the platform, the leap in 4G technology enabled the mobile ecosystem to flourish. We have significantly benefitted from the launch of new App-based technology as consumers.
Mobile-centric services such as Uber, Spotify, WhatsApp, Instagram, Snapchat, and Twitter have become embedded in our daily lives. Netflix, Facebook, and YouTube have all experienced explosive mobile growth, which has allowed us to be entertained and connected wherever we go.
Back in 2009, few people would have appreciated how much progress, change, disruption, and wealth the creation of 4G would enable.  
4G has changed human habits on the Internet. Nowadays, one minute on the vast scale of the IInternetgoes much further than one minute of your life. That is because the Internet has a scale that our linear human brains are unaccustomed to operating on.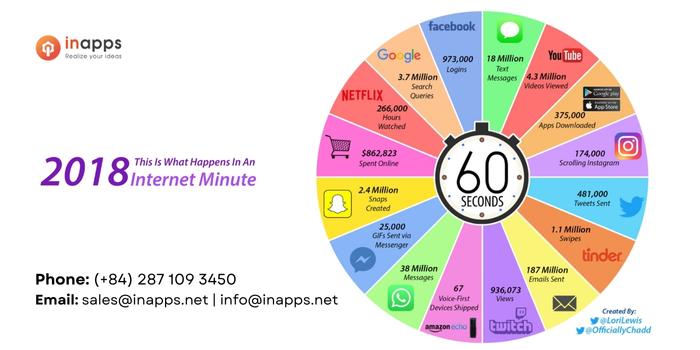 5G – A Device led revolution in Industry
All eyes are now on 5G networks.
5G is currently in the testing phase and will likely be rolled out commercially in the next few years. 5G is all about connectedness. It relies on a network capable of handling massive amounts of real-time data transmitted from billions of connected devices and sensors.
Hence, the expectation for its impact is to speed up ten times greater than 4G and significantly shorter delay before transferring data (lower "latency").
Higher speed and lower latency may be the catalysts for explosive growth using connected devices and IoT.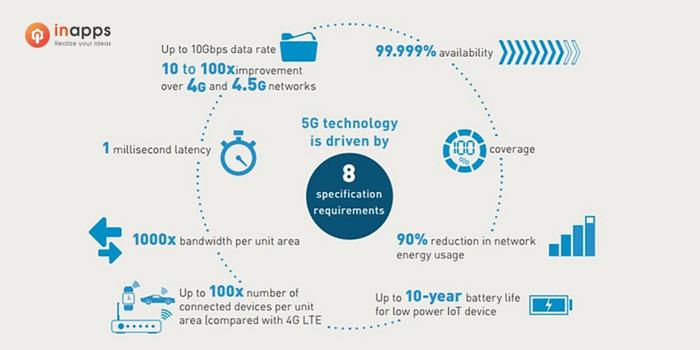 The Internet of Things (IoT)
Fifth-generation technology may bring the Internet of Things to become faster and more reliable communication. The potential applications are vast:
Autonomous driving and connected vehicles – cars that communicate with smart traffic signs, surrounding objects, other vehicles, and emergency services.
Smart Home – connected appliances can be accessed from remote locations.
Industrial equipment – remote monitoring of equipment, predictive maintenance, safety, process tracking, and energy management.
Healthcare and mission-critical devices and services.
Security and surveillance.
These are just some of the areas already being discussed widely. The potential is tremendous. 5G could be the basis of a technological revolution for the Industry, like 4G was for the consumers.
Summary
Is 5G the following mobile communication? Is 5G possible?
The answer is YES. 5G is projected to bring three main benefits:
Faster speed

Data transfer speeds are projected to be about 10 times higher with 5G than 4G.

With 4G/LTE, downloading a high-definition movie might take about 10 minutes. With 5G, it should take less than a second.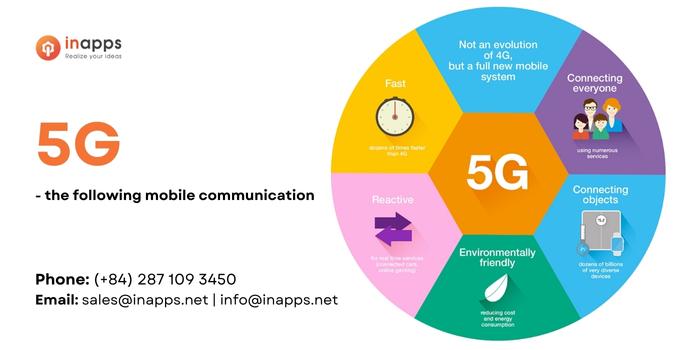 When will 5G be available?
Samsung and Intel debuted 5G technology at the Pyeongchang Winter Olympics, which was used to stream live VR coverage of sporting events. AT&T, Sprint, T-Mobile, and Verizon continue to develop and test 5G technology and expect 5G service to be available in some cities in the US.
Access to 5G is expected to keep expanding dramatically.
List of Keywords businesses find our service on Google
Let's create the next big thing together!
Coming together is a beginning. Keeping together is progress. Working together is success.