>
>
Why You Can Easily Find A Dedicated Offshore Team In Vietnam Than Any Where Else?
It depends on a lot of factors, the average cost for an app development starts from $10,000 to $100,000 USD. Therefore, many companies would like to reduce the costs by setting up an offshore team in Asia, especially in Vietnam.
Not only because Vietnam successfully contained the pandemic so that their economy is rising day by day. But their development of technology can also provide to US/UK/Europe the productive software team…That's also why Vietnam is getting many good recommendations as to the best location for ODC on Clutch and Good firms.
If you want to know how to build a offshore dedicated team in Vietnam, no matter in the short or long term, then this article is 100% for you!
How an offshore team in Vietnam can reduce UP TO 70% of IT Costs?
Offshore Development Center (ODC) is an IT-outsourcing model that helps reduce costs (while maintaining productivity) and optimize internal resources. Therefore, many companies are setting up an offshore team in Vietnam for its affordable costs.
The cost of hiring a developer in Vietnam in comparison to the price of hiring one in the US/UK/Europe is considerably cheaper (reduce up to 70% of IT cost or only from $20,000 to $40,000/project). Compared to India, China, or the Philippines, Vietnamese developers' rates are just as equal or even cheaper while their skills (both technical skills and soft skills) are equivalent.

How To Quickly Find A Dedicated Offshore Team in Vietnam?
Finding and setting up an offshore development center in Vietnam is not as hard as you think. First, you should choose the right location with large IT talent pools, convenient transportation, and full available resources and infrastructure, such as Ho Chi Minh City, Da Nang, or Ha Noi.
Secondly, make sure that you partner with the trusted and quality IT outsourcing company as it will provide you full assistance from recruiting top talents, setting up the office to managing the team and security risks, do all the legwork and legal paperwork, etc…You can also make a search for the Clutch's Leader in Asia or The world's top 50+ mobile app development company in 2020 for more information and trusted feedback.
Ensure that your team understand their project and have all essential technical skills during and after the project with full responsibility, then you can focus completely on core activities such as business, sales, marketing, and operations.
It depends on specific requirements, please email us via sales@new.inapps.net or contact us for more information.
A Vietnamese offshore team is best for: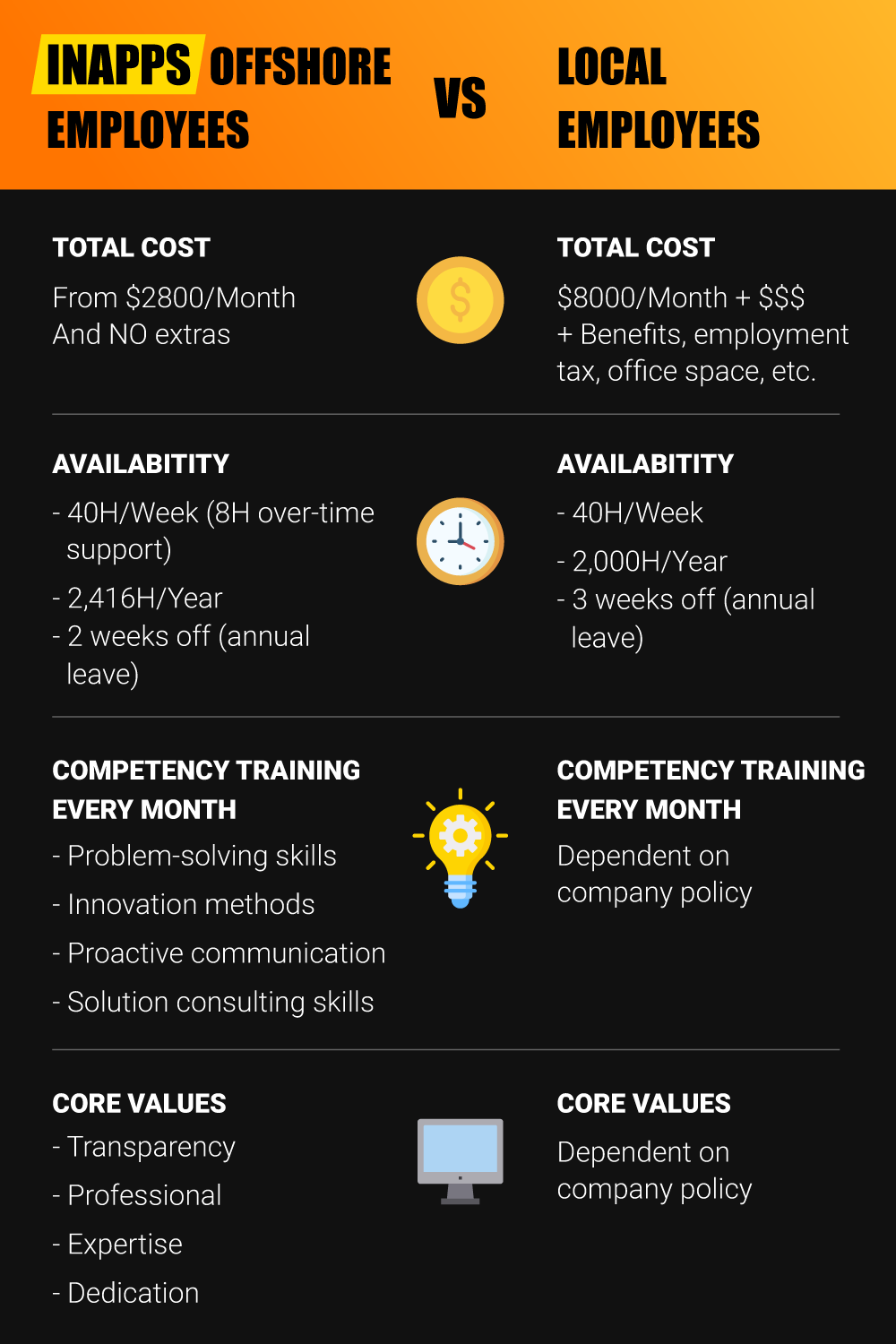 More than 10 years of developing website & application for many international clients, not only that InApps famous for having the best Offshore Development Center in Vietnam, but our products also highly recommended by users as well as got clients' gratification.
Let's create the next big thing together!
Coming together is a beginning. Keeping together is progress. Working together is success.