>
>
TIPS FOR EFFECTIVELY WORKING WITH IT OFFSHORE SOFTWARE DEVELOPMENT COMPANY
Working with an offshore software development company seems challenging. Are you wondering how to find a reliable partner? How do you make sure they can realize your idea? How much time do you have to invest in the development process to keep everything on track?
The great news is that we can mitigate software outsourcing risks in many ways. Here's our easy-to-apply guideline to work with IT outsourcing companies.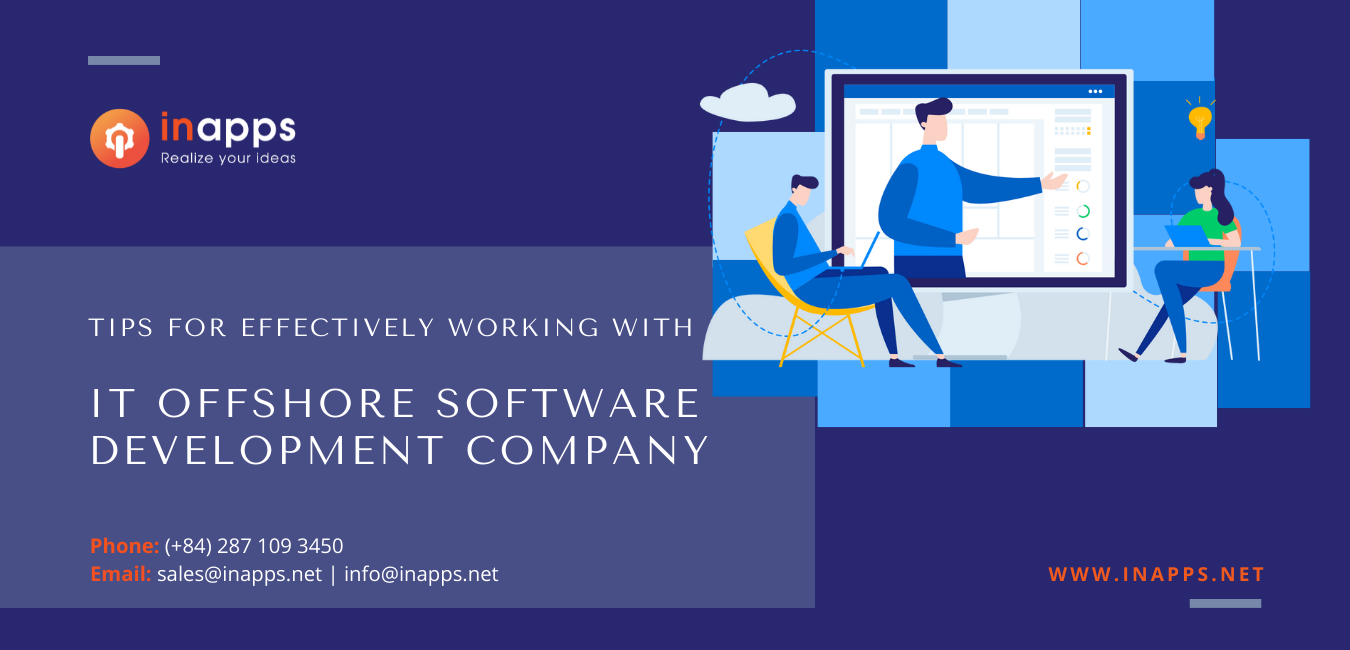 A bad experience of an offshore software development company
A few years ago, we developed an e-commerce portal for parquet manufacturers. The project continued as usual even when our contact person in the client's company quit his job. The customer started ignoring our emails and calls.
Our developers managed to complete the project on time, but our client didn't satisfy with the final design. The result differs from what they imagined in their heads. Thus, we had to remake everything from scratch one more time.
As a result, our client also wasted lots of time and money without any good reason. They could've avoided these consequences by getting involved in the development process at first.
So from the beginning, we often advise our clients to appoint a person from their side responsible for communication with our dev team and maximizing the product value. This person is called the Product Owner and is one of the essential factors in the project's success.
Learn more: How to lead your offshore team efficiently?
Make your project a success with an offshore software development company
Let's take a look at the Agile terminology before moving on to the tips.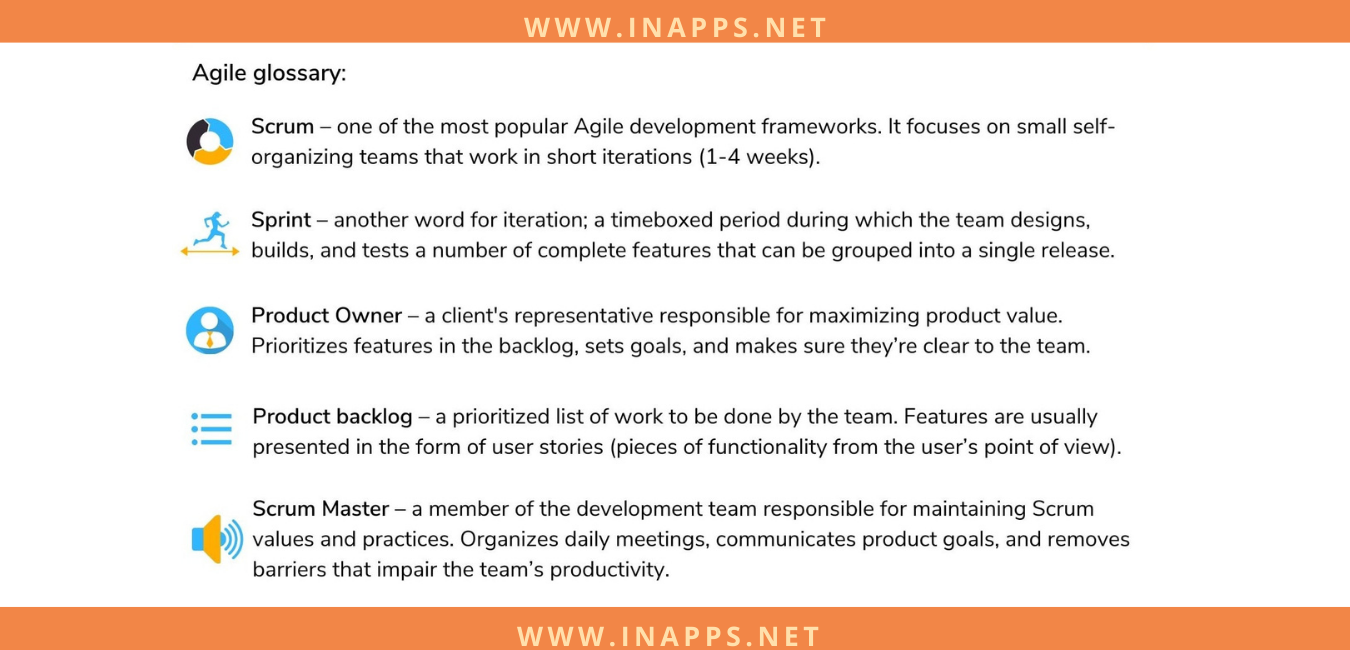 We bring you 7 steps as 7 tips to work effectively with a software outsourcing company. Follow these tips to make your project a success.
Determine your requirements
The time needed: 16 hours.
People involved: Dev Team, Scrum Master, Product Owner, key stakeholders (e.g., senior manager, business representative, CTO, etc.).
Right from the start, it is vital to set clear and formal expectations of the desired result.
Ambiguous requirements can result in a product that doesn't meet your business needs or disappoint your customers. 
That is why we encourage the clients who don't have precise requirements or roadmap yet to join in a requirements gathering meeting. During the meeting, the project manager meets with key stakeholders to discuss the essence of the future product.
The first task you must do is to identify your target audience. 
We do this with user personas. You can use any user persona templates, which usually include: User's name, Background and demographics (age, gender, family status, location, etc.), Job position with income level, Personality, Goals and Pain points.
Let's have a look at an example.
It would be best if you also defined goals and KPIs for your product following:
– Expected number of visitors per month
– Expected number of purchases per day
– The average items purchased per user, etc.
Accurately defined goals and KPIs allow you to monitor the success of your product. If some KPIs don't reach the target, you can find out the reasons and fix your app.
Don't forget to keep the rule S.M.A.R.T. (Specific, Measurable, Achievable, Relevant, and Timely) for your goals.
Get involved during the discovery phase
The time needed: full-time.
People involved: Product Owner, Tech Lead, Scrum Master, developers.
The Discovery phase (Sprint 0) is the first stage of development that enables the software provider to analyze your requirements and create a specification for your system.
During this stage, you will meet your offshore development team, determine your target audience and make features list to be developed in upcoming sprints.
Developers set up their environments and make all the necessary preparations to start working on Sprint 1 without distraction.
For large companies, have someone with technical expertise (e.g., CTO or IT person) by your side in the design process and make sure the team selects technologies that fit their business goals.
Plan like a team
The time needed: 4-8 hours for a 1-month sprint.
People involved: Product Owner, development team, Scrum Master.
Before starting any iteration, you must have a meeting to set the sprint goals and discuss the amount of work needed. The product owner would prioritize the elements in the backlog while the team estimates ​​user stories.
Participate in meetings
The time needed: 1 hour per week.
People involved: Product Owner, Scrum Master.
Every week a Scrum Master contacted the Product Owner to discuss the progress of the project. We generally discuss design updates, review user and stakeholder feedback, and review our KPIs during these meetings.
Monitor progress made by the team
The time needed: up to 10 hours/week.
People involved: Product Owner, major stakeholders.
During the sprint, the role of the product owner includes:
Taking part in status meetings.

Discussing the design with stakeholders.

Updating pending work.

Monitoring progress towards sprint goals.

Clarifying user stories.

Answering questions from the team.
Review the sprint results
Time required: 1-4 hours per sprint.
People involved: Scrum Master, QA engineer, Product Owner, major stakeholders.
At the end of each sprint, the team reviews the progress of the project. Usually, the Scrum Master or a Q.A. engineer gives a live demo to critical stakeholders to point out any bugs and answer clients' questions. During the presentation, a Product Owner can review the sprint goals and update the product roadmap. As a result of the demo, he can approve the sprint for your release or reject the iteration.
Keep in touch with the offshore software development company after the release
Time required: minimal.
People involved: Product Owner, support team.
As soon as all functions are implemented, the project can move on to the support phase. The development team will stop active development and move on to other projects. However, you can still ask the IT outsourcing company to fix any issues with your product.
Wrapping Up 
I hope this can answer your questions about working with I.T. offshore companies.
The bottom line is that you must spend some of your precious time making sure that the resulting product meets your vision. On average, you will have to spend ~ 10 hours/week on the project, checking the order book and communicating with the stakeholders.
Based on our experience, highly involved customers have a much higher level of satisfaction and can do the now. If you want to learn more about working with IT outsourcing companies or need a team of experienced developers, please feel free to contact InApps and arrange a free consultation.
Reliable offshore software development company to choose
Established in 2016, InApps Technology has continually evolved over the past years to reach the forefront of being a leading software development and IT outsourcing company in Vietnam.
Owning a Tech Talent Hub with 5–10 year-experienced developers and engineers, InApps Technology is proud to give 100% satisfaction and trust to clients on their projects. That's also the reason why we receive the noble title the Clutch's Leader in Asia and The world's top 50+ mobile app development company in 2020.
Join InApps today, all you need to do is focus on business activities and let us do our best – developing your products with the following benefits:
Competitive hourly cost: Reduce your cost up to 70% – Guarantee the same or higher quality
Fast solving-problem & supporting your end-users
80% of developers are good at English communication
90% of software developers have +5 years of experience
High-level of Tech skills — Talented workforce from US, Australia, Northern Europe or Japan
Transparency and Predictability for long-term cooperation
Latest Development Methodologies & Diverse Industry Experiences

Let's create the next big thing together!
Coming together is a beginning. Keeping together is progress. Working together is success.