>
>
Tips for Startup Founders to Hire Offshore Developers in 2022
This article will discover more about offshore development and how to hire offshore developers to bring your ideas to reality.
Despite being the most critical asset for any new startup, talented software developers are difficult to find. Outsourcing enables businesses to find the most outstanding IT talent globally, shorten the product development cycle, and gain a competitive advantage over their competitors.
Why Hire Offshore Development Team?
Offshore development is delegating software production activities, such as product design, coding, testing, site maintenance and management, and tech support to seasoned IT specialists based in a remote location.
This outsourcing model allows you to attract top talent worldwide, gaining equal footing with big tech companies like Google, Facebook, and Microsoft. It also aids in assembling a high-performance team for your startup in the shortest possible time.
This ultimately accelerates the development process and reduces product time-to-market, allowing you to stay ahead of the competition.
Offshore software development is the right fit for budding startups that want to extend their existing tech team quickly and are eager to scout other locations apart from the United States and Western Europe.
Sourcing Developers Overseas: Benefits for Startups
Closing The Talent Gap
Many western companies come to emerging IT markets because of the dramatic shortfall of experienced developers back home.
The talent shortage in the US alone is projected to exceed 1.2M by 2026. Thus, outsourcing will become a necessity rather than a choice in the coming years.
It's especially true for smaller enterprises and startups that can't always afford traditional measures to find, attract and retain high-skilled employees locally.
The offshore development market provides access to a broader range of qualified tech staff based in different locations worldwide.
Scaling Up and Down at Ease
Agile thinking is another fancy trend but imperative for companies striving for excellence in a competitive environment. Fast-growing startups must constantly upgrade their services, customer target, business model, and talent pool.
The latter implies changing the tech stack, arranging skills augmentation for specialized tasks, and shuffling the developers for different project requirements. Such flexibility is impossible unless you add or remove programmers from the team.
Scaling your internal development unit can be challenging, but this issue is off the table when you hire offshore software developers.
Mitigating Budget Risks
According to business owners, financial issues are the top reason startups don't get off the ground. You must be very cautious about your budget to escape such a fate. Remember, every change you make, from expanding the product range to launching a new advertising campaign or entering a different market, should be backed by secure funding.
If you decide to outsource software development, you will automatically have more capital in your hands to spend on things that assist your business growth. In this case, you don't have to invest resources in purchasing infrastructure, building up a comfortable workspace, or HR and other administrative activities.
Moreover, outsourcing enables you to hire offshore software developers at a better price than assembling an in-house team would cost you.
Tapping Into a Foreign Market
The ultimate goal of every innovative startup is to yield constant annual growth and take their operations over the local scene. To make it happen, companies have to explore new markets. It can be either a neighboring country or somewhere halfway across the world.
Partnering with an outsourcing vendor offers a fresh perspective on product development. At the same time, it fosters your local market presence and reduces barriers to entry.
Working with a service provider overseas, you have more precise insights into the business culture in that region. This way, you will have at least some understanding of the country's product and marketing regulatory requirements to develop the most appropriate sales and marketing strategy.
Offshore Development vs. In-house: Which one to choose?
Building the best team for your startup often means dealing with red tape, geographic limitations, budget restrictions, and lengthy recruitment and onboarding process. So, before you choose to go this route, you have to answer these questions:
What is the development budget?
Funding is the primary factor you should consider if deciding on in-house software development. Stable cash flow guarantees you will have enough money to pay salaries offer hefty bonuses and upgrade your developer's skills. If the team has everything they need for comfortable work, their motivation and engagement will likely remain high.
What expertise does the project require?
Identifying which skills you need to stay competitive in one of your top priorities for a startup founder. Try to frame your workforce's competencies in terms of a one-year horizon because professionals with specific technical, analytical, and soft skills are often pretty scarce on the local market.
When do you want to deliver the product?
Assembling the team is the first step to ensuring quick product time to market. Hiring high-quality software developers is a challenging and time-consuming task. Usually, there are not enough tech experts locally to do it ad hoc.
Partnering with an offshore development company takes these issues off the table. The external vendor does the same thing you do for your customers. They fix your business pain points.
Why should Startups Hire Offshore Software Developers?
For many companies, the rationale behind the decision to work with overseas contractors stems from the following advantages: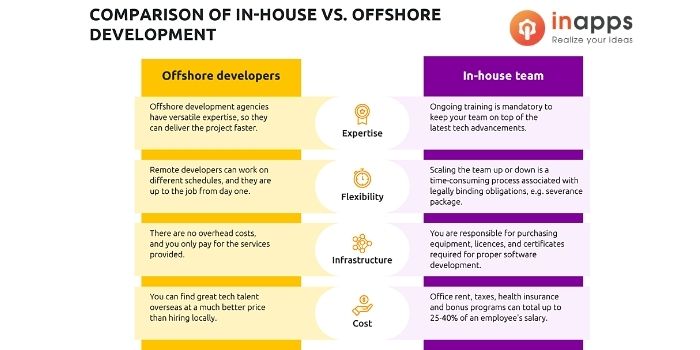 Benefits of Offshore Developers vs. In-house Team
Cost Optimization
Hiring an internal team costs a lot more than just paying salaries. Your responsibility is also for office rent, utility bills, payroll taxes, health insurance, retirement savings plans, and vacation and medical leave reimbursement. The total wage package is usually 1.25 to 1.4 times the employee's salary.
You might find outsourcing more financially worthwhile by combining the cost of office infrastructure, administrative tasks, and hiring expenses.
Flexible Schedule
You can hire programmers overseas only for one project. You may also outsource specific activities like web development, tech support, ongoing maintenance, or hosting. Their workload depends on your business needs and not the labor standards. Assigning forty working hours one week and five the next is okay.
You only pay the outsourcing developers for the work done. On the other hand, direct employees must get a fixed salary even if you don't have enough work to keep them busy. Creating a new app feature, waiting for the next task, or doing something else makes no difference.
Accelerated Work
Outsourcing allows you to jumpstart the development process. Instead of spending time on employee training and team bonding, you get a ready-to-go team with prior software development experience in the required field.
You can also source individual experts to fill the company's tech expertise gap and complement the existing engineering team.
Offshore developers are up to the job from day one, so they may deliver the project much faster than the internal team would ever do. And the sooner the product enters the market, the better it is for your startup progress.
Business Expansion
Rewarding growth strategy includes adding new resources, like finances, workforce, and technology, and streamlining your company activities. This entails focusing on core business functions and delegating minor assignments and supporting processes to external service providers.
It lets you prioritize value-added tasks and free your IT unit from mundane work. This way, your project team will have more time to do what you hired them to do.
Quick Setup
Startups are born in a highly competitive environment. The Silicon Valley ecosystem is buzzing with newcomers, and you must be imaginative to win the race for talent. Solid experience in IT recruitment is a must if you want to have a chance in this highly competitive market.
To stay in the game, you hire accomplished HR specialists or source your tech workforce overseas. Cooperation with an offshore development company allows you to quickly build a reliable essential talent pipeline and bring your innovations to the world.
How to Hire Offshore Software Developers: Checklist for Startup Founders
✔Establish the budget
Funding is one of the top concerns for newly-minted startups. That's why it's essential to plan your expenses, including the infrastructure cost, developers' salaries, and operating expenditures in advance.
✔Choose the outsourcing destination 
Check information about top-ranking offshore development countries to see which one would be the best fit in terms of geographic and cultural proximity.
✔Define your collaboration model
Depending on the scope of your budget and knowledge of remote management tools, you can hire freelancers, partner with an outsourcing company, or open your R&D center.
✔Shortlist potential candidates
Sift through the resumes and portfolios of preferred applicants to try and find the best tech talent you think would fit your project.
✔Test the prospect's expertise
Whether you work with individual contractors, software development agencies, or local tech consultants, always check if they have a proven track record. Conduct interviews with developers, ask questions about their workflow, check their tech skills, and contact their previous clients if possible.
✔Sign the contract
An explicit business agreement is the foundation of successful, long-term cooperation. It must cover data protection rules, warranty clauses, software requirement specifications, and a section on code ownership.
You should also sign a statement of work and a non-disclosure agreement to avoid data leakage.
✔Meet your remote team
Initiate a welcome call to get acquainted with your engineers or visit them in person to build trust and facilitate team bonding.
Best Destinations to Hire Offshore Developers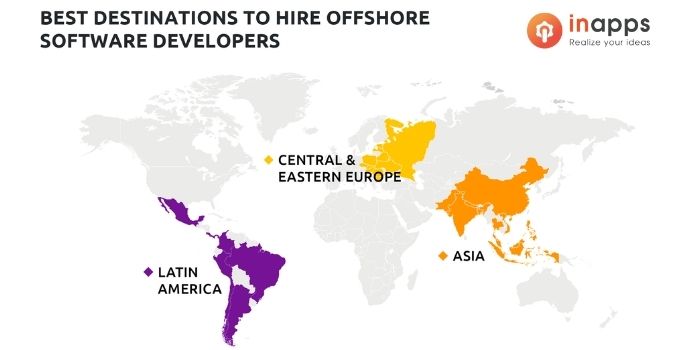 Best Offshore Software Development Destinations
Selecting the right outsourcing location is one of the top concerns of startup founders who want to hire remote developers. You can find great IT professionals anywhere if you keep an open mind and see that what people do elsewhere in the world isn't much different from what you are used to at home.
An excellent range of offshore destinations can boast a developed market with advanced infrastructure, accomplished tech companies, and a favorable legal environment. The leading regions in offshore development services are Eastern Europe, Latin America, and Asia.
Apart from obvious perks, such as a reasonable price-quality ratio and vast talent pool, each location has other characteristics you can benefit from.
Eastern Europe
The most popular IT hubs in Eastern Europe are Ukraine, Poland, Belarus, and Romania.
The software development market in the region grows five times faster than the global average.
470+ world-renowned IT service providers collectively generate $5B in annual revenue.
The region houses 700K tech professionals specializing in e-commerce, fintech, education, health, and telecom.
The main clients of Eastern European vendors come from the United States and EU countries.
Latin America
Brazil, Mexico, Colombia, and Chile are among the top 25 business-friendly countries according to the Kearney Global Services Location Index.
Argentina and Brazil have a lead in the number of regional programmers.
Local tech hubs are popular outsourcing destinations for North American IT companies. Most of the time, they are located within the same time zone.
Latin America ranks high in the number of fully small companies, with employees 1.8 times more likely to work remotely than the global average.
Asia
Asia accounts for the biggest number of prominent offshore development destinations, including India, China, the Philippines, Vietnam and Indonesia.
India is the largest developer population center worldwide, with 5M employees in the IT and outsourcing industry.
STEM disciplines are the key focus areas in schools and universities, which in China alone amounts to 4.7M IT experts joining the labor market every year.
Due to the rising number of partnerships between businesses and tech service providers, Asia is expected to become the fastest-growing IT outsourcing market in the next six years.
How to Find the Best Offshore Development Team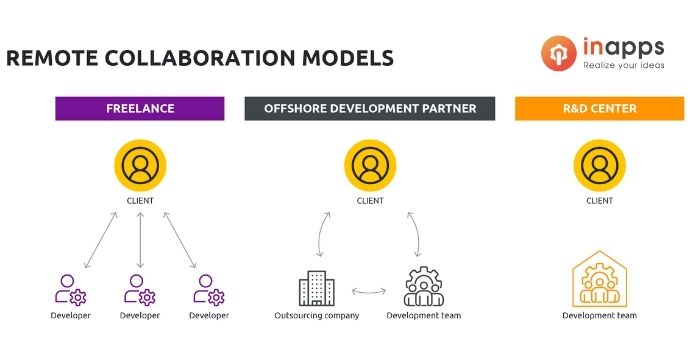 Models of Cooperation with Remote Software Developers
Browse Freelance Platforms
Freelance platforms are a rich source of potential candidates for remote-first startups. Such platforms allow you to reach overseas for IT professionals otherwise unavailable. You can find seasoned tech talents to complement your in-house development team, even on a tight budget.
Upwork
This freelance marketplace is one of the best-known resources for finding remote specialists. There is a vast pool of developers with diverse expertise, tech stack and job history for you to choose from.
You can even use the platform to build a cross-functional team, as it is a good place to find designers, QA engineers, business analysts, marketing specialists, and a manager to oversee the whole project.
Pros: 
Exhaustive user profiles. These include the contractor's skills, previous work experience, and hourly rates. You can also check their portfolio, reviews from former clients, and overall job success rating.
In-build employee monitoring tools. With automatic time tracking and screenshot features, you will always know what your remote engineers are working on and how much time they spend on each task. It could prove useful if you agreed to a time and materials model and your offshore developers charge you an hourly rate for everything they do.
Cons:
Hefty fee. The platform can take care of the administrative and financial side of the project, but you will have to shell out 23% of the rate you pay the freelance programmer for these services.
Not suitable for hiring a dedicated team. Since contractors have their individual accounts, you have to hunt each member of the crew separately.
Guru
This website is the first choice for nearly 800,000 companies worldwide to search for talented remote professionals. Joining this platform will provide you with access to 175K+ specialists engaged in programming and development fields.
You can identify your perfect candidates by narrowing your search to a specific location, budget, number of previous employers, and paid invoices.
Pros: 
Free job posting. The platform offers a convenient way to post a project description and quotes from top freelancers.
Flexible online environment. You can manage your remote staff in special WorkRooms, where you may define project milestones, set deadlines, and keep track of employees' progress.
Cons: 
A lot of screening work. The service doesn't pre-vet candidates, so you will have to check their qualifications on your own.
Overly strict policies. You might have trouble posting a job offer, as you need to ensure your offer abides by all platform guidelines.
Toptal
The service aims to connect clients and seasoned tech experts and facilitate cooperation between two parties throughout the development process. This might sound similar to what other freelance marketplaces offer, but there is a significant difference. Each applicant undergoes an extensive five-stage selection process to get into Toptal's network. This ensures you will work only with the best developers worldwide.
Pros: 
Talent sourcing. First, you discuss your project requirements and expectations with Toptal's representatives. They will then assess the candidates and match you with programmers that have skills relevant to the role you're trying to fill.
Free trial. Every time you start working with a new tech specialist, you will have a 20-hours probation period before making a final decision on further cooperation.
Cons: 
High service cost. Most startup founders find Toptal's fees too expensive for their budget range. Plus the developers' rates are much higher than on other platforms.
Rigid cooperation model. The contracts with Toptal freelancers don't offer much flexibility – you have to hire a developer for a 20 or 40-hour weekly workload, with no regard to your project's actual needs.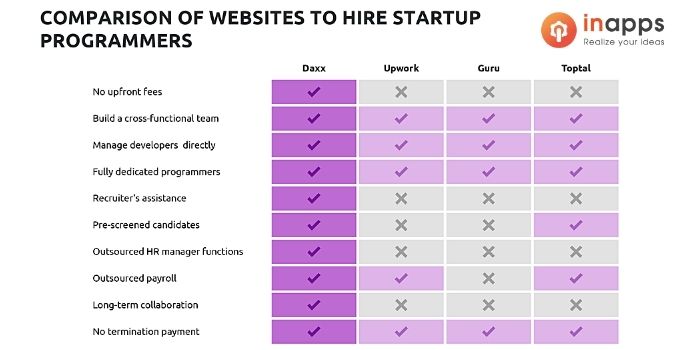 Top Platforms to Hire Remote Developers
Partner with Offshore Development Company
Delegating some information technology functions, like application maintenance, software support, IT infrastructure, system integration and of course product development to external vendors is a common business practice.
This approach allows you to transform your innovative idea into a thriving startup business, drawing on the experience of a resourceful overseas partner.
The problem with finding the offshore company you can entrust your project to is that there are too many options to choose from.
Google search is your primary stop to sort things out: It is the best way to delve deeper into the offshore development industry, as you can find tons of useful articles, tips and surveys that can ultimately lead you to your potential tech partner.
Google search may help you meet your hiring goals quickly and efficiently, but it's not always enough to make an informed decision. If you want to make the best of what the tech community has to offer, here are a few channels you can use to find a dedicated offshore development team for your project:
References
Leveraging your professional network is a sure way to connect to trusted remote service providers, or at least get some tips on where to find one. There is a chance someone in your circle has already been through the outsourcing hiring process.
They are aware of all the pitfalls along the way and will likely share their experience to your benefit.
In addition to references from your colleagues and partners, you can also use the power of social media. Facebook, Twitter and Instagram are effective tools for mass communication.
You can create a post describing what kind of company and tech expertise you are looking for and then ask your friends to repost the publication to maximize its outreach.
IT Conferences
Visiting tech events will provide insights into offshore development services and expand your knowledge of the latest industry trends. Tech community meetups also offer a great opportunity to engage with the representatives of different software development companies in person.
Direct communication also helps you clear all doubts and make a smart hiring decision.
LinkedIn Outreach
LinkedIn is the world's largest professional network, and therefore it's the best place to turn to in the quest for a reliable offshore development partner.
Scanning a corporate account will give you an idea about the vendor's location, number of employees, general overview of their projects, and sometimes even reviews from their former clients and partners.
Once you have a list of enterprises that seem to match your goals and requirements, you should also check the profiles of companies' employees, to see who they are, what they do and whether they will be keen on hearing from you.
Identify the company's top-level executives, such as CEOs, CTOs, business owners, or management partners.
To jumpstart the communication send the people occupying those positions a personalized message, explaining why you decided to contact them, what are you looking to achieve, and ask whether they are ready to continue the discussion on how you can bring value to each other.
How Outstaffing Helps Businesses Grow During Challenging Times
Industry directories take the guesswork out of the offshore development partner selection process. These resources gather data regarding leading IT agencies worldwide, with detailed information on their business operations, project history and level of expertise.
They can get you access to honest and independent reviews from authenticated customers, in-depth reports and case studies, or insights from top industry experts.
Platforms like Clutch, Upcity and Goodfirms allow you to browse vendors by location, primary tech stack and services they provide. During the search, you can also see how different service providers compare in the specific market.
The company's profile on one of these websites is the first place to check whether the firm has any prior experience developing software solutions that present your startup's lifeline.
Apart from the agency's own description of their services, you will also be able to go through their customer testimonials. That will give you a real impression of the level of communication, engagement and performance held by your potential remote workforce.
Open Your Own R&D Center
Building an offshore development center is the right option if you want to keep full control over the development progress, promote active cooperation between team members, and gain footing in a foreign market.
Opening your own R&D center will require the same actions you would take if you decided to go a conventional office route.
To build your offshore startup you need to source a number of different professionals, from HR and administrative staff to software engineers and QA testers.
You will also have to take care of office premises, employee workstations, data protection and physical security of your assets.
Unlike other outsourcing options, with ODC the remote programmers will be your direct employees, which means higher team commitment and active engagement.
Additionally, the offshore developers will work under the same brand as your head office and adhere to the same corporate policies and work ethics as your in-house employees would.
Though establishing an R&D center is quite similar to hiring a domestic team, the process has a huge upside. This model allows you to overcome geographical and financial constraints imposed by your local tech market.
Relocating your business operations to an offshoring destination fosters easier talent acquisition, even when it comes to programmers with narrow and rare expertise.
Moreover, with ODC you can bring innovations to the world without fear that high development costs may dry up your funds halfway through the project.
Apart from the benefits, building your own ODC center may give rise to certain difficulties. For one thing, starting a business abroad often requires opening a legal entity in that country and understanding the local tax system.
You will also need to have at least basic native language proficiency to hunt for great tech talent via local job search websites, which usually don't have an English version.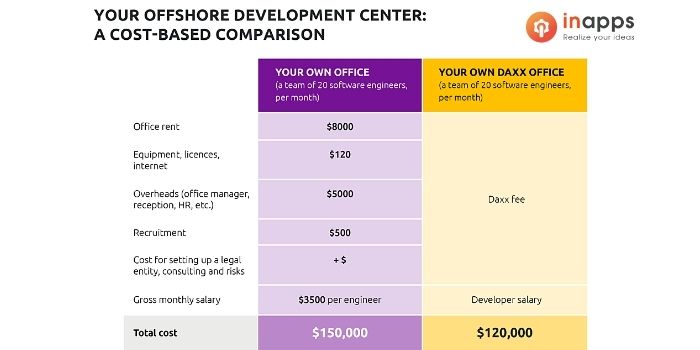 Cost Insights into Opening an Offshore Development Center
Hire Offshore Software Developers with InApps
InApps is the Vietnam-based tech consulting service provider which connects businesses across the globe with seasoned software developers. We have helped over 300 companies hire, manage, and retain their remote development teams in Vietnam.
We build dedicated teams enabling clients across the globe to leverage top-notch technologies delivered by experienced software engineers. The InApps service model covers:
Build a dedicated team of back-end and front-end developers, designers, and project managers who will handle the full cycle of product development.
Hire remote developers who can bring additional expertise and fresh perspective to your internal software development team.
Open your own offshore development center and enjoy working with top-notch professionals who share your corporate values.
Our recruitment specialists have the extensive market knowledge to meet the needs of businesses of different sizes. If you want to grow your startup with brilliant tech experts, InApps is the perfect partner for you.
List of Keywords users find our article on Google:
Let's create the next big thing together!
Coming together is a beginning. Keeping together is progress. Working together is success.